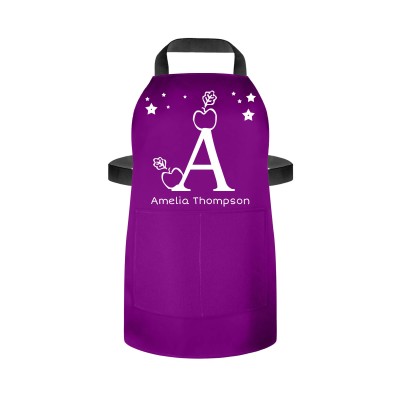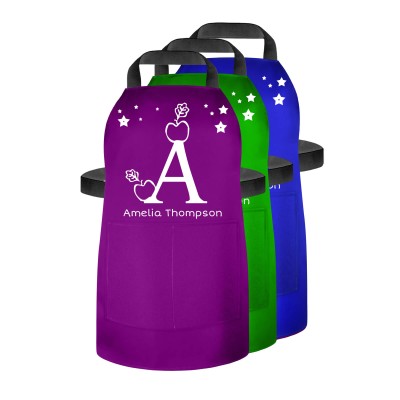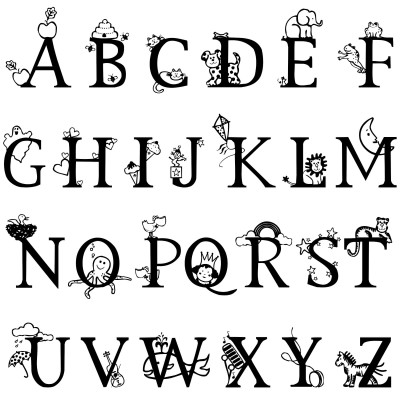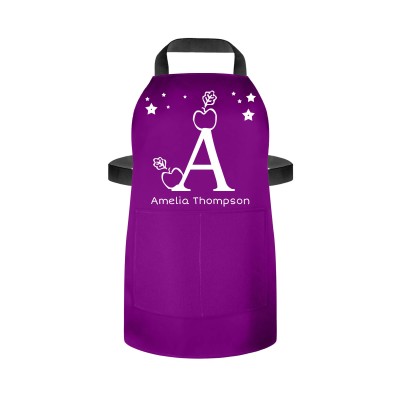 Personalised Toddler Apron
UK Made
Description
Toddler Apron is a smaller toddler cooking apron available in many bright colour options and personalised with your child name or a slogan of your choice.
UK Made Toddler Apron.
Many bright coloured little girls boys kids aprons.
Featured capital letter with unique themed designs.
Personalised with any name or text.
Water-resistant washable polyester fabric.
Adjustable neck and waist apron ties.
Trusted HappySnapGifts® brand.
Stunning all-over printed Personalised Toddler Aprons are all made to order and are printed with any personalised text and fabric colour.
Reviews
Best present yet for my granddaughters
- This is by far the beat present yet that I given my granddaughters they are none Identical twins so I ordered both pink and they put a picture of a dog on one and an elephant on the other, I was very happy wee worth the money. My son and daughter in-law were very impressed as well. Would definitely use this company again (Harriet , 10/06/23)
Lovely Apron
- This little apron really was very cute, lovely vibrant colour and nice decoration. (Jac, 19/11/22)
Perfect for 4 year old would-be cook granddaughter
- Very good well made functional product in great range of colours and next day delivery. (Ann)
Fabulous aprons
- I ordered 4 aprons of different colours personalised for my childminding children. I was so pleased when I received them as they are great quality and fit and look great. The children love them too, especially having their names on them. (Kerry Parkin)
Super colour apron for my kids
- Can't believe I found these childrens aprons online.  I've been looking for special colours of aprons for my kids and these were perfect, I chose 2 of the bright colours online and had a 3rd one in a special green just for my son to stand apart from the girls and had a joke name printed on it at the same time.  They loved them and all 3 use them every week at nursery. (George Smithson)
Instructions
Polyester Photo & Logo Printed Fabrics
When your product is printed you will see the image will be stunning, as good as the image you have sent us almost. The image will not run or fade over time as the print is infused (dyed) into the very fabric itself and will not damage the image when it gets wet or damp.
100% Polyester Fabric used for the Printed Fabric.
CARELESSNESS CAUSES FIRE.
Do not bleach.
Do not tumble dry.
FAQs
What age are these personalised aprons suitable for?
The smallest of our Childrens Aprons we feel will fit in size terms from 2 years old upwards. At 2 years it may look like a long ankle-length apron and wrap a long way around the body. As they grow older they then become a shorter apron and fitting to the sides of the body so even at 5 to 6 years old they will still look great.
Delivery
The information below is for guidance. Actual delivery costs and dates depend on the delivery address, weight and time your order is placed. Cut-off time for Overnight Orders is 12 noon.
| Price | Method | Manufacture Time | Delivery Time | Est. Delivery Date |
| --- | --- | --- | --- | --- |
| £3.99 | 2nd Class (Tracked LL) | 0-3 Days | 2-3 Days | Wed 13 Dec - Tue 19 Dec |
| £5.99 | 1st Class (Tracked LL) | 0-3 Days | 1-2 Days | Tue 12 Dec - Mon 18 Dec |
| £13.02 | DHL Courier (Economy M-F Pre 6pm) | 0-3 Days | 2-3 Days | Wed 13 Dec - Tue 19 Dec |
| £14.99 | Royal Mail Special Delivery (Overnight Mon-Sat Pre 1pm) | Today | Next Day (Mon-Sat) | Mon 11 Dec |
More Information
| | |
| --- | --- |
| Despatch | 0-3 Days (to Personalise) or Upgrade at Checkout for Overnight Delivery |
| Brand | HappySnapGifts® |
| Country of Origin | United Kingdom |
| SKU | FGAPR003PWR-ALP-PUR(P)Poc |
| Gtin | 5056656346158 |
| Tariff Code | 6114300000 |
| Tariff Description | Aprons - Man Made Fabric |
| Product Weight | 99 g |
| Product Dimensions | 55 x 40cm |
Product Options
Size
Childs 55cm x 40cm
Fabric
Water Resistant Polyester
Theme Colour
Purple, Black, Navy Blue, Royal Blue, Sky Blue, Brown, Burgundy, Burnt Orange, Bright Green, Baby Pink, Hot Pink (Fuchsia), Red, White, Yellow
Print Theme
Alphabet
Apron Pocket
Matching Fabric Pocket
Product Type
Aprons
Personalised Apron
Childrens Apron
Kids Apron
Toddler Apron

Personalised Toddler Apron
(55cm x 40cm) with Alphabet Theme Purple Water Resistant Polyester Fabric (Personalised with Text) and Matching Fabric Pocket
FGAPR003PWR-ALP-PUR(P)Poc
5056656346158
£14.99
99 g
55 x 40cm
Personalised Toddler Apron
(55cm x 40cm) with Alphabet Theme Black Water Resistant Polyester Fabric (Personalised with Text) and Matching Fabric Pocket
FGAPR003PWR-ALP-BLA(P)Poc
5056656353521
£14.99
99 g
55 x 40cm
Personalised Toddler Apron
(55cm x 40cm) with Alphabet Theme Navy Blue Water Resistant Polyester Fabric (Personalised with Text) and Matching Fabric Pocket
FGAPR003PWR-ALP-BNA(P)Poc
5056656353538
£14.99
99 g
55 x 40cm
Personalised Toddler Apron
(55cm x 40cm) with Alphabet Theme Royal Blue Water Resistant Polyester Fabric (Personalised with Text) and Matching Fabric Pocket
FGAPR003PWR-ALP-BRO(P)Poc
5056656353545
£14.99
99 g
55 x 40cm
Personalised Toddler Apron
(55cm x 40cm) with Alphabet Theme Sky Blue Water Resistant Polyester Fabric (Personalised with Text) and Matching Fabric Pocket
FGAPR003PWR-ALP-BSK(P)Poc
5056656353552
£14.99
99 g
55 x 40cm
Personalised Toddler Apron
(55cm x 40cm) with Alphabet Theme Brown Water Resistant Polyester Fabric (Personalised with Text) and Matching Fabric Pocket
FGAPR003PWR-ALP-BRW(P)Poc
5056656353569
£14.99
99 g
55 x 40cm
Personalised Toddler Apron
(55cm x 40cm) with Alphabet Theme Burgundy Water Resistant Polyester Fabric (Personalised with Text) and Matching Fabric Pocket
FGAPR003PWR-ALP-BUR(P)Poc
5056656353576
£14.99
99 g
55 x 40cm
Personalised Toddler Apron
(55cm x 40cm) with Alphabet Theme Burnt Orange Water Resistant Polyester Fabric (Personalised with Text) and Matching Fabric Pocket
FGAPR003PWR-ALP-ORA(P)Poc
5056656353583
£14.99
99 g
55 x 40cm
Personalised Toddler Apron
(55cm x 40cm) with Alphabet Theme Bright Green Water Resistant Polyester Fabric (Personalised with Text) and Matching Fabric Pocket
FGAPR003PWR-ALP-GBR(P)Poc
5056656353590
£14.99
99 g
55 x 40cm
Personalised Toddler Apron
(55cm x 40cm) with Alphabet Theme Baby Pink Water Resistant Polyester Fabric (Personalised with Text) and Matching Fabric Pocket
FGAPR003PWR-ALP-PBA(P)Poc
5056656353606
£14.99
99 g
55 x 40cm
Personalised Toddler Apron
(55cm x 40cm) with Alphabet Theme Hot Pink (Fuchsia) Water Resistant Polyester Fabric (Personalised with Text) and Matching Fabric Pocket
FGAPR003PWR-ALP-PFU(P)Poc
5056656353613
£14.99
99 g
55 x 40cm
Personalised Toddler Apron
(55cm x 40cm) with Alphabet Theme Red Water Resistant Polyester Fabric (Personalised with Text) and Matching Fabric Pocket
FGAPR003PWR-ALP-RED(P)Poc
5056656353620
£14.99
99 g
55 x 40cm
Personalised Toddler Apron
(55cm x 40cm) with Alphabet Theme White Water Resistant Polyester Fabric (Personalised with Text) and Matching Fabric Pocket
FGAPR003PWR-ALP-WHI(P)Poc
5056656353637
£14.99
99 g
55 x 40cm
Personalised Toddler Apron
(55cm x 40cm) with Alphabet Theme Yellow Water Resistant Polyester Fabric (Personalised with Text) and Matching Fabric Pocket
FGAPR003PWR-ALP-YEL(P)Poc
5056656353644
£14.99
99 g
55 x 40cm
Personalised Toddler Apron