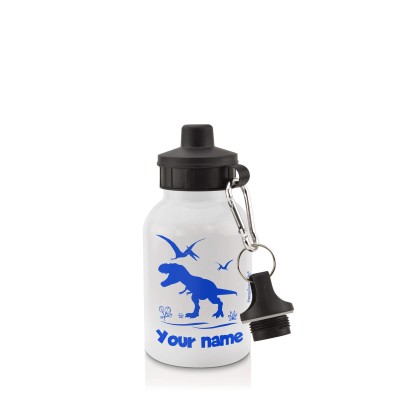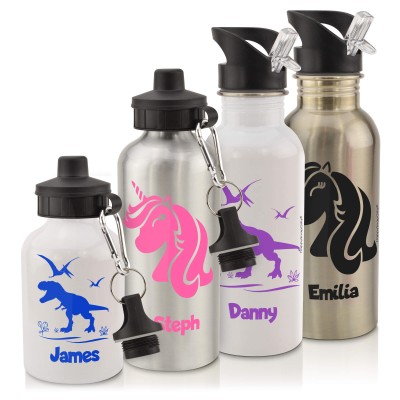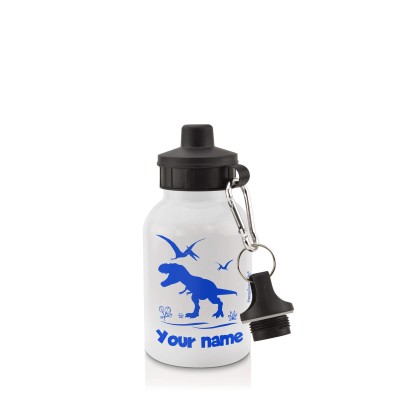 Personalised Kids Water Bottle
Description
Personalised Kids Water Bottle is a reusable water bottle with a fun icon like dinosaurs or unicorns and personalised with the text of your choice.
Reusable kids water bottle.
Personalised with text.
Choose a fun icon.
Many colours.
Trusted HappySnapGifts® brand.
Reviews
Delivery
The information below is for guidance. Actual delivery costs and dates depend on the delivery address, weight and time your order is placed. Cut-off time for Overnight Orders is 12 noon.
| Price | Method | Manufacture Time | Delivery Time | Est. Delivery Date |
| --- | --- | --- | --- | --- |
| £4.99 | 2nd Class (Tracked) | 0-3 Days | 2-3 Days | Mon 4 Dec - Fri 8 Dec |
| £7.99 | 1st Class (Tracked) | 0-3 Days | 1-2 Days | Fri 1 Dec - Thu 7 Dec |
| £13.02 | DHL Courier (Economy M-F Pre 6pm) | 0-3 Days | 2-3 Days | Mon 4 Dec - Fri 8 Dec |
| £14.99 | Royal Mail Special Delivery (Overnight Mon-Sat Pre 1pm) | Today | Next Day (Mon-Sat) | Fri 1 Dec |
More Information
| | |
| --- | --- |
| Despatch | 0-3 Days (to Personalise) or Upgrade at Checkout for Overnight Delivery |
| Brand | HappySnapGifts® |
| RRP | £10.99 |
| Country of Origin | United Kingdom |
| SKU | FGBOT006-DINBRO(P) |
| Gtin | 5060089255529 |
| Tariff Code | 7615101090 |
| Tariff Description | Aluminium and articles thereof |
| Product Weight | 94 g |
| Product Dimensions | 18 x 6 x 6cm |
Product Options
Size & Colour
White (Mini / 16cm / 400ml) + Screw Cap, Silver (Mini / 16cm / 400ml) + Screw Cap, White (600ml) + Screw Cap, White (600ml) + Drinking Straw
Fabric
Polyester - Non Fabric
Theme Colour
Royal Blue, Black, Bright Green, Purple, Hot Pink (Fuchsia)
Icon
Dinosaur, Unicorn
Product Type
Water Bottles
Travel & Outdoors > Water Bottles
Personalised Water Bottle > School Water Bottle
Personalised Water Bottle > Kids Sports Bottle
Personalised Drinks Bottle

Personalised Kids Water Bottle
in White (600ml) with Screw Cap with Dinosaur Icon Black (Personalised with Text)
FGBOT002-DINBLA(P)
5056656361250
£12.99
112 g
21 x 7 x 7cm
Personalised Kids Water Bottle
in White (600ml) with Drinking Straw with Dinosaur Icon Black (Personalised with Text)
FGBOT005-DINBLA(P)
5056656361267
£14.99
149 g
23 x 7 x 7cm
Personalised Kids Water Bottle
in White (600ml) with Screw Cap with Dinosaur Icon Bright Green (Personalised with Text)
FGBOT002-DINGBR(P)
5056656361274
£12.99
112 g
21 x 7 x 7cm
Personalised Kids Water Bottle
in White (600ml) with Drinking Straw with Dinosaur Icon Bright Green (Personalised with Text)
FGBOT005-DINGBR(P)
5056656361281
£14.99
149 g
23 x 7 x 7cm
Personalised Kids Water Bottle
in White (600ml) with Screw Cap with Dinosaur Icon Royal Blue (Personalised with Text)
FGBOT002-DINBRO(P)
5056656361298
£12.99
112 g
21 x 7 x 7cm
Personalised Kids Water Bottle
in White (600ml) with Drinking Straw with Dinosaur Icon Royal Blue (Personalised with Text)
FGBOT005-DINBRO(P)
5056656361304
£14.99
149 g
23 x 7 x 7cm
Personalised Kids Water Bottle
in White (600ml) with Screw Cap with Dinosaur Icon Purple (Personalised with Text)
FGBOT002-DINPUR(P)
5056656361311
£12.99
112 g
21 x 7 x 7cm
Personalised Kids Water Bottle
in White (600ml) with Drinking Straw with Dinosaur Icon Purple (Personalised with Text)
FGBOT005-DINPUR(P)
5056656361328
£14.99
149 g
23 x 7 x 7cm
Personalised Kids Water Bottle
in White (600ml) with Screw Cap with Dinosaur Icon Hot Pink (Fuchsia) (Personalised with Text)
FGBOT002-DINPFU(P)
5056656361335
£12.99
112 g
21 x 7 x 7cm
Personalised Kids Water Bottle
in White (600ml) with Drinking Straw with Dinosaur Icon Hot Pink (Fuchsia) (Personalised with Text)
FGBOT005-DINPFU(P)
5056656361342
£14.99
149 g
23 x 7 x 7cm
Personalised Kids Water Bottle
in White (600ml) with Screw Cap (Unicorn Icon) Black (Personalised with Text)
FGBOT002-UN1BLA(P)
5056656361632
£12.99
112 g
21 x 7 x 7cm
Personalised Kids Water Bottle
in White (600ml) with Drinking Straw (Unicorn Icon) Black (Personalised with Text)
FGBOT005-UN1BLA(P)
5056656361625
£14.99
149 g
23 x 7 x 7cm
Personalised Kids Water Bottle
in White (600ml) with Screw Cap (Unicorn Icon) Bright Green (Personalised with Text)
FGBOT002-UN1GBR(P)
5056656361618
£12.99
112 g
21 x 7 x 7cm
Personalised Kids Water Bottle
in White (600ml) with Drinking Straw (Unicorn Icon) Bright Green (Personalised with Text)
FGBOT005-UN1GBR(P)
5056656361601
£14.99
149 g
23 x 7 x 7cm
Personalised Kids Water Bottle
in White (600ml) with Screw Cap (Unicorn Icon) Royal Blue (Personalised with Text)
FGBOT002-UN1BRO(P)
5056656361595
£12.99
112 g
21 x 7 x 7cm
Personalised Kids Water Bottle
in White (600ml) with Drinking Straw (Unicorn Icon) Royal Blue (Personalised with Text)
FGBOT005-UN1BRO(P)
5056656361588
£14.99
149 g
23 x 7 x 7cm
Personalised Kids Water Bottle
in White (600ml) with Screw Cap (Unicorn Icon) Purple (Personalised with Text)
FGBOT002-UN1PUR(P)
5056656361571
£12.99
112 g
21 x 7 x 7cm
Personalised Kids Water Bottle
in White (600ml) with Drinking Straw (Unicorn Icon) Purple (Personalised with Text)
FGBOT005-UN1PUR(P)
5056656361564
£14.99
149 g
23 x 7 x 7cm
Personalised Kids Water Bottle
in White (600ml) with Screw Cap (Unicorn Icon) Hot Pink (Fuchsia) (Personalised with Text)
FGBOT002-UN1PFU(P)
5056656361557
£12.99
112 g
21 x 7 x 7cm
Personalised Kids Water Bottle
in White (600ml) with Drinking Straw (Unicorn Icon) Hot Pink (Fuchsia) (Personalised with Text)
FGBOT005-UN1PFU(P)
5056656361540
£14.99
149 g
23 x 7 x 7cm
Personalised Kids Water Bottle
in White (400ml) with Screw Cap with Dinosaur Icon Black (Personalised with Text)
FGBOT006-DINBLA(P)
5056656361533
£10.99
94 g
18 x 6 x 6cm
Personalised Kids Water Bottle
in Silver (400ml) with Screw Cap with Dinosaur Icon Black (Personalised with Text)
FGBOT007-DINBLA(P)
5056656361526
£10.99
94 g
18 x 6 x 6cm
Personalised Kids Water Bottle
in White (400ml) with Screw Cap with Dinosaur Icon Bright Green (Personalised with Text)
FGBOT006-DINGBR(P)
5056656361519
£10.99
94 g
18 x 6 x 6cm
Personalised Kids Water Bottle
in Silver (400ml) with Screw Cap with Dinosaur Icon Bright Green (Personalised with Text)
FGBOT007-DINGBR(P)
5056656361502
£10.99
94 g
18 x 6 x 6cm
Personalised Kids Water Bottle
in White (400ml) with Screw Cap with Dinosaur Icon Royal Blue (Personalised with Text)
FGBOT006-DINBRO(P)
5060089255529
£10.99
94 g
18 x 6 x 6cm
Personalised Kids Water Bottle
in Silver (400ml) with Screw Cap with Dinosaur Icon Royal Blue (Personalised with Text)
FGBOT007-DINBRO(P)
5056656361496
£10.99
94 g
18 x 6 x 6cm
Personalised Kids Water Bottle
in White (400ml) with Screw Cap with Dinosaur Icon Purple (Personalised with Text)
FGBOT006-DINPUR(P)
5056656361489
£10.99
94 g
18 x 6 x 6cm
Personalised Kids Water Bottle
in Silver (400ml) with Screw Cap with Dinosaur Icon Purple (Personalised with Text)
FGBOT007-DINPUR(P)
5056656361472
£10.99
94 g
18 x 6 x 6cm
Personalised Kids Water Bottle
in White (400ml) with Screw Cap with Dinosaur Icon Hot Pink (Fuchsia) (Personalised with Text)
FGBOT006-DINPFU(P)
5056656361465
£10.99
94 g
18 x 6 x 6cm
Personalised Kids Water Bottle
in Silver (400ml) with Screw Cap with Dinosaur Icon Hot Pink (Fuchsia) (Personalised with Text)
FGBOT007-DINPFU(P)
5056656361458
£10.99
94 g
18 x 6 x 6cm
Personalised Kids Water Bottle
in White (400ml) with Screw Cap (Unicorn Icon) Black (Personalised with Text)
FGBOT006-UN1BLA(P)
5056656361441
£10.99
94 g
18 x 6 x 6cm
Personalised Kids Water Bottle
in Silver (400ml) with Screw Cap (Unicorn Icon) Black (Personalised with Text)
FGBOT007-UN1BLA(P)
5056656361434
£10.99
94 g
18 x 6 x 6cm
Personalised Kids Water Bottle
in White (400ml) with Screw Cap (Unicorn Icon) Bright Green (Personalised with Text)
FGBOT006-UN1GBR(P)
5056656361427
£10.99
94 g
18 x 6 x 6cm
Personalised Kids Water Bottle
in Silver (400ml) with Screw Cap (Unicorn Icon) Bright Green (Personalised with Text)
FGBOT007-UN1GBR(P)
5056656361410
£10.99
94 g
18 x 6 x 6cm
Personalised Kids Water Bottle
in White (400ml) with Screw Cap (Unicorn Icon) Royal Blue (Personalised with Text)
FGBOT006-UN1BRO(P)
5056656361403
£10.99
94 g
18 x 6 x 6cm
Personalised Kids Water Bottle
in Silver (400ml) with Screw Cap (Unicorn Icon) Royal Blue (Personalised with Text)
FGBOT007-UN1BRO(P)
5056656361397
£10.99
94 g
18 x 6 x 6cm
Personalised Kids Water Bottle
in White (400ml) with Screw Cap (Unicorn Icon) Purple (Personalised with Text)
FGBOT006-UN1PUR(P)
5056656361380
£10.99
94 g
18 x 6 x 6cm
Personalised Kids Water Bottle
in Silver (400ml) with Screw Cap (Unicorn Icon) Purple (Personalised with Text)
FGBOT007-UN1PUR(P)
5056656361373
£10.99
94 g
18 x 6 x 6cm
Personalised Kids Water Bottle
in White (400ml) with Screw Cap (Unicorn Icon) Hot Pink (Fuchsia) (Personalised with Text)
FGBOT006-UN1PFU(P)
5056656361366
£10.99
94 g
18 x 6 x 6cm
Personalised Kids Water Bottle
in Silver (400ml) with Screw Cap (Unicorn Icon) Hot Pink (Fuchsia) (Personalised with Text)
FGBOT007-UN1PFU(P)
5056656361359
£10.99
94 g
18 x 6 x 6cm
Personalised Kids Water Bottle