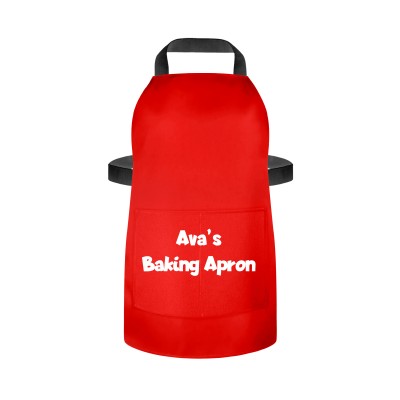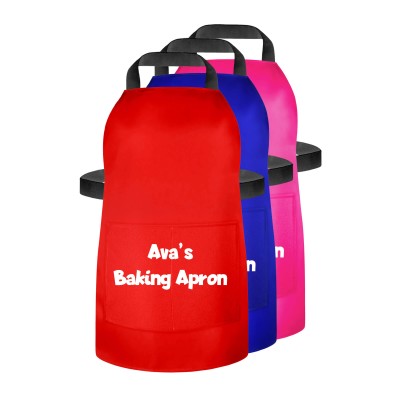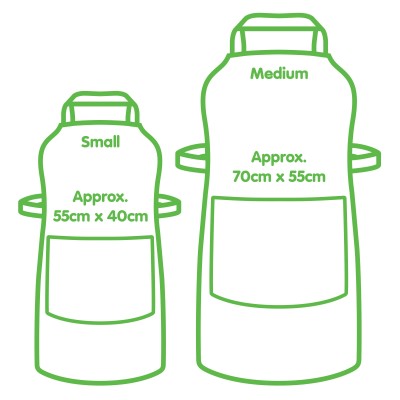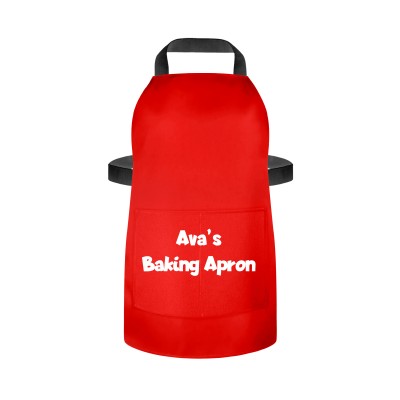 Kids Natural Cotton Apron
UK Made
Organic Options *
Description
UK Made Kids Aprons made in stunning bright colours, optional personalised text of your choice. Premium Quality kids chef apron.
Personalised Kids Apron.
UK Made Apron.
Premium quality fabrics.
Bright colour choices.
Optional personalised text.
Trusted HappySnapGift® brand.
These Kids Aprons are all made to order and are available in a stunning range of premium cotton & polycotton fabric colours and can be personalised with text.
Reviews
Instructions
Our products will have a sewn-in Care Label giving you guidance on Care and Washing this Product. In summary however, they will contain the following instructions though please do refer to the specific label on your individual item for latest information:
For 100% Cotton, 100% Polycotton & 100% Polyester Fabrics (eg Fleece).
CARELESSNESS CAUSES FIRE.
Remove outer cover if supplied before carefully cleaning.
Do not wash the inner filled product or get it wet.
Warm hand or machine wash and cold rinse.
Wash with like colours at max. 40 degree temperature.
Do not bleach.
1 spot iron (Cotton / Fleece) or 2 spot iron (Polycotton).
Do not tumble dry.
FAQs
What age are these personalised aprons suitable for?
The smallest of our Childrens Aprons we feel will fit in size terms from 2 years old upwards. At 2 years it may look like a long ankle-length apron and wrap a long way around the body. As they grow older they then become a shorter apron and fitting to the sides of the body so even at 5 to 6 years old they will still look great.
What are the Organic Fabric Options?
Where shown, this product has an Organic Fabric Option. We purchase organic fabric from trusted UK Fabric Merchants who are registered under the Global Organic Textile Standard (GOTS) to enable full traceability of the fabric we use through to the final product you are purchasing today.
What can I have printed on my Personalised Apron?
You can have any text you like printed onto this Apron - customers usually choose a persons name or nickname and then perhaps a birthday age, a funny insult about their ability to cook or just simple initials. We don't mind as you can have printed anything you like (we won't blush)!
Will the print stay on the Apron even when washed?
Yes. We use a specialist clothing method of applying the print onto the fabric and this will withstand washing over time.
Can I wash my Personalised Apron?
Yes. Please see the care label that will be attached to your apron on delivery or see the Instructions tab on our product online.
Delivery
The information below is for guidance. Actual delivery costs and dates depend on the delivery address, weight and time your order is placed. Cut-off time for Overnight Orders is 12 noon.
| Price | Method | Manufacture Time | Delivery Time | Est. Delivery Date |
| --- | --- | --- | --- | --- |
| £3.99 | 2nd Class (Tracked LL) | 0-3 Days | 2-3 Days | Wed 13 Dec - Tue 19 Dec |
| £5.99 | 1st Class (Tracked LL) | 0-3 Days | 1-2 Days | Tue 12 Dec - Mon 18 Dec |
| £13.02 | DHL Courier (Economy M-F Pre 6pm) | 0-3 Days | 2-3 Days | Wed 13 Dec - Tue 19 Dec |
| £14.99 | Royal Mail Special Delivery (Overnight Mon-Sat Pre 1pm) | Monday | Next Day (Mon-Sat) | Tue 12 Dec |
More Information
| | |
| --- | --- |
| Despatch | 0-3 Days (Made to Order) or Upgrade for Overnight Delivery at Chekout |
| Brand | HappySnapGifts® |
| RRP | £12.99 |
| Country of Origin | United Kingdom |
| SKU | FGAPR004COT-REDPoc |
| Gtin | 5056656346349 |
| Tariff Code | 6114300000 |
| Tariff Description | Aprons - Man Made Fabric |
| Product Weight | 98 g |
| Product Dimensions | 55 x 40cm |
Product Options
Size
Childs 55cm x 40cm, Medium 70cm x 55cm
Fabric
Cotton, Luxury Cotton, Organic Cotton
Fabric Colour
Red, Navy Blue, Purple, Natural, Royal Blue, Hot Pink, Black, White, Chocolate, Gothic Blue
Apron Pocket
Matching Fabric Pocket
Product Type
Aprons
Personalised Apron
Childrens Apron
Kids Apron
Personalised Childrens Apron

Kids Natural Cotton Apron
(55cm x 40cm) - Red Cotton Fabric and Matching Fabric Pocket
FGAPR004COT-REDPoc
5056656346349
£12.99
98 g
55 x 40cm
Kids Natural Cotton Apron
(55cm x 40cm) - Red Cotton Fabric (Personalised with Text) and Matching Fabric Pocket
FGAPR004COT-RED(P)Poc
5056656358526
£15.94
98 g
55 x 40cm
Kids Natural Cotton Apron
(70cm x 55cm) - Red Cotton Fabric and Matching Fabric Pocket
FGAPR004(70cm)COT-REDPoc
5056656358632
£14.99
150 g
70 x 55cm
Kids Natural Cotton Apron
(70cm x 55cm) - Red Cotton Fabric (Personalised with Text) and Matching Fabric Pocket
FGAPR004(70cm)COT-RED(P)Poc
5056656358748
£17.94
150 g
70 x 55cm
Kids Natural Cotton Apron
(55cm x 40cm) - Navy Blue Cotton Fabric and Matching Fabric Pocket
FGAPR004COT-BNAPoc
5056656358427
£12.99
98 g
55 x 40cm
Kids Natural Cotton Apron
(55cm x 40cm) - Navy Blue Cotton Fabric (Personalised with Text) and Matching Fabric Pocket
FGAPR004COT-BNA(P)Poc
5056656358533
£15.94
98 g
55 x 40cm
Kids Natural Cotton Apron
(70cm x 55cm) - Navy Blue Cotton Fabric and Matching Fabric Pocket
FGAPR004(70cm)COT-BNAPoc
5056656358649
£14.99
150 g
70 x 55cm
Kids Natural Cotton Apron
(70cm x 55cm) - Navy Blue Cotton Fabric (Personalised with Text) and Matching Fabric Pocket
FGAPR004(70cm)COT-BNA(P)Poc
5056656358755
£17.94
150 g
70 x 55cm
Kids Natural Cotton Apron
(55cm x 40cm) - Purple Cotton Fabric and Matching Fabric Pocket
FGAPR004COT-PURPoc
5056656358434
£12.99
98 g
55 x 40cm
Kids Natural Cotton Apron
(55cm x 40cm) - Purple Cotton Fabric (Personalised with Text) and Matching Fabric Pocket
FGAPR004COT-PUR(P)Poc
5056656358540
£15.94
98 g
55 x 40cm
Kids Natural Cotton Apron
(70cm x 55cm) - Purple Cotton Fabric and Matching Fabric Pocket
FGAPR004(70cm)COT-PURPoc
5056656358656
£14.99
150 g
70 x 55cm
Kids Natural Cotton Apron
(70cm x 55cm) - Purple Cotton Fabric (Personalised with Text) and Matching Fabric Pocket
FGAPR004(70cm)COT-PUR(P)Poc
5056656358762
£17.94
150 g
70 x 55cm
Kids Natural Cotton Apron
(55cm x 40cm) - Natural Cotton Fabric and Matching Fabric Pocket
FGAPR004COT-NATPoc
5056656358441
£12.99
98 g
55 x 40cm
Kids Natural Cotton Apron
(55cm x 40cm) - Natural Cotton Fabric (Personalised with Text) and Matching Fabric Pocket
FGAPR004COT-NAT(P)Poc
5056656358557
£15.94
98 g
55 x 40cm
Kids Natural Cotton Apron
(70cm x 55cm) - Natural Cotton Fabric and Matching Fabric Pocket
FGAPR004(70cm)COT-NATPoc
5056656358663
£14.99
150 g
70 x 55cm
Kids Natural Cotton Apron
(70cm x 55cm) - Natural Cotton Fabric (Personalised with Text) and Matching Fabric Pocket
FGAPR004(70cm)COT-NAT(P)Poc
5056656358779
£17.94
150 g
70 x 55cm
Kids Natural Cotton Apron
(55cm x 40cm) - Royal Blue Cotton Fabric and Matching Fabric Pocket
FGAPR004COT-BROPoc
5056656358458
£12.99
98 g
55 x 40cm
Kids Natural Cotton Apron
(55cm x 40cm) - Royal Blue Cotton Fabric (Personalised with Text) and Matching Fabric Pocket
FGAPR004COT-BRO(P)Poc
5056656358564
£15.94
98 g
55 x 40cm
Kids Natural Cotton Apron
(70cm x 55cm) - Royal Blue Cotton Fabric and Matching Fabric Pocket
FGAPR004(70cm)COT-BROPoc
5056656358670
£14.99
150 g
70 x 55cm
Kids Natural Cotton Apron
(70cm x 55cm) - Royal Blue Cotton Fabric (Personalised with Text) and Matching Fabric Pocket
FGAPR004(70cm)COT-BRO(P)Poc
5056656358786
£17.94
150 g
70 x 55cm
Kids Natural Cotton Apron
(55cm x 40cm) - Hot Pink Cotton Fabric and Matching Fabric Pocket
FGAPR004COT-PBUPoc
5056656358465
£12.99
98 g
55 x 40cm
Kids Natural Cotton Apron
(55cm x 40cm) - Hot Pink Cotton Fabric (Personalised with Text) and Matching Fabric Pocket
FGAPR004COT-PBU(P)Poc
5056656358571
£15.94
98 g
55 x 40cm
Kids Natural Cotton Apron
(70cm x 55cm) - Hot Pink Cotton Fabric and Matching Fabric Pocket
FGAPR004(70cm)COT-PBUPoc
5056656358687
£14.99
150 g
70 x 55cm
Kids Natural Cotton Apron
(70cm x 55cm) - Hot Pink Cotton Fabric (Personalised with Text) and Matching Fabric Pocket
FGAPR004(70cm)COT-PBU(P)Poc
5056656358793
£17.94
150 g
70 x 55cm
Kids Natural Cotton Apron
(55cm x 40cm) Black Cotton Fabric and Matching Fabric Pocket
FGAPR004COT-BLAPoc
5056656358472
£12.99
98 g
55 x 40cm
Kids Natural Cotton Apron
(55cm x 40cm) Black Cotton Fabric (Personalised with Text) and Matching Fabric Pocket
FGAPR004COT-BLA(P)Poc
5056656358588
£15.94
98 g
55 x 40cm
Kids Natural Cotton Apron
(70cm x 55cm) Black Cotton Fabric and Matching Fabric Pocket
FGAPR004(70cm)COT-BLAPoc
5056656358694
£14.99
150 g
70 x 55cm
Kids Natural Cotton Apron
(70cm x 55cm) Black Cotton Fabric (Personalised with Text) and Matching Fabric Pocket
FGAPR004(70cm)COT-BLA(P)Poc
5056656358809
£17.94
150 g
70 x 55cm
Kids Natural Cotton Apron
(55cm x 40cm) - White Cotton Fabric and Matching Fabric Pocket
FGAPR004COT-WHIPoc
5056656358489
£12.99
98 g
55 x 40cm
Kids Natural Cotton Apron
(55cm x 40cm) - White Cotton Fabric (Personalised with Text) and Matching Fabric Pocket
FGAPR004COT-WHI(P)Poc
5056656358595
£15.94
98 g
55 x 40cm
Kids Natural Cotton Apron
(70cm x 55cm) - White Cotton Fabric and Matching Fabric Pocket
FGAPR004(70cm)COT-WHIPoc
5056656358700
£14.99
150 g
70 x 55cm
Kids Natural Cotton Apron
(70cm x 55cm) - White Cotton Fabric (Personalised with Text) and Matching Fabric Pocket
FGAPR004(70cm)COT-WHI(P)Poc
5056656358816
£17.94
150 g
70 x 55cm
Kids Natural Cotton Apron
(55cm x 40cm) - Chocolate Luxury Cotton Fabric and Matching Fabric Pocket
FGAPR004COL-BMOPoc
5056656358496
£22.99
98 g
55 x 40cm
Kids Natural Cotton Apron
(55cm x 40cm) - Chocolate Luxury Cotton Fabric (Personalised with Text) and Matching Fabric Pocket
FGAPR004COL-BMO(P)Poc
5056656358601
£25.94
98 g
55 x 40cm
Kids Natural Cotton Apron
(70cm x 55cm) - Chocolate Luxury Cotton Fabric and Matching Fabric Pocket
FGAPR004(70cm)COL-BMOPoc
5056656358717
£24.99
150 g
70 x 55cm
Kids Natural Cotton Apron
(70cm x 55cm) - Chocolate Luxury Cotton Fabric (Personalised with Text) and Matching Fabric Pocket
FGAPR004(70cm)COL-BMO(P)Poc
5056656358823
£27.94
150 g
70 x 55cm
Kids Natural Cotton Apron
(55cm x 40cm) - Gothic Blue Luxury Cotton Fabric and Matching Fabric Pocket
FGAPR004COL-BGOPoc
5056656358502
£22.99
98 g
55 x 40cm
Kids Natural Cotton Apron
(55cm x 40cm) - Gothic Blue Luxury Cotton Fabric (Personalised with Text) and Matching Fabric Pocket
FGAPR004COL-BGO(P)Poc
5056656358618
£25.94
98 g
55 x 40cm
Kids Natural Cotton Apron
(70cm x 55cm) - Gothic Blue Luxury Cotton Fabric and Matching Fabric Pocket
FGAPR004(70cm)COL-BGOPoc
5056656358724
£24.99
150 g
70 x 55cm
Kids Natural Cotton Apron
(70cm x 55cm) - Gothic Blue Luxury Cotton Fabric (Personalised with Text) and Matching Fabric Pocket
FGAPR004(70cm)COL-BGO(P)Poc
5056656358830
£27.94
150 g
70 x 55cm
Kids Natural Cotton Apron
(55cm x 40cm) - Natural Organic Cotton and Matching Fabric Pocket
FGAPR004COO-NATPoc
5056656358519
£19.99
98 g
55 x 40cm
Kids Natural Cotton Apron
(55cm x 40cm) - Natural Organic Cotton (Personalised with Text) and Matching Fabric Pocket
FGAPR004COO-NAT(P)Poc
5056656358625
£22.94
98 g
55 x 40cm
Kids Natural Cotton Apron
(70cm x 55cm) - Natural Organic Cotton and Matching Fabric Pocket
FGAPR004(70cm)COO-NATPoc
5056656358731
£21.99
150 g
70 x 55cm
Kids Natural Cotton Apron
(70cm x 55cm) - Natural Organic Cotton (Personalised with Text) and Matching Fabric Pocket
FGAPR004(70cm)COO-NAT(P)Poc
5056656358847
£24.94
150 g
70 x 55cm
Kids Natural Cotton Apron