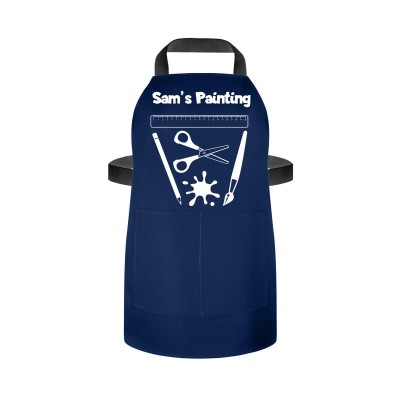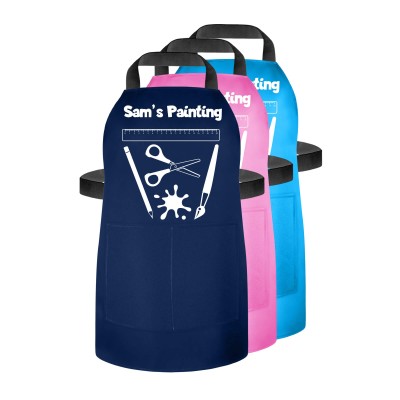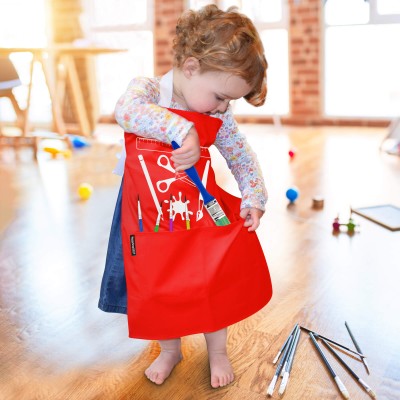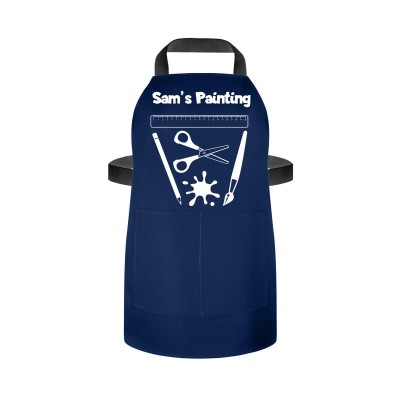 Kids Personalised Painting Apron
UK Made
Description
UK Made Painting Apron. Bright Colours. Water Resistant Fabric. Painting / Dinosaur / Unicorn Icons & Personalised Text on the Apron. Kids 55cm Size.
UK Made Kids Painting Aprons.
Many bright colour choices.
Printed with childs name as personalised text.
Fun inspiring icons.
Trusted HappySnapGifts® brand.
Each kids apron has a fun design icon for painting and crafts, dinosaurs, unicorns and even gardening and is personalised with text for your kids name or a fun slogan.
Reviews
Perfect
- Bought this for my daughter when we signed her up for arts and crafts after school club to protect her uniform its good quality and she loves the design as do her friends at school (Sam , 05/10/23)
Instructions
Polyester Photo & Logo Printed Fabrics
When your product is printed you will see the image will be stunning, as good as the image you have sent us almost. The image will not run or fade over time as the print is infused (dyed) into the very fabric itself and will not damage the image when it gets wet or damp.
100% Polyester Fabric used for the Printed Fabric.
CARELESSNESS CAUSES FIRE.
Do not bleach.
Do not tumble dry.
FAQs
What age are these personalised aprons suitable for?
The smallest of our Childrens Aprons we feel will fit in size terms from 2 years old upwards. At 2 years it may look like a long ankle-length apron and wrap a long way around the body. As they grow older they then become a shorter apron and fitting to the sides of the body so even at 5 to 6 years old they will still look great.
Delivery
The information below is for guidance. Actual delivery costs and dates depend on the delivery address, weight and time your order is placed. Cut-off time for Overnight Orders is 12 noon.
| Price | Method | Manufacture Time | Delivery Time | Est. Delivery Date |
| --- | --- | --- | --- | --- |
| £3.99 | 2nd Class (Tracked LL) | 0-3 Days | 2-3 Days | Wed 13 Dec - Tue 19 Dec |
| £5.99 | 1st Class (Tracked LL) | 0-3 Days | 1-2 Days | Tue 12 Dec - Mon 18 Dec |
| £13.02 | DHL Courier (Economy M-F Pre 6pm) | 0-3 Days | 2-3 Days | Wed 13 Dec - Tue 19 Dec |
| £14.99 | Royal Mail Special Delivery (Overnight Mon-Sat Pre 1pm) | Monday | Next Day (Mon-Sat) | Tue 12 Dec |
More Information
| | |
| --- | --- |
| Despatch | 0-3 Days (to Personalise) or Upgrade at Checkout for Overnight Delivery |
| Brand | HappySnapGifts® |
| Country of Origin | United Kingdom |
| SKU | FGAPR006PWR--PAIBNA(P)Poc |
| Gtin | 5056656346325 |
| Tariff Code | 6114300000 |
| Tariff Description | Aprons - Man Made Fabric |
| Product Weight | 98 g |
| Product Dimensions | 55 x 40cm |
Product Options
Size
Childs 55cm x 40cm
Fabric
Water Resistant Polyester
Colour
Navy Blue, Black, Royal Blue, Sky Blue, Brown, Burgundy, Burnt Orange, Bright Green, Baby Pink, Hot Pink (Fuchsia), Purple, Red, White, Yellow
Icon
Paint & Craft, Dinosaur, Unicorn
Apron Pocket
Pocket for Photo Print
Product Type
Aprons
Personalised Apron
Childrens Apron
Kids Apron
Kids Painting Apron

Kids Personalised Painting Apron
(55cm x 40cm) with Paint & Craft Icon Navy Blue Water Resistant Polyester Fabric (Personalised with Text) and Photo Printed Pocket
FGAPR006PWR--PAIBNA(P)Poc
5056656346325
£14.99
98 g
55 x 40cm
Kids Personalised Painting Apron
(55cm x 40cm) with Paint & Craft Icon Black Water Resistant Polyester Fabric (Personalised with Text) and Photo Printed Pocket
FGAPR006PWR--PAIBLA(P)Poc
5056656357581
£14.99
98 g
55 x 40cm
Kids Personalised Painting Apron
(55cm x 40cm) with Paint & Craft Icon Royal Blue Water Resistant Polyester Fabric (Personalised with Text) and Photo Printed Pocket
FGAPR006PWR--PAIBRO(P)Poc
5056656357598
£14.99
98 g
55 x 40cm
Kids Personalised Painting Apron
(55cm x 40cm) with Paint & Craft Icon Sky Blue Water Resistant Polyester Fabric (Personalised with Text) and Photo Printed Pocket
FGAPR006PWR--PAIBSK(P)Poc
5056656357604
£14.99
98 g
55 x 40cm
Kids Personalised Painting Apron
(55cm x 40cm) with Paint & Craft Icon Brown Water Resistant Polyester Fabric (Personalised with Text) and Photo Printed Pocket
FGAPR006PWR--PAIBRW(P)Poc
5056656357611
£14.99
98 g
55 x 40cm
Kids Personalised Painting Apron
(55cm x 40cm) with Paint & Craft Icon Burgundy Water Resistant Polyester Fabric (Personalised with Text) and Photo Printed Pocket
FGAPR006PWR--PAIBUR(P)Poc
5056656357628
£14.99
98 g
55 x 40cm
Kids Personalised Painting Apron
(55cm x 40cm) with Paint & Craft Icon Burnt Orange Water Resistant Polyester Fabric (Personalised with Text) and Photo Printed Pocket
FGAPR006PWR--PAIORA(P)Poc
5056656357635
£14.99
98 g
55 x 40cm
Kids Personalised Painting Apron
(55cm x 40cm) with Paint & Craft Icon Bright Green Water Resistant Polyester Fabric (Personalised with Text) and Photo Printed Pocket
FGAPR006PWR--PAIGBR(P)Poc
5056656357642
£14.99
98 g
55 x 40cm
Kids Personalised Painting Apron
(55cm x 40cm) with Paint & Craft Icon Baby Pink Water Resistant Polyester Fabric (Personalised with Text) and Photo Printed Pocket
FGAPR006PWR--PAIPBA(P)Poc
5056656357659
£14.99
98 g
55 x 40cm
Kids Personalised Painting Apron
(55cm x 40cm) with Paint & Craft Icon Hot Pink (Fuchsia) Water Resistant Polyester Fabric (Personalised with Text) and Photo Printed Pocket
FGAPR006PWR--PAIPFU(P)Poc
5056656357666
£14.99
98 g
55 x 40cm
Kids Personalised Painting Apron
(55cm x 40cm) with Paint & Craft Icon Purple Water Resistant Polyester Fabric (Personalised with Text) and Photo Printed Pocket
FGAPR006PWR--PAIPUR(P)Poc
5056656357673
£14.99
98 g
55 x 40cm
Kids Personalised Painting Apron
(55cm x 40cm) with Paint & Craft Icon Red Water Resistant Polyester Fabric (Personalised with Text) and Photo Printed Pocket
FGAPR006PWR--PAIRED(P)Poc
5056656357680
£14.99
98 g
55 x 40cm
Kids Personalised Painting Apron
(55cm x 40cm) with Paint & Craft Icon White Water Resistant Polyester Fabric (Personalised with Text) and Photo Printed Pocket
FGAPR006PWR--PAIWHI(P)Poc
5056656357697
£14.99
98 g
55 x 40cm
Kids Personalised Painting Apron
(55cm x 40cm) with Paint & Craft Icon Yellow Water Resistant Polyester Fabric (Personalised with Text) and Photo Printed Pocket
FGAPR006PWR--PAIYEL(P)Poc
5056656357703
£14.99
98 g
55 x 40cm
Kids Personalised Painting Apron
(55cm x 40cm) with Dinosaur Icon Navy Blue Water Resistant Polyester Fabric (Personalised with Text) and Photo Printed Pocket
FGAPR006PWR--DINBNA(P)Poc
5056656357710
£14.99
98 g
55 x 40cm
Kids Personalised Painting Apron
(55cm x 40cm) with Dinosaur Icon Black Water Resistant Polyester Fabric (Personalised with Text) and Photo Printed Pocket
FGAPR006PWR--DINBLA(P)Poc
5056656357727
£14.99
98 g
55 x 40cm
Kids Personalised Painting Apron
(55cm x 40cm) with Dinosaur Icon Royal Blue Water Resistant Polyester Fabric (Personalised with Text) and Photo Printed Pocket
FGAPR006PWR--DINBRO(P)Poc
5056656357734
£14.99
98 g
55 x 40cm
Kids Personalised Painting Apron
(55cm x 40cm) with Dinosaur Icon Sky Blue Water Resistant Polyester Fabric (Personalised with Text) and Photo Printed Pocket
FGAPR006PWR--DINBSK(P)Poc
5056656357741
£14.99
98 g
55 x 40cm
Kids Personalised Painting Apron
(55cm x 40cm) with Dinosaur Icon Brown Water Resistant Polyester Fabric (Personalised with Text) and Photo Printed Pocket
FGAPR006PWR--DINBRW(P)Poc
5056656357758
£14.99
98 g
55 x 40cm
Kids Personalised Painting Apron
(55cm x 40cm) with Dinosaur Icon Burgundy Water Resistant Polyester Fabric (Personalised with Text) and Photo Printed Pocket
FGAPR006PWR--DINBUR(P)Poc
5056656357765
£14.99
98 g
55 x 40cm
Kids Personalised Painting Apron
(55cm x 40cm) with Dinosaur Icon Burnt Orange Water Resistant Polyester Fabric (Personalised with Text) and Photo Printed Pocket
FGAPR006PWR--DINORA(P)Poc
5056656357772
£14.99
98 g
55 x 40cm
Kids Personalised Painting Apron
(55cm x 40cm) with Dinosaur Icon Bright Green Water Resistant Polyester Fabric (Personalised with Text) and Photo Printed Pocket
FGAPR006PWR--DINGBR(P)Poc
5056656357789
£14.99
98 g
55 x 40cm
Kids Personalised Painting Apron
(55cm x 40cm) with Dinosaur Icon Baby Pink Water Resistant Polyester Fabric (Personalised with Text) and Photo Printed Pocket
FGAPR006PWR--DINPBA(P)Poc
5056656357796
£14.99
98 g
55 x 40cm
Kids Personalised Painting Apron
(55cm x 40cm) with Dinosaur Icon Hot Pink (Fuchsia) Water Resistant Polyester Fabric (Personalised with Text) and Photo Printed Pocket
FGAPR006PWR--DINPFU(P)Poc
5056656357802
£14.99
98 g
55 x 40cm
Kids Personalised Painting Apron
(55cm x 40cm) with Dinosaur Icon Purple Water Resistant Polyester Fabric (Personalised with Text) and Photo Printed Pocket
FGAPR006PWR--DINPUR(P)Poc
5056656357819
£14.99
98 g
55 x 40cm
Kids Personalised Painting Apron
(55cm x 40cm) with Dinosaur Icon Red Water Resistant Polyester Fabric (Personalised with Text) and Photo Printed Pocket
FGAPR006PWR--DINRED(P)Poc
5056656357826
£14.99
98 g
55 x 40cm
Kids Personalised Painting Apron
(55cm x 40cm) with Dinosaur Icon White Water Resistant Polyester Fabric (Personalised with Text) and Photo Printed Pocket
FGAPR006PWR--DINWHI(P)Poc
5056656357833
£14.99
98 g
55 x 40cm
Kids Personalised Painting Apron
(55cm x 40cm) with Dinosaur Icon Yellow Water Resistant Polyester Fabric (Personalised with Text) and Photo Printed Pocket
FGAPR006PWR--DINYEL(P)Poc
5056656357840
£14.99
98 g
55 x 40cm
Kids Personalised Painting Apron
(55cm x 40cm) (Unicorn Icon) Navy Blue Water Resistant Polyester Fabric (Personalised with Text) and Photo Printed Pocket
FGAPR006PWR--UN1BNA(P)Poc
5056656357857
£14.99
98 g
55 x 40cm
Kids Personalised Painting Apron
(55cm x 40cm) (Unicorn Icon) Black Water Resistant Polyester Fabric (Personalised with Text) and Photo Printed Pocket
FGAPR006PWR--UN1BLA(P)Poc
5056656357864
£14.99
98 g
55 x 40cm
Kids Personalised Painting Apron
(55cm x 40cm) (Unicorn Icon) Royal Blue Water Resistant Polyester Fabric (Personalised with Text) and Photo Printed Pocket
FGAPR006PWR--UN1BRO(P)Poc
5056656357871
£14.99
98 g
55 x 40cm
Kids Personalised Painting Apron
(55cm x 40cm) (Unicorn Icon) Sky Blue Water Resistant Polyester Fabric (Personalised with Text) and Photo Printed Pocket
FGAPR006PWR--UN1BSK(P)Poc
5056656357888
£14.99
98 g
55 x 40cm
Kids Personalised Painting Apron
(55cm x 40cm) (Unicorn Icon) Brown Water Resistant Polyester Fabric (Personalised with Text) and Photo Printed Pocket
FGAPR006PWR--UN1BRW(P)Poc
5056656357895
£14.99
98 g
55 x 40cm
Kids Personalised Painting Apron
(55cm x 40cm) (Unicorn Icon) Burgundy Water Resistant Polyester Fabric (Personalised with Text) and Photo Printed Pocket
FGAPR006PWR--UN1BUR(P)Poc
5056656357901
£14.99
98 g
55 x 40cm
Kids Personalised Painting Apron
(55cm x 40cm) (Unicorn Icon) Burnt Orange Water Resistant Polyester Fabric (Personalised with Text) and Photo Printed Pocket
FGAPR006PWR--UN1ORA(P)Poc
5056656357918
£14.99
98 g
55 x 40cm
Kids Personalised Painting Apron
(55cm x 40cm) (Unicorn Icon) Bright Green Water Resistant Polyester Fabric (Personalised with Text) and Photo Printed Pocket
FGAPR006PWR--UN1GBR(P)Poc
5056656357925
£14.99
98 g
55 x 40cm
Kids Personalised Painting Apron
(55cm x 40cm) (Unicorn Icon) Baby Pink Water Resistant Polyester Fabric (Personalised with Text) and Photo Printed Pocket
FGAPR006PWR--UN1PBA(P)Poc
5056656357932
£14.99
98 g
55 x 40cm
Kids Personalised Painting Apron
(55cm x 40cm) (Unicorn Icon) Hot Pink (Fuchsia) Water Resistant Polyester Fabric (Personalised with Text) and Photo Printed Pocket
FGAPR006PWR--UN1PFU(P)Poc
5056656357949
£14.99
98 g
55 x 40cm
Kids Personalised Painting Apron
(55cm x 40cm) (Unicorn Icon) Purple Water Resistant Polyester Fabric (Personalised with Text) and Photo Printed Pocket
FGAPR006PWR--UN1PUR(P)Poc
5056656357956
£14.99
98 g
55 x 40cm
Kids Personalised Painting Apron
(55cm x 40cm) (Unicorn Icon) Red Water Resistant Polyester Fabric (Personalised with Text) and Photo Printed Pocket
FGAPR006PWR--UN1RED(P)Poc
5056656357963
£14.99
98 g
55 x 40cm
Kids Personalised Painting Apron
(55cm x 40cm) (Unicorn Icon) White Water Resistant Polyester Fabric (Personalised with Text) and Photo Printed Pocket
FGAPR006PWR--UN1WHI(P)Poc
5056656357970
£14.99
98 g
55 x 40cm
Kids Personalised Painting Apron
(55cm x 40cm) (Unicorn Icon) Yellow Water Resistant Polyester Fabric (Personalised with Text) and Photo Printed Pocket
FGAPR006PWR--UN1YEL(P)Poc
5056656357987
£14.99
98 g
55 x 40cm
Kids Personalised Painting Apron