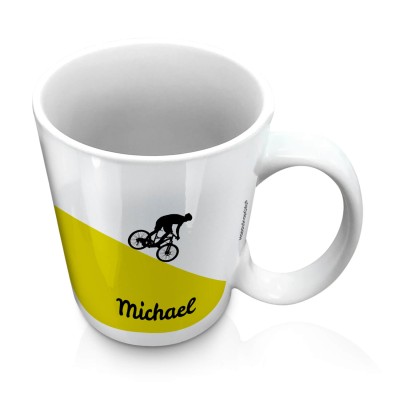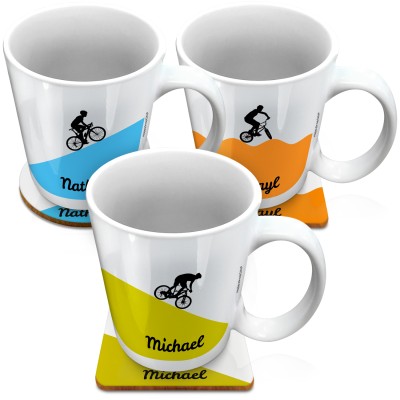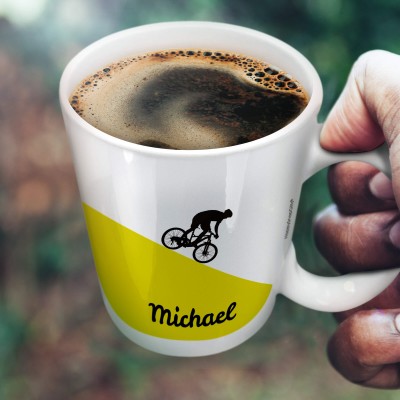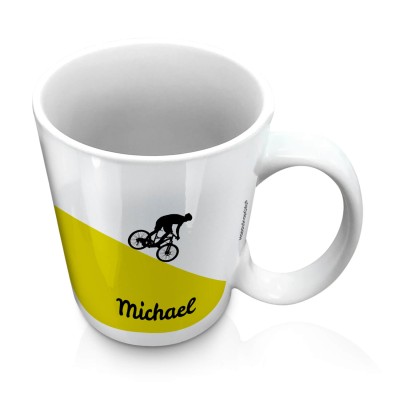 Dishwasher Safe
Description
Personalised Cycling Mug for any cycling enthusiasts with personalised text and biking themes.
Personalised in the UK with your chosen colour and theme.
Dishwasher safe.
Select from your favourite cycling theme.
Matching coasters on offer too.
Trusted HappySnapGifts® brand.
Create the perfect Road Bike, BMX or Mountain Bike Mug for yourself or a loved one, choose your cycling icon, colour and input the text of your choice for a truly unique bike mug for any cycling fan.
Reviews
FAQs
Can these mugs be washed in a dishwasher?
Yes. All our mugs are dishwasher safe.
Standard Mug
Approx. 10cm tall x 8.5cm diameter (6.5cm handle).
XL Mug
Approx. 11.5cm tall x 8.5cm diameter (9cm handle).
Delivery
The information below is for guidance. Actual delivery costs and dates depend on the delivery address, weight and time your order is placed. Cut-off time for Overnight Orders is 12 noon.
| Price | Method | Manufacture Time | Delivery Time | Est. Delivery Date |
| --- | --- | --- | --- | --- |
| £4.99 | 2nd Class (Tracked) | 0-3 Days | 2-3 Days | Mon 4 Dec - Fri 8 Dec |
| £7.99 | 1st Class (Tracked) | 0-3 Days | 1-2 Days | Fri 1 Dec - Thu 7 Dec |
| £13.06 | DHL Courier (Economy M-F Pre 6pm) | 0-3 Days | 2-3 Days | Mon 4 Dec - Fri 8 Dec |
| £14.99 | Royal Mail Special Delivery (Overnight Mon-Sat Pre 1pm) | Today | Next Day (Mon-Sat) | Fri 1 Dec |
More Information
| | |
| --- | --- |
| Despatch | 0-3 Days (to Personalise) or Upgrade at Checkout for Overnight Delivery |
| Brand | HappySnapGifts® |
| RRP | £8.99 |
| Country of Origin | United Kingdom |
| SKU | FGMUG001MTBGRN(P) |
| Gtin | 5056656325436 |
| Tariff Code | 691110 |
| Tariff Description | Tableware, kitchenware, other household articles and toilet articles, of porcelain or china |
| Product Weight | 324 g |
| Product Dimensions | 10 x 8.5 x 8.5cm |
Product Options
Mug Size
10oz White, XL 15oz White
Mug Type
Ceramic
Theme Colour
Green, Blue, Orange
Cycling Theme
Mountain Bike, Road Bike, BMX
Optional Coaster
Inc. 1 Circular Coaster +, Inc. 1 Square Coaster +
Product Type
Mugs
Home > Mugs
Bike Mugs
Mountain Bike Mug

Personalised Cycling Mug
(10oz White) with Mountain Bike Theme Green (Personalised with Text)
FGMUG001MTBGRN(P)
5056656325436
£8.99
324 g
10 x 8.5 x 8.5cm
Personalised Cycling Mug
(10oz White) with Mountain Bike Theme Green (Personalised with Text) with 1 matching Circular Coaster
FGMUG001MTBGRN(P)+FGCOA003
5056656309368
£12.98
380 g
10 x 8.5 x 8.5cm
Personalised Cycling Mug
(10oz White) with Mountain Bike Theme Green (Personalised with Text) with 1 matching Square Coaster
FGMUG001MTBGRN(P)+FGCOA002
5056656309368
£12.98
380 g
10 x 8.5 x 8.5cm
Personalised Cycling Mug
(XL 15oz White) with Mountain Bike Theme Green (Personalised with Text)
FGMUG004MTBGRN(P)
5056656309368
£12.99
414 g
11.5 x 8.5 x 8.5cm
Personalised Cycling Mug
(XL 15oz White) with Mountain Bike Theme Green (Personalised with Text) with 1 matching Circular Coaster
FGMUG004MTBGRN(P)+FGCOA003
5056656309368
£16.98
470 g
11.5 x 8.5 x 8.5cm
Personalised Cycling Mug
(XL 15oz White) with Mountain Bike Theme Green (Personalised with Text) with 1 matching Square Coaster
FGMUG004MTBGRN(P)+FGCOA002
5056656309368
£16.98
470 g
11.5 x 8.5 x 8.5cm
Personalised Cycling Mug
(10oz White) with Mountain Bike Theme Blue (Personalised with Text)
FGMUG001MTBBLU(P)
5056656309368
£8.99
324 g
10 x 8.5 x 8.5cm
Personalised Cycling Mug
(10oz White) with Mountain Bike Theme Blue (Personalised with Text) with 1 matching Circular Coaster
FGMUG001MTBBLU(P)+FGCOA003
5056656309368
£12.98
380 g
10 x 8.5 x 8.5cm
Personalised Cycling Mug
(10oz White) with Mountain Bike Theme Blue (Personalised with Text) with 1 matching Square Coaster
FGMUG001MTBBLU(P)+FGCOA002
5056656309368
£12.98
380 g
10 x 8.5 x 8.5cm
Personalised Cycling Mug
(XL 15oz White) with Mountain Bike Theme Blue (Personalised with Text)
FGMUG004MTBBLU(P)
5056656309368
£12.99
414 g
11.5 x 8.5 x 8.5cm
Personalised Cycling Mug
(XL 15oz White) with Mountain Bike Theme Blue (Personalised with Text) with 1 matching Circular Coaster
FGMUG004MTBBLU(P)+FGCOA003
5056656309368
£16.98
470 g
11.5 x 8.5 x 8.5cm
Personalised Cycling Mug
(XL 15oz White) with Mountain Bike Theme Blue (Personalised with Text) with 1 matching Square Coaster
FGMUG004MTBBLU(P)+FGCOA002
5056656309368
£16.98
470 g
11.5 x 8.5 x 8.5cm
Personalised Cycling Mug
(10oz White) with Mountain Bike Theme Orange (Personalised with Text)
FGMUG001MTBORA(P)
5056656309368
£8.99
324 g
10 x 8.5 x 8.5cm
Personalised Cycling Mug
(10oz White) with Mountain Bike Theme Orange (Personalised with Text) with 1 matching Circular Coaster
FGMUG001MTBORA(P)+FGCOA003
5056656309368
£12.98
380 g
10 x 8.5 x 8.5cm
Personalised Cycling Mug
(10oz White) with Mountain Bike Theme Orange (Personalised with Text) with 1 matching Square Coaster
FGMUG001MTBORA(P)+FGCOA002
5056656309368
£12.98
380 g
10 x 8.5 x 8.5cm
Personalised Cycling Mug
(XL 15oz White) with Mountain Bike Theme Orange (Personalised with Text)
FGMUG004MTBORA(P)
5056656309368
£12.99
414 g
11.5 x 8.5 x 8.5cm
Personalised Cycling Mug
(XL 15oz White) with Mountain Bike Theme Orange (Personalised with Text) with 1 matching Circular Coaster
FGMUG004MTBORA(P)+FGCOA003
5056656309368
£16.98
470 g
11.5 x 8.5 x 8.5cm
Personalised Cycling Mug
(XL 15oz White) with Mountain Bike Theme Orange (Personalised with Text) with 1 matching Square Coaster
FGMUG004MTBORA(P)+FGCOA002
5056656309368
£16.98
470 g
11.5 x 8.5 x 8.5cm
Personalised Cycling Mug
(10oz White) with Road Bike Theme Green (Personalised with Text)
FGMUG001RDBGRN(P)
5056656309368
£8.99
324 g
10 x 8.5 x 8.5cm
Personalised Cycling Mug
(10oz White) with Road Bike Theme Green (Personalised with Text) with 1 matching Circular Coaster
FGMUG001RDBGRN(P)+FGCOA003
5056656309368
£12.98
380 g
10 x 8.5 x 8.5cm
Personalised Cycling Mug
(10oz White) with Road Bike Theme Green (Personalised with Text) with 1 matching Square Coaster
FGMUG001RDBGRN(P)+FGCOA002
5056656309368
£12.98
380 g
10 x 8.5 x 8.5cm
Personalised Cycling Mug
(XL 15oz White) with Road Bike Theme Green (Personalised with Text)
FGMUG004RDBGRN(P)
5056656309368
£12.99
414 g
11.5 x 8.5 x 8.5cm
Personalised Cycling Mug
(XL 15oz White) with Road Bike Theme Green (Personalised with Text) with 1 matching Circular Coaster
FGMUG004RDBGRN(P)+FGCOA003
5056656309368
£16.98
470 g
11.5 x 8.5 x 8.5cm
Personalised Cycling Mug
(XL 15oz White) with Road Bike Theme Green (Personalised with Text) with 1 matching Square Coaster
FGMUG004RDBGRN(P)+FGCOA002
5056656309368
£16.98
470 g
11.5 x 8.5 x 8.5cm
Personalised Cycling Mug
(10oz White) with Road Bike Theme Blue (Personalised with Text)
FGMUG001RDBBLU(P)
5056656309368
£8.99
324 g
10 x 8.5 x 8.5cm
Personalised Cycling Mug
(10oz White) with Road Bike Theme Blue (Personalised with Text) with 1 matching Circular Coaster
FGMUG001RDBBLU(P)+FGCOA003
5056656309368
£12.98
380 g
10 x 8.5 x 8.5cm
Personalised Cycling Mug
(10oz White) with Road Bike Theme Blue (Personalised with Text) with 1 matching Square Coaster
FGMUG001RDBBLU(P)+FGCOA002
5056656309368
£12.98
380 g
10 x 8.5 x 8.5cm
Personalised Cycling Mug
(XL 15oz White) with Road Bike Theme Blue (Personalised with Text)
FGMUG004RDBBLU(P)
5056656309368
£12.99
414 g
11.5 x 8.5 x 8.5cm
Personalised Cycling Mug
(XL 15oz White) with Road Bike Theme Blue (Personalised with Text) with 1 matching Circular Coaster
FGMUG004RDBBLU(P)+FGCOA003
5056656309368
£16.98
470 g
11.5 x 8.5 x 8.5cm
Personalised Cycling Mug
(XL 15oz White) with Road Bike Theme Blue (Personalised with Text) with 1 matching Square Coaster
FGMUG004RDBBLU(P)+FGCOA002
5056656309368
£16.98
470 g
11.5 x 8.5 x 8.5cm
Personalised Cycling Mug
(10oz White) with Road Bike Theme Orange (Personalised with Text)
FGMUG001RDBORA(P)
5056656309368
£8.99
324 g
10 x 8.5 x 8.5cm
Personalised Cycling Mug
(10oz White) with Road Bike Theme Orange (Personalised with Text) with 1 matching Circular Coaster
FGMUG001RDBORA(P)+FGCOA003
5056656309368
£12.98
380 g
10 x 8.5 x 8.5cm
Personalised Cycling Mug
(10oz White) with Road Bike Theme Orange (Personalised with Text) with 1 matching Square Coaster
FGMUG001RDBORA(P)+FGCOA002
5056656309368
£12.98
380 g
10 x 8.5 x 8.5cm
Personalised Cycling Mug
(XL 15oz White) with Road Bike Theme Orange (Personalised with Text)
FGMUG004RDBORA(P)
5056656309368
£12.99
414 g
11.5 x 8.5 x 8.5cm
Personalised Cycling Mug
(XL 15oz White) with Road Bike Theme Orange (Personalised with Text) with 1 matching Circular Coaster
FGMUG004RDBORA(P)+FGCOA003
5056656309368
£16.98
470 g
11.5 x 8.5 x 8.5cm
Personalised Cycling Mug
(XL 15oz White) with Road Bike Theme Orange (Personalised with Text) with 1 matching Square Coaster
FGMUG004RDBORA(P)+FGCOA002
5056656309368
£16.98
470 g
11.5 x 8.5 x 8.5cm
Personalised Cycling Mug
(10oz White) with BMX Theme Green (Personalised with Text)
FGMUG001BMXGRN(P)
5056656309368
£8.99
324 g
10 x 8.5 x 8.5cm
Personalised Cycling Mug
(10oz White) with BMX Theme Green (Personalised with Text) with 1 matching Circular Coaster
FGMUG001BMXGRN(P)+FGCOA003
5056656309368
£12.98
380 g
10 x 8.5 x 8.5cm
Personalised Cycling Mug
(10oz White) with BMX Theme Green (Personalised with Text) with 1 matching Square Coaster
FGMUG001BMXGRN(P)+FGCOA002
5056656309368
£12.98
380 g
10 x 8.5 x 8.5cm
Personalised Cycling Mug
(XL 15oz White) with BMX Theme Green (Personalised with Text)
FGMUG004BMXGRN(P)
5056656309368
£12.99
414 g
11.5 x 8.5 x 8.5cm
Personalised Cycling Mug
(XL 15oz White) with BMX Theme Green (Personalised with Text) with 1 matching Circular Coaster
FGMUG004BMXGRN(P)+FGCOA003
5056656309368
£16.98
470 g
11.5 x 8.5 x 8.5cm
Personalised Cycling Mug
(XL 15oz White) with BMX Theme Green (Personalised with Text) with 1 matching Square Coaster
FGMUG004BMXGRN(P)+FGCOA002
5056656309368
£16.98
470 g
11.5 x 8.5 x 8.5cm
Personalised Cycling Mug
(10oz White) with BMX Theme Blue (Personalised with Text)
FGMUG001BMXBLU(P)
5056656309368
£8.99
324 g
10 x 8.5 x 8.5cm
Personalised Cycling Mug
(10oz White) with BMX Theme Blue (Personalised with Text) with 1 matching Circular Coaster
FGMUG001BMXBLU(P)+FGCOA003
5056656309368
£12.98
380 g
10 x 8.5 x 8.5cm
Personalised Cycling Mug
(10oz White) with BMX Theme Blue (Personalised with Text) with 1 matching Square Coaster
FGMUG001BMXBLU(P)+FGCOA002
5056656309368
£12.98
380 g
10 x 8.5 x 8.5cm
Personalised Cycling Mug
(XL 15oz White) with BMX Theme Blue (Personalised with Text)
FGMUG004BMXBLU(P)
5056656309368
£12.99
414 g
11.5 x 8.5 x 8.5cm
Personalised Cycling Mug
(XL 15oz White) with BMX Theme Blue (Personalised with Text) with 1 matching Circular Coaster
FGMUG004BMXBLU(P)+FGCOA003
5056656309368
£16.98
470 g
11.5 x 8.5 x 8.5cm
Personalised Cycling Mug
(XL 15oz White) with BMX Theme Blue (Personalised with Text) with 1 matching Square Coaster
FGMUG004BMXBLU(P)+FGCOA002
5056656309368
£16.98
470 g
11.5 x 8.5 x 8.5cm
Personalised Cycling Mug
(10oz White) with BMX Theme Orange (Personalised with Text)
FGMUG001BMXORA(P)
5056656309368
£8.99
324 g
10 x 8.5 x 8.5cm
Personalised Cycling Mug
(10oz White) with BMX Theme Orange (Personalised with Text) with 1 matching Circular Coaster
FGMUG001BMXORA(P)+FGCOA003
5056656309368
£12.98
380 g
10 x 8.5 x 8.5cm
Personalised Cycling Mug
(10oz White) with BMX Theme Orange (Personalised with Text) with 1 matching Square Coaster
FGMUG001BMXORA(P)+FGCOA002
5056656309368
£12.98
380 g
10 x 8.5 x 8.5cm
Personalised Cycling Mug
(XL 15oz White) with BMX Theme Orange (Personalised with Text)
FGMUG004BMXORA(P)
5056656309368
£12.99
414 g
11.5 x 8.5 x 8.5cm
Personalised Cycling Mug
(XL 15oz White) with BMX Theme Orange (Personalised with Text) with 1 matching Circular Coaster
FGMUG004BMXORA(P)+FGCOA003
5056656309368
£16.98
470 g
11.5 x 8.5 x 8.5cm
Personalised Cycling Mug
(XL 15oz White) with BMX Theme Orange (Personalised with Text) with 1 matching Square Coaster
FGMUG004BMXORA(P)+FGCOA002
5056656309368
£16.98
470 g
11.5 x 8.5 x 8.5cm
Personalised Cycling Mug