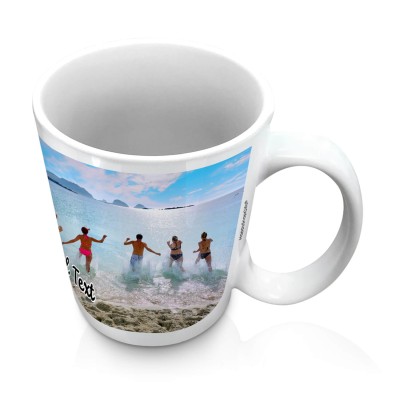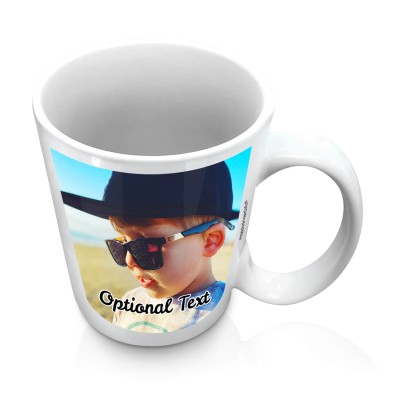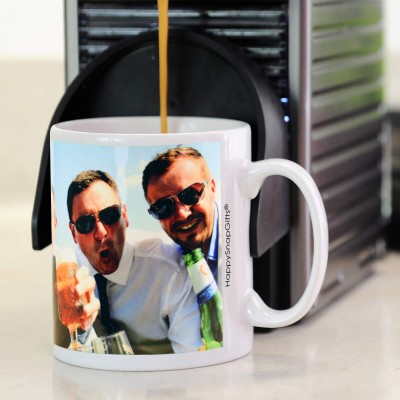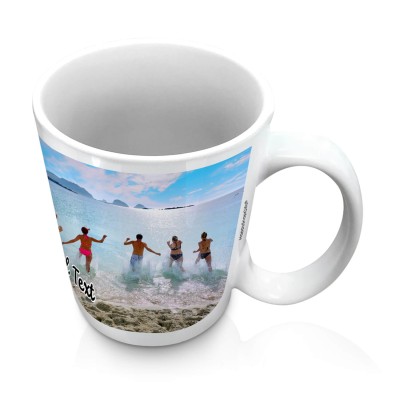 Dishwasher Safe
Description
Photo Mug made from dishwasher-safe ceramic and printed with up to two different photos and a Personalised Text message of your choice.
Printed in-house here in the UK.
Utilises latest image printing technologies.
Lovely classic shape Photo Mug.
Photo will not scratch.
Dishwasher safe.
Trusted HappySnapGifts® brand.
This lovely ceramic photo mug can be printed with up to two of your photos and we use the latest image technologies to ensure you're more than happy with the end result. Printed mugs are an inexpensive way of creating something unique and look great.
Our ceramic Personalised Photo Mug comes in a classic, timeless design and will look the part in any kitchen or living room. We really recommend high resolution imagery to really bring the best out of this product. You have the option of choosing from a myriad of image arrangements, such as a single wrap-around image or two smaller images positioned twice.
Your printed photo will be pressed onto the mug and will not scratch or rub off. Our Personalised Photo Mugs are dishwasher safe and and come in a classic white colourway.
Reviews
Great present
- Quick and easy service, with updates at each point of the process. Photo nicely positioned on the mug, and definitely a company I'll be using again. (Loz, 08/10/20)
My mug
- Ordered a coffee mug for my husband with family photos beautiful and he was so chuffed (Vivian Kerry, 17/07/20)
Photo Mug! My friend loved it!
- Great fun product. Good production, and value for money and a speedy delivery even in these uncertain times. Thank you! (Lisa Roberts, 02/04/20)
Girlfriend delighted.
- I bought two of these photo-personalised mugs as a birthday present for my girlfriend - and she loves them. I was impressed by the quality of the finished product especially because the two portrait pictures I supplied were scanned images of old, low-resolution B&W prints. I was also pleased by this company's friendly and responsive attitude. (Kevin, from Tameside, Greater Manchester. Jan 19, 2017.)
My friend loves her mug
- Bought this mug for a friend's birthday, she absolutely loves it, it's so good my husband now wants one. (Chrissy)
Going away present for my friend
- I purchased this mug for my friend who was leaving the country and included a photo of us that we found really funny. The mug was sent in great condition and took just about a week to arrive. My friend loved his present and I feel it was the perfect way to say goodbye. (Aidan)
Photo Mugs
- Excellent value at two for the price of one. Cannot fault the efficient service. (EOC)
Great products
- My customers love these standard and large photo mugs. It is surprising how well the images reproduce considering that they are heat treated to fire the picture into the glaze. We have had one permanently in a dishwasher for over 1 year now and there is no deterioration in the image. Also, they seem to be as scratch resistant as the original glaze (David Burgess - Woofypics)
Funny gift
- Nice quality mug and clarity of photo is great. Made a good quirky gift. (Penguin)
Mug with photo
- Absolutely love it! My sister is gonna cry when she sees it. (Anjali)
My friend was very apprecative of this personal and attractive gift.
- Excellent product sent quickly by very efficient company. (Ramona Morris)
Photo mugs
- The mugs are good quality and the order was processed and received incredibly quickly. Would definitely use this site again. (Liz)
My son loved his personalised mug with a picture of his son on it!!
- The mug with a personalised photo is great!! Our son loved the mug with a picture of his Son on it!! Easy to order too!! (Carolyn Thompson)
Terrific service
- I'm absolutely delighted with my mug. It was delivered really quickly and is superb quality. Many thanks. (anonymous)
FAQs
Can these mugs be washed in a dishwasher?
Yes. All our mugs are dishwasher safe.
Delivery
The information below is for guidance. Actual delivery costs and dates depend on the delivery address, weight and time your order is placed. Cut-off time for Overnight Orders is 12 noon.
| Price | Method | Manufacture Time | Delivery Time | Est. Delivery Date |
| --- | --- | --- | --- | --- |
| £4.99 | 2nd Class (Tracked) | 0-3 Days | 2-3 Days | Mon 4 Dec - Fri 8 Dec |
| £7.99 | 1st Class (Tracked) | 0-3 Days | 1-2 Days | Fri 1 Dec - Thu 7 Dec |
| £13.06 | DHL Courier (Economy M-F Pre 6pm) | 0-3 Days | 2-3 Days | Mon 4 Dec - Fri 8 Dec |
| £14.99 | Royal Mail Special Delivery (Overnight Mon-Sat Pre 1pm) | Today | Next Day (Mon-Sat) | Fri 1 Dec |
More Information
| | |
| --- | --- |
| Despatch | 0-3 Days (to Personalise) or Upgrade at Checkout for Overnight Delivery |
| Brand | HappySnapGifts® |
| RRP | £8.99 |
| Country of Origin | United Kingdom |
| SKU | FGMUG001P(Ph1WA)(P) |
| Gtin | 5060089255987 |
| Tariff Code | 691110 |
| Tariff Description | Tableware, kitchenware, other household articles and toilet articles, of porcelain or china |
| Product Weight | 325 g |
| Product Dimensions | 10 x 8.5 x 8.5cm |
Product Options
Size & Colour
10oz White
Photos to Print
Photos to Front
Mug Type
Ceramic
Product Type
Mugs
Personalised Gifts > Photo Gifts
Personalised Mug
Personalised Mugs UK
Personalised Photo Mug

Personalised Photo Mug
(10oz White) with 1 Wrapped Around Image (Personalised with Text)
FGMUG001P(Ph1WA)(P)
5060089255987
£8.99
325 g
10 x 8.5 x 8.5cm
Personalised Photo Mug
(10oz White) with 1 Photo Printed Front & Back (Personalised with Text)
FGMUG001P(Ph1FB)(P)
5060089255963
£8.99
325 g
10 x 8.5 x 8.5cm
Personalised Photo Mug
(10oz White) with 2 Photos Printed Front & Back (Personalised with Text)
FGMUG001P(Ph2FB)(P)
5060089255970
£8.99
325 g
10 x 8.5 x 8.5cm
Photos & Artwork
Have your photos ready as they need to be uploaded before you pay for your order.
Loading photos on HappySnapGifts®
Select your Products & Add to Cart.
You will be presented with a screen to upload the correct number of photos for each item in the cart OR Continue Shopping to add other products.
"Personalise Here" for the 1st product & upload photos.
TOP TIP Drag your photos into the order you want them to appear on the product.
Add any Personalised Text.
"Save and Continue".
Personalise other items in the cart and "Complete Order"
Can I pay now and upload later?
No. Our system is set to be fail-safe and ensure you can only order if you have completed all the photo uploading to complete your product.
Can I place the photo's in a certain order?
Yes. You will be presented with a "mock-up" of your product which will have the corresponding numbers of where the photos will be placed. If your item has say 6 photo's to upload then upload them all, then if needed, drag them into a different order to correspond with the mini-mock-up image presented. Only click to submit and pay when you are ready as we will use these images in the right order for your order.
Can I see a preview of my product?
Not yet. We ask you to upload the photos and drag them into the right order on the system to match the mock-up you will see. At a later date, very soon we hope, you will be able to click and upload in the right position and see a preview at the same time as you build the product ready to order. This will be ready as we say as soon as we can so our best advice is to take care and re-order your product photo's before confirming your order. It's really very easy - give it a go and you will see.
Image Quality
Replication of your photo is to the best standard possible though we do not edit or alter image quality before we print. Send us the very best "in-focus" and well-lit image and to the largest size possible and you will be amazed at the incredible detail. Send us fuzzy, old or out-of-focus images and these will be replicated in detail without editing so you will get a product as good as the images you send. Most new mobile phones produce great quality images though where we usually have problems is where we receive a scan of a very old photo or a pixellated image that was so small when it was taken (perhaps on early 1990's style phones) that we have to enlarge to fit onto a relatively large product.
HappySnapGifts® Guide for Photo Mugs
We will decide upon the best layout for your photo when you load the images and get in touch if we see anything that we feel won't fit or look odd.
Photos will be cropped to fit onto the mug. It's best not to crop yourself as sometimes we need more width than height to make your mug look its best.
You can have 1 very wide image at 22cm that will wrap all the way around the mug. Photos wanting this option are best when they are much wider and the people or focus point you want is not so tall on the overall photo space. Full wrap-around images leave no room for text unless you supply text within the photo image yourself.
For smaller images that are not suitable for the wrap-around shape, we will crop to fit into a square and print this once or twice on the mug as you request in the option.
Alternatively, you can have 2 different images to the front and back of the mugs, both square in shape.
The FRONT of the Mug is the side facing yourself if you hold the mug in your RIGHT HAND. The BACK is the side facing away from you if held in the right hand.
We will not distort the photo's when we crop images for you.
Personalised Photo Mug