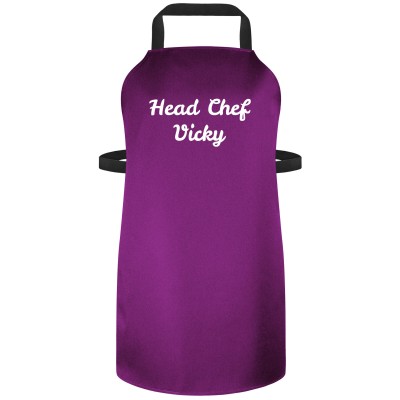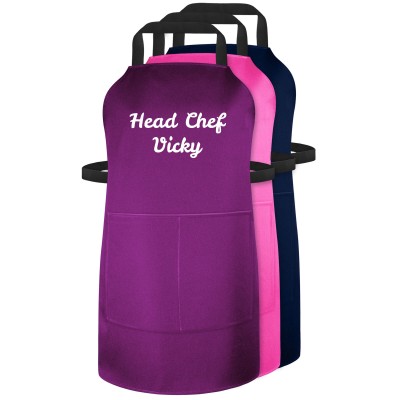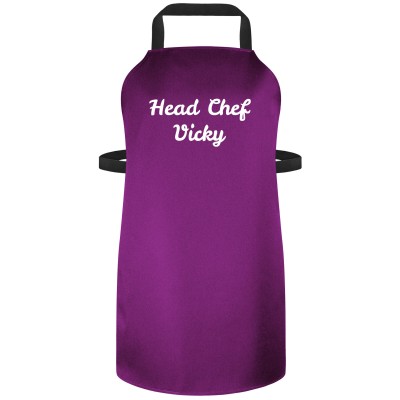 UK Made
Organic Options *
Description
Personalised Apron with your own Personalised Text is UK Made and with text of your choice printed to the front in a variety of font and colour choices.
UK Made Personalised Aprons.
Size options for adults and teens.
Fabric and colour choices.
Personalised with the text of your choice.
Including matching pocket.
Neck tie colour and fastening options.
Trusted HappySnapGifts® brand.
HappySnapGifts® Create Your Own Personalised Apron Made in the UK with many fabric, colour, size, pocket and personalised text options.
As a British Manufacturer of Aprons we can offer a vast range of personalised choices whether this be the fabric and colour of the product itself, the neck tie options or the way in which the item can be personalised.
Personalised text is your own choice. You can choose a fun slogan or personalise with a persons name or nick-name. The choice is your own and so too is the font that we use to print the apron. We have selected a handful of our most popular fun fonts for the text though if you want something different or have a font in mind, just get in touch with us first to check we have it available.
Reviews
Aprons
- Fabulous - perfect present! (anonymous, 24/09/20)
My daughter loves her personalised apron
- Brilliant service and a high quality product exactly as described. My daughter's growing interest in baking resulted in us looking for a personalised apron for her birthday. She's absolutely made up with it! Brilliant quality and it even arrived earlier than the site had said on ordering. No complaints at all. (Lee Andrew, 21/05/20)
Secret Santa Gift
- I ordered a personalised apron with text and it arrived promptly with emails from the time of ordering to inform me of how the order was progressing through the system. It looks good and is pretty good value for money (Lynne)
love the personalised apron
- ordered a personalised apron,am really happy with the quality and speed of delivery (anonymous)
Chefs Apron
- This is a birthday present for my brother. He is doing most of the cooking at home now. It arrived very quickly and the quality is really good,would definitely use Happy snappy gifts again. (Maureen)
BBQ joy
- Pleased with the apron. Material of good quality.  (despina)
Fun Apron
- Just what we were looking for, great value & choice (Sue M)
Apron
- Good quality material. Colour as stated. Personalisation was as hoped for. (Edward McBride)
My friends love their aprons
- Prompt service, extremely pleased with quality of material and product. (Sally Barden)
My Daughter Loves this Apron
- Bought this personalised apron for my daughter, she absolutely loves it and was so thrilled that it had her name on it !! Really good quality and excellent purchase. (Sarah)
Super quality and brilliant customer service
- I bought this as a secret santa gift and the recipient was absolutely delighted with it. The quality is really great and the customer service was absolutely brilliant. (Brenda)
Love it!!!!
- Really pleased with the personalised apron I purchased for my wedding breakfast, it is just what I wanted. (AFord)
best man apron for wedding - we all loved it
- Excellent value, dispatch time really quick, exactly what we wanted (anonymous)
Personalised Apron ... I'm delighted with this gift for my son.
- I ordered this gift in January for my sons birthday on 23rd. Feb. Thought I had better think well ahead just in case ... I needn't have worried, not only did the gift arrive prior to the advised delivery date but it was just as described on HappySnapGifts site. I know my son will be so very pleased with this unusual birthday gift from me. I'm an extremely happy customer! (Sandra Wright)
Personalised apron
- I ordered a personalised 'bridezilla' apron for my sister as a present on her hen do. The apron was delivered on time and lived up to all my expectations. I was kept up to date through out the order and the apron was delivered in the given time frame. Really impresses with the standard of service and product. Thanks (Libby)
Family aprons
- I ordered aprons for 6 members of my family with their names on, ages between 6 and 46 years. FAB! (Philippa)
Directors Review of the Personalised Apron
- Personalising an apron with the text of your choice is a great kitchen or cooking related personalised gift for any occasion. Our personalised aprons have been given as fathers day and BBQ gifts, Mothers Day and Valentines Gifts and they are such fun when personalised with something the recipient will love. Our aprons are made here in our own factory and are made to the best standard we can so we know you will not be disappointed. (Michael Robinson)
Instructions
Our products will have a sewn-in Care Label giving you guidance on Care and Washing this Product. In summary however, they will contain the following instructions though please do refer to the specific label on your individual item for latest information:
For 100% Cotton, 100% Polycotton & 100% Polyester Fabrics (eg Fleece).
CARELESSNESS CAUSES FIRE.
Remove outer cover if supplied before carefully cleaning.
Do not wash the inner filled product or get it wet.
Warm hand or machine wash and cold rinse.
Wash with like colours at max. 40 degree temperature.
Do not bleach.
1 spot iron (Cotton / Fleece) or 2 spot iron (Polycotton).
Do not tumble dry.
FAQs
What can I have printed on my Personalised Apron?
You can have any text you like printed onto this Apron - customers usually choose a persons name or nickname and then perhaps a birthday age, a funny insult about their ability to cook or just simple initials. We don't mind as you can have printed anything you like (we won't blush)!
Will the print stay on the Apron even when washed?
Yes. We use a specialist clothing method of applying the print onto the fabric and this will withstand washing over time.
Can I wash my Personalised Apron?
Yes. Please see the care label that will be attached to your apron on delivery or see the Instructions tab on our product online.
What are the Organic Fabric Options?
Where shown, this product has an Organic Fabric Option. We purchase organic fabric from trusted UK Fabric Merchants who are registered under the Global Organic Textile Standard (GOTS) to enable full traceability of the fabric we use through to the final product you are purchasing today.
Delivery
The information below is for guidance. Actual delivery costs and dates depend on the delivery address, weight and time your order is placed. Cut-off time for Overnight Orders is 12 noon.
| Price | Method | Manufacture Time | Delivery Time | Est. Delivery Date |
| --- | --- | --- | --- | --- |
| £3.99 | 2nd Class (Tracked LL) | 0-3 Days | 2-3 Days | Wed 13 Dec - Tue 19 Dec |
| £5.99 | 1st Class (Tracked LL) | 0-3 Days | 1-2 Days | Tue 12 Dec - Mon 18 Dec |
| £13.03 | DHL Courier (Economy M-F Pre 6pm) | 0-3 Days | 2-3 Days | Wed 13 Dec - Tue 19 Dec |
| £14.99 | Royal Mail Special Delivery (Overnight Mon-Sat Pre 1pm) | Today | Next Day (Mon-Sat) | Mon 11 Dec |
More Information
| | |
| --- | --- |
| Despatch | Today (Cut off time 3pm) (0-3 Days if Personalised) or Upgrade at Checkout for Overnight Delivery |
| Brand | HappySnapGifts® |
| RRP | £14.99 |
| Country of Origin | United Kingdom |
| SKU | FGAPR050(70cm)COT-PUR(P) |
| Gtin | 5056656346332 |
| Tariff Code | 6114300000 |
| Tariff Description | Aprons - Man Made Fabric |
| Product Weight | 140 g |
| Product Dimensions | 70 x 55cm |
Product Options
Size
Medium 70cm x 55cm, Large 90cm x 70cm
Fabric
Cotton, Luxury Cotton, Organic Cotton
Fabric Colour
Purple, Hot Pink, Navy Blue, Natural, Royal Blue, Red, Black, White, Chocolate, Gothic Blue
Apron Pocket
Matching Fabric Pocket +
Product Type
Aprons
Personalised Apron
Personalised Cooking Apron
Personalised Baking Apron
Personalised BBQ Apron

Personalised Apron
(70cm x 55cm) - Purple Cotton Fabric (Personalised with Text)
FGAPR050(70cm)COT-PUR(P)
5056656346332
£14.99
140 g
70 x 55cm
Personalised Apron
(70cm x 55cm) - Purple Cotton Fabric (Personalised with Text) and Matching Fabric Pocket
FGAPR050(70cm)COT-PUR(P)Poc
5056656358205
£17.99
155 g
70 x 55cm
Personalised Apron
(90cm x 70cm) - Purple Cotton Fabric (Personalised with Text)
FGAPR050(90cm)COT-PUR(P)
5056656357994
£19.99
230 g
90 x 70cm
Personalised Apron
(90cm x 70cm) - Purple Cotton Fabric (Personalised with Text) and Matching Fabric Pocket
FGAPR050(90cm)COT-PUR(P)Poc
5056656358212
£22.99
245 g
90 x 70cm
Personalised Apron
(70cm x 55cm) - Hot Pink Cotton Fabric (Personalised with Text)
FGAPR050(70cm)COT-PBU(P)
5056656358007
£14.99
140 g
70 x 55cm
Personalised Apron
(70cm x 55cm) - Hot Pink Cotton Fabric (Personalised with Text) and Matching Fabric Pocket
FGAPR050(70cm)COT-PBU(P)Poc
5056656358229
£17.99
155 g
70 x 55cm
Personalised Apron
(90cm x 70cm) - Hot Pink Cotton Fabric (Personalised with Text)
FGAPR050(90cm)COT-PBU(P)
5056656358014
£19.99
230 g
90 x 70cm
Personalised Apron
(90cm x 70cm) - Hot Pink Cotton Fabric (Personalised with Text) and Matching Fabric Pocket
FGAPR050(90cm)COT-PBU(P)Poc
5056656358236
£22.99
245 g
90 x 70cm
Personalised Apron
(70cm x 55cm) - Navy Blue Cotton Fabric (Personalised with Text)
FGAPR050(70cm)COT-BNA(P)
5056656358021
£14.99
140 g
70 x 55cm
Personalised Apron
(70cm x 55cm) - Navy Blue Cotton Fabric (Personalised with Text) and Matching Fabric Pocket
FGAPR050(70cm)COT-BNA(P)Poc
5056656358243
£17.99
155 g
70 x 55cm
Personalised Apron
(90cm x 70cm) - Navy Blue Cotton Fabric (Personalised with Text)
FGAPR050(90cm)COT-BNA(P)
5056656358038
£19.99
230 g
90 x 70cm
Personalised Apron
(90cm x 70cm) - Navy Blue Cotton Fabric (Personalised with Text) and Matching Fabric Pocket
FGAPR050(90cm)COT-BNA(P)Poc
5056656358250
£22.99
245 g
90 x 70cm
Personalised Apron
(70cm x 55cm) - Natural Cotton Fabric (Personalised with Text)
FGAPR050(70cm)COT-NAT(P)
5056656358045
£14.99
140 g
70 x 55cm
Personalised Apron
(70cm x 55cm) - Natural Cotton Fabric (Personalised with Text) and Matching Fabric Pocket
FGAPR050(70cm)COT-NAT(P)Poc
5056656358267
£17.99
155 g
70 x 55cm
Personalised Apron
(90cm x 70cm) - Natural Cotton Fabric (Personalised with Text)
FGAPR050(90cm)COT-NAT(P)
5056656358052
£19.99
230 g
90 x 70cm
Personalised Apron
(90cm x 70cm) - Natural Cotton Fabric (Personalised with Text) and Matching Fabric Pocket
FGAPR050(90cm)COT-NAT(P)Poc
5056656358274
£22.99
245 g
90 x 70cm
Personalised Apron
(70cm x 55cm) - Royal Blue Cotton Fabric (Personalised with Text)
FGAPR050(70cm)COT-BRO(P)
5056656358069
£14.99
140 g
70 x 55cm
Personalised Apron
(70cm x 55cm) - Royal Blue Cotton Fabric (Personalised with Text) and Matching Fabric Pocket
FGAPR050(70cm)COT-BRO(P)Poc
5056656358281
£17.99
155 g
70 x 55cm
Personalised Apron
(90cm x 70cm) - Royal Blue Cotton Fabric (Personalised with Text)
FGAPR050(90cm)COT-BRO(P)
5056656358076
£19.99
230 g
90 x 70cm
Personalised Apron
(90cm x 70cm) - Royal Blue Cotton Fabric (Personalised with Text) and Matching Fabric Pocket
FGAPR050(90cm)COT-BRO(P)Poc
5056656358298
£22.99
245 g
90 x 70cm
Personalised Apron
(70cm x 55cm) - Red Cotton Fabric (Personalised with Text)
FGAPR050(70cm)COT-RED(P)
5056656358083
£14.99
140 g
70 x 55cm
Personalised Apron
(70cm x 55cm) - Red Cotton Fabric (Personalised with Text) and Matching Fabric Pocket
FGAPR050(70cm)COT-RED(P)Poc
5056656358304
£17.99
155 g
70 x 55cm
Personalised Apron
(90cm x 70cm) - Red Cotton Fabric (Personalised with Text)
FGAPR050(90cm)COT-RED(P)
5056656358090
£19.99
230 g
90 x 70cm
Personalised Apron
(90cm x 70cm) - Red Cotton Fabric (Personalised with Text) and Matching Fabric Pocket
FGAPR050(90cm)COT-RED(P)Poc
5056656358311
£22.99
245 g
90 x 70cm
Personalised Apron
(70cm x 55cm) Black Cotton Fabric (Personalised with Text)
FGAPR050(70cm)COT-BLA(P)
5056656358106
£14.99
140 g
70 x 55cm
Personalised Apron
(70cm x 55cm) Black Cotton Fabric (Personalised with Text) and Matching Fabric Pocket
FGAPR050(70cm)COT-BLA(P)Poc
5056656358328
£17.99
155 g
70 x 55cm
Personalised Apron
(90cm x 70cm) Black Cotton Fabric (Personalised with Text)
FGAPR050(90cm)COT-BLA(P)
5056656358113
£19.99
230 g
90 x 70cm
Personalised Apron
(90cm x 70cm) Black Cotton Fabric (Personalised with Text) and Matching Fabric Pocket
FGAPR050(90cm)COT-BLA(P)Poc
5056656358335
£22.99
245 g
90 x 70cm
Personalised Apron
(70cm x 55cm) - White Cotton Fabric (Personalised with Text)
FGAPR050(70cm)COT-WHI(P)
5056656358120
£14.99
140 g
70 x 55cm
Personalised Apron
(70cm x 55cm) - White Cotton Fabric (Personalised with Text) and Matching Fabric Pocket
FGAPR050(70cm)COT-WHI(P)Poc
5056656358342
£17.99
155 g
70 x 55cm
Personalised Apron
(90cm x 70cm) - White Cotton Fabric (Personalised with Text)
FGAPR050(90cm)COT-WHI(P)
5056656358137
£19.99
230 g
90 x 70cm
Personalised Apron
(90cm x 70cm) - White Cotton Fabric (Personalised with Text) and Matching Fabric Pocket
FGAPR050(90cm)COT-WHI(P)Poc
5056656358359
£22.99
245 g
90 x 70cm
Personalised Apron
(70cm x 55cm) - Chocolate Luxury Cotton Fabric (Personalised with Text)
FGAPR050(70cm)COL-BMO(P)
5056656358144
£24.99
140 g
70 x 55cm
Personalised Apron
(70cm x 55cm) - Chocolate Luxury Cotton Fabric (Personalised with Text) and Matching Fabric Pocket
FGAPR050(70cm)COL-BMO(P)Poc
5056656358366
£27.99
155 g
70 x 55cm
Personalised Apron
(90cm x 70cm) - Chocolate Luxury Cotton Fabric (Personalised with Text)
FGAPR050(90cm)COL-BMO(P)
5056656358151
£29.99
230 g
90 x 70cm
Personalised Apron
(90cm x 70cm) - Chocolate Luxury Cotton Fabric (Personalised with Text) and Matching Fabric Pocket
FGAPR050(90cm)COL-BMO(P)Poc
5056656358373
£32.99
245 g
90 x 70cm
Personalised Apron
(70cm x 55cm) - Gothic Blue Luxury Cotton Fabric (Personalised with Text)
FGAPR050(70cm)COL-BGO(P)
5056656358168
£24.99
140 g
70 x 55cm
Personalised Apron
(70cm x 55cm) - Gothic Blue Luxury Cotton Fabric (Personalised with Text) and Matching Fabric Pocket
FGAPR050(70cm)COL-BGO(P)Poc
5056656358380
£27.99
155 g
70 x 55cm
Personalised Apron
(90cm x 70cm) - Gothic Blue Luxury Cotton Fabric (Personalised with Text)
FGAPR050(90cm)COL-BGO(P)
5056656358175
£29.99
230 g
90 x 70cm
Personalised Apron
(90cm x 70cm) - Gothic Blue Luxury Cotton Fabric (Personalised with Text) and Matching Fabric Pocket
FGAPR050(90cm)COL-BGO(P)Poc
5056656358397
£32.99
245 g
90 x 70cm
Personalised Apron
(70cm x 55cm) - Natural Organic Cotton (Personalised with Text)
FGAPR050(70cm)COO-NAT(P)
5056656358182
£21.99
140 g
70 x 55cm
Personalised Apron
(70cm x 55cm) - Natural Organic Cotton (Personalised with Text) and Matching Fabric Pocket
FGAPR050(70cm)COO-NAT(P)Poc
5056656358403
£24.99
155 g
70 x 55cm
Personalised Apron
(90cm x 70cm) - Natural Organic Cotton (Personalised with Text)
FGAPR050(90cm)COO-NAT(P)
5056656358199
£26.99
230 g
90 x 70cm
Personalised Apron
(90cm x 70cm) - Natural Organic Cotton (Personalised with Text) and Matching Fabric Pocket
FGAPR050(90cm)COO-NAT(P)Poc
5056656358410
£29.99
245 g
90 x 70cm
Personalised Apron