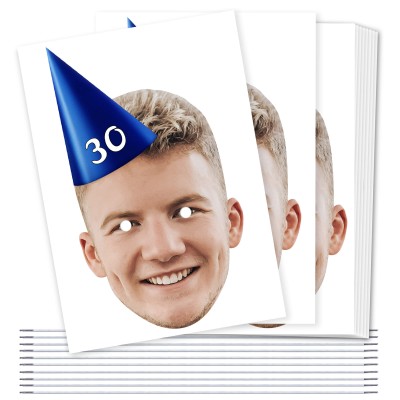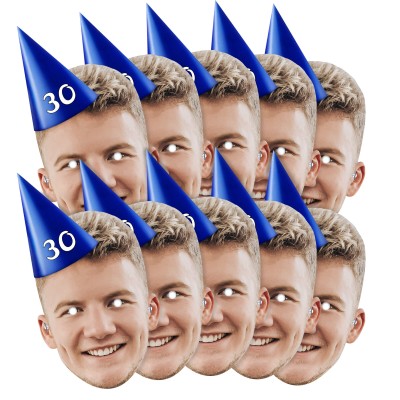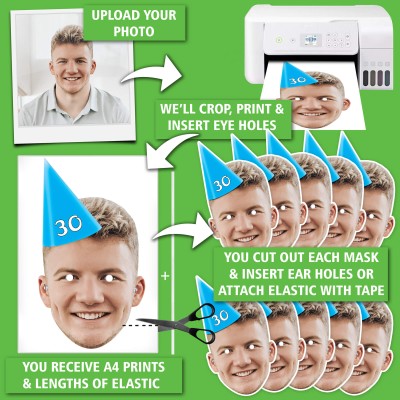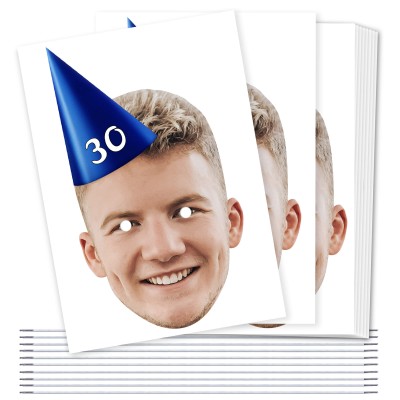 Photo Face Masks (with Personalised Birthday Hats)
UK Made
Description
UK Made Photo Face Masks with Personalised Birthday Hats in many colour options, eye holes pre cut and supplied with fastening options.
Lowest cost personalised birthday photo face masks.
Upload the same photo for all masks and choose the available fastening options.
Choose a birthday hat colour and personalised with an age.
DIY for lowest price where you cut out the face and apply the fastenings of choice.
Ready to Wear finished masks where we cut out the faces and apply the elastic or supply the sticks of choice.
Trusted HappySnapGifts® brand.
Reviews
60th birthday masks
- Very quick and great quality face masks. Good value for money (Gail, 21/11/23)
Small issue was rectified instantly
- My masks came through with a slight error in the printing and alignment however when I emailed I got an instant response from an extremely helpful customer service team member who instantly rectified the issue and sent the replacement product out instantly (Joseph Dockree, 17/11/23)
Good quality
- Good quality party hats , very clear print and very good delivery times (Babs, 15/11/23)
Excellent service and product
- Really pleased with the masks. Arrived within a few days. Kept informed (Lee, 25/08/23)
Instructions
What Makes a Great Photo Face Mask?
High quality images are best suited for this Photo Face Mask, the bigger and higher quality the better.
A photo featuring the full face of the subject, forward facing are needed to create the best mask possible.
We can accept images from social media, your mobile phone or your computer, as long as you have the rights to use the photo (i.e. no celebrity images).
A single person shot is best, but if this is not possible, please contact us to let us know which face to use as soon as you have placed your order.
A nice selfie close to the camera we feel makes for the best Photo Face Mask.
DIY Photo Face Masks - Our lowest cost option.
Face masks are supplied printed onto card so you can decide where to cut out the masks.
Eye holes are hole-punched out.
Pre-cut to size elastics or hand held sticks (as selected) are supplied.
You cut the masks out from the card, punch your own elastic holes and tie on the elastic (or tape on the sticks to the back of the mask).
Finished Photo Face Masks
We print and cut out the faces.
We punch out the eye holes as normal.
We tie on the elastics to each mask in holes we will punch out ready.
If you select the hand held stick option, you will have to tape the sticks to the back (this is so they fit into our postage box).
Delivery
The information below is for guidance. Actual delivery costs and dates depend on the delivery address, weight and time your order is placed. Cut-off time for Overnight Orders is 12 noon.
| Price | Method | Manufacture Time | Delivery Time | Est. Delivery Date |
| --- | --- | --- | --- | --- |
| £3.99 | 2nd Class (Allow 1-3 Days Manufacture Time) (Tracked LL) | 0-3 Days | 2-3 Days | Wed 13 Dec - Tue 19 Dec |
| £5.99 | 1st Class (Allow 1-3 Days Manufacture Time) (Tracked LL) | 0-3 Days | 1-2 Days | Tue 12 Dec - Mon 18 Dec |
| £14.99 | Royal Mail Special Delivery (Overnight Mon-Sat Pre 1pm) | Today | Next Day (Mon-Sat) | Mon 11 Dec |
More Information
| | |
| --- | --- |
| Despatch | 0-3 Days (to Personalise) or Upgrade at Checkout for Overnight Delivery |
| Brand | HappySnapGifts® |
| RRP | £12.99 |
| Country of Origin | United Kingdom |
| SKU | FGFAC055(10)CAR-HAT-BLNPDIY-E(Ph1)(P) |
| Gtin | 5056656362875 |
| Tariff Code | 9505900000 |
| Tariff Description | Festive, carnival or other entertainment articles, including conjuring tricks and novelty jokes > Other |
| Product Weight | 120 g |
Product Options
Size
Pack of 10
Photos to Print
Photos to Front
Made from
Card
Colour
Navy Blue, Sky Blue, Brown, Green, Orange, Pink, Purple, Red
Print Theme
Birthday Hat
Product Type
Face Mask
Personalised Gifts > Photo Gifts
photo face mask
personalised photo face mask
personalised birthday face masks

Photo Face Masks (with Personalised Birthday Hats)
(Pack of 10) (Navy Blue) DIY + Elastics (10 of Same Faces) (Personalised with Text)
FGFAC055(10)CAR-HAT-BLNPDIY-E(Ph1)(P)
5056656362875
£12.99
120 g
Photo Face Masks (with Personalised Birthday Hats)
(Pack of 10) (Navy Blue) DIY + Sticks (10 of Same Faces) (Personalised with Text)
FGFAC055(10)CAR-HAT-BLNPDIY-S(Ph1)(P)
5056656370702
£14.99
170 g
Photo Face Masks (with Personalised Birthday Hats)
(Pack of 10) (Navy Blue) Finished Masks + Elastics (10 of Same Faces) (Personalised with Text)
FGFAC055(10)CAR-HAT-BLNPFIN-E(Ph1)(P)
5056656370719
£24.99
120 g
Photo Face Masks (with Personalised Birthday Hats)
(Pack of 10) (Navy Blue) Finished Masks + Sticks (10 of Same Faces) (Personalised with Text)
FGFAC055(10)CAR-HAT-BLNPFIN-S(Ph1)(P)
5056656370726
£29.99
170 g
Photo Face Masks (with Personalised Birthday Hats)
(Pack of 10) (Sky Blue) DIY + Elastics (10 of Same Faces) (Personalised with Text)
FGFAC055(10)CAR-HAT-BLSPDIY-E(Ph1)(P)
5056656370733
£12.99
120 g
Photo Face Masks (with Personalised Birthday Hats)
(Pack of 10) (Sky Blue) DIY + Sticks (10 of Same Faces) (Personalised with Text)
FGFAC055(10)CAR-HAT-BLSPDIY-S(Ph1)(P)
5056656370740
£14.99
170 g
Photo Face Masks (with Personalised Birthday Hats)
(Pack of 10) (Sky Blue) Finished Masks + Elastics (10 of Same Faces) (Personalised with Text)
FGFAC055(10)CAR-HAT-BLSPFIN-E(Ph1)(P)
5056656370757
£24.99
120 g
Photo Face Masks (with Personalised Birthday Hats)
(Pack of 10) (Sky Blue) Finished Masks + Sticks (10 of Same Faces) (Personalised with Text)
FGFAC055(10)CAR-HAT-BLSPFIN-S(Ph1)(P)
5056656370764
£29.99
170 g
Photo Face Masks (with Personalised Birthday Hats)
(Pack of 10) (Brown) DIY + Elastics (10 of Same Faces) (Personalised with Text)
FGFAC055(10)CAR-HAT-BROPDIY-E(Ph1)(P)
5056656370771
£12.99
120 g
Photo Face Masks (with Personalised Birthday Hats)
(Pack of 10) (Brown) DIY + Sticks (10 of Same Faces) (Personalised with Text)
FGFAC055(10)CAR-HAT-BROPDIY-S(Ph1)(P)
5056656370788
£14.99
170 g
Photo Face Masks (with Personalised Birthday Hats)
(Pack of 10) (Brown) Finished Masks + Elastics (10 of Same Faces) (Personalised with Text)
FGFAC055(10)CAR-HAT-BROPFIN-E(Ph1)(P)
5056656370795
£24.99
120 g
Photo Face Masks (with Personalised Birthday Hats)
(Pack of 10) (Brown) Finished Masks + Sticks (10 of Same Faces) (Personalised with Text)
FGFAC055(10)CAR-HAT-BROPFIN-S(Ph1)(P)
5056656370801
£29.99
170 g
Photo Face Masks (with Personalised Birthday Hats)
(Pack of 10) (Green) DIY + Elastics (10 of Same Faces) (Personalised with Text)
FGFAC055(10)CAR-HAT-GREPDIY-E(Ph1)(P)
5056656370818
£12.99
120 g
Photo Face Masks (with Personalised Birthday Hats)
(Pack of 10) (Green) DIY + Sticks (10 of Same Faces) (Personalised with Text)
FGFAC055(10)CAR-HAT-GREPDIY-S(Ph1)(P)
5056656370825
£14.99
170 g
Photo Face Masks (with Personalised Birthday Hats)
(Pack of 10) (Green) Finished Masks + Elastics (10 of Same Faces) (Personalised with Text)
FGFAC055(10)CAR-HAT-GREPFIN-E(Ph1)(P)
5056656370832
£24.99
120 g
Photo Face Masks (with Personalised Birthday Hats)
(Pack of 10) (Green) Finished Masks + Sticks (10 of Same Faces) (Personalised with Text)
FGFAC055(10)CAR-HAT-GREPFIN-S(Ph1)(P)
5056656370849
£29.99
170 g
Photo Face Masks (with Personalised Birthday Hats)
(Pack of 10) (Orange) DIY + Elastics (10 of Same Faces) (Personalised with Text)
FGFAC055(10)CAR-HAT-ORAPDIY-E(Ph1)(P)
5056656370856
£12.99
120 g
Photo Face Masks (with Personalised Birthday Hats)
(Pack of 10) (Orange) DIY + Sticks (10 of Same Faces) (Personalised with Text)
FGFAC055(10)CAR-HAT-ORAPDIY-S(Ph1)(P)
5056656370863
£14.99
170 g
Photo Face Masks (with Personalised Birthday Hats)
(Pack of 10) (Orange) Finished Masks + Elastics (10 of Same Faces) (Personalised with Text)
FGFAC055(10)CAR-HAT-ORAPFIN-E(Ph1)(P)
5056656370870
£24.99
120 g
Photo Face Masks (with Personalised Birthday Hats)
(Pack of 10) (Orange) Finished Masks + Sticks (10 of Same Faces) (Personalised with Text)
FGFAC055(10)CAR-HAT-ORAPFIN-S(Ph1)(P)
5056656370887
£29.99
170 g
Photo Face Masks (with Personalised Birthday Hats)
(Pack of 10) (Pink) DIY + Elastics (10 of Same Faces) (Personalised with Text)
FGFAC055(10)CAR-HAT-PINPDIY-E(Ph1)(P)
5056656370894
£12.99
120 g
Photo Face Masks (with Personalised Birthday Hats)
(Pack of 10) (Pink) DIY + Sticks (10 of Same Faces) (Personalised with Text)
FGFAC055(10)CAR-HAT-PINPDIY-S(Ph1)(P)
5056656370900
£14.99
170 g
Photo Face Masks (with Personalised Birthday Hats)
(Pack of 10) (Pink) Finished Masks + Elastics (10 of Same Faces) (Personalised with Text)
FGFAC055(10)CAR-HAT-PINPFIN-E(Ph1)(P)
5056656370917
£24.99
120 g
Photo Face Masks (with Personalised Birthday Hats)
(Pack of 10) (Pink) Finished Masks + Sticks (10 of Same Faces) (Personalised with Text)
FGFAC055(10)CAR-HAT-PINPFIN-S(Ph1)(P)
5056656370924
£29.99
170 g
Photo Face Masks (with Personalised Birthday Hats)
(Pack of 10) (Purple) DIY + Elastics (10 of Same Faces) (Personalised with Text)
FGFAC055(10)CAR-HAT-PURPDIY-E(Ph1)(P)
5056656370931
£12.99
120 g
Photo Face Masks (with Personalised Birthday Hats)
(Pack of 10) (Purple) DIY + Sticks (10 of Same Faces) (Personalised with Text)
FGFAC055(10)CAR-HAT-PURPDIY-S(Ph1)(P)
5056656370948
£14.99
170 g
Photo Face Masks (with Personalised Birthday Hats)
(Pack of 10) (Purple) Finished Masks + Elastics (10 of Same Faces) (Personalised with Text)
FGFAC055(10)CAR-HAT-PURPFIN-E(Ph1)(P)
5056656370955
£24.99
120 g
Photo Face Masks (with Personalised Birthday Hats)
(Pack of 10) (Purple) Finished Masks + Sticks (10 of Same Faces) (Personalised with Text)
FGFAC055(10)CAR-HAT-PURPFIN-S(Ph1)(P)
5056656370962
£29.99
170 g
Photo Face Masks (with Personalised Birthday Hats)
(Pack of 10) (Red) DIY + Elastics (10 of Same Faces) (Personalised with Text)
FGFAC055(10)CAR-HAT-REDPDIY-E(Ph1)(P)
5056656370979
£12.99
120 g
Photo Face Masks (with Personalised Birthday Hats)
(Pack of 10) (Red) DIY + Sticks (10 of Same Faces) (Personalised with Text)
FGFAC055(10)CAR-HAT-REDPDIY-S(Ph1)(P)
5056656370986
£14.99
170 g
Photo Face Masks (with Personalised Birthday Hats)
(Pack of 10) (Red) Finished Masks + Elastics (10 of Same Faces) (Personalised with Text)
FGFAC055(10)CAR-HAT-REDPFIN-E(Ph1)(P)
5056656370993
£24.99
120 g
Photo Face Masks (with Personalised Birthday Hats)
(Pack of 10) (Red) Finished Masks + Sticks (10 of Same Faces) (Personalised with Text)
FGFAC055(10)CAR-HAT-REDPFIN-S(Ph1)(P)
5056656371006
£29.99
170 g
Photo Face Masks (with Personalised Birthday Hats)