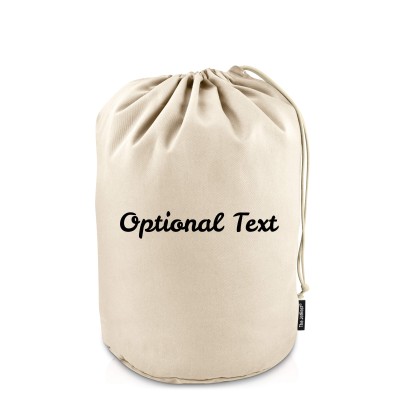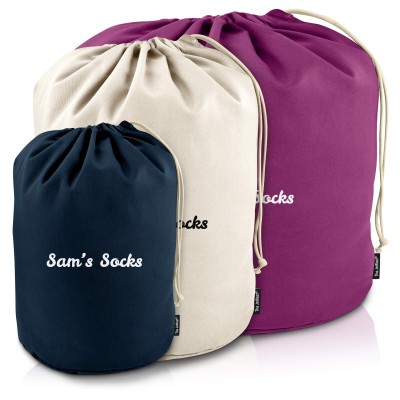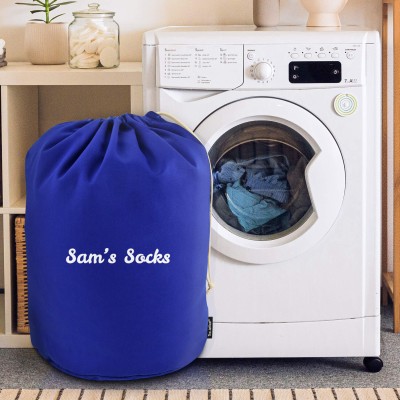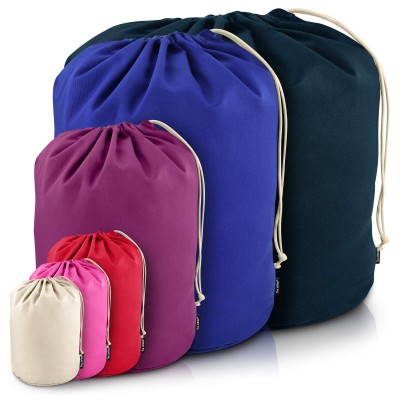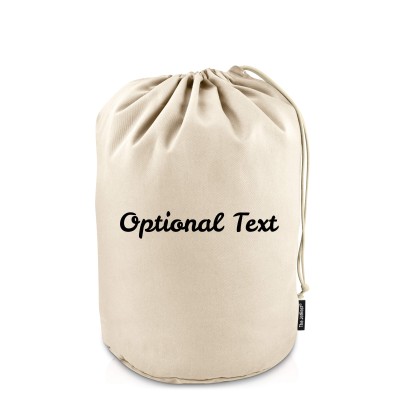 Personalised Travel Laundry Bag
UK Made
Organic Options *
Description
Travel Laundry Bags in many sizes, fabric and colour choices with optional personalisation for travel or the home.
UK Made Travel Laundry Bags.
Drawstring closer.
Many small and larger size options.
100% cotton fabric with colour choices.
Can be personalised with your own name, slogan or phrase.
Trusted HappySnapGifts® brand.
Reviews
Small Personalised Travel Laundry Bag
- I really loved having this bag in my suitcase when I was on holiday earlier this month.We were moving between different hotels so it helped me to feel very organised. (Galeforce, 27/06/23)
Useful laundry bag
- Very well made bag. Took on holiday and used to keep dirty washing in one place and tidy. Excellent product. (Jg, 17/08/22)
Perfect!
- I bought the smaller laundry bag to take with us when we go away for a weekend. Much nicer than a carrier bag for dirty laundry. This bag is quite expensive compared to others on the market, but I think worth the money as it is very high quality. It is so well made it should last a long time. The colours are lovely, and the bag looks smart. (Seaside Nana, 04/02/22)
Great bag I bought a 2nd one
- Really stoked with our first bag used for keeping the duvet safe in our van I bought a second SHOCKING pink version for the fire pit. Really pleased and love the personalisation option. (Richie Jones, 06/10/21)
Superb
- Workmanship and quality of service is great, would totally reccomend!! (Debra, 19/03/21)
Lovely quality
- Purchased this as a space saving storage idea / dust cover for a portable telescope, works brilliantly. (Gwendoline, 02/01/21)
Lovely quality
- Purchased this to store various paraphernalia that comes with a telescope. Works brilliantly and I store it inside the larger one with the telescope, great space saving and keeps dust off (Gwendoline, 02/01/21)
functional
- wanted a basic cotton bag, this does the job. Might take advantage of the printing in the future though I bought mine plain. (Chris Holmes)
Bought for daughters school trip
- Daughter loved showing this to her friends as I had the words to xxxxx love from mum. (Mum of 2)
Perfect for my husband the frequent traveller
- My husband has started "commuting" to another UK office, so I was looking for ideas for his christmas stocking to make his weekly packing/unpacking easier. The medium size laundry bag is perfect for him, and the personalised message made it feel like a present. Delivery was prompt. Many thanks (Fiona)
Laundry bags!!!
- Hi, I recently purchased two of the natural linen laundry bags as my husband and I were travelling around the States on holiday, effectively living out of our suitcases, hence we really needed something practical and fun to separate our clothes waiting to be laundered from our clean ones. The bags were large, well made and squashable with a drawstring bag (hence practical) and, once we'd had them personalised with our own slogans on the side, fun too!! An excellent product - they'll be accompanying us on our future holidays I have no doubt! When we phoned to place the order the service was really friendly and the items were delivered promptly too. Very happy customers! Thanks Claire M (anonymous)
Good service
- I ordered the largest size bag with personilsation. The order was delivered very promptly and the goods were as described. (anonymous)
Delivery
The information below is for guidance. Actual delivery costs and dates depend on the delivery address, weight and time your order is placed. Cut-off time for Overnight Orders is 12 noon.
| Price | Method | Manufacture Time | Delivery Time | Est. Delivery Date |
| --- | --- | --- | --- | --- |
| £4.99 | 2nd Class (Tracked) | 0-3 Days | 2-3 Days | Wed 13 Dec - Tue 19 Dec |
| £7.99 | 1st Class (Tracked) | 0-3 Days | 1-2 Days | Tue 12 Dec - Mon 18 Dec |
| £12.94 | DHL Courier (Economy M-F Pre 6pm) | 0-3 Days | 2-3 Days | Wed 13 Dec - Tue 19 Dec |
| £14.99 | Royal Mail Special Delivery (Overnight Mon-Sat Pre 1pm) | Monday | Next Day (Mon-Sat) | Tue 12 Dec |
More Information
| | |
| --- | --- |
| Despatch | Today (Cut off time 3pm) (0-3 Days if Personalised) or Upgrade at Checkout for Overnight Delivery |
| Brand | HappySnapGifts® |
| RRP | £12.99 |
| Country of Origin | United Kingdom |
| SKU | FGLAU001(32x20)COT-NAT(P) |
| Gtin | 5056261056275 |
| Tariff Code | 4202929190 |
| Tariff Description | Bag - Cotton Fabric |
| Product Weight | 75 g |
| Product Dimensions | 32 x 20 x 20cm |
Product Options
Size
S (32cm tall), M (38cm tall), L (44cm tall), XL (75cm tall), XXL (100cm x 50cm), XXXL (100cm x 100cm)
Fabric
Cotton, Organic Cotton
Fabric Colour
Natural, Navy Blue, Purple, Hot Pink, Red, Royal Blue
Product Type
Bag > Travel Laundry Bag
clothes bag for travel
travel dirty laundry bag
foldable laundry bag
personalised travel laundry bag

Personalised Travel Laundry Bag
Small (32cm x 20cm base) - Natural Cotton Fabric (Personalised with Text)
FGLAU001(32x20)COT-NAT(P)
5056261056275
£12.99
75 g
32 x 20 x 20cm
Personalised Travel Laundry Bag
Medium (38cm x 24cm base) - Natural Cotton Fabric (Personalised with Text)
FGLAU001(38x24)COT-NAT(P)
5056656321209
£17.99
104 g
38 x 24 x 24cm
Personalised Travel Laundry Bag
Large (44cm x 28cm base) - Natural Cotton Fabric (Personalised with Text)
FGLAU001(44x28)COT-NAT(P)
5056656321247
£19.99
200 g
44 x 28 x 28cm
Personalised Travel Laundry Bag
XL (75cm x 45cm base) - Natural Cotton Fabric (Personalised with Text)
FGLAU001(75x45)COT-NAT(P)
5056656321285
£39.99
400 g
75 x 45 x 45cm
Personalised Travel Laundry Bag
XXL (100cm x 50cm base) - Natural Cotton Fabric (Personalised with Text)
FGLAU001(100x50)COT-NAT(P)
5056656321322
£49.99
700 g
100 x 50 x 50cm
Personalised Travel Laundry Bag
XXXL (100cm x 100cm base) - Natural Cotton Fabric (Personalised with Text)
FGLAU001(100x100)COT-NAT(P)
5056656321353
£99.99
1,088 g
100 x 100 x 100cm
Personalised Travel Laundry Bag
Small (32cm x 20cm base) - Navy Blue Cotton Fabric (Personalised with Text)
FGLAU001(32x20)COT-BNA(P)
5056656321384
£12.99
75 g
32 x 20 x 20cm
Personalised Travel Laundry Bag
Medium (38cm x 24cm base) - Navy Blue Cotton Fabric (Personalised with Text)
FGLAU001(38x24)COT-BNA(P)
5056656321063
£17.99
104 g
38 x 24 x 24cm
Personalised Travel Laundry Bag
Large (44cm x 28cm base) - Navy Blue Cotton Fabric (Personalised with Text)
FGLAU001(44x28)COT-BNA(P)
5056656321094
£19.99
200 g
44 x 28 x 28cm
Personalised Travel Laundry Bag
XL (75cm x 45cm base) - Navy Blue Cotton Fabric (Personalised with Text)
FGLAU001(75x45)COT-BNA(P)
5056656321124
£39.99
400 g
75 x 45 x 45cm
Personalised Travel Laundry Bag
XXL (100cm x 50cm base) - Navy Blue Cotton Fabric (Personalised with Text)
FGLAU001(100x50)COT-BNA(P)
5056656321155
£49.99
700 g
100 x 50 x 50cm
Personalised Travel Laundry Bag
XXXL (100cm x 100cm base) - Navy Blue Cotton Fabric (Personalised with Text)
FGLAU001(100x100)COT-BNA(P)
5056656321186
£99.99
1,088 g
100 x 100 x 100cm
Personalised Travel Laundry Bag
Small (32cm x 20cm base) - Purple Cotton Fabric (Personalised with Text)
FGLAU001(32x20)COT-PUR(P)
5056656321223
£12.99
75 g
32 x 20 x 20cm
Personalised Travel Laundry Bag
Medium (38cm x 24cm base) - Purple Cotton Fabric (Personalised with Text)
FGLAU001(38x24)COT-PUR(P)
5056656321261
£17.99
104 g
38 x 24 x 24cm
Personalised Travel Laundry Bag
Large (44cm x 28cm base) - Purple Cotton Fabric (Personalised with Text)
FGLAU001(44x28)COT-PUR(P)
5056656321308
£19.99
200 g
44 x 28 x 28cm
Personalised Travel Laundry Bag
XL (75cm x 45cm base) - Purple Cotton Fabric (Personalised with Text)
FGLAU001(75x45)COT-PUR(P)
5056656321339
£39.99
400 g
75 x 45 x 45cm
Personalised Travel Laundry Bag
XXL (100cm x 50cm base) - Purple Cotton Fabric (Personalised with Text)
FGLAU001(100x50)COT-PUR(P)
5056656321360
£49.99
700 g
100 x 50 x 50cm
Personalised Travel Laundry Bag
XXXL (100cm x 100cm base) - Purple Cotton Fabric (Personalised with Text)
FGLAU001(100x100)COT-PUR(P)
5056656321391
£99.99
1,088 g
100 x 100 x 100cm
Personalised Travel Laundry Bag
Small (32cm x 20cm base) - Hot Pink Cotton Fabric (Personalised with Text)
FGLAU001(32x20)COT-PBU(P)
5056656321070
£12.99
75 g
32 x 20 x 20cm
Personalised Travel Laundry Bag
Medium (38cm x 24cm base) - Hot Pink Cotton Fabric (Personalised with Text)
FGLAU001(38x24)COT-PBU(P)
5056656321100
£17.99
104 g
38 x 24 x 24cm
Personalised Travel Laundry Bag
Large (44cm x 28cm base) - Hot Pink Cotton Fabric (Personalised with Text)
FGLAU001(44x28)COT-PBU(P)
5056656321131
£19.99
200 g
44 x 28 x 28cm
Personalised Travel Laundry Bag
XL (75cm x 45cm base) - Hot Pink Cotton Fabric (Personalised with Text)
FGLAU001(75x45)COT-PBU(P)
5056656321162
£39.99
400 g
75 x 45 x 45cm
Personalised Travel Laundry Bag
XXL (100cm x 50cm base) - Hot Pink Cotton Fabric (Personalised with Text)
FGLAU001(100x50)COT-PBU(P)
5056656321193
£49.99
700 g
100 x 50 x 50cm
Personalised Travel Laundry Bag
XXXL (100cm x 100cm base) - Hot Pink Cotton Fabric (Personalised with Text)
FGLAU001(100x100)COT-PBU(P)
5056656321230
£99.99
1,088 g
100 x 100 x 100cm
Personalised Travel Laundry Bag
Small (32cm x 20cm base) - Red Cotton Fabric (Personalised with Text)
FGLAU001(32x20)COT-RED(P)
5056656321278
£12.99
75 g
32 x 20 x 20cm
Personalised Travel Laundry Bag
Medium (38cm x 24cm base) - Red Cotton Fabric (Personalised with Text)
FGLAU001(38x24)COT-RED(P)
5056656321315
£17.99
104 g
38 x 24 x 24cm
Personalised Travel Laundry Bag
Large (44cm x 28cm base) - Red Cotton Fabric (Personalised with Text)
FGLAU001(44x28)COT-RED(P)
5056656321346
£19.99
200 g
44 x 28 x 28cm
Personalised Travel Laundry Bag
XL (75cm x 45cm base) - Red Cotton Fabric (Personalised with Text)
FGLAU001(75x45)COT-RED(P)
5056656321377
£39.99
400 g
75 x 45 x 45cm
Personalised Travel Laundry Bag
XXL (100cm x 50cm base) - Red Cotton Fabric (Personalised with Text)
FGLAU001(100x50)COT-RED(P)
5056656321407
£49.99
700 g
100 x 50 x 50cm
Personalised Travel Laundry Bag
XXXL (100cm x 100cm base) - Red Cotton Fabric (Personalised with Text)
FGLAU001(100x100)COT-RED(P)
5056656321087
£99.99
1,088 g
100 x 100 x 100cm
Personalised Travel Laundry Bag
Small (32cm x 20cm base) - Royal Blue Cotton Fabric (Personalised with Text)
FGLAU001(32x20)COT-BRO(P)
5056656321117
£12.99
75 g
32 x 20 x 20cm
Personalised Travel Laundry Bag
Medium (38cm x 24cm base) - Royal Blue Cotton Fabric (Personalised with Text)
FGLAU001(38x24)COT-BRO(P)
5056656321148
£17.99
104 g
38 x 24 x 24cm
Personalised Travel Laundry Bag
Large (44cm x 28cm base) - Royal Blue Cotton Fabric (Personalised with Text)
FGLAU001(44x28)COT-BRO(P)
5056656321179
£19.99
200 g
44 x 28 x 28cm
Personalised Travel Laundry Bag
XL (75cm x 45cm base) - Royal Blue Cotton Fabric (Personalised with Text)
FGLAU001(75x45)COT-BRO(P)
5056656321216
£39.99
400 g
75 x 45 x 45cm
Personalised Travel Laundry Bag
XXL (100cm x 50cm base) - Royal Blue Cotton Fabric (Personalised with Text)
FGLAU001(100x50)COT-BRO(P)
5056656321254
£49.99
700 g
100 x 50 x 50cm
Personalised Travel Laundry Bag
XXXL (100cm x 100cm base) - Royal Blue Cotton Fabric (Personalised with Text)
FGLAU001(100x100)COT-BRO(P)
5056656321292
£99.99
1,088 g
100 x 100 x 100cm
Personalised Travel Laundry Bag
Small (32cm x 20cm base) - Natural Organic Cotton (Personalised with Text)
FGLAU001(32x20)COO-NAT(P)
5056656321445
£19.99
75 g
32 x 20 x 20cm
Personalised Travel Laundry Bag
Medium (38cm x 24cm base) - Natural Organic Cotton (Personalised with Text)
FGLAU001(38x24)COO-NAT(P)
5056656321452
£24.99
104 g
38 x 24 x 24cm
Personalised Travel Laundry Bag
Large (44cm x 28cm base) - Natural Organic Cotton (Personalised with Text)
FGLAU001(44x28)COO-NAT(P)
5056656321469
£26.99
200 g
44 x 28 x 28cm
Personalised Travel Laundry Bag
XL (75cm x 45cm base) - Natural Organic Cotton (Personalised with Text)
FGLAU001(75x45)COO-NAT(P)
5056656321414
£46.99
400 g
75 x 45 x 45cm
Personalised Travel Laundry Bag
XXL (100cm x 50cm base) - Natural Organic Cotton (Personalised with Text)
FGLAU001(100x50)COO-NAT(P)
5056656321421
£56.99
700 g
100 x 50 x 50cm
Personalised Travel Laundry Bag
XXXL (100cm x 100cm base) - Natural Organic Cotton (Personalised with Text)
FGLAU001(100x100)COO-NAT(P)
5056656321438
£106.99
1,088 g
100 x 100 x 100cm
Personalised Travel Laundry Bag