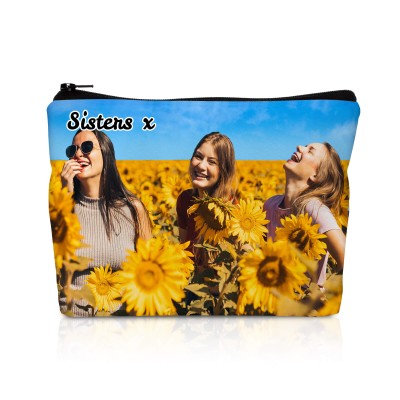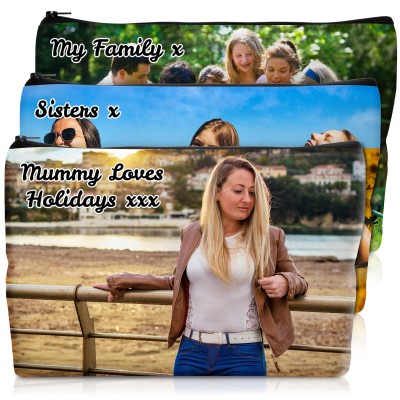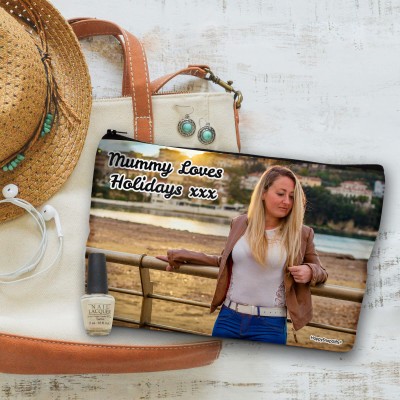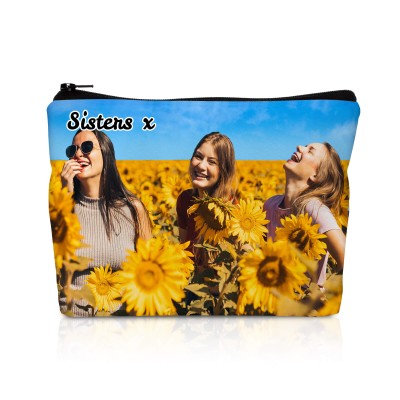 Personalised Makeup Bag (Photos)
UK Made
Description
Personalised Makeup Bag with Photo Upload from HappySnapGifts® featuring your photographs and optional personalised text on a stunning mock-suede Makeup Bag.
UK Made photo gift.
Luxury mock-suede makeup bag.
Upload your own photo printed to both sides.
Personalise with text.
Size options.
Keeps your makeup safe in one place.
Trusted HappySnapGifts® UK Made brand.
Our gorgeous Personalised Makeup Bag is a UK made Cosmetic Bag and features your favourite photographs printed onto our luxurious mock-suede fabric. Each make up bag can be personalised or monogrammed with your initials, name or special message of your choice. This makes our personalised cosmetic bag a truly unique and special gift idea, for him or for her.
We allow up to two photographs to be printed onto each make up bag; one on the front and one on the back. The mock-suede fabric we use for our makeup cases will really bring out the colours and highlights in your images. Each cosmetic case comes with a premium black zipper, which will contrast your photos beautifully.
Personalised photo bags from HappySnapGifts® are a great way of showing that special someone, just how much you care. Personalised gifts make for a wonderful birthday present and our makeup containers are particularly great as a Valentine's Day gift. Create something truly special and unique with our stunning photo make up bags.
Reviews
Personalised make up bags
- Thank you HappySnapGifts for your great product! I had a number of makeup bags made for our joint 60th birthday party as gifts for friends and was very impressed with the quality and speed of service. Nathan was very obliging and fast in sending and altering the proofs to suit my requests, and the delivery was surprisingly quick. I was very please with the quality of the bags and the resolution of the photos on them. The only suggestion I can make to improve would be to have the option of the photo on just one side of the bag instead of only both sides, but otherwise it served my purpose beautifully. Thank you. (Julie, 09/08/23)
Make up bag
- Lovely little stocking filler for the price (Chris, 05/11/22)
Photo zipped pouch
- Amazing quality and detail . Arrived swiftly . Delighted with your services and pricing. Mss as my thanks. (Clare McCullough, 27/10/22)
Extremely pleased
- Good price to make a gift which will be treasured. Arrived very quickly. Will definitely use Happy Snaps gifts again (Celia, 01/10/22)
Make up bag
- Really pleased with the makeup bag. Sharp colours. Much nicer than I thought it would be. (JAC, 12/08/22)
Make up bag
- Really pleased with the makeup bag. Sharp colours. Much nicer than I thought it would be. (JAC, 12/08/22)
Lovely
- Great service and loved the fabric, nicer than one I'd purchased elsewhere. (Bbee, 28/04/22)
Personalised bag
- Just wonderful, great fun, good quality and quick delivery. Really made me smile!! (Cathy, 13/02/22)
Excellent bag
- The photos came out beautifully on this simple little bag and I was really pleased with it. (SARA STONEHAM, 07/12/21)
Fabulous
- Fast Delivery. Pleasure to do Business With. 5***** (DAVID, 30/10/21)
Love it
- Bought this for my child's school bag for spare socks and knickers! It's amazing as she has a family picture as well (Dee , 11/09/21)
Amazing!
- I am really happy with this purchase. The quality was so much better than I expected, the bag is really lovely and soft and the photos printed on it are super clear and bright. It came really quickly too. Thanks so much. (Kelly, 02/09/21)
Personalised make up bag
- Good quality, nicely done. My daughter loved it. Thanks a lot. (Vess, 17/06/21)
Xmas present for grand-daughter
- I have not given my grand-daughter her present yet. I know she will be thrilled. Very unique personal present. Staff at Company very helpful and efficient as I had trouble downloading my photo due to my inexperience with IT technology. (Gill, 22/12/20)
Such a great gift idea
- We bought a personalised washbag with a picture of the grandchildren on for my mother in law who is unfortunately spending Christmas in hospital. She was completely over the moon with this as she can look at their cheeky faces everyday. (Kate, 18/12/20)
Brilliant
- Excellent website so easy to upload onto. The personalised make up bags I bought were of top quality and the images really clear. Received really quickly,even at this time of year and covid etc. (Melan40, 11/12/20)
Personalised make up bag
- Great product super fast delivery will definitely purchase from happysnapgifts again (Claire Flett, 08/11/20)
Lovely makeup bag
- Very nice and good quality makeup bag, good service. (anonymous, 29/09/20)
Very good wash-bag with photos
- Very nice wash-bag with two photos. Good value. Good customer service. (JP, 20/08/20)
Will order again
- Ordered 3 identical small make up bags, one for myself and the other 2 for friends I went on holiday with. They were quick to arrive and had been done really well. Good price and a great present. (anonymous, 01/08/20)
Nice material
- My girls really liked this little bag with their picture and the soft material it's used from. (Cristina BR, 23/07/20)
Perfect gift
- Got the makeup up with a photo of a friend, absolutely wicked. Perfect gift. Only downside was delivery was quite slow but this is COVID-19 times so I think all post has been affected. Will use again. (Claire Arnold, 01/07/20)
Love this
- I got this as a birthday present for my wife and can't wait to give it to her. It's great quality and way better than I expected it to be. (Jason Quinn, 11/06/20)
Great Present for 12 year old
- My daughter gave this to her best friend, two different photos printed on each side. She absolutely loved it. Quality was excellent, good value for money. I emailed the company twice and they responded promptly both times. Highly recommended. (anonymous, 23/05/20)
Mothers day present
- Very happy customer! I submitted 2 photos to personalise the bag but was phoned by Happy Snap Gifts as one of the photos was of a low resolution. I submitted a replacement photo and the bag was delivered in good time for Mothers Day. The quality of the bag was even better than expected, and combined with the excellent customer service means I would happily recommend it. (Ian from Swindon, 09/05/20)
Great makeup bag
- Mum thrilled with makeup bag as a gift. Photo of mum & dad on wedding day and me & siblings when young children on reverse. Good quality and good pics and very reasonably priced. (Michelle, 17/04/20)
Great present for my daughter
- Photo of my daughter's cat was clear and sharp, plus perfectly positioned on the bag. Make a lovely present (Pampered Chef, 01/04/20)
Present for the mother-in-law! Far to good for her!
- My hubby couldn't decide what to buy his mum for Mother's Day so I suggested a personalised make up bag with an adorable photo of him as a toddler. It's arrived and he is chuffed! Personally I think it's too good for her! (Suzanne, 12/03/20)
Lovely Personalised Make Up Bag
- My daughter was thrilled with her personalised make up bag - a photo of her wedding day placed on a make up bag as an anniversary present! She loves it! Very reasonable price and good quality. Would use again. (Suzanne, 28/01/20)
My mum loves her make up bag so much
- Great quality product, staff are very friendly and helpful when I have contacted them I have ordered a few thugs from here in the past and I cannot fault! (Laura, 14/01/20)
Fantastic gift
- Brilliant idea for Xmas, can't wait to see my sister's reactions. (anonymous)
Lovely product
- Product is very good quality and arrived quick. The recipient loved it. (Steve)
I love this make up bag
- Really pleased with this make up bag, photos lovely, quick delivery, good communication, very happy with this item,very good quality, highly recommend this product (Julie)
Make up bag
- Very very pleased with make up bag, pictures look really great, price very reasonable. Would buy again anytime. Thnx so much. (anonymous)
Love the make up bag
- Good quality, quick service, would recommend (Kim)
a special gift for my special friend
- i am absolutely delighted with the personalised make up bag for my friend, can't wait to see her face when she opens her gift . it has turned out amazing . thank you , happy snap gifts , i've been telling everyone about you . (patricia brogan)
Beautiful gift
- This is the second one I have purchased. Brilliant gift,great quality. Two happy daughters. Would definitely recommend. (Vixen)
Really nice!!!
- Thanks so much it came really nice, it was just a bit shapeless but when we filled it up it was as nice as on the picture! (anonymous)
Make up bag
- Looks amazing excellent quality (S Wrigley)
Very pleased
- The makeup bag turned out well. Is a good size & the photo is a good quality. Based on this I would order from the company again. I have only given 4 stars though as it did take a bit longer than expected to arrive. (Antoinette)
Photo cosmetics bag
- Love this item. 2nd one I've ordered and will order again. Makes a great gift. Lovely quality. (Emma Henderson)
Daughter was over the moon
- I always worry about buying things online In case it looks nothing like what I've ordered but this make up bag looks even better.Bought as a birthday present for one daughter and now the other daughter wants one.Its beautiful thank you. (Vixen)
Loving the cosmetic bags!
- I purchased a couple of personalized cosmetic bags as presents, and they are lovely! Fast service too. I will definitely use this company again. (Aga)
Think my granddaughter will love this make-up bag
- Excellent reproduction of photo of granddaughter's cat - v. pleased with the overall result (Grandpa Morgan)
My best friend loved it
- Got a two sided photo bag for my best friend and it was great! I described to them what I wanted after I had paid for it and was nervous about how that would work but it was perfect! It arrived quickly and looks really great. Noj joke- its really good. (Rachel)
Happy customer
- So glad I found your website - great place for cheap but personal presents. will definitely recommend to my friends. And thank you Pippa for your help - greatly appreciated. (Olivia Gordon)
Amazing personalised make up bag
- So happy with my purchase . Super fast and efficient service , product arrived and was better than expected. Highly recommend . (Suzi B)
Good quality
- Arrived promptly and I am very happy with the bag. The photos had been cropped exactly as I asked for. (Ruth)
Great present!
- Very good quality so pleased with the printing (anonymous)
Fantastic personalised gift
- Ordered 2 make-up bags, 1 for secret Santa and one for my sister. I am very pleased with the quality and image printing. Will definitely reorder (anonymous)
So pleased
- Didn't know whether to have different photographs on each side of the cosmetic bag but works perfectly (Marina)
Personalised make up bag
- Very good quality,much better than others I ordered from Tesco (Craigerp)
Gorgeous make up bag !
- I purchased this for my niece ,delivery was quick and I was delighted with the quality of it , the photos are really clear and excellent value for money , would highly recommend this website and product (N Harris)
My daughters lovely dog
- This is a gift for my daughter who's dog means everything to her. I know she is going to love this. (Carike smith)
Makeup bag.
- I was so impressed with my order. This was bought as a present for my friend and she loved it! (Nicli Wilkes.)
a great gift
- Quick response & dispatching. Lovely gift (m.Allenby)
Fab personalised make up bag
- Just love this make up bag. Wonderful clear pictures and great quality too. Will def purchase more gifts. My granddaughter will be thrilled when she gets it (anonymous)
Gift for a friend
- This was a last minute thought, yet it turned out really well. I had 2 different pictures and it turned out really well. My Friend loved it! (Linsey Ellis)
photo make up bag
- Bought as a gift for a friend, service excellent from order to receipt of gift. Excellent quality make up bag with clear photo on. (anonymous)
My girl loves her new make up bag.
- Ordered a personalised make up bag with pics of us both and was quite astonished when it was delivered quickly but the quality was amazing and she loves it. (John P Ratcliffe)
Lovely Bag
- This was a very fast and efficient service. The product was great and photo quality turned out better than I expected. (Harald)
So much better than I expected
- Absolutely love this. I was a little worried that my photos would look stretched or odd on the bag but both sides look amazing and I couldn't be happier! The bag isn't cheap plastic either so it looks really good. So excited to give it to my friend!!! Thank you xoxo (Suz)
Present for Nan
- Beautiful quality item photos looked fantastic treasured grandparent gift! (Mrs Ed)
Gemma Loveless
- I ordered 2 of these for my sisters for Xmas. I uploaded the photos I wanted and named them with their names to show who I wanted on each bag (as I also was having their names put on the bag). A few days later I got a call from the company saying they wanted to check my order as the names of the photos didn't match the names of the bag (they were the wrong way round, Hannah's photo would be printed on Sara's bag and vice versa.) Luckily they guessed this was a mistake and didn't go ahead with the order and called to check. A few days later the order arrived and I am very happy with the finished products, they are exactly how I imagined and can't wait to give them on Xmas day to see their reactions! Would definitely use this site again and also great value for money, this was the cheapest site I found who would create it the way I wanted. (Gemma Loveless)
Customer Service Review of Personalised Photo Make Up Cosmetic Bag
- Our gorgeous make-up bags are made to order in Britain and feature up to two of your favourite photographs; printed front and back. Each stunning cosmetic bag is made from our luxurious mock-suede fabric, which really brings out the best in your photographs. We offer extensive personalisation options on this makeup container. Not only can you have your most cherished photos, but you can also have a name, message or catchphrase personalised onto the bag. We print your special message just below the zip in the top left hand corner. Makeup bags make for a truly unique gift idea. Not only do they look beautiful, but they are really practical, especially for those who like to take their cosmetics with them on the go.  (Lance Plachciak)
More Reviews
Delivery
The information below is for guidance. Actual delivery costs and dates depend on the delivery address, weight and time your order is placed. Cut-off time for Overnight Orders is 12 noon.
| Price | Method | Manufacture Time | Delivery Time | Est. Delivery Date |
| --- | --- | --- | --- | --- |
| £3.99 | 2nd Class (Tracked LL) | 0-3 Days | 2-3 Days | Mon 4 Dec - Fri 8 Dec |
| £5.99 | 1st Class (Tracked LL) | 0-3 Days | 1-2 Days | Fri 1 Dec - Thu 7 Dec |
| £12.94 | DHL Courier (Economy M-F Pre 6pm) | 0-3 Days | 2-3 Days | Mon 4 Dec - Fri 8 Dec |
| £14.99 | Royal Mail Special Delivery (Overnight Mon-Sat Pre 1pm) | Today | Next Day (Mon-Sat) | Fri 1 Dec |
More Information
| | |
| --- | --- |
| Despatch | 0-3 Days (to Personalise) or Upgrade at Checkout for Overnight Delivery |
| Brand | HappySnapGifts® |
| RRP | £12.99 |
| Country of Origin | United Kingdom |
| SKU | FGCOS002(R20x14)PMS-P(Ph1)(PhB1)(P) |
| Gtin | 5060089254232 |
| Tariff Code | 42029291 |
| Tariff Description | Bag - Toilet Bag |
| Product Weight | 31 g |
| Product Dimensions | 14 x 20 x 5cm |
Product Options
Size
Small (20cm x 14cm), Large (30cm x 20cm)
Photos to Print
Photos to Front & Back
Fabric
Mock Suede Polyester
Product Type
Bag - Personalised Makeup Bag
personalised photo makeup bag
monogrammed makeup bag
personalised cosmetic bag
cosmetic bag

Personalised Makeup Bag (Photos)
Small (20cm x 14cm) Mock Suede Polyester Fabric (Personalised with Text)
FGCOS002(R20x14)PMS-P(Ph1)(PhB1)(P)
5060089254232
£12.99
31 g
14 x 20 x 5cm
Personalised Makeup Bag (Photos)
Large (30cm x 20cm) Mock Suede Polyester Fabric (Personalised with Text)
FGCOS002(R30x20)PMS-P(Ph1)(PhB1)(P)
5060089254263
£14.99
49 g
20 x 30 x 5cm
Photos & Artwork
Have your photos ready as they need to be uploaded before you pay for your order.
Loading photos on HappySnapGifts®
Select your Products & Add to Cart.
You will be presented with a screen to upload the correct number of photos for each item in the cart OR Continue Shopping to add other products.
"Personalise Here" for the 1st product & upload photos.
TOP TIP Drag your photos into the order you want them to appear on the product.
Add any Personalised Text.
"Save and Continue".
Personalise other items in the cart and "Complete Order"
Can I pay now and upload later?
No. Our system is set to be fail-safe and ensure you can only order if you have completed all the photo uploading to complete your product.
Can I place the photo's in a certain order?
Yes. You will be presented with a "mock-up" of your product which will have the corresponding numbers of where the photos will be placed. If your item has say 6 photo's to upload then upload them all, then if needed, drag them into a different order to correspond with the mini-mock-up image presented. Only click to submit and pay when you are ready as we will use these images in the right order for your order.
Can I see a preview of my product?
Not yet. We ask you to upload the photos and drag them into the right order on the system to match the mock-up you will see. At a later date, very soon we hope, you will be able to click and upload in the right position and see a preview at the same time as you build the product ready to order. This will be ready as we say as soon as we can so our best advice is to take care and re-order your product photo's before confirming your order. It's really very easy - give it a go and you will see.
Image Quality
Replication of your photo is to the best standard possible though we do not edit or alter image quality before we print. Send us the very best "in-focus" and well-lit image and to the largest size possible and you will be amazed at the incredible detail. Send us fuzzy, old or out-of-focus images and these will be replicated in detail without editing so you will get a product as good as the images you send. Most new mobile phones produce great quality images though where we usually have problems is where we receive a scan of a very old photo or a pixellated image that was so small when it was taken (perhaps on early 1990's style phones) that we have to enlarge to fit onto a relatively large product.
Can Photos be printed on both sides of this product?
This product has the option of having your photos printed to both sides of the product and you will be presented with the photo upload options when placing the order. You will also be able to tell us which photo is to be placed on which of the sides using the upload template.
Luxury Photo Fabric
We use a luxury photo fabric for our photo-printed fabric products. The print method we use is the latest state-of-the-art dye-sublimation process and the inks we use will not run; the image is actually dyed into the fabric itself.
Personalised Makeup Bag (Photos)