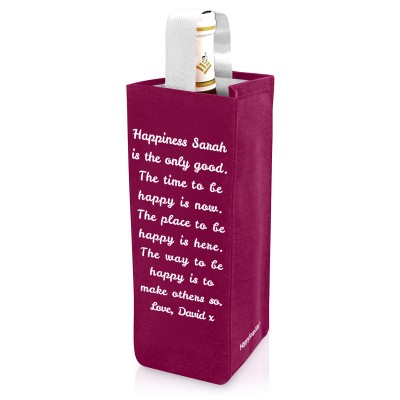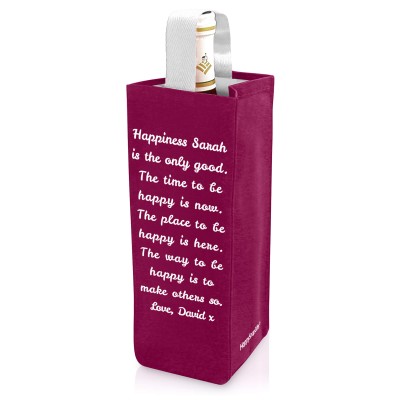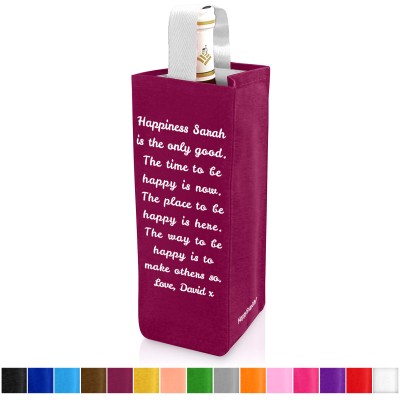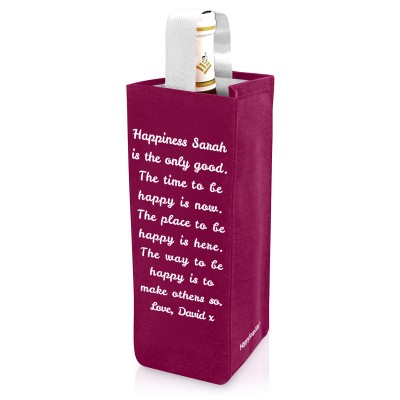 Personalised Wine Gift Bag
UK Made
Description
Personalised Wine Bottle Bags in premium fabrics and made from a range of colours and personalised with your own text.
Wine Bottle Bags.
Premium mock-suede fabric.
Choice of colours.
Personalised with your own text.
Trusted HappySnapGifts® UK Made brand.
Wine Bottle Bags are an old favourite for taking wine and other bottles such as champagne to parties and special events where a personalised gift makes all the difference.
These wine bottle bags are UK Made in our own factory which is why the quality and range of colours available could not be bettered. Personalised Wine Bottle Bags are great for many events including 18th and 21st Birthday Parties, Retirements, Wedding Anniversaries, New Born Baby Celebrations and so many more.
Reviews
Bottlebag
- Simple but effective item. Good quality material. Personalisation is excellent. (Edward McBride)
Directors Review of the new Personalised Wine Bottle Bags
- Great Wine Bottle Bags and I love the way we personalise them with our modern looking font and in a range of great colours. I really like the fabrics that we are using as they really make the bottles stand out and I am sure you're bottles are now going to be so much better received. (Michael Robinson)
Instructions
Polyester Photo & Logo Printed Fabrics
When your product is printed you will see the image will be stunning, as good as the image you have sent us almost. The image will not run or fade over time as the print is infused (dyed) into the very fabric itself and will not damage the image when it gets wet or damp.
100% Polyester Fabric used for the Printed Fabric.
CARELESSNESS CAUSES FIRE.
Do not bleach.
Do not tumble dry.
Delivery
The information below is for guidance. Actual delivery costs and dates depend on the delivery address, weight and time your order is placed. Cut-off time for Overnight Orders is 12 noon.
| Price | Method | Manufacture Time | Delivery Time | Est. Delivery Date |
| --- | --- | --- | --- | --- |
| £3.99 | 2nd Class (Tracked LL) | 0-3 Days | 2-3 Days | Wed 13 Dec - Tue 19 Dec |
| £5.99 | 1st Class (Tracked LL) | 0-3 Days | 1-2 Days | Tue 12 Dec - Mon 18 Dec |
| £12.94 | DHL Courier (Economy M-F Pre 6pm) | 0-3 Days | 2-3 Days | Wed 13 Dec - Tue 19 Dec |
| £14.99 | Royal Mail Special Delivery (Overnight Mon-Sat Pre 1pm) | Today | Next Day (Mon-Sat) | Mon 11 Dec |
More Information
| | |
| --- | --- |
| Despatch | 0-3 Days (to Personalise) or Upgrade at Checkout for Overnight Delivery |
| Brand | HappySnapGifts® |
| RRP | £9.99 |
| Country of Origin | United Kingdom |
| SKU | FGBAG027(R22x10)PMS-BUR(P) |
| Gtin | 5056261082342 |
| Tariff Code | 4202929190 |
| Tariff Description | Bag - Cotton Fabric |
| Product Weight | 33 g |
| Product Dimensions | 24 x 8 x 8cm |
Product Options
Size
Regular (22cm x 10cm)
Fabric
Mock Suede Polyester
Colour
Burgundy, Rose Gold, Black, Royal Blue, Sky Blue, Brown, Gold, Bright Green, Grey, Burnt Orange, Baby Pink, Hot Pink (Fuchsia), Purple, Red, White
Print Theme
Plain Colours
Product Type
Bag > Wine Gift Bag
wine bottle bags
wine carry bag
personalised wine bag

Personalised Wine Gift Bag
Regular (22cm x 10cm) Burgundy Mock Suede Polyester Fabric (Personalised with Text)
FGBAG027(R22x10)PMS-BUR(P)
5056261082342
£9.99
33 g
24 x 8 x 8cm
Personalised Wine Gift Bag
Regular (22cm x 10cm) Rose Gold Mock Suede Polyester Fabric (Personalised with Text)
FGBAG027(R22x10)PMS-RGO(P)
5056656309436
£9.99
33 g
24 x 8 x 8cm
Personalised Wine Gift Bag
Regular (22cm x 10cm) Black Mock Suede Polyester Fabric (Personalised with Text)
FGBAG027(R22x10)PMS-BLA(P)
5056656309450
£9.99
33 g
24 x 8 x 8cm
Personalised Wine Gift Bag
Regular (22cm x 10cm) Royal Blue Mock Suede Polyester Fabric (Personalised with Text)
FGBAG027(R22x10)PMS-BRO(P)
5056656309474
£9.99
33 g
24 x 8 x 8cm
Personalised Wine Gift Bag
Regular (22cm x 10cm) Sky Blue Mock Suede Polyester Fabric (Personalised with Text)
FGBAG027(R22x10)PMS-BSK(P)
5056656309498
£9.99
33 g
24 x 8 x 8cm
Personalised Wine Gift Bag
Regular (22cm x 10cm) Brown Mock Suede Polyester Fabric (Personalised with Text)
FGBAG027(R22x10)PMS-BRW(P)
5056656309504
£9.99
33 g
24 x 8 x 8cm
Personalised Wine Gift Bag
Regular (22cm x 10cm) Gold Mock Suede Polyester Fabric (Personalised with Text)
FGBAG027(R22x10)PMS-GOL(P)
5056656309375
£9.99
33 g
24 x 8 x 8cm
Personalised Wine Gift Bag
Regular (22cm x 10cm) Bright Green Mock Suede Polyester Fabric (Personalised with Text)
FGBAG027(R22x10)PMS-GBR(P)
5056656309382
£9.99
33 g
24 x 8 x 8cm
Personalised Wine Gift Bag
Regular (22cm x 10cm) Grey Mock Suede Polyester Fabric (Personalised with Text)
FGBAG027(R22x10)PMS-GRY(P)
5056656309399
£9.99
33 g
24 x 8 x 8cm
Personalised Wine Gift Bag
Regular (22cm x 10cm) Burnt Orange Mock Suede Polyester Fabric (Personalised with Text)
FGBAG027(R22x10)PMS-ORA(P)
5056656309405
£9.99
33 g
24 x 8 x 8cm
Personalised Wine Gift Bag
Regular (22cm x 10cm) Baby Pink Mock Suede Polyester Fabric (Personalised with Text)
FGBAG027(R22x10)PMS-PBA(P)
5056656309412
£9.99
33 g
24 x 8 x 8cm
Personalised Wine Gift Bag
Regular (22cm x 10cm) Hot Pink (Fuchsia) Mock Suede Polyester Fabric (Personalised with Text)
FGBAG027(R22x10)PMS-PFU(P)
5056656309429
£9.99
33 g
24 x 8 x 8cm
Personalised Wine Gift Bag
Regular (22cm x 10cm) Purple Mock Suede Polyester Fabric (Personalised with Text)
FGBAG027(R22x10)PMS-PUR(P)
5056656309443
£9.99
33 g
24 x 8 x 8cm
Personalised Wine Gift Bag
Regular (22cm x 10cm) Red Mock Suede Polyester Fabric (Personalised with Text)
FGBAG027(R22x10)PMS-RED(P)
5056656309467
£9.99
33 g
24 x 8 x 8cm
Personalised Wine Gift Bag
Regular (22cm x 10cm) White Mock Suede Polyester Fabric (Personalised with Text)
FGBAG027(R22x10)PMS-WHI(P)
5056656309481
£9.99
33 g
24 x 8 x 8cm
Personalised Wine Gift Bag