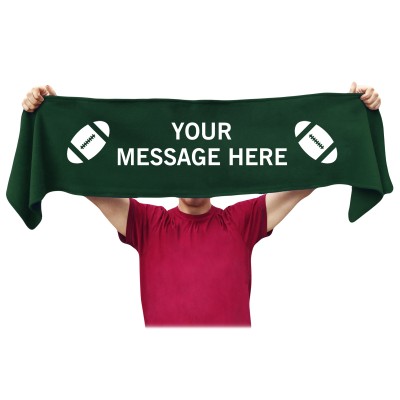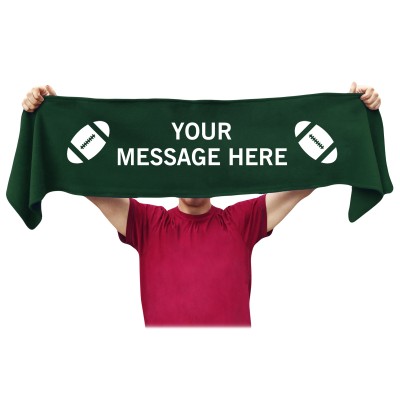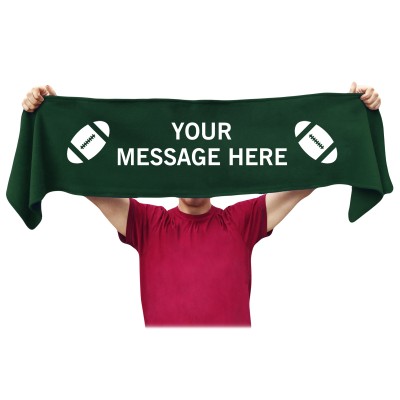 UK Made
Description
Personalised Rugby Scarf, manufactured in the UK, made from lovely fleece fabric and personalised with your own supporters text or message.
UK Made Personalised Rugby Scarf.
Rugby ball icon printed on the front of the scarf.
Many fabric and colour choices.
Both kids and adults size option.
Great rugby gift idea with your own personalised text.
Trusted HappySnapGifts® brand.
Support your favourite rugby team in style and keep yourself warm at the same time with this fleece rugby scarf. Add your name, message of support or any other text to create your unique Rugby Scarf.
Reviews
Instructions
Our products will have a sewn-in Care Label giving you guidance on Care and Washing this Product. In summary however, they will contain the following instructions though please do refer to the specific label on your individual item for latest information:
For 100% Cotton, 100% Polycotton & 100% Polyester Fabrics (eg Fleece).
CARELESSNESS CAUSES FIRE.
Remove outer cover if supplied before carefully cleaning.
Do not wash the inner filled product or get it wet.
Warm hand or machine wash and cold rinse.
Wash with like colours at max. 40 degree temperature.
Do not bleach.
1 spot iron (Cotton / Fleece) or 2 spot iron (Polycotton).
Do not tumble dry.
Delivery
The information below is for guidance. Actual delivery costs and dates depend on the delivery address, weight and time your order is placed. Cut-off time for Overnight Orders is 12 noon.
| Price | Method | Manufacture Time | Delivery Time | Est. Delivery Date |
| --- | --- | --- | --- | --- |
| £3.99 | 2nd Class (Tracked LL) | 0-3 Days | 2-3 Days | Wed 13 Dec - Tue 19 Dec |
| £7.99 | 1st Class (Tracked) | 0-3 Days | 1-2 Days | Tue 12 Dec - Mon 18 Dec |
| £13.01 | DHL Courier (Economy M-F Pre 6pm) | 0-3 Days | 2-3 Days | Wed 13 Dec - Tue 19 Dec |
| £14.99 | Royal Mail Special Delivery (Overnight Mon-Sat Pre 1pm) | Monday | Next Day (Mon-Sat) | Tue 12 Dec |
More Information
| | |
| --- | --- |
| Despatch | 0-3 Days (to Personalise) or Upgrade at Checkout for Overnight Delivery |
| Brand | HappySnapGifts® |
| RRP | £12.99 |
| Country of Origin | United Kingdom |
| SKU | FGFAN003(R75x15)FLE-GDA(P)RUG |
| Gtin | 5056656306039 |
| Tariff Code | 6307909899 |
| Tariff Description | Other Made Up Articles (Polyester Fabric) |
| Product Weight | 37 g |
| Product Dimensions | 15 x 75cm |
Product Options
Rugby Scarf Size
Small (75cm x 15cm), Medium (100cm x 20cm), Large (145cm x 25cm)
Fabric
Fleece
Rugby Scarf Colour
Dark Green, Red, Royal Blue, Purple, Hot Pink (Fuchsia), Navy Blue, Black, Grey, Burnt Orange, White, Yellow
Rugby Icon
Rugby
Product Type
Clothing > Scarf
Personalised Rugby Scarf
Rugby Scarf
Personalised Scarf

Personalised Rugby Scarf
Small (75cm x 15cm) Rugby Theme - Dark Green Fleece Fabric (Personalised with Text)
FGFAN003(R75x15)FLE-GDA(P)RUG
5056656306039
£12.99
37 g
15 x 75cm
Personalised Rugby Scarf
Medium (100cm x 20cm) Rugby Theme - Dark Green Fleece Fabric (Personalised with Text)
FGFAN003(R100x20)FLE-GDA(P)RUG
5056656318179
£17.99
62 g
20 x 100cm
Personalised Rugby Scarf
Large (145cm x 25cm) Rugby Theme - Dark Green Fleece Fabric (Personalised with Text)
FGFAN003(R145x25)FLE-GDA(P)RUG
5056656317882
£19.99
107 g
25 x 145cm
Personalised Rugby Scarf
Small (75cm x 15cm) Rugby Theme - Red Fleece Fabric (Personalised with Text)
FGFAN003(R75x15)FLE-RED(P)RUG
5056656317912
£12.99
37 g
15 x 75cm
Personalised Rugby Scarf
Medium (100cm x 20cm) Rugby Theme - Red Fleece Fabric (Personalised with Text)
FGFAN003(R100x20)FLE-RED(P)RUG
5056656317943
£17.99
62 g
20 x 100cm
Personalised Rugby Scarf
Large (145cm x 25cm) Rugby Theme - Red Fleece Fabric (Personalised with Text)
FGFAN003(R145x25)FLE-RED(P)RUG
5056656317974
£19.99
107 g
25 x 145cm
Personalised Rugby Scarf
Small (75cm x 15cm) Rugby Theme - Royal Blue Fleece Fabric (Personalised with Text)
FGFAN003(R75x15)FLE-BRO(P)RUG
5056656318001
£12.99
37 g
15 x 75cm
Personalised Rugby Scarf
Medium (100cm x 20cm) Rugby Theme - Royal Blue Fleece Fabric (Personalised with Text)
FGFAN003(R100x20)FLE-BRO(P)RUG
5056656318032
£17.99
62 g
20 x 100cm
Personalised Rugby Scarf
Large (145cm x 25cm) Rugby Theme - Royal Blue Fleece Fabric (Personalised with Text)
FGFAN003(R145x25)FLE-BRO(P)RUG
5056656318063
£19.99
107 g
25 x 145cm
Personalised Rugby Scarf
Small (75cm x 15cm) Rugby Theme - Black Fleece Fabric (Personalised with Text)
FGFAN003(R75x15)FLE-BLA(P)RUG
5056656318094
£12.99
37 g
15 x 75cm
Personalised Rugby Scarf
Medium (100cm x 20cm) Rugby Theme - Black Fleece Fabric (Personalised with Text)
FGFAN003(R100x20)FLE-BLA(P)RUG
5056656318124
£17.99
62 g
20 x 100cm
Personalised Rugby Scarf
Large (145cm x 25cm) Rugby Theme - Black Fleece Fabric (Personalised with Text)
FGFAN003(R145x25)FLE-BLA(P)RUG
5056656318155
£19.99
107 g
25 x 145cm
Personalised Rugby Scarf
Small (75cm x 15cm) Rugby Theme - Purple Fleece Fabric (Personalised with Text)
FGFAN003(R75x15)FLE-PUR(P)RUG
5056656318186
£12.99
37 g
15 x 75cm
Personalised Rugby Scarf
Medium (100cm x 20cm) Rugby Theme - Purple Fleece Fabric (Personalised with Text)
FGFAN003(R100x20)FLE-PUR(P)RUG
5056656317899
£17.99
62 g
20 x 100cm
Personalised Rugby Scarf
Large (145cm x 25cm) Rugby Theme - Purple Fleece Fabric (Personalised with Text)
FGFAN003(R145x25)FLE-PUR(P)RUG
5056656317929
£19.99
107 g
25 x 145cm
Personalised Rugby Scarf
Small (75cm x 15cm) Rugby Theme - Grey Fleece Fabric (Personalised with Text)
FGFAN003(R75x15)FLE-GRA(P)RUG
5056656317950
£12.99
37 g
15 x 75cm
Personalised Rugby Scarf
Medium (100cm x 20cm) Rugby Theme - Grey Fleece Fabric (Personalised with Text)
FGFAN003(R100x20)FLE-GRA(P)RUG
5056656317981
£17.99
62 g
20 x 100cm
Personalised Rugby Scarf
Large (145cm x 25cm) Rugby Theme - Grey Fleece Fabric (Personalised with Text)
FGFAN003(R145x25)FLE-GRA(P)RUG
5056656318018
£19.99
107 g
25 x 145cm
Personalised Rugby Scarf
Small (75cm x 15cm) Rugby Theme - Navy Blue Fleece Fabric (Personalised with Text)
FGFAN003(R75x15)FLE-BNA(P)RUG
5056656318049
£12.99
37 g
15 x 75cm
Personalised Rugby Scarf
Medium (100cm x 20cm) Rugby Theme - Navy Blue Fleece Fabric (Personalised with Text)
FGFAN003(R100x20)FLE-BNA(P)RUG
5056656318070
£17.99
62 g
20 x 100cm
Personalised Rugby Scarf
Large (145cm x 25cm) Rugby Theme - Navy Blue Fleece Fabric (Personalised with Text)
FGFAN003(R145x25)FLE-BNA(P)RUG
5056656318100
£19.99
107 g
25 x 145cm
Personalised Rugby Scarf
Small (75cm x 15cm) Rugby Theme - Burnt Orange Fleece Fabric (Personalised with Text)
FGFAN003(R75x15)FLE-ORA(P)RUG
5056656318131
£12.99
37 g
15 x 75cm
Personalised Rugby Scarf
Medium (100cm x 20cm) Rugby Theme - Burnt Orange Fleece Fabric (Personalised with Text)
FGFAN003(R100x20)FLE-ORA(P)RUG
5056656318162
£17.99
62 g
20 x 100cm
Personalised Rugby Scarf
Large (145cm x 25cm) Rugby Theme - Burnt Orange Fleece Fabric (Personalised with Text)
FGFAN003(R145x25)FLE-ORA(P)RUG
5056656317875
£19.99
107 g
25 x 145cm
Personalised Rugby Scarf
Small (75cm x 15cm) Rugby Theme - Hot Pink (Fuchsia) Fleece Fabric (Personalised with Text)
FGFAN003(R75x15)FLE-PFU(P)RUG
5056656317905
£12.99
37 g
15 x 75cm
Personalised Rugby Scarf
Medium (100cm x 20cm) Rugby Theme - Hot Pink (Fuchsia) Fleece Fabric (Personalised with Text)
FGFAN003(R100x20)FLE-PFU(P)RUG
5056656317936
£17.99
62 g
20 x 100cm
Personalised Rugby Scarf
Large (145cm x 25cm) Rugby Theme - Hot Pink (Fuchsia) Fleece Fabric (Personalised with Text)
FGFAN003(R145x25)FLE-PFU(P)RUG
5056656317967
£19.99
107 g
25 x 145cm
Personalised Rugby Scarf
Small (75cm x 15cm) Rugby Theme - White Fleece Fabric (Personalised with Text)
FGFAN003(R75x15)FLE-WHI(P)RUG
5056656317998
£12.99
37 g
15 x 75cm
Personalised Rugby Scarf
Medium (100cm x 20cm) Rugby Theme - White Fleece Fabric (Personalised with Text)
FGFAN003(R100x20)FLE-WHI(P)RUG
5056656318025
£17.99
62 g
20 x 100cm
Personalised Rugby Scarf
Large (145cm x 25cm) Rugby Theme - White Fleece Fabric (Personalised with Text)
FGFAN003(R145x25)FLE-WHI(P)RUG
5056656318056
£19.99
107 g
25 x 145cm
Personalised Rugby Scarf
Small (75cm x 15cm) Rugby Theme - Yellow Fleece Fabric (Personalised with Text)
FGFAN003(R75x15)FLE-YEL(P)RUG
5056656318087
£12.99
37 g
15 x 75cm
Personalised Rugby Scarf
Medium (100cm x 20cm) Rugby Theme - Yellow Fleece Fabric (Personalised with Text)
FGFAN003(R100x20)FLE-YEL(P)RUG
5056656318117
£17.99
62 g
20 x 100cm
Personalised Rugby Scarf
Large (145cm x 25cm) Rugby Theme - Yellow Fleece Fabric (Personalised with Text)
FGFAN003(R145x25)FLE-YEL(P)RUG
5056656318148
£19.99
107 g
25 x 145cm
Personalised Rugby Scarf