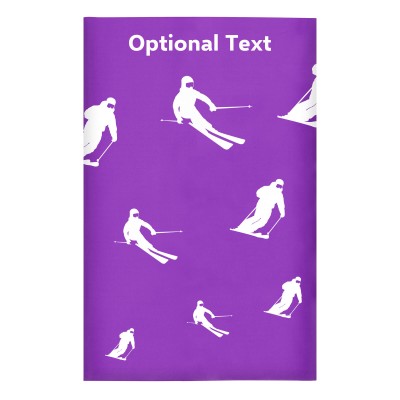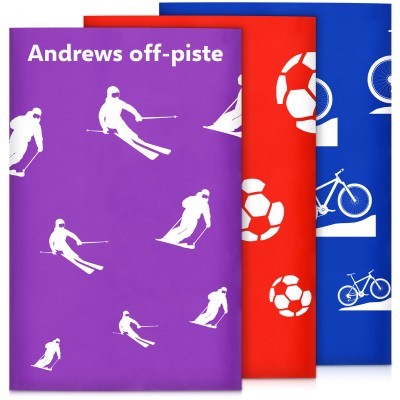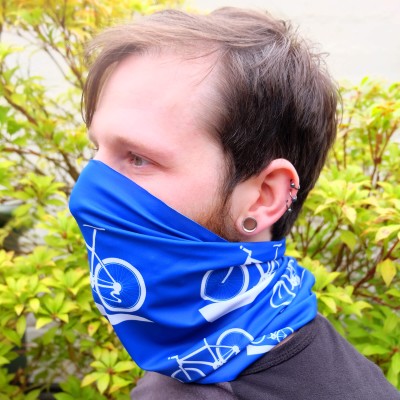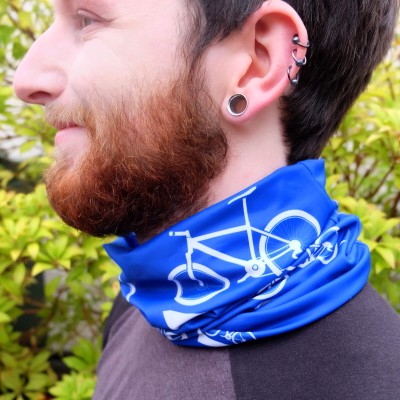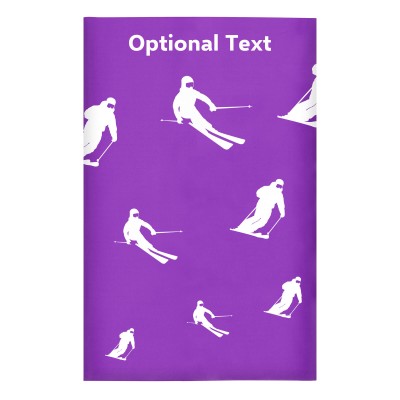 Personalised Snood Face Cover with Sporting Icon
UK Made
Description
Face Covering Personalised Snood and Neck Warmer with choice of colours, sporting icons and text of your choice.
Personalised Snood Face Covering.
Choice of Colours.
Sporting icon designs.
Approx. 38cm tall x 25cm wide.
UK Made.
Great sporting gift.
Trusted HappySnapGifts® brand.
Reviews
Happy with the snoods again
- Quality product again thank you, this was my second order of the football snood in recent weeks. The text i wanted added is perfect. Will be ordering again and i would also recommend to others. (Rory, 11/12/20)
Happy with the snoods
- Recently ordered a snood plus one free they arrived just a week later. Bought mainly to wear in a work environment they are very comfortable to wear and the printed slogan i added is exactly right. Will be ordering more of these very soon Thank you. (Rory, 21/11/20)
Good quality
- Perfect for the price. (anonymous, 08/10/20)
Instructions
Polyester Photo & Logo Printed Fabrics
When your product is printed you will see the image will be stunning, as good as the image you have sent us almost. The image will not run or fade over time as the print is infused (dyed) into the very fabric itself and will not damage the image when it gets wet or damp.
100% Polyester Fabric used for the Printed Fabric.
CARELESSNESS CAUSES FIRE.
Do not bleach.
Do not tumble dry.
Delivery
The information below is for guidance. Actual delivery costs and dates depend on the delivery address, weight and time your order is placed. Cut-off time for Overnight Orders is 12 noon.
| Price | Method | Manufacture Time | Delivery Time | Est. Delivery Date |
| --- | --- | --- | --- | --- |
| £3.99 | 2nd Class (Tracked LL) | 0-3 Days | 2-3 Days | Mon 4 Dec - Fri 8 Dec |
| £5.99 | 1st Class (Tracked LL) | 0-3 Days | 1-2 Days | Fri 1 Dec - Thu 7 Dec |
| £12.92 | DHL Courier (Economy M-F Pre 6pm) | 0-3 Days | 2-3 Days | Mon 4 Dec - Fri 8 Dec |
| £14.99 | Royal Mail Special Delivery (Overnight Mon-Sat Pre 1pm) | Today | Next Day (Mon-Sat) | Fri 1 Dec |
More Information
| | |
| --- | --- |
| Despatch | 0-3 Days (Made to Order) or Upgrade for Overnight Delivery at Checkout |
| Brand | HappySnapGifts® |
| RRP | £9.99 |
| Country of Origin | United Kingdom |
| SKU | FGSNO006(R38x25)-SKIPUR(P) |
| Gtin | 5056261070714 |
| Tariff Code | 6307909899 |
| Tariff Description | Other Made Up Articles (Polyester Fabric) |
| Product Weight | 40 g |
| Product Dimensions | 38 x 25cm |
Product Options
Size
Regular (38cm x 25cm)
Fabric
Stretch Polyester
Colour
Purple, Red, Royal Blue, Black, Sky Blue, Bright Green, Burnt Orange, Baby Pink, Hot Pink (Fuchsia), White, Yellow
Icon
Skiing, Football, 2 Fingers, Single Finger, Skull & Spanner, We Are No. 1, Ballet, Basketball, Golf, Gymnastics, Hockey, Mountain Biking, Netball, Rugby, Running, Swimming, Tennis, Trampolining
Product Offer
Storage Pouch +
Product Type
Clothing > Snood Neck Warmer
Home > Clothing
Personalised Gifts > Sports Gifts

Personalised Snood Face Cover with Sporting Icon
Regular (38cm x 25cm) (Mountain Biking Icon) Royal Blue - Stretch Polyester (Personalised with Text)
FGSNO006(R38x25)-MTBBRO(P)
5056261067158
£9.99
40 g
38 x 25cm
Personalised Snood Face Cover with Sporting Icon
Regular (38cm x 25cm) (Mountain Biking Icon) Sky Blue - Stretch Polyester (Personalised with Text)
FGSNO006(R38x25)-MTBBSK(P)
5056261067837
£9.99
40 g
38 x 25cm
Personalised Snood Face Cover with Sporting Icon
Regular (38cm x 25cm) (Mountain Biking Icon) Black - Stretch Polyester (Personalised with Text)
FGSNO006(R38x25)-MTBBLA(P)
5056261068223
£9.99
40 g
38 x 25cm
Personalised Snood Face Cover with Sporting Icon
Regular (38cm x 25cm) (Mountain Biking Icon) Red - Stretch Polyester (Personalised with Text)
FGSNO006(R38x25)-MTBRED(P)
5056261068599
£9.99
40 g
38 x 25cm
Personalised Snood Face Cover with Sporting Icon
Regular (38cm x 25cm) (Mountain Biking Icon) Purple - Stretch Polyester (Personalised with Text)
FGSNO006(R38x25)-MTBPUR(P)
5056261068940
£9.99
40 g
38 x 25cm
Personalised Snood Face Cover with Sporting Icon
Regular (38cm x 25cm) (Mountain Biking Icon) Hot Pink (Fuchsia) - Stretch Polyester (Personalised with Text)
FGSNO006(R38x25)-MTBPFU(P)
5056261069312
£9.99
40 g
38 x 25cm
Personalised Snood Face Cover with Sporting Icon
Regular (38cm x 25cm) (Mountain Biking Icon) Baby Pink - Stretch Polyester (Personalised with Text)
FGSNO006(R38x25)-MTBPBA(P)
5056261069688
£9.99
40 g
38 x 25cm
Personalised Snood Face Cover with Sporting Icon
Regular (38cm x 25cm) (Mountain Biking Icon) Bright Green - Stretch Polyester (Personalised with Text)
FGSNO006(R38x25)-MTBGBR(P)
5056261070059
£9.99
40 g
38 x 25cm
Personalised Snood Face Cover with Sporting Icon
Regular (38cm x 25cm) (Mountain Biking Icon) Burnt Orange - Stretch Polyester (Personalised with Text)
FGSNO006(R38x25)-MTBORA(P)
5056261070424
£9.99
40 g
38 x 25cm
Personalised Snood Face Cover with Sporting Icon
Regular (38cm x 25cm) (Mountain Biking Icon) Yellow - Stretch Polyester (Personalised with Text)
FGSNO006(R38x25)-MTBYEL(P)
5056261070790
£9.99
40 g
38 x 25cm
Personalised Snood Face Cover with Sporting Icon
Regular (38cm x 25cm) (Mountain Biking Icon) White - Stretch Polyester (Personalised with Text)
FGSNO006(R38x25)-MTBWHI(P)
5056261071162
£9.99
40 g
38 x 25cm
Personalised Snood Face Cover with Sporting Icon
Regular (38cm x 25cm) (Two Finger Icon) Royal Blue - Stretch Polyester (Personalised with Text)
FGSNO006(R38x25)-TFIBRO(P)
5056261067288
£9.99
40 g
38 x 25cm
Personalised Snood Face Cover with Sporting Icon
Regular (38cm x 25cm) (Two Finger Icon) Sky Blue - Stretch Polyester (Personalised with Text)
FGSNO006(R38x25)-TFIBSK(P)
5056261067967
£9.99
40 g
38 x 25cm
Personalised Snood Face Cover with Sporting Icon
Regular (38cm x 25cm) (Two Finger Icon) Black - Stretch Polyester (Personalised with Text)
FGSNO006(R38x25)-TFIBLA(P)
5056261068346
£9.99
40 g
38 x 25cm
Personalised Snood Face Cover with Sporting Icon
Regular (38cm x 25cm) (Two Finger Icon) Red - Stretch Polyester (Personalised with Text)
FGSNO006(R38x25)-TFIRED(P)
5056261068704
£9.99
40 g
38 x 25cm
Personalised Snood Face Cover with Sporting Icon
Regular (38cm x 25cm) (Two Finger Icon) Purple - Stretch Polyester (Personalised with Text)
FGSNO006(R38x25)-TFIPUR(P)
5056261069077
£9.99
40 g
38 x 25cm
Personalised Snood Face Cover with Sporting Icon
Regular (38cm x 25cm) (Two Finger Icon) Hot Pink (Fuchsia) - Stretch Polyester (Personalised with Text)
FGSNO006(R38x25)-TFIPFU(P)
5056261069442
£9.99
40 g
38 x 25cm
Personalised Snood Face Cover with Sporting Icon
Regular (38cm x 25cm) (Two Finger Icon) Baby Pink - Stretch Polyester (Personalised with Text)
FGSNO006(R38x25)-TFIPBA(P)
5056261069817
£9.99
40 g
38 x 25cm
Personalised Snood Face Cover with Sporting Icon
Regular (38cm x 25cm) (Two Finger Icon) Bright Green - Stretch Polyester (Personalised with Text)
FGSNO006(R38x25)-TFIGBR(P)
5056261070189
£9.99
40 g
38 x 25cm
Personalised Snood Face Cover with Sporting Icon
Regular (38cm x 25cm) (Two Finger Icon) Burnt Orange - Stretch Polyester (Personalised with Text)
FGSNO006(R38x25)-TFIORA(P)
5056261070554
£9.99
40 g
38 x 25cm
Personalised Snood Face Cover with Sporting Icon
Regular (38cm x 25cm) (Two Finger Icon) Yellow - Stretch Polyester (Personalised with Text)
FGSNO006(R38x25)-TFIYEL(P)
5056261070929
£9.99
40 g
38 x 25cm
Personalised Snood Face Cover with Sporting Icon
Regular (38cm x 25cm) (Two Finger Icon) White - Stretch Polyester (Personalised with Text)
FGSNO006(R38x25)-TFIWHI(P)
5056261067035
£9.99
40 g
38 x 25cm
Personalised Snood Face Cover with Sporting Icon
Regular (38cm x 25cm) (Single Finger Icon) Royal Blue - Stretch Polyester (Personalised with Text)
FGSNO006(R38x25)-SFIBRO(P)
5056261067714
£9.99
40 g
38 x 25cm
Personalised Snood Face Cover with Sporting Icon
Regular (38cm x 25cm) (Single Finger Icon) Sky Blue - Stretch Polyester (Personalised with Text)
FGSNO006(R38x25)-SFIBSK(P)
5056261068087
£9.99
40 g
38 x 25cm
Personalised Snood Face Cover with Sporting Icon
Regular (38cm x 25cm) (Single Finger Icon) Black - Stretch Polyester (Personalised with Text)
FGSNO006(R38x25)-SFIBLA(P)
5056261068476
£9.99
40 g
38 x 25cm
Personalised Snood Face Cover with Sporting Icon
Regular (38cm x 25cm) (Single Finger Icon) Red - Stretch Polyester (Personalised with Text)
FGSNO006(R38x25)-SFIRED(P)
5056261068827
£9.99
40 g
38 x 25cm
Personalised Snood Face Cover with Sporting Icon
Regular (38cm x 25cm) (Single Finger Icon) Purple - Stretch Polyester (Personalised with Text)
FGSNO006(R38x25)-SFIPUR(P)
5056261069190
£9.99
40 g
38 x 25cm
Personalised Snood Face Cover with Sporting Icon
Regular (38cm x 25cm) (Single Finger Icon) Hot Pink (Fuchsia) - Stretch Polyester (Personalised with Text)
FGSNO006(R38x25)-SFIPFU(P)
5056261069565
£9.99
40 g
38 x 25cm
Personalised Snood Face Cover with Sporting Icon
Regular (38cm x 25cm) (Single Finger Icon) Baby Pink - Stretch Polyester (Personalised with Text)
FGSNO006(R38x25)-SFIPBA(P)
5056261069930
£9.99
40 g
38 x 25cm
Personalised Snood Face Cover with Sporting Icon
Regular (38cm x 25cm) (Single Finger Icon) Bright Green - Stretch Polyester (Personalised with Text)
FGSNO006(R38x25)-SFIGBR(P)
5056261070301
£9.99
40 g
38 x 25cm
Personalised Snood Face Cover with Sporting Icon
Regular (38cm x 25cm) (Single Finger Icon) Burnt Orange - Stretch Polyester (Personalised with Text)
FGSNO006(R38x25)-SFIORA(P)
5056261070677
£9.99
40 g
38 x 25cm
Personalised Snood Face Cover with Sporting Icon
Regular (38cm x 25cm) (Single Finger Icon) Yellow - Stretch Polyester (Personalised with Text)
FGSNO006(R38x25)-SFIYEL(P)
5056261071049
£9.99
40 g
38 x 25cm
Personalised Snood Face Cover with Sporting Icon
Regular (38cm x 25cm) (Single Finger Icon) White - Stretch Polyester (Personalised with Text)
FGSNO006(R38x25)-SFIWHI(P)
5056261067165
£9.99
40 g
38 x 25cm
Personalised Snood Face Cover with Sporting Icon
Regular (38cm x 25cm) (Skull & Spanner Icon) Royal Blue - Stretch Polyester (Personalised with Text)
FGSNO006(R38x25)-SKUBRO(P)
5056261067844
£9.99
40 g
38 x 25cm
Personalised Snood Face Cover with Sporting Icon
Regular (38cm x 25cm) (Skull & Spanner Icon) Sky Blue - Stretch Polyester (Personalised with Text)
FGSNO006(R38x25)-SKUBSK(P)
5056261068230
£9.99
40 g
38 x 25cm
Personalised Snood Face Cover with Sporting Icon
Regular (38cm x 25cm) (Skull & Spanner Icon) Black - Stretch Polyester (Personalised with Text)
FGSNO006(R38x25)-SKUBLA(P)
5056261068605
£9.99
40 g
38 x 25cm
Personalised Snood Face Cover with Sporting Icon
Regular (38cm x 25cm) (Skull & Spanner Icon) Red - Stretch Polyester (Personalised with Text)
FGSNO006(R38x25)-SKURED(P)
5056261068957
£9.99
40 g
38 x 25cm
Personalised Snood Face Cover with Sporting Icon
Regular (38cm x 25cm) (Skull & Spanner Icon) Purple - Stretch Polyester (Personalised with Text)
FGSNO006(R38x25)-SKUPUR(P)
5056261069329
£9.99
40 g
38 x 25cm
Personalised Snood Face Cover with Sporting Icon
Regular (38cm x 25cm) (Skull & Spanner Icon) Hot Pink (Fuchsia) - Stretch Polyester (Personalised with Text)
FGSNO006(R38x25)-SKUPFU(P)
5056261069695
£9.99
40 g
38 x 25cm
Personalised Snood Face Cover with Sporting Icon
Regular (38cm x 25cm) (Skull & Spanner Icon) Baby Pink - Stretch Polyester (Personalised with Text)
FGSNO006(R38x25)-SKUPBA(P)
5056261070066
£9.99
40 g
38 x 25cm
Personalised Snood Face Cover with Sporting Icon
Regular (38cm x 25cm) (Skull & Spanner Icon) Bright Green - Stretch Polyester (Personalised with Text)
FGSNO006(R38x25)-SKUGBR(P)
5056261070431
£9.99
40 g
38 x 25cm
Personalised Snood Face Cover with Sporting Icon
Regular (38cm x 25cm) (Skull & Spanner Icon) Burnt Orange - Stretch Polyester (Personalised with Text)
FGSNO006(R38x25)-SKUORA(P)
5056261070806
£9.99
40 g
38 x 25cm
Personalised Snood Face Cover with Sporting Icon
Regular (38cm x 25cm) (Skull & Spanner Icon) Yellow - Stretch Polyester (Personalised with Text)
FGSNO006(R38x25)-SKUYEL(P)
5056261071179
£9.99
40 g
38 x 25cm
Personalised Snood Face Cover with Sporting Icon
Regular (38cm x 25cm) (Skull & Spanner Icon) White - Stretch Polyester (Personalised with Text)
FGSNO006(R38x25)-SKUWHI(P)
5056261067295
£9.99
40 g
38 x 25cm
Personalised Snood Face Cover with Sporting Icon
Regular (38cm x 25cm) (We Are No. 1 Icon) Royal Blue - Stretch Polyester (Personalised with Text)
FGSNO006(R38x25)-WANBRO(P)
5056261067974
£9.99
40 g
38 x 25cm
Personalised Snood Face Cover with Sporting Icon
Regular (38cm x 25cm) (We Are No. 1 Icon) Sky Blue - Stretch Polyester (Personalised with Text)
FGSNO006(R38x25)-WANBSK(P)
5056261068353
£9.99
40 g
38 x 25cm
Personalised Snood Face Cover with Sporting Icon
Regular (38cm x 25cm) (We Are No. 1 Icon) Black - Stretch Polyester (Personalised with Text)
FGSNO006(R38x25)-WANBLA(P)
5056261068711
£9.99
40 g
38 x 25cm
Personalised Snood Face Cover with Sporting Icon
Regular (38cm x 25cm) (We Are No. 1 Icon) Red - Stretch Polyester (Personalised with Text)
FGSNO006(R38x25)-WANRED(P)
5056261069084
£9.99
40 g
38 x 25cm
Personalised Snood Face Cover with Sporting Icon
Regular (38cm x 25cm) (We Are No. 1 Icon) Purple - Stretch Polyester (Personalised with Text)
FGSNO006(R38x25)-WANPUR(P)
5056261069459
£9.99
40 g
38 x 25cm
Personalised Snood Face Cover with Sporting Icon
Regular (38cm x 25cm) (We Are No. 1 Icon) Hot Pink (Fuchsia) - Stretch Polyester (Personalised with Text)
FGSNO006(R38x25)-WANPFU(P)
5056261069824
£9.99
40 g
38 x 25cm
Personalised Snood Face Cover with Sporting Icon
Regular (38cm x 25cm) (We Are No. 1 Icon) Baby Pink - Stretch Polyester (Personalised with Text)
FGSNO006(R38x25)-WANPBA(P)
5056261070196
£9.99
40 g
38 x 25cm
Personalised Snood Face Cover with Sporting Icon
Regular (38cm x 25cm) (We Are No. 1 Icon) Bright Green - Stretch Polyester (Personalised with Text)
FGSNO006(R38x25)-WANGBR(P)
5056261070561
£9.99
40 g
38 x 25cm
Personalised Snood Face Cover with Sporting Icon
Regular (38cm x 25cm) (We Are No. 1 Icon) Burnt Orange - Stretch Polyester (Personalised with Text)
FGSNO006(R38x25)-WANORA(P)
5056261070936
£9.99
40 g
38 x 25cm
Personalised Snood Face Cover with Sporting Icon
Regular (38cm x 25cm) (We Are No. 1 Icon) Yellow - Stretch Polyester (Personalised with Text)
FGSNO006(R38x25)-WANYEL(P)
5056261067042
£9.99
40 g
38 x 25cm
Personalised Snood Face Cover with Sporting Icon
Regular (38cm x 25cm) (We Are No. 1 Icon) White - Stretch Polyester (Personalised with Text)
FGSNO006(R38x25)-WANWHI(P)
5056261067721
£9.99
40 g
38 x 25cm
Personalised Snood Face Cover with Sporting Icon
Regular (38cm x 25cm) (Ballet Icon) Royal Blue - Stretch Polyester (Personalised with Text)
FGSNO006(R38x25)-BALBRO(P)
5056261068094
£9.99
40 g
38 x 25cm
Personalised Snood Face Cover with Sporting Icon
Regular (38cm x 25cm) (Ballet Icon) Sky Blue - Stretch Polyester (Personalised with Text)
FGSNO006(R38x25)-BALBSK(P)
5056261068483
£9.99
40 g
38 x 25cm
Personalised Snood Face Cover with Sporting Icon
Regular (38cm x 25cm) (Ballet Icon) Black - Stretch Polyester (Personalised with Text)
FGSNO006(R38x25)-BALBLA(P)
5056261068834
£9.99
40 g
38 x 25cm
Personalised Snood Face Cover with Sporting Icon
Regular (38cm x 25cm) (Ballet Icon) Red - Stretch Polyester (Personalised with Text)
FGSNO006(R38x25)-BALRED(P)
5056261069206
£9.99
40 g
38 x 25cm
Personalised Snood Face Cover with Sporting Icon
Regular (38cm x 25cm) (Ballet Icon) Purple - Stretch Polyester (Personalised with Text)
FGSNO006(R38x25)-BALPUR(P)
5056261069572
£9.99
40 g
38 x 25cm
Personalised Snood Face Cover with Sporting Icon
Regular (38cm x 25cm) (Ballet Icon) Hot Pink (Fuchsia) - Stretch Polyester (Personalised with Text)
FGSNO006(R38x25)-BALPFU(P)
5056261069947
£9.99
40 g
38 x 25cm
Personalised Snood Face Cover with Sporting Icon
Regular (38cm x 25cm) (Ballet Icon) Baby Pink - Stretch Polyester (Personalised with Text)
FGSNO006(R38x25)-BALPBA(P)
5056261070318
£9.99
40 g
38 x 25cm
Personalised Snood Face Cover with Sporting Icon
Regular (38cm x 25cm) (Ballet Icon) Bright Green - Stretch Polyester (Personalised with Text)
FGSNO006(R38x25)-BALGBR(P)
5056261070684
£9.99
40 g
38 x 25cm
Personalised Snood Face Cover with Sporting Icon
Regular (38cm x 25cm) (Ballet Icon) Burnt Orange - Stretch Polyester (Personalised with Text)
FGSNO006(R38x25)-BALORA(P)
5056261071056
£9.99
40 g
38 x 25cm
Personalised Snood Face Cover with Sporting Icon
Regular (38cm x 25cm) (Ballet Icon) Yellow - Stretch Polyester (Personalised with Text)
FGSNO006(R38x25)-BALYEL(P)
5056261067172
£9.99
40 g
38 x 25cm
Personalised Snood Face Cover with Sporting Icon
Regular (38cm x 25cm) (Ballet Icon) White - Stretch Polyester (Personalised with Text)
FGSNO006(R38x25)-BALWHI(P)
5056261067851
£9.99
40 g
38 x 25cm
Personalised Snood Face Cover with Sporting Icon
Regular (38cm x 25cm) (Basketball Icon) Royal Blue - Stretch Polyester (Personalised with Text)
FGSNO006(R38x25)-BASBRO(P)
5056261068247
£9.99
40 g
38 x 25cm
Personalised Snood Face Cover with Sporting Icon
Regular (38cm x 25cm) (Basketball Icon) Sky Blue - Stretch Polyester (Personalised with Text)
FGSNO006(R38x25)-BASBSK(P)
5056261068612
£9.99
40 g
38 x 25cm
Personalised Snood Face Cover with Sporting Icon
Regular (38cm x 25cm) (Basketball Icon) Black - Stretch Polyester (Personalised with Text)
FGSNO006(R38x25)-BASBLA(P)
5056261068964
£9.99
40 g
38 x 25cm
Personalised Snood Face Cover with Sporting Icon
Regular (38cm x 25cm) (Basketball Icon) Red - Stretch Polyester (Personalised with Text)
FGSNO006(R38x25)-BASRED(P)
5056261069336
£9.99
40 g
38 x 25cm
Personalised Snood Face Cover with Sporting Icon
Regular (38cm x 25cm) (Basketball Icon) Purple - Stretch Polyester (Personalised with Text)
FGSNO006(R38x25)-BASPUR(P)
5056261069701
£9.99
40 g
38 x 25cm
Personalised Snood Face Cover with Sporting Icon
Regular (38cm x 25cm) (Basketball Icon) Hot Pink (Fuchsia) - Stretch Polyester (Personalised with Text)
FGSNO006(R38x25)-BASPFU(P)
5056261070073
£9.99
40 g
38 x 25cm
Personalised Snood Face Cover with Sporting Icon
Regular (38cm x 25cm) (Basketball Icon) Baby Pink - Stretch Polyester (Personalised with Text)
FGSNO006(R38x25)-BASPBA(P)
5056261070448
£9.99
40 g
38 x 25cm
Personalised Snood Face Cover with Sporting Icon
Regular (38cm x 25cm) (Basketball Icon) Bright Green - Stretch Polyester (Personalised with Text)
FGSNO006(R38x25)-BASGBR(P)
5056261070813
£9.99
40 g
38 x 25cm
Personalised Snood Face Cover with Sporting Icon
Regular (38cm x 25cm) (Basketball Icon) Burnt Orange - Stretch Polyester (Personalised with Text)
FGSNO006(R38x25)-BASORA(P)
5056261071186
£9.99
40 g
38 x 25cm
Personalised Snood Face Cover with Sporting Icon
Regular (38cm x 25cm) (Basketball Icon) Yellow - Stretch Polyester (Personalised with Text)
FGSNO006(R38x25)-BASYEL(P)
5056261067301
£9.99
40 g
38 x 25cm
Personalised Snood Face Cover with Sporting Icon
Regular (38cm x 25cm) (Basketball Icon) White - Stretch Polyester (Personalised with Text)
FGSNO006(R38x25)-BASWHI(P)
5056261067981
£9.99
40 g
38 x 25cm
Personalised Snood Face Cover with Sporting Icon
Regular (38cm x 25cm) (Football Icon) Royal Blue - Stretch Polyester (Personalised with Text)
FGSNO006(R38x25)-FOOBRO(P)
5056261068360
£9.99
40 g
38 x 25cm
Personalised Snood Face Cover with Sporting Icon
Regular (38cm x 25cm) (Football Icon) Sky Blue - Stretch Polyester (Personalised with Text)
FGSNO006(R38x25)-FOOBSK(P)
5056261068728
£9.99
40 g
38 x 25cm
Personalised Snood Face Cover with Sporting Icon
Regular (38cm x 25cm) (Football Icon) Black - Stretch Polyester (Personalised with Text)
FGSNO006(R38x25)-FOOBLA(P)
5056261069091
£9.99
40 g
38 x 25cm
Personalised Snood Face Cover with Sporting Icon
Regular (38cm x 25cm) (Football Icon) Red - Stretch Polyester (Personalised with Text)
FGSNO006(R38x25)-FOORED(P)
5056261069466
£9.99
40 g
38 x 25cm
Personalised Snood Face Cover with Sporting Icon
Regular (38cm x 25cm) (Football Icon) Purple - Stretch Polyester (Personalised with Text)
FGSNO006(R38x25)-FOOPUR(P)
5056261069831
£9.99
40 g
38 x 25cm
Personalised Snood Face Cover with Sporting Icon
Regular (38cm x 25cm) (Football Icon) Hot Pink (Fuchsia) - Stretch Polyester (Personalised with Text)
FGSNO006(R38x25)-FOOPFU(P)
5056261070202
£9.99
40 g
38 x 25cm
Personalised Snood Face Cover with Sporting Icon
Regular (38cm x 25cm) (Football Icon) Baby Pink - Stretch Polyester (Personalised with Text)
FGSNO006(R38x25)-FOOPBA(P)
5056261070578
£9.99
40 g
38 x 25cm
Personalised Snood Face Cover with Sporting Icon
Regular (38cm x 25cm) (Football Icon) Bright Green - Stretch Polyester (Personalised with Text)
FGSNO006(R38x25)-FOOGBR(P)
5056261070943
£9.99
40 g
38 x 25cm
Personalised Snood Face Cover with Sporting Icon
Regular (38cm x 25cm) (Football Icon) Burnt Orange - Stretch Polyester (Personalised with Text)
FGSNO006(R38x25)-FOOORA(P)
5056261067059
£9.99
40 g
38 x 25cm
Personalised Snood Face Cover with Sporting Icon
Regular (38cm x 25cm) (Football Icon) Yellow - Stretch Polyester (Personalised with Text)
FGSNO006(R38x25)-FOOYEL(P)
5056261067738
£9.99
40 g
38 x 25cm
Personalised Snood Face Cover with Sporting Icon
Regular (38cm x 25cm) (Football Icon) White - Stretch Polyester (Personalised with Text)
FGSNO006(R38x25)-FOOWHI(P)
5056261068100
£9.99
40 g
38 x 25cm
Personalised Snood Face Cover with Sporting Icon
Regular (38cm x 25cm) (Golf Icon) Royal Blue - Stretch Polyester (Personalised with Text)
FGSNO006(R38x25)-GOLBRO(P)
5056261068490
£9.99
40 g
38 x 25cm
Personalised Snood Face Cover with Sporting Icon
Regular (38cm x 25cm) (Golf Icon) Sky Blue - Stretch Polyester (Personalised with Text)
FGSNO006(R38x25)-GOLBSK(P)
5056261068841
£9.99
40 g
38 x 25cm
Personalised Snood Face Cover with Sporting Icon
Regular (38cm x 25cm) (Golf Icon) Black - Stretch Polyester (Personalised with Text)
FGSNO006(R38x25)-GOLBLA(P)
5056261069213
£9.99
40 g
38 x 25cm
Personalised Snood Face Cover with Sporting Icon
Regular (38cm x 25cm) (Golf Icon) Red - Stretch Polyester (Personalised with Text)
FGSNO006(R38x25)-GOLRED(P)
5056261069589
£9.99
40 g
38 x 25cm
Personalised Snood Face Cover with Sporting Icon
Regular (38cm x 25cm) (Golf Icon) Purple - Stretch Polyester (Personalised with Text)
FGSNO006(R38x25)-GOLPUR(P)
5056261069954
£9.99
40 g
38 x 25cm
Personalised Snood Face Cover with Sporting Icon
Regular (38cm x 25cm) (Golf Icon) Hot Pink (Fuchsia) - Stretch Polyester (Personalised with Text)
FGSNO006(R38x25)-GOLPFU(P)
5056261070325
£9.99
40 g
38 x 25cm
Personalised Snood Face Cover with Sporting Icon
Regular (38cm x 25cm) (Golf Icon) Baby Pink - Stretch Polyester (Personalised with Text)
FGSNO006(R38x25)-GOLPBA(P)
5056261070691
£9.99
40 g
38 x 25cm
Personalised Snood Face Cover with Sporting Icon
Regular (38cm x 25cm) (Golf Icon) Bright Green - Stretch Polyester (Personalised with Text)
FGSNO006(R38x25)-GOLGBR(P)
5056261071063
£9.99
40 g
38 x 25cm
Personalised Snood Face Cover with Sporting Icon
Regular (38cm x 25cm) (Golf Icon) Burnt Orange - Stretch Polyester (Personalised with Text)
FGSNO006(R38x25)-GOLORA(P)
5056261067189
£9.99
40 g
38 x 25cm
Personalised Snood Face Cover with Sporting Icon
Regular (38cm x 25cm) (Golf Icon) Yellow - Stretch Polyester (Personalised with Text)
FGSNO006(R38x25)-GOLYEL(P)
5056261067868
£9.99
40 g
38 x 25cm
Personalised Snood Face Cover with Sporting Icon
Regular (38cm x 25cm) (Golf Icon) White - Stretch Polyester (Personalised with Text)
FGSNO006(R38x25)-GOLWHI(P)
5056261068254
£9.99
40 g
38 x 25cm
Personalised Snood Face Cover with Sporting Icon
Regular (38cm x 25cm) (Gymnastics Icon) Royal Blue - Stretch Polyester (Personalised with Text)
FGSNO006(R38x25)-GYNBRO(P)
5056261068629
£9.99
40 g
38 x 25cm
Personalised Snood Face Cover with Sporting Icon
Regular (38cm x 25cm) (Gymnastics Icon) Sky Blue - Stretch Polyester (Personalised with Text)
FGSNO006(R38x25)-GYNBSK(P)
5056261068971
£9.99
40 g
38 x 25cm
Personalised Snood Face Cover with Sporting Icon
Regular (38cm x 25cm) (Gymnastics Icon) Black - Stretch Polyester (Personalised with Text)
FGSNO006(R38x25)-GYNBLA(P)
5056261069343
£9.99
40 g
38 x 25cm
Personalised Snood Face Cover with Sporting Icon
Regular (38cm x 25cm) (Gymnastics Icon) Red - Stretch Polyester (Personalised with Text)
FGSNO006(R38x25)-GYNRED(P)
5056261069718
£9.99
40 g
38 x 25cm
Personalised Snood Face Cover with Sporting Icon
Regular (38cm x 25cm) (Gymnastics Icon) Purple - Stretch Polyester (Personalised with Text)
FGSNO006(R38x25)-GYNPUR(P)
5056261070080
£9.99
40 g
38 x 25cm
Personalised Snood Face Cover with Sporting Icon
Regular (38cm x 25cm) (Gymnastics Icon) Hot Pink (Fuchsia) - Stretch Polyester (Personalised with Text)
FGSNO006(R38x25)-GYNPFU(P)
5056261070455
£9.99
40 g
38 x 25cm
Personalised Snood Face Cover with Sporting Icon
Regular (38cm x 25cm) (Gymnastics Icon) Baby Pink - Stretch Polyester (Personalised with Text)
FGSNO006(R38x25)-GYNPBA(P)
5056261070820
£9.99
40 g
38 x 25cm
Personalised Snood Face Cover with Sporting Icon
Regular (38cm x 25cm) (Gymnastics Icon) Bright Green - Stretch Polyester (Personalised with Text)
FGSNO006(R38x25)-GYNGBR(P)
5056261071193
£9.99
40 g
38 x 25cm
Personalised Snood Face Cover with Sporting Icon
Regular (38cm x 25cm) (Gymnastics Icon) Burnt Orange - Stretch Polyester (Personalised with Text)
FGSNO006(R38x25)-GYNORA(P)
5056261067318
£9.99
40 g
38 x 25cm
Personalised Snood Face Cover with Sporting Icon
Regular (38cm x 25cm) (Gymnastics Icon) Yellow - Stretch Polyester (Personalised with Text)
FGSNO006(R38x25)-GYNYEL(P)
5056261067998
£9.99
40 g
38 x 25cm
Personalised Snood Face Cover with Sporting Icon
Regular (38cm x 25cm) (Gymnastics Icon) White - Stretch Polyester (Personalised with Text)
FGSNO006(R38x25)-GYNWHI(P)
5056261068377
£9.99
40 g
38 x 25cm
Personalised Snood Face Cover with Sporting Icon
Regular (38cm x 25cm) (Hockey Icon) Royal Blue - Stretch Polyester (Personalised with Text)
FGSNO006(R38x25)-HOCBRO(P)
5056261068735
£9.99
40 g
38 x 25cm
Personalised Snood Face Cover with Sporting Icon
Regular (38cm x 25cm) (Hockey Icon) Sky Blue - Stretch Polyester (Personalised with Text)
FGSNO006(R38x25)-HOCBSK(P)
5056261069107
£9.99
40 g
38 x 25cm
Personalised Snood Face Cover with Sporting Icon
Regular (38cm x 25cm) (Hockey Icon) Black - Stretch Polyester (Personalised with Text)
FGSNO006(R38x25)-HOCBLA(P)
5056261069473
£9.99
40 g
38 x 25cm
Personalised Snood Face Cover with Sporting Icon
Regular (38cm x 25cm) (Hockey Icon) Red - Stretch Polyester (Personalised with Text)
FGSNO006(R38x25)-HOCRED(P)
5056261069848
£9.99
40 g
38 x 25cm
Personalised Snood Face Cover with Sporting Icon
Regular (38cm x 25cm) (Hockey Icon) Purple - Stretch Polyester (Personalised with Text)
FGSNO006(R38x25)-HOCPUR(P)
5056261070219
£9.99
40 g
38 x 25cm
Personalised Snood Face Cover with Sporting Icon
Regular (38cm x 25cm) (Hockey Icon) Hot Pink (Fuchsia) - Stretch Polyester (Personalised with Text)
FGSNO006(R38x25)-HOCPFU(P)
5056261070585
£9.99
40 g
38 x 25cm
Personalised Snood Face Cover with Sporting Icon
Regular (38cm x 25cm) (Hockey Icon) Baby Pink - Stretch Polyester (Personalised with Text)
FGSNO006(R38x25)-HOCPBA(P)
5056261070950
£9.99
40 g
38 x 25cm
Personalised Snood Face Cover with Sporting Icon
Regular (38cm x 25cm) (Hockey Icon) Bright Green - Stretch Polyester (Personalised with Text)
FGSNO006(R38x25)-HOCGBR(P)
5056261067066
£9.99
40 g
38 x 25cm
Personalised Snood Face Cover with Sporting Icon
Regular (38cm x 25cm) (Hockey Icon) Burnt Orange - Stretch Polyester (Personalised with Text)
FGSNO006(R38x25)-HOCORA(P)
5056261067745
£9.99
40 g
38 x 25cm
Personalised Snood Face Cover with Sporting Icon
Regular (38cm x 25cm) (Hockey Icon) Yellow - Stretch Polyester (Personalised with Text)
FGSNO006(R38x25)-HOCYEL(P)
5056261068117
£9.99
40 g
38 x 25cm
Personalised Snood Face Cover with Sporting Icon
Regular (38cm x 25cm) (Hockey Icon) White - Stretch Polyester (Personalised with Text)
FGSNO006(R38x25)-HOCWHI(P)
5056261068506
£9.99
40 g
38 x 25cm
Personalised Snood Face Cover with Sporting Icon
Regular (38cm x 25cm) (Netball Icon) Royal Blue - Stretch Polyester (Personalised with Text)
FGSNO006(R38x25)-NETBRO(P)
5056261068858
£9.99
40 g
38 x 25cm
Personalised Snood Face Cover with Sporting Icon
Regular (38cm x 25cm) (Netball Icon) Sky Blue - Stretch Polyester (Personalised with Text)
FGSNO006(R38x25)-NETBSK(P)
5056261069220
£9.99
40 g
38 x 25cm
Personalised Snood Face Cover with Sporting Icon
Regular (38cm x 25cm) (Netball Icon) Black - Stretch Polyester (Personalised with Text)
FGSNO006(R38x25)-NETBLA(P)
5056261069596
£9.99
40 g
38 x 25cm
Personalised Snood Face Cover with Sporting Icon
Regular (38cm x 25cm) (Netball Icon) Red - Stretch Polyester (Personalised with Text)
FGSNO006(R38x25)-NETRED(P)
5056261069961
£9.99
40 g
38 x 25cm
Personalised Snood Face Cover with Sporting Icon
Regular (38cm x 25cm) (Netball Icon) Purple - Stretch Polyester (Personalised with Text)
FGSNO006(R38x25)-NETPUR(P)
5056261070332
£9.99
40 g
38 x 25cm
Personalised Snood Face Cover with Sporting Icon
Regular (38cm x 25cm) (Netball Icon) Hot Pink (Fuchsia) - Stretch Polyester (Personalised with Text)
FGSNO006(R38x25)-NETPFU(P)
5056261070707
£9.99
40 g
38 x 25cm
Personalised Snood Face Cover with Sporting Icon
Regular (38cm x 25cm) (Netball Icon) Baby Pink - Stretch Polyester (Personalised with Text)
FGSNO006(R38x25)-NETPBA(P)
5056261071070
£9.99
40 g
38 x 25cm
Personalised Snood Face Cover with Sporting Icon
Regular (38cm x 25cm) (Netball Icon) Bright Green - Stretch Polyester (Personalised with Text)
FGSNO006(R38x25)-NETGBR(P)
5056261067196
£9.99
40 g
38 x 25cm
Personalised Snood Face Cover with Sporting Icon
Regular (38cm x 25cm) (Netball Icon) Burnt Orange - Stretch Polyester (Personalised with Text)
FGSNO006(R38x25)-NETORA(P)
5056261067875
£9.99
40 g
38 x 25cm
Personalised Snood Face Cover with Sporting Icon
Regular (38cm x 25cm) (Netball Icon) Yellow - Stretch Polyester (Personalised with Text)
FGSNO006(R38x25)-NETYEL(P)
5056261068261
£9.99
40 g
38 x 25cm
Personalised Snood Face Cover with Sporting Icon
Regular (38cm x 25cm) (Netball Icon) White - Stretch Polyester (Personalised with Text)
FGSNO006(R38x25)-NETWHI(P)
5056261068636
£9.99
40 g
38 x 25cm
Personalised Snood Face Cover with Sporting Icon
Regular (38cm x 25cm) (Rugby Icon) Royal Blue - Stretch Polyester (Personalised with Text)
FGSNO006(R38x25)-RUGBRO(P)
5056261068988
£9.99
40 g
38 x 25cm
Personalised Snood Face Cover with Sporting Icon
Regular (38cm x 25cm) (Rugby Icon) Sky Blue - Stretch Polyester (Personalised with Text)
FGSNO006(R38x25)-RUGBSK(P)
5056261069350
£9.99
40 g
38 x 25cm
Personalised Snood Face Cover with Sporting Icon
Regular (38cm x 25cm) (Rugby Icon) Black - Stretch Polyester (Personalised with Text)
FGSNO006(R38x25)-RUGBLA(P)
5056261069725
£9.99
40 g
38 x 25cm
Personalised Snood Face Cover with Sporting Icon
Regular (38cm x 25cm) (Rugby Icon) Red - Stretch Polyester (Personalised with Text)
FGSNO006(R38x25)-RUGRED(P)
5056261070097
£9.99
40 g
38 x 25cm
Personalised Snood Face Cover with Sporting Icon
Regular (38cm x 25cm) (Rugby Icon) Purple - Stretch Polyester (Personalised with Text)
FGSNO006(R38x25)-RUGPUR(P)
5056261070462
£9.99
40 g
38 x 25cm
Personalised Snood Face Cover with Sporting Icon
Regular (38cm x 25cm) (Rugby Icon) Hot Pink (Fuchsia) - Stretch Polyester (Personalised with Text)
FGSNO006(R38x25)-RUGPFU(P)
5056261070837
£9.99
40 g
38 x 25cm
Personalised Snood Face Cover with Sporting Icon
Regular (38cm x 25cm) (Rugby Icon) Baby Pink - Stretch Polyester (Personalised with Text)
FGSNO006(R38x25)-RUGPBA(P)
5056261071209
£9.99
40 g
38 x 25cm
Personalised Snood Face Cover with Sporting Icon
Regular (38cm x 25cm) (Rugby Icon) Bright Green - Stretch Polyester (Personalised with Text)
FGSNO006(R38x25)-RUGGBR(P)
5056261067325
£9.99
40 g
38 x 25cm
Personalised Snood Face Cover with Sporting Icon
Regular (38cm x 25cm) (Rugby Icon) Burnt Orange - Stretch Polyester (Personalised with Text)
FGSNO006(R38x25)-RUGORA(P)
5056261068001
£9.99
40 g
38 x 25cm
Personalised Snood Face Cover with Sporting Icon
Regular (38cm x 25cm) (Rugby Icon) Yellow - Stretch Polyester (Personalised with Text)
FGSNO006(R38x25)-RUGYEL(P)
5056261068384
£9.99
40 g
38 x 25cm
Personalised Snood Face Cover with Sporting Icon
Regular (38cm x 25cm) (Rugby Icon) White - Stretch Polyester (Personalised with Text)
FGSNO006(R38x25)-RUGWHI(P)
5056261068742
£9.99
40 g
38 x 25cm
Personalised Snood Face Cover with Sporting Icon
Regular (38cm x 25cm) (Running Icon) Royal Blue - Stretch Polyester (Personalised with Text)
FGSNO006(R38x25)-RUNBRO(P)
5056261069114
£9.99
40 g
38 x 25cm
Personalised Snood Face Cover with Sporting Icon
Regular (38cm x 25cm) (Running Icon) Sky Blue - Stretch Polyester (Personalised with Text)
FGSNO006(R38x25)-RUNBSK(P)
5056261069480
£9.99
40 g
38 x 25cm
Personalised Snood Face Cover with Sporting Icon
Regular (38cm x 25cm) (Running Icon) Black - Stretch Polyester (Personalised with Text)
FGSNO006(R38x25)-RUNBLA(P)
5056261069855
£9.99
40 g
38 x 25cm
Personalised Snood Face Cover with Sporting Icon
Regular (38cm x 25cm) (Running Icon) Red - Stretch Polyester (Personalised with Text)
FGSNO006(R38x25)-RUNRED(P)
5056261070226
£9.99
40 g
38 x 25cm
Personalised Snood Face Cover with Sporting Icon
Regular (38cm x 25cm) (Running Icon) Purple - Stretch Polyester (Personalised with Text)
FGSNO006(R38x25)-RUNPUR(P)
5056261070592
£9.99
40 g
38 x 25cm
Personalised Snood Face Cover with Sporting Icon
Regular (38cm x 25cm) (Running Icon) Hot Pink (Fuchsia) - Stretch Polyester (Personalised with Text)
FGSNO006(R38x25)-RUNPFU(P)
5056261070967
£9.99
40 g
38 x 25cm
Personalised Snood Face Cover with Sporting Icon
Regular (38cm x 25cm) (Running Icon) Baby Pink - Stretch Polyester (Personalised with Text)
FGSNO006(R38x25)-RUNPBA(P)
5056261067073
£9.99
40 g
38 x 25cm
Personalised Snood Face Cover with Sporting Icon
Regular (38cm x 25cm) (Running Icon) Bright Green - Stretch Polyester (Personalised with Text)
FGSNO006(R38x25)-RUNGBR(P)
5056261067752
£9.99
40 g
38 x 25cm
Personalised Snood Face Cover with Sporting Icon
Regular (38cm x 25cm) (Running Icon) Burnt Orange - Stretch Polyester (Personalised with Text)
FGSNO006(R38x25)-RUNORA(P)
5056261068124
£9.99
40 g
38 x 25cm
Personalised Snood Face Cover with Sporting Icon
Regular (38cm x 25cm) (Running Icon) Yellow - Stretch Polyester (Personalised with Text)
FGSNO006(R38x25)-RUNYEL(P)
5056261068513
£9.99
40 g
38 x 25cm
Personalised Snood Face Cover with Sporting Icon
Regular (38cm x 25cm) (Running Icon) White - Stretch Polyester (Personalised with Text)
FGSNO006(R38x25)-RUNWHI(P)
5056261068865
£9.99
40 g
38 x 25cm
Personalised Snood Face Cover with Sporting Icon
Regular (38cm x 25cm) (Skiing Icon) Royal Blue - Stretch Polyester (Personalised with Text)
FGSNO006(R38x25)-SKIBRO(P)
5056261069237
£9.99
40 g
38 x 25cm
Personalised Snood Face Cover with Sporting Icon
Regular (38cm x 25cm) (Skiing Icon) Sky Blue - Stretch Polyester (Personalised with Text)
FGSNO006(R38x25)-SKIBSK(P)
5056261069602
£9.99
40 g
38 x 25cm
Personalised Snood Face Cover with Sporting Icon
Regular (38cm x 25cm) (Skiing Icon) Black - Stretch Polyester (Personalised with Text)
FGSNO006(R38x25)-SKIBLA(P)
5056261069978
£9.99
40 g
38 x 25cm
Personalised Snood Face Cover with Sporting Icon
Regular (38cm x 25cm) (Skiing Icon) Red - Stretch Polyester (Personalised with Text)
FGSNO006(R38x25)-SKIRED(P)
5056261070349
£9.99
40 g
38 x 25cm
Personalised Snood Face Cover with Sporting Icon
Regular (38cm x 25cm) (Skiing Icon) Purple - Stretch Polyester (Personalised with Text)
FGSNO006(R38x25)-SKIPUR(P)
5056261070714
£9.99
40 g
38 x 25cm
Personalised Snood Face Cover with Sporting Icon
Regular (38cm x 25cm) (Skiing Icon) Hot Pink (Fuchsia) - Stretch Polyester (Personalised with Text)
FGSNO006(R38x25)-SKIPFU(P)
5056261071087
£9.99
40 g
38 x 25cm
Personalised Snood Face Cover with Sporting Icon
Regular (38cm x 25cm) (Skiing Icon) Baby Pink - Stretch Polyester (Personalised with Text)
FGSNO006(R38x25)-SKIPBA(P)
5056261067202
£9.99
40 g
38 x 25cm
Personalised Snood Face Cover with Sporting Icon
Regular (38cm x 25cm) (Skiing Icon) Bright Green - Stretch Polyester (Personalised with Text)
FGSNO006(R38x25)-SKIGBR(P)
5056261067882
£9.99
40 g
38 x 25cm
Personalised Snood Face Cover with Sporting Icon
Regular (38cm x 25cm) (Skiing Icon) Burnt Orange - Stretch Polyester (Personalised with Text)
FGSNO006(R38x25)-SKIORA(P)
5056261068278
£9.99
40 g
38 x 25cm
Personalised Snood Face Cover with Sporting Icon
Regular (38cm x 25cm) (Skiing Icon) Yellow - Stretch Polyester (Personalised with Text)
FGSNO006(R38x25)-SKIYEL(P)
5056261068643
£9.99
40 g
38 x 25cm
Personalised Snood Face Cover with Sporting Icon
Regular (38cm x 25cm) (Skiing Icon) White - Stretch Polyester (Personalised with Text)
FGSNO006(R38x25)-SKIWHI(P)
5056261068995
£9.99
40 g
38 x 25cm
Personalised Snood Face Cover with Sporting Icon
Regular (38cm x 25cm) (Swimming Icon) Royal Blue - Stretch Polyester (Personalised with Text)
FGSNO006(R38x25)-SWIBRO(P)
5056261069367
£9.99
40 g
38 x 25cm
Personalised Snood Face Cover with Sporting Icon
Regular (38cm x 25cm) (Swimming Icon) Sky Blue - Stretch Polyester (Personalised with Text)
FGSNO006(R38x25)-SWIBSK(P)
5056261069732
£9.99
40 g
38 x 25cm
Personalised Snood Face Cover with Sporting Icon
Regular (38cm x 25cm) (Swimming Icon) Black - Stretch Polyester (Personalised with Text)
FGSNO006(R38x25)-SWIBLA(P)
5056261070103
£9.99
40 g
38 x 25cm
Personalised Snood Face Cover with Sporting Icon
Regular (38cm x 25cm) (Swimming Icon) Red - Stretch Polyester (Personalised with Text)
FGSNO006(R38x25)-SWIRED(P)
5056261070479
£9.99
40 g
38 x 25cm
Personalised Snood Face Cover with Sporting Icon
Regular (38cm x 25cm) (Swimming Icon) Purple - Stretch Polyester (Personalised with Text)
FGSNO006(R38x25)-SWIPUR(P)
5056261070844
£9.99
40 g
38 x 25cm
Personalised Snood Face Cover with Sporting Icon
Regular (38cm x 25cm) (Swimming Icon) Hot Pink (Fuchsia) - Stretch Polyester (Personalised with Text)
FGSNO006(R38x25)-SWIPFU(P)
5056261071216
£9.99
40 g
38 x 25cm
Personalised Snood Face Cover with Sporting Icon
Regular (38cm x 25cm) (Swimming Icon) Baby Pink - Stretch Polyester (Personalised with Text)
FGSNO006(R38x25)-SWIPBA(P)
5056261067639
£9.99
40 g
38 x 25cm
Personalised Snood Face Cover with Sporting Icon
Regular (38cm x 25cm) (Swimming Icon) Bright Green - Stretch Polyester (Personalised with Text)
FGSNO006(R38x25)-SWIGBR(P)
5056261068018
£9.99
40 g
38 x 25cm
Personalised Snood Face Cover with Sporting Icon
Regular (38cm x 25cm) (Swimming Icon) Burnt Orange - Stretch Polyester (Personalised with Text)
FGSNO006(R38x25)-SWIORA(P)
5056261068391
£9.99
40 g
38 x 25cm
Personalised Snood Face Cover with Sporting Icon
Regular (38cm x 25cm) (Swimming Icon) Yellow - Stretch Polyester (Personalised with Text)
FGSNO006(R38x25)-SWIYEL(P)
5056261068759
£9.99
40 g
38 x 25cm
Personalised Snood Face Cover with Sporting Icon
Regular (38cm x 25cm) (Swimming Icon) White - Stretch Polyester (Personalised with Text)
FGSNO006(R38x25)-SWIWHI(P)
5056261069121
£9.99
40 g
38 x 25cm
Personalised Snood Face Cover with Sporting Icon
Regular (38cm x 25cm) (Tennis Icon) Royal Blue - Stretch Polyester (Personalised with Text)
FGSNO006(R38x25)-TENBRO(P)
5056261069497
£9.99
40 g
38 x 25cm
Personalised Snood Face Cover with Sporting Icon
Regular (38cm x 25cm) (Tennis Icon) Sky Blue - Stretch Polyester (Personalised with Text)
FGSNO006(R38x25)-TENBSK(P)
5056261069862
£9.99
40 g
38 x 25cm
Personalised Snood Face Cover with Sporting Icon
Regular (38cm x 25cm) (Tennis Icon) Black - Stretch Polyester (Personalised with Text)
FGSNO006(R38x25)-TENBLA(P)
5056261070233
£9.99
40 g
38 x 25cm
Personalised Snood Face Cover with Sporting Icon
Regular (38cm x 25cm) (Tennis Icon) Red - Stretch Polyester (Personalised with Text)
FGSNO006(R38x25)-TENRED(P)
5056261070608
£9.99
40 g
38 x 25cm
Personalised Snood Face Cover with Sporting Icon
Regular (38cm x 25cm) (Tennis Icon) Purple - Stretch Polyester (Personalised with Text)
FGSNO006(R38x25)-TENPUR(P)
5056261070974
£9.99
40 g
38 x 25cm
Personalised Snood Face Cover with Sporting Icon
Regular (38cm x 25cm) (Tennis Icon) Hot Pink (Fuchsia) - Stretch Polyester (Personalised with Text)
FGSNO006(R38x25)-TENPFU(P)
5056261067080
£9.99
40 g
38 x 25cm
Personalised Snood Face Cover with Sporting Icon
Regular (38cm x 25cm) (Tennis Icon) Baby Pink - Stretch Polyester (Personalised with Text)
FGSNO006(R38x25)-TENPBA(P)
5056261067769
£9.99
40 g
38 x 25cm
Personalised Snood Face Cover with Sporting Icon
Regular (38cm x 25cm) (Tennis Icon) Bright Green - Stretch Polyester (Personalised with Text)
FGSNO006(R38x25)-TENGBR(P)
5056261068131
£9.99
40 g
38 x 25cm
Personalised Snood Face Cover with Sporting Icon
Regular (38cm x 25cm) (Tennis Icon) Burnt Orange - Stretch Polyester (Personalised with Text)
FGSNO006(R38x25)-TENORA(P)
5056261068520
£9.99
40 g
38 x 25cm
Personalised Snood Face Cover with Sporting Icon
Regular (38cm x 25cm) (Tennis Icon) Yellow - Stretch Polyester (Personalised with Text)
FGSNO006(R38x25)-TENYEL(P)
5056261068872
£9.99
40 g
38 x 25cm
Personalised Snood Face Cover with Sporting Icon
Regular (38cm x 25cm) (Tennis Icon) White - Stretch Polyester (Personalised with Text)
FGSNO006(R38x25)-TENWHI(P)
5056261069244
£9.99
40 g
38 x 25cm
Personalised Snood Face Cover with Sporting Icon
Regular (38cm x 25cm) (Trampolining Icon) Royal Blue - Stretch Polyester (Personalised with Text)
FGSNO006(R38x25)-TRABRO(P)
5056261069619
£9.99
40 g
38 x 25cm
Personalised Snood Face Cover with Sporting Icon
Regular (38cm x 25cm) (Trampolining Icon) Sky Blue - Stretch Polyester (Personalised with Text)
FGSNO006(R38x25)-TRABSK(P)
5056261069985
£9.99
40 g
38 x 25cm
Personalised Snood Face Cover with Sporting Icon
Regular (38cm x 25cm) (Trampolining Icon) Black - Stretch Polyester (Personalised with Text)
FGSNO006(R38x25)-TRABLA(P)
5056261070356
£9.99
40 g
38 x 25cm
Personalised Snood Face Cover with Sporting Icon
Regular (38cm x 25cm) (Trampolining Icon) Red - Stretch Polyester (Personalised with Text)
FGSNO006(R38x25)-TRARED(P)
5056261070721
£9.99
40 g
38 x 25cm
Personalised Snood Face Cover with Sporting Icon
Regular (38cm x 25cm) (Trampolining Icon) Purple - Stretch Polyester (Personalised with Text)
FGSNO006(R38x25)-TRAPUR(P)
5056261071094
£9.99
40 g
38 x 25cm
Personalised Snood Face Cover with Sporting Icon
Regular (38cm x 25cm) (Trampolining Icon) Hot Pink (Fuchsia) - Stretch Polyester (Personalised with Text)
FGSNO006(R38x25)-TRAPFU(P)
5056261067219
£9.99
40 g
38 x 25cm
Personalised Snood Face Cover with Sporting Icon
Regular (38cm x 25cm) (Trampolining Icon) Baby Pink - Stretch Polyester (Personalised with Text)
FGSNO006(R38x25)-TRAPBA(P)
5056261067899
£9.99
40 g
38 x 25cm
Personalised Snood Face Cover with Sporting Icon
Regular (38cm x 25cm) (Trampolining Icon) Bright Green - Stretch Polyester (Personalised with Text)
FGSNO006(R38x25)-TRAGBR(P)
5056261068285
£9.99
40 g
38 x 25cm
Personalised Snood Face Cover with Sporting Icon
Regular (38cm x 25cm) (Trampolining Icon) Burnt Orange - Stretch Polyester (Personalised with Text)
FGSNO006(R38x25)-TRAORA(P)
5056261068650
£9.99
40 g
38 x 25cm
Personalised Snood Face Cover with Sporting Icon
Regular (38cm x 25cm) (Trampolining Icon) Yellow - Stretch Polyester (Personalised with Text)
FGSNO006(R38x25)-TRAYEL(P)
5056261069008
£9.99
40 g
38 x 25cm
Personalised Snood Face Cover with Sporting Icon
Regular (38cm x 25cm) (Trampolining Icon) White - Stretch Polyester (Personalised with Text)
FGSNO006(R38x25)-TRAWHI(P)
5056261069374
£9.99
40 g
38 x 25cm
Personalised Snood Face Cover with Sporting Icon
Regular (38cm x 25cm) (Mountain Biking Icon) Royal Blue - Stretch Polyester (Personalised with Text) with Small Black Storage Pouch
FGSNO006(R38x25)-MTBBRO(P)+RMBAG050
5056261069749
£11.49
46 g
14 x 10cm
Personalised Snood Face Cover with Sporting Icon
Regular (38cm x 25cm) (Mountain Biking Icon) Sky Blue - Stretch Polyester (Personalised with Text) with Small Black Storage Pouch
FGSNO006(R38x25)-MTBBSK(P)+RMBAG050
5056261070110
£11.49
46 g
14 x 10cm
Personalised Snood Face Cover with Sporting Icon
Regular (38cm x 25cm) (Mountain Biking Icon) Black - Stretch Polyester (Personalised with Text) with Small Black Storage Pouch
FGSNO006(R38x25)-MTBBLA(P)+RMBAG050
5056261070486
£11.49
46 g
14 x 10cm
Personalised Snood Face Cover with Sporting Icon
Regular (38cm x 25cm) (Mountain Biking Icon) Red - Stretch Polyester (Personalised with Text) with Small Black Storage Pouch
FGSNO006(R38x25)-MTBRED(P)+RMBAG050
5056261070851
£11.49
46 g
14 x 10cm
Personalised Snood Face Cover with Sporting Icon
Regular (38cm x 25cm) (Mountain Biking Icon) Purple - Stretch Polyester (Personalised with Text) with Small Black Storage Pouch
FGSNO006(R38x25)-MTBPUR(P)+RMBAG050
5056261071223
£11.49
46 g
14 x 10cm
Personalised Snood Face Cover with Sporting Icon
Regular (38cm x 25cm) (Mountain Biking Icon) Hot Pink (Fuchsia) - Stretch Polyester (Personalised with Text) with Small Black Storage Pouch
FGSNO006(R38x25)-MTBPFU(P)+RMBAG050
5056261067646
£11.49
46 g
14 x 10cm
Personalised Snood Face Cover with Sporting Icon
Regular (38cm x 25cm) (Mountain Biking Icon) Baby Pink - Stretch Polyester (Personalised with Text) with Small Black Storage Pouch
FGSNO006(R38x25)-MTBPBA(P)+RMBAG050
5056261068025
£11.49
46 g
14 x 10cm
Personalised Snood Face Cover with Sporting Icon
Regular (38cm x 25cm) (Mountain Biking Icon) Bright Green - Stretch Polyester (Personalised with Text) with Small Black Storage Pouch
FGSNO006(R38x25)-MTBGBR(P)+RMBAG050
5056261068407
£11.49
46 g
14 x 10cm
Personalised Snood Face Cover with Sporting Icon
Regular (38cm x 25cm) (Mountain Biking Icon) Burnt Orange - Stretch Polyester (Personalised with Text) with Small Black Storage Pouch
FGSNO006(R38x25)-MTBORA(P)+RMBAG050
5056261068766
£11.49
46 g
14 x 10cm
Personalised Snood Face Cover with Sporting Icon
Regular (38cm x 25cm) (Mountain Biking Icon) Yellow - Stretch Polyester (Personalised with Text) with Small Black Storage Pouch
FGSNO006(R38x25)-MTBYEL(P)+RMBAG050
5056261069138
£11.49
46 g
14 x 10cm
Personalised Snood Face Cover with Sporting Icon
Regular (38cm x 25cm) (Mountain Biking Icon) White - Stretch Polyester (Personalised with Text) with Small Black Storage Pouch
FGSNO006(R38x25)-MTBWHI(P)+RMBAG050
5056261069503
£11.49
46 g
14 x 10cm
Personalised Snood Face Cover with Sporting Icon
Regular (38cm x 25cm) (Two Finger Icon) Royal Blue - Stretch Polyester (Personalised with Text) with Small Black Storage Pouch
FGSNO006(R38x25)-TFIBRO(P)+RMBAG050
5056261069879
£11.49
46 g
14 x 10cm
Personalised Snood Face Cover with Sporting Icon
Regular (38cm x 25cm) (Two Finger Icon) Sky Blue - Stretch Polyester (Personalised with Text) with Small Black Storage Pouch
FGSNO006(R38x25)-TFIBSK(P)+RMBAG050
5056261070240
£11.49
46 g
14 x 10cm
Personalised Snood Face Cover with Sporting Icon
Regular (38cm x 25cm) (Two Finger Icon) Black - Stretch Polyester (Personalised with Text) with Small Black Storage Pouch
FGSNO006(R38x25)-TFIBLA(P)+RMBAG050
5056261070615
£11.49
46 g
14 x 10cm
Personalised Snood Face Cover with Sporting Icon
Regular (38cm x 25cm) (Two Finger Icon) Red - Stretch Polyester (Personalised with Text) with Small Black Storage Pouch
FGSNO006(R38x25)-TFIRED(P)+RMBAG050
5056261070981
£11.49
46 g
14 x 10cm
Personalised Snood Face Cover with Sporting Icon
Regular (38cm x 25cm) (Two Finger Icon) Purple - Stretch Polyester (Personalised with Text) with Small Black Storage Pouch
FGSNO006(R38x25)-TFIPUR(P)+RMBAG050
5056261067097
£11.49
46 g
14 x 10cm
Personalised Snood Face Cover with Sporting Icon
Regular (38cm x 25cm) (Two Finger Icon) Hot Pink (Fuchsia) - Stretch Polyester (Personalised with Text) with Small Black Storage Pouch
FGSNO006(R38x25)-TFIPFU(P)+RMBAG050
5056261067776
£11.49
46 g
14 x 10cm
Personalised Snood Face Cover with Sporting Icon
Regular (38cm x 25cm) (Two Finger Icon) Baby Pink - Stretch Polyester (Personalised with Text) with Small Black Storage Pouch
FGSNO006(R38x25)-TFIPBA(P)+RMBAG050
5056261068148
£11.49
46 g
14 x 10cm
Personalised Snood Face Cover with Sporting Icon
Regular (38cm x 25cm) (Two Finger Icon) Bright Green - Stretch Polyester (Personalised with Text) with Small Black Storage Pouch
FGSNO006(R38x25)-TFIGBR(P)+RMBAG050
5056261068537
£11.49
46 g
14 x 10cm
Personalised Snood Face Cover with Sporting Icon
Regular (38cm x 25cm) (Two Finger Icon) Burnt Orange - Stretch Polyester (Personalised with Text) with Small Black Storage Pouch
FGSNO006(R38x25)-TFIORA(P)+RMBAG050
5056261068889
£11.49
46 g
14 x 10cm
Personalised Snood Face Cover with Sporting Icon
Regular (38cm x 25cm) (Two Finger Icon) Yellow - Stretch Polyester (Personalised with Text) with Small Black Storage Pouch
FGSNO006(R38x25)-TFIYEL(P)+RMBAG050
5056261069251
£11.49
46 g
14 x 10cm
Personalised Snood Face Cover with Sporting Icon
Regular (38cm x 25cm) (Two Finger Icon) White - Stretch Polyester (Personalised with Text) with Small Black Storage Pouch
FGSNO006(R38x25)-TFIWHI(P)+RMBAG050
5056261069626
£11.49
46 g
14 x 10cm
Personalised Snood Face Cover with Sporting Icon
Regular (38cm x 25cm) (Single Finger Icon) Royal Blue - Stretch Polyester (Personalised with Text) with Small Black Storage Pouch
FGSNO006(R38x25)-SFIBRO(P)+RMBAG050
5056261069992
£11.49
46 g
14 x 10cm
Personalised Snood Face Cover with Sporting Icon
Regular (38cm x 25cm) (Single Finger Icon) Sky Blue - Stretch Polyester (Personalised with Text) with Small Black Storage Pouch
FGSNO006(R38x25)-SFIBSK(P)+RMBAG050
5056261070363
£11.49
46 g
14 x 10cm
Personalised Snood Face Cover with Sporting Icon
Regular (38cm x 25cm) (Single Finger Icon) Black - Stretch Polyester (Personalised with Text) with Small Black Storage Pouch
FGSNO006(R38x25)-SFIBLA(P)+RMBAG050
5056261070738
£11.49
46 g
14 x 10cm
Personalised Snood Face Cover with Sporting Icon
Regular (38cm x 25cm) (Single Finger Icon) Red - Stretch Polyester (Personalised with Text) with Small Black Storage Pouch
FGSNO006(R38x25)-SFIRED(P)+RMBAG050
5056261071100
£11.49
46 g
14 x 10cm
Personalised Snood Face Cover with Sporting Icon
Regular (38cm x 25cm) (Single Finger Icon) Purple - Stretch Polyester (Personalised with Text) with Small Black Storage Pouch
FGSNO006(R38x25)-SFIPUR(P)+RMBAG050
5056261067226
£11.49
46 g
14 x 10cm
Personalised Snood Face Cover with Sporting Icon
Regular (38cm x 25cm) (Single Finger Icon) Hot Pink (Fuchsia) - Stretch Polyester (Personalised with Text) with Small Black Storage Pouch
FGSNO006(R38x25)-SFIPFU(P)+RMBAG050
5056261067905
£11.49
46 g
14 x 10cm
Personalised Snood Face Cover with Sporting Icon
Regular (38cm x 25cm) (Single Finger Icon) Baby Pink - Stretch Polyester (Personalised with Text) with Small Black Storage Pouch
FGSNO006(R38x25)-SFIPBA(P)+RMBAG050
5056261068292
£11.49
46 g
14 x 10cm
Personalised Snood Face Cover with Sporting Icon
Regular (38cm x 25cm) (Single Finger Icon) Bright Green - Stretch Polyester (Personalised with Text) with Small Black Storage Pouch
FGSNO006(R38x25)-SFIGBR(P)+RMBAG050
5056261068667
£11.49
46 g
14 x 10cm
Personalised Snood Face Cover with Sporting Icon
Regular (38cm x 25cm) (Single Finger Icon) Burnt Orange - Stretch Polyester (Personalised with Text) with Small Black Storage Pouch
FGSNO006(R38x25)-SFIORA(P)+RMBAG050
5056261069015
£11.49
46 g
14 x 10cm
Personalised Snood Face Cover with Sporting Icon
Regular (38cm x 25cm) (Single Finger Icon) Yellow - Stretch Polyester (Personalised with Text) with Small Black Storage Pouch
FGSNO006(R38x25)-SFIYEL(P)+RMBAG050
5056261069381
£11.49
46 g
14 x 10cm
Personalised Snood Face Cover with Sporting Icon
Regular (38cm x 25cm) (Single Finger Icon) White - Stretch Polyester (Personalised with Text) with Small Black Storage Pouch
FGSNO006(R38x25)-SFIWHI(P)+RMBAG050
5056261069756
£11.49
46 g
14 x 10cm
Personalised Snood Face Cover with Sporting Icon
Regular (38cm x 25cm) (Skull & Spanner Icon) Royal Blue - Stretch Polyester (Personalised with Text) with Small Black Storage Pouch
FGSNO006(R38x25)-SKUBRO(P)+RMBAG050
5056261070127
£11.49
46 g
14 x 10cm
Personalised Snood Face Cover with Sporting Icon
Regular (38cm x 25cm) (Skull & Spanner Icon) Sky Blue - Stretch Polyester (Personalised with Text) with Small Black Storage Pouch
FGSNO006(R38x25)-SKUBSK(P)+RMBAG050
5056261070493
£11.49
46 g
14 x 10cm
Personalised Snood Face Cover with Sporting Icon
Regular (38cm x 25cm) (Skull & Spanner Icon) Black - Stretch Polyester (Personalised with Text) with Small Black Storage Pouch
FGSNO006(R38x25)-SKUBLA(P)+RMBAG050
5056261070868
£11.49
46 g
14 x 10cm
Personalised Snood Face Cover with Sporting Icon
Regular (38cm x 25cm) (Skull & Spanner Icon) Red - Stretch Polyester (Personalised with Text) with Small Black Storage Pouch
FGSNO006(R38x25)-SKURED(P)+RMBAG050
5056261071230
£11.49
46 g
14 x 10cm
Personalised Snood Face Cover with Sporting Icon
Regular (38cm x 25cm) (Skull & Spanner Icon) Purple - Stretch Polyester (Personalised with Text) with Small Black Storage Pouch
FGSNO006(R38x25)-SKUPUR(P)+RMBAG050
5056261067653
£11.49
46 g
14 x 10cm
Personalised Snood Face Cover with Sporting Icon
Regular (38cm x 25cm) (Skull & Spanner Icon) Hot Pink (Fuchsia) - Stretch Polyester (Personalised with Text) with Small Black Storage Pouch
FGSNO006(R38x25)-SKUPFU(P)+RMBAG050
5056261068032
£11.49
46 g
14 x 10cm
Personalised Snood Face Cover with Sporting Icon
Regular (38cm x 25cm) (Skull & Spanner Icon) Baby Pink - Stretch Polyester (Personalised with Text) with Small Black Storage Pouch
FGSNO006(R38x25)-SKUPBA(P)+RMBAG050
5056261068414
£11.49
46 g
14 x 10cm
Personalised Snood Face Cover with Sporting Icon
Regular (38cm x 25cm) (Skull & Spanner Icon) Bright Green - Stretch Polyester (Personalised with Text) with Small Black Storage Pouch
FGSNO006(R38x25)-SKUGBR(P)+RMBAG050
5056261068773
£11.49
46 g
14 x 10cm
Personalised Snood Face Cover with Sporting Icon
Regular (38cm x 25cm) (Skull & Spanner Icon) Burnt Orange - Stretch Polyester (Personalised with Text) with Small Black Storage Pouch
FGSNO006(R38x25)-SKUORA(P)+RMBAG050
5056261069145
£11.49
46 g
14 x 10cm
Personalised Snood Face Cover with Sporting Icon
Regular (38cm x 25cm) (Skull & Spanner Icon) Yellow - Stretch Polyester (Personalised with Text) with Small Black Storage Pouch
FGSNO006(R38x25)-SKUYEL(P)+RMBAG050
5056261069510
£11.49
46 g
14 x 10cm
Personalised Snood Face Cover with Sporting Icon
Regular (38cm x 25cm) (Skull & Spanner Icon) White - Stretch Polyester (Personalised with Text) with Small Black Storage Pouch
FGSNO006(R38x25)-SKUWHI(P)+RMBAG050
5056261069886
£11.49
46 g
14 x 10cm
Personalised Snood Face Cover with Sporting Icon
Regular (38cm x 25cm) (We Are No. 1 Icon) Royal Blue - Stretch Polyester (Personalised with Text) with Small Black Storage Pouch
FGSNO006(R38x25)-WANBRO(P)+RMBAG050
5056261070257
£11.49
46 g
14 x 10cm
Personalised Snood Face Cover with Sporting Icon
Regular (38cm x 25cm) (We Are No. 1 Icon) Sky Blue - Stretch Polyester (Personalised with Text) with Small Black Storage Pouch
FGSNO006(R38x25)-WANBSK(P)+RMBAG050
5056261070622
£11.49
46 g
14 x 10cm
Personalised Snood Face Cover with Sporting Icon
Regular (38cm x 25cm) (We Are No. 1 Icon) Black - Stretch Polyester (Personalised with Text) with Small Black Storage Pouch
FGSNO006(R38x25)-WANBLA(P)+RMBAG050
5056261070998
£11.49
46 g
14 x 10cm
Personalised Snood Face Cover with Sporting Icon
Regular (38cm x 25cm) (We Are No. 1 Icon) Red - Stretch Polyester (Personalised with Text) with Small Black Storage Pouch
FGSNO006(R38x25)-WANRED(P)+RMBAG050
5056261067103
£11.49
46 g
14 x 10cm
Personalised Snood Face Cover with Sporting Icon
Regular (38cm x 25cm) (We Are No. 1 Icon) Purple - Stretch Polyester (Personalised with Text) with Small Black Storage Pouch
FGSNO006(R38x25)-WANPUR(P)+RMBAG050
5056261067783
£11.49
46 g
14 x 10cm
Personalised Snood Face Cover with Sporting Icon
Regular (38cm x 25cm) (We Are No. 1 Icon) Hot Pink (Fuchsia) - Stretch Polyester (Personalised with Text) with Small Black Storage Pouch
FGSNO006(R38x25)-WANPFU(P)+RMBAG050
5056261068155
£11.49
46 g
14 x 10cm
Personalised Snood Face Cover with Sporting Icon
Regular (38cm x 25cm) (We Are No. 1 Icon) Baby Pink - Stretch Polyester (Personalised with Text) with Small Black Storage Pouch
FGSNO006(R38x25)-WANPBA(P)+RMBAG050
5056261068544
£11.49
46 g
14 x 10cm
Personalised Snood Face Cover with Sporting Icon
Regular (38cm x 25cm) (We Are No. 1 Icon) Bright Green - Stretch Polyester (Personalised with Text) with Small Black Storage Pouch
FGSNO006(R38x25)-WANGBR(P)+RMBAG050
5056261068896
£11.49
46 g
14 x 10cm
Personalised Snood Face Cover with Sporting Icon
Regular (38cm x 25cm) (We Are No. 1 Icon) Burnt Orange - Stretch Polyester (Personalised with Text) with Small Black Storage Pouch
FGSNO006(R38x25)-WANORA(P)+RMBAG050
5056261069268
£11.49
46 g
14 x 10cm
Personalised Snood Face Cover with Sporting Icon
Regular (38cm x 25cm) (We Are No. 1 Icon) Yellow - Stretch Polyester (Personalised with Text) with Small Black Storage Pouch
FGSNO006(R38x25)-WANYEL(P)+RMBAG050
5056261069633
£11.49
46 g
14 x 10cm
Personalised Snood Face Cover with Sporting Icon
Regular (38cm x 25cm) (We Are No. 1 Icon) White - Stretch Polyester (Personalised with Text) with Small Black Storage Pouch
FGSNO006(R38x25)-WANWHI(P)+RMBAG050
5056261070004
£11.49
46 g
14 x 10cm
Personalised Snood Face Cover with Sporting Icon
Regular (38cm x 25cm) (Ballet Icon) Royal Blue - Stretch Polyester (Personalised with Text) with Small Black Storage Pouch
FGSNO006(R38x25)-BALBRO(P)+RMBAG050
5056261070370
£11.49
46 g
14 x 10cm
Personalised Snood Face Cover with Sporting Icon
Regular (38cm x 25cm) (Ballet Icon) Sky Blue - Stretch Polyester (Personalised with Text) with Small Black Storage Pouch
FGSNO006(R38x25)-BALBSK(P)+RMBAG050
5056261070745
£11.49
46 g
14 x 10cm
Personalised Snood Face Cover with Sporting Icon
Regular (38cm x 25cm) (Ballet Icon) Black - Stretch Polyester (Personalised with Text) with Small Black Storage Pouch
FGSNO006(R38x25)-BALBLA(P)+RMBAG050
5056261071117
£11.49
46 g
14 x 10cm
Personalised Snood Face Cover with Sporting Icon
Regular (38cm x 25cm) (Ballet Icon) Red - Stretch Polyester (Personalised with Text) with Small Black Storage Pouch
FGSNO006(R38x25)-BALRED(P)+RMBAG050
5056261067233
£11.49
46 g
14 x 10cm
Personalised Snood Face Cover with Sporting Icon
Regular (38cm x 25cm) (Ballet Icon) Purple - Stretch Polyester (Personalised with Text) with Small Black Storage Pouch
FGSNO006(R38x25)-BALPUR(P)+RMBAG050
5056261067912
£11.49
46 g
14 x 10cm
Personalised Snood Face Cover with Sporting Icon
Regular (38cm x 25cm) (Ballet Icon) Hot Pink (Fuchsia) - Stretch Polyester (Personalised with Text) with Small Black Storage Pouch
FGSNO006(R38x25)-BALPFU(P)+RMBAG050
5056261068308
£11.49
46 g
14 x 10cm
Personalised Snood Face Cover with Sporting Icon
Regular (38cm x 25cm) (Ballet Icon) Baby Pink - Stretch Polyester (Personalised with Text) with Small Black Storage Pouch
FGSNO006(R38x25)-BALPBA(P)+RMBAG050
5056261068674
£11.49
46 g
14 x 10cm
Personalised Snood Face Cover with Sporting Icon
Regular (38cm x 25cm) (Ballet Icon) Bright Green - Stretch Polyester (Personalised with Text) with Small Black Storage Pouch
FGSNO006(R38x25)-BALGBR(P)+RMBAG050
5056261069022
£11.49
46 g
14 x 10cm
Personalised Snood Face Cover with Sporting Icon
Regular (38cm x 25cm) (Ballet Icon) Burnt Orange - Stretch Polyester (Personalised with Text) with Small Black Storage Pouch
FGSNO006(R38x25)-BALORA(P)+RMBAG050
5056261069398
£11.49
46 g
14 x 10cm
Personalised Snood Face Cover with Sporting Icon
Regular (38cm x 25cm) (Ballet Icon) Yellow - Stretch Polyester (Personalised with Text) with Small Black Storage Pouch
FGSNO006(R38x25)-BALYEL(P)+RMBAG050
5056261069763
£11.49
46 g
14 x 10cm
Personalised Snood Face Cover with Sporting Icon
Regular (38cm x 25cm) (Ballet Icon) White - Stretch Polyester (Personalised with Text) with Small Black Storage Pouch
FGSNO006(R38x25)-BALWHI(P)+RMBAG050
5056261070134
£11.49
46 g
14 x 10cm
Personalised Snood Face Cover with Sporting Icon
Regular (38cm x 25cm) (Basketball Icon) Royal Blue - Stretch Polyester (Personalised with Text) with Small Black Storage Pouch
FGSNO006(R38x25)-BASBRO(P)+RMBAG050
5056261070509
£11.49
46 g
14 x 10cm
Personalised Snood Face Cover with Sporting Icon
Regular (38cm x 25cm) (Basketball Icon) Sky Blue - Stretch Polyester (Personalised with Text) with Small Black Storage Pouch
FGSNO006(R38x25)-BASBSK(P)+RMBAG050
5056261070875
£11.49
46 g
14 x 10cm
Personalised Snood Face Cover with Sporting Icon
Regular (38cm x 25cm) (Basketball Icon) Black - Stretch Polyester (Personalised with Text) with Small Black Storage Pouch
FGSNO006(R38x25)-BASBLA(P)+RMBAG050
5056261071247
£11.49
46 g
14 x 10cm
Personalised Snood Face Cover with Sporting Icon
Regular (38cm x 25cm) (Basketball Icon) Red - Stretch Polyester (Personalised with Text) with Small Black Storage Pouch
FGSNO006(R38x25)-BASRED(P)+RMBAG050
5056261067660
£11.49
46 g
14 x 10cm
Personalised Snood Face Cover with Sporting Icon
Regular (38cm x 25cm) (Basketball Icon) Purple - Stretch Polyester (Personalised with Text) with Small Black Storage Pouch
FGSNO006(R38x25)-BASPUR(P)+RMBAG050
5056261068049
£11.49
46 g
14 x 10cm
Personalised Snood Face Cover with Sporting Icon
Regular (38cm x 25cm) (Basketball Icon) Hot Pink (Fuchsia) - Stretch Polyester (Personalised with Text) with Small Black Storage Pouch
FGSNO006(R38x25)-BASPFU(P)+RMBAG050
5056261068421
£11.49
46 g
14 x 10cm
Personalised Snood Face Cover with Sporting Icon
Regular (38cm x 25cm) (Basketball Icon) Baby Pink - Stretch Polyester (Personalised with Text) with Small Black Storage Pouch
FGSNO006(R38x25)-BASPBA(P)+RMBAG050
5056261068780
£11.49
46 g
14 x 10cm
Personalised Snood Face Cover with Sporting Icon
Regular (38cm x 25cm) (Basketball Icon) Bright Green - Stretch Polyester (Personalised with Text) with Small Black Storage Pouch
FGSNO006(R38x25)-BASGBR(P)+RMBAG050
5056261069152
£11.49
46 g
14 x 10cm
Personalised Snood Face Cover with Sporting Icon
Regular (38cm x 25cm) (Basketball Icon) Burnt Orange - Stretch Polyester (Personalised with Text) with Small Black Storage Pouch
FGSNO006(R38x25)-BASORA(P)+RMBAG050
5056261069527
£11.49
46 g
14 x 10cm
Personalised Snood Face Cover with Sporting Icon
Regular (38cm x 25cm) (Basketball Icon) Yellow - Stretch Polyester (Personalised with Text) with Small Black Storage Pouch
FGSNO006(R38x25)-BASYEL(P)+RMBAG050
5056261069893
£11.49
46 g
14 x 10cm
Personalised Snood Face Cover with Sporting Icon
Regular (38cm x 25cm) (Basketball Icon) White - Stretch Polyester (Personalised with Text) with Small Black Storage Pouch
FGSNO006(R38x25)-BASWHI(P)+RMBAG050
5056261070264
£11.49
46 g
14 x 10cm
Personalised Snood Face Cover with Sporting Icon
Regular (38cm x 25cm) (Football Icon) Royal Blue - Stretch Polyester (Personalised with Text) with Small Black Storage Pouch
FGSNO006(R38x25)-FOOBRO(P)+RMBAG050
5056261070639
£11.49
46 g
14 x 10cm
Personalised Snood Face Cover with Sporting Icon
Regular (38cm x 25cm) (Football Icon) Sky Blue - Stretch Polyester (Personalised with Text) with Small Black Storage Pouch
FGSNO006(R38x25)-FOOBSK(P)+RMBAG050
5056261071001
£11.49
46 g
14 x 10cm
Personalised Snood Face Cover with Sporting Icon
Regular (38cm x 25cm) (Football Icon) Black - Stretch Polyester (Personalised with Text) with Small Black Storage Pouch
FGSNO006(R38x25)-FOOBLA(P)+RMBAG050
5056261067110
£11.49
46 g
14 x 10cm
Personalised Snood Face Cover with Sporting Icon
Regular (38cm x 25cm) (Football Icon) Red - Stretch Polyester (Personalised with Text) with Small Black Storage Pouch
FGSNO006(R38x25)-FOORED(P)+RMBAG050
5056261067790
£11.49
46 g
14 x 10cm
Personalised Snood Face Cover with Sporting Icon
Regular (38cm x 25cm) (Football Icon) Purple - Stretch Polyester (Personalised with Text) with Small Black Storage Pouch
FGSNO006(R38x25)-FOOPUR(P)+RMBAG050
5056261068162
£11.49
46 g
14 x 10cm
Personalised Snood Face Cover with Sporting Icon
Regular (38cm x 25cm) (Football Icon) Hot Pink (Fuchsia) - Stretch Polyester (Personalised with Text) with Small Black Storage Pouch
FGSNO006(R38x25)-FOOPFU(P)+RMBAG050
5056261068551
£11.49
46 g
14 x 10cm
Personalised Snood Face Cover with Sporting Icon
Regular (38cm x 25cm) (Football Icon) Baby Pink - Stretch Polyester (Personalised with Text) with Small Black Storage Pouch
FGSNO006(R38x25)-FOOPBA(P)+RMBAG050
5056261068902
£11.49
46 g
14 x 10cm
Personalised Snood Face Cover with Sporting Icon
Regular (38cm x 25cm) (Football Icon) Bright Green - Stretch Polyester (Personalised with Text) with Small Black Storage Pouch
FGSNO006(R38x25)-FOOGBR(P)+RMBAG050
5056261069275
£11.49
46 g
14 x 10cm
Personalised Snood Face Cover with Sporting Icon
Regular (38cm x 25cm) (Football Icon) Burnt Orange - Stretch Polyester (Personalised with Text) with Small Black Storage Pouch
FGSNO006(R38x25)-FOOORA(P)+RMBAG050
5056261069640
£11.49
46 g
14 x 10cm
Personalised Snood Face Cover with Sporting Icon
Regular (38cm x 25cm) (Football Icon) Yellow - Stretch Polyester (Personalised with Text) with Small Black Storage Pouch
FGSNO006(R38x25)-FOOYEL(P)+RMBAG050
5056261070011
£11.49
46 g
14 x 10cm
Personalised Snood Face Cover with Sporting Icon
Regular (38cm x 25cm) (Football Icon) White - Stretch Polyester (Personalised with Text) with Small Black Storage Pouch
FGSNO006(R38x25)-FOOWHI(P)+RMBAG050
5056261070387
£11.49
46 g
14 x 10cm
Personalised Snood Face Cover with Sporting Icon
Regular (38cm x 25cm) (Golf Icon) Royal Blue - Stretch Polyester (Personalised with Text) with Small Black Storage Pouch
FGSNO006(R38x25)-GOLBRO(P)+RMBAG050
5056261070752
£11.49
46 g
14 x 10cm
Personalised Snood Face Cover with Sporting Icon
Regular (38cm x 25cm) (Golf Icon) Sky Blue - Stretch Polyester (Personalised with Text) with Small Black Storage Pouch
FGSNO006(R38x25)-GOLBSK(P)+RMBAG050
5056261071124
£11.49
46 g
14 x 10cm
Personalised Snood Face Cover with Sporting Icon
Regular (38cm x 25cm) (Golf Icon) Black - Stretch Polyester (Personalised with Text) with Small Black Storage Pouch
FGSNO006(R38x25)-GOLBLA(P)+RMBAG050
5056261067240
£11.49
46 g
14 x 10cm
Personalised Snood Face Cover with Sporting Icon
Regular (38cm x 25cm) (Golf Icon) Red - Stretch Polyester (Personalised with Text) with Small Black Storage Pouch
FGSNO006(R38x25)-GOLRED(P)+RMBAG050
5056261067929
£11.49
46 g
14 x 10cm
Personalised Snood Face Cover with Sporting Icon
Regular (38cm x 25cm) (Golf Icon) Purple - Stretch Polyester (Personalised with Text) with Small Black Storage Pouch
FGSNO006(R38x25)-GOLPUR(P)+RMBAG050
5056261068315
£11.49
46 g
14 x 10cm
Personalised Snood Face Cover with Sporting Icon
Regular (38cm x 25cm) (Golf Icon) Hot Pink (Fuchsia) - Stretch Polyester (Personalised with Text) with Small Black Storage Pouch
FGSNO006(R38x25)-GOLPFU(P)+RMBAG050
5056261068681
£11.49
46 g
14 x 10cm
Personalised Snood Face Cover with Sporting Icon
Regular (38cm x 25cm) (Golf Icon) Baby Pink - Stretch Polyester (Personalised with Text) with Small Black Storage Pouch
FGSNO006(R38x25)-GOLPBA(P)+RMBAG050
5056261069039
£11.49
46 g
14 x 10cm
Personalised Snood Face Cover with Sporting Icon
Regular (38cm x 25cm) (Golf Icon) Bright Green - Stretch Polyester (Personalised with Text) with Small Black Storage Pouch
FGSNO006(R38x25)-GOLGBR(P)+RMBAG050
5056261069404
£11.49
46 g
14 x 10cm
Personalised Snood Face Cover with Sporting Icon
Regular (38cm x 25cm) (Golf Icon) Burnt Orange - Stretch Polyester (Personalised with Text) with Small Black Storage Pouch
FGSNO006(R38x25)-GOLORA(P)+RMBAG050
5056261069770
£11.49
46 g
14 x 10cm
Personalised Snood Face Cover with Sporting Icon
Regular (38cm x 25cm) (Golf Icon) Yellow - Stretch Polyester (Personalised with Text) with Small Black Storage Pouch
FGSNO006(R38x25)-GOLYEL(P)+RMBAG050
5056261070141
£11.49
46 g
14 x 10cm
Personalised Snood Face Cover with Sporting Icon
Regular (38cm x 25cm) (Golf Icon) White - Stretch Polyester (Personalised with Text) with Small Black Storage Pouch
FGSNO006(R38x25)-GOLWHI(P)+RMBAG050
5056261070516
£11.49
46 g
14 x 10cm
Personalised Snood Face Cover with Sporting Icon
Regular (38cm x 25cm) (Gymnastics Icon) Royal Blue - Stretch Polyester (Personalised with Text) with Small Black Storage Pouch
FGSNO006(R38x25)-GYNBRO(P)+RMBAG050
5056261070882
£11.49
46 g
14 x 10cm
Personalised Snood Face Cover with Sporting Icon
Regular (38cm x 25cm) (Gymnastics Icon) Sky Blue - Stretch Polyester (Personalised with Text) with Small Black Storage Pouch
FGSNO006(R38x25)-GYNBSK(P)+RMBAG050
5056261071254
£11.49
46 g
14 x 10cm
Personalised Snood Face Cover with Sporting Icon
Regular (38cm x 25cm) (Gymnastics Icon) Black - Stretch Polyester (Personalised with Text) with Small Black Storage Pouch
FGSNO006(R38x25)-GYNBLA(P)+RMBAG050
5056261067677
£11.49
46 g
14 x 10cm
Personalised Snood Face Cover with Sporting Icon
Regular (38cm x 25cm) (Gymnastics Icon) Red - Stretch Polyester (Personalised with Text) with Small Black Storage Pouch
FGSNO006(R38x25)-GYNRED(P)+RMBAG050
5056261068056
£11.49
46 g
14 x 10cm
Personalised Snood Face Cover with Sporting Icon
Regular (38cm x 25cm) (Gymnastics Icon) Purple - Stretch Polyester (Personalised with Text) with Small Black Storage Pouch
FGSNO006(R38x25)-GYNPUR(P)+RMBAG050
5056261068438
£11.49
46 g
14 x 10cm
Personalised Snood Face Cover with Sporting Icon
Regular (38cm x 25cm) (Gymnastics Icon) Hot Pink (Fuchsia) - Stretch Polyester (Personalised with Text) with Small Black Storage Pouch
FGSNO006(R38x25)-GYNPFU(P)+RMBAG050
5056261068797
£11.49
46 g
14 x 10cm
Personalised Snood Face Cover with Sporting Icon
Regular (38cm x 25cm) (Gymnastics Icon) Baby Pink - Stretch Polyester (Personalised with Text) with Small Black Storage Pouch
FGSNO006(R38x25)-GYNPBA(P)+RMBAG050
5056261069169
£11.49
46 g
14 x 10cm
Personalised Snood Face Cover with Sporting Icon
Regular (38cm x 25cm) (Gymnastics Icon) Bright Green - Stretch Polyester (Personalised with Text) with Small Black Storage Pouch
FGSNO006(R38x25)-GYNGBR(P)+RMBAG050
5056261069534
£11.49
46 g
14 x 10cm
Personalised Snood Face Cover with Sporting Icon
Regular (38cm x 25cm) (Gymnastics Icon) Burnt Orange - Stretch Polyester (Personalised with Text) with Small Black Storage Pouch
FGSNO006(R38x25)-GYNORA(P)+RMBAG050
5056261069909
£11.49
46 g
14 x 10cm
Personalised Snood Face Cover with Sporting Icon
Regular (38cm x 25cm) (Gymnastics Icon) Yellow - Stretch Polyester (Personalised with Text) with Small Black Storage Pouch
FGSNO006(R38x25)-GYNYEL(P)+RMBAG050
5056261070271
£11.49
46 g
14 x 10cm
Personalised Snood Face Cover with Sporting Icon
Regular (38cm x 25cm) (Gymnastics Icon) White - Stretch Polyester (Personalised with Text) with Small Black Storage Pouch
FGSNO006(R38x25)-GYNWHI(P)+RMBAG050
5056261070646
£11.49
46 g
14 x 10cm
Personalised Snood Face Cover with Sporting Icon
Regular (38cm x 25cm) (Hockey Icon) Royal Blue - Stretch Polyester (Personalised with Text) with Small Black Storage Pouch
FGSNO006(R38x25)-HOCBRO(P)+RMBAG050
5056261071018
£11.49
46 g
14 x 10cm
Personalised Snood Face Cover with Sporting Icon
Regular (38cm x 25cm) (Hockey Icon) Sky Blue - Stretch Polyester (Personalised with Text) with Small Black Storage Pouch
FGSNO006(R38x25)-HOCBSK(P)+RMBAG050
5056261067127
£11.49
46 g
14 x 10cm
Personalised Snood Face Cover with Sporting Icon
Regular (38cm x 25cm) (Hockey Icon) Black - Stretch Polyester (Personalised with Text) with Small Black Storage Pouch
FGSNO006(R38x25)-HOCBLA(P)+RMBAG050
5056261067806
£11.49
46 g
14 x 10cm
Personalised Snood Face Cover with Sporting Icon
Regular (38cm x 25cm) (Hockey Icon) Red - Stretch Polyester (Personalised with Text) with Small Black Storage Pouch
FGSNO006(R38x25)-HOCRED(P)+RMBAG050
5056261068179
£11.49
46 g
14 x 10cm
Personalised Snood Face Cover with Sporting Icon
Regular (38cm x 25cm) (Hockey Icon) Purple - Stretch Polyester (Personalised with Text) with Small Black Storage Pouch
FGSNO006(R38x25)-HOCPUR(P)+RMBAG050
5056261068568
£11.49
46 g
14 x 10cm
Personalised Snood Face Cover with Sporting Icon
Regular (38cm x 25cm) (Hockey Icon) Hot Pink (Fuchsia) - Stretch Polyester (Personalised with Text) with Small Black Storage Pouch
FGSNO006(R38x25)-HOCPFU(P)+RMBAG050
5056261068919
£11.49
46 g
14 x 10cm
Personalised Snood Face Cover with Sporting Icon
Regular (38cm x 25cm) (Hockey Icon) Baby Pink - Stretch Polyester (Personalised with Text) with Small Black Storage Pouch
FGSNO006(R38x25)-HOCPBA(P)+RMBAG050
5056261069282
£11.49
46 g
14 x 10cm
Personalised Snood Face Cover with Sporting Icon
Regular (38cm x 25cm) (Hockey Icon) Bright Green - Stretch Polyester (Personalised with Text) with Small Black Storage Pouch
FGSNO006(R38x25)-HOCGBR(P)+RMBAG050
5056261069657
£11.49
46 g
14 x 10cm
Personalised Snood Face Cover with Sporting Icon
Regular (38cm x 25cm) (Hockey Icon) Burnt Orange - Stretch Polyester (Personalised with Text) with Small Black Storage Pouch
FGSNO006(R38x25)-HOCORA(P)+RMBAG050
5056261070028
£11.49
46 g
14 x 10cm
Personalised Snood Face Cover with Sporting Icon
Regular (38cm x 25cm) (Hockey Icon) Yellow - Stretch Polyester (Personalised with Text) with Small Black Storage Pouch
FGSNO006(R38x25)-HOCYEL(P)+RMBAG050
5056261070394
£11.49
46 g
14 x 10cm
Personalised Snood Face Cover with Sporting Icon
Regular (38cm x 25cm) (Hockey Icon) White - Stretch Polyester (Personalised with Text) with Small Black Storage Pouch
FGSNO006(R38x25)-HOCWHI(P)+RMBAG050
5056261070769
£11.49
46 g
14 x 10cm
Personalised Snood Face Cover with Sporting Icon
Regular (38cm x 25cm) (Netball Icon) Royal Blue - Stretch Polyester (Personalised with Text) with Small Black Storage Pouch
FGSNO006(R38x25)-NETBRO(P)+RMBAG050
5056261071131
£11.49
46 g
14 x 10cm
Personalised Snood Face Cover with Sporting Icon
Regular (38cm x 25cm) (Netball Icon) Sky Blue - Stretch Polyester (Personalised with Text) with Small Black Storage Pouch
FGSNO006(R38x25)-NETBSK(P)+RMBAG050
5056261067257
£11.49
46 g
14 x 10cm
Personalised Snood Face Cover with Sporting Icon
Regular (38cm x 25cm) (Netball Icon) Black - Stretch Polyester (Personalised with Text) with Small Black Storage Pouch
FGSNO006(R38x25)-NETBLA(P)+RMBAG050
5056261067936
£11.49
46 g
14 x 10cm
Personalised Snood Face Cover with Sporting Icon
Regular (38cm x 25cm) (Netball Icon) Red - Stretch Polyester (Personalised with Text) with Small Black Storage Pouch
FGSNO006(R38x25)-NETRED(P)+RMBAG050
5056261068322
£11.49
46 g
14 x 10cm
Personalised Snood Face Cover with Sporting Icon
Regular (38cm x 25cm) (Netball Icon) Purple - Stretch Polyester (Personalised with Text) with Small Black Storage Pouch
FGSNO006(R38x25)-NETPUR(P)+RMBAG050
5056261068698
£11.49
46 g
14 x 10cm
Personalised Snood Face Cover with Sporting Icon
Regular (38cm x 25cm) (Netball Icon) Hot Pink (Fuchsia) - Stretch Polyester (Personalised with Text) with Small Black Storage Pouch
FGSNO006(R38x25)-NETPFU(P)+RMBAG050
5056261069046
£11.49
46 g
14 x 10cm
Personalised Snood Face Cover with Sporting Icon
Regular (38cm x 25cm) (Netball Icon) Baby Pink - Stretch Polyester (Personalised with Text) with Small Black Storage Pouch
FGSNO006(R38x25)-NETPBA(P)+RMBAG050
5056261069411
£11.49
46 g
14 x 10cm
Personalised Snood Face Cover with Sporting Icon
Regular (38cm x 25cm) (Netball Icon) Bright Green - Stretch Polyester (Personalised with Text) with Small Black Storage Pouch
FGSNO006(R38x25)-NETGBR(P)+RMBAG050
5056261069787
£11.49
46 g
14 x 10cm
Personalised Snood Face Cover with Sporting Icon
Regular (38cm x 25cm) (Netball Icon) Burnt Orange - Stretch Polyester (Personalised with Text) with Small Black Storage Pouch
FGSNO006(R38x25)-NETORA(P)+RMBAG050
5056261070158
£11.49
46 g
14 x 10cm
Personalised Snood Face Cover with Sporting Icon
Regular (38cm x 25cm) (Netball Icon) Yellow - Stretch Polyester (Personalised with Text) with Small Black Storage Pouch
FGSNO006(R38x25)-NETYEL(P)+RMBAG050
5056261070523
£11.49
46 g
14 x 10cm
Personalised Snood Face Cover with Sporting Icon
Regular (38cm x 25cm) (Netball Icon) White - Stretch Polyester (Personalised with Text) with Small Black Storage Pouch
FGSNO006(R38x25)-NETWHI(P)+RMBAG050
5056261070899
£11.49
46 g
14 x 10cm
Personalised Snood Face Cover with Sporting Icon
Regular (38cm x 25cm) (Rugby Icon) Royal Blue - Stretch Polyester (Personalised with Text) with Small Black Storage Pouch
FGSNO006(R38x25)-RUGBRO(P)+RMBAG050
5056261071261
£11.49
46 g
14 x 10cm
Personalised Snood Face Cover with Sporting Icon
Regular (38cm x 25cm) (Rugby Icon) Sky Blue - Stretch Polyester (Personalised with Text) with Small Black Storage Pouch
FGSNO006(R38x25)-RUGBSK(P)+RMBAG050
5056261067684
£11.49
46 g
14 x 10cm
Personalised Snood Face Cover with Sporting Icon
Regular (38cm x 25cm) (Rugby Icon) Black - Stretch Polyester (Personalised with Text) with Small Black Storage Pouch
FGSNO006(R38x25)-RUGBLA(P)+RMBAG050
5056261068063
£11.49
46 g
14 x 10cm
Personalised Snood Face Cover with Sporting Icon
Regular (38cm x 25cm) (Rugby Icon) Red - Stretch Polyester (Personalised with Text) with Small Black Storage Pouch
FGSNO006(R38x25)-RUGRED(P)+RMBAG050
5056261068445
£11.49
46 g
14 x 10cm
Personalised Snood Face Cover with Sporting Icon
Regular (38cm x 25cm) (Rugby Icon) Purple - Stretch Polyester (Personalised with Text) with Small Black Storage Pouch
FGSNO006(R38x25)-RUGPUR(P)+RMBAG050
5056261068803
£11.49
46 g
14 x 10cm
Personalised Snood Face Cover with Sporting Icon
Regular (38cm x 25cm) (Rugby Icon) Hot Pink (Fuchsia) - Stretch Polyester (Personalised with Text) with Small Black Storage Pouch
FGSNO006(R38x25)-RUGPFU(P)+RMBAG050
5056261069176
£11.49
46 g
14 x 10cm
Personalised Snood Face Cover with Sporting Icon
Regular (38cm x 25cm) (Rugby Icon) Baby Pink - Stretch Polyester (Personalised with Text) with Small Black Storage Pouch
FGSNO006(R38x25)-RUGPBA(P)+RMBAG050
5056261069541
£11.49
46 g
14 x 10cm
Personalised Snood Face Cover with Sporting Icon
Regular (38cm x 25cm) (Rugby Icon) Bright Green - Stretch Polyester (Personalised with Text) with Small Black Storage Pouch
FGSNO006(R38x25)-RUGGBR(P)+RMBAG050
5056261069916
£11.49
46 g
14 x 10cm
Personalised Snood Face Cover with Sporting Icon
Regular (38cm x 25cm) (Rugby Icon) Burnt Orange - Stretch Polyester (Personalised with Text) with Small Black Storage Pouch
FGSNO006(R38x25)-RUGORA(P)+RMBAG050
5056261070288
£11.49
46 g
14 x 10cm
Personalised Snood Face Cover with Sporting Icon
Regular (38cm x 25cm) (Rugby Icon) Yellow - Stretch Polyester (Personalised with Text) with Small Black Storage Pouch
FGSNO006(R38x25)-RUGYEL(P)+RMBAG050
5056261070653
£11.49
46 g
14 x 10cm
Personalised Snood Face Cover with Sporting Icon
Regular (38cm x 25cm) (Rugby Icon) White - Stretch Polyester (Personalised with Text) with Small Black Storage Pouch
FGSNO006(R38x25)-RUGWHI(P)+RMBAG050
5056261071025
£11.49
46 g
14 x 10cm
Personalised Snood Face Cover with Sporting Icon
Regular (38cm x 25cm) (Running Icon) Royal Blue - Stretch Polyester (Personalised with Text) with Small Black Storage Pouch
FGSNO006(R38x25)-RUNBRO(P)+RMBAG050
5056261067134
£11.49
46 g
14 x 10cm
Personalised Snood Face Cover with Sporting Icon
Regular (38cm x 25cm) (Running Icon) Sky Blue - Stretch Polyester (Personalised with Text) with Small Black Storage Pouch
FGSNO006(R38x25)-RUNBSK(P)+RMBAG050
5056261067813
£11.49
46 g
14 x 10cm
Personalised Snood Face Cover with Sporting Icon
Regular (38cm x 25cm) (Running Icon) Black - Stretch Polyester (Personalised with Text) with Small Black Storage Pouch
FGSNO006(R38x25)-RUNBLA(P)+RMBAG050
5056261068186
£11.49
46 g
14 x 10cm
Personalised Snood Face Cover with Sporting Icon
Regular (38cm x 25cm) (Running Icon) Red - Stretch Polyester (Personalised with Text) with Small Black Storage Pouch
FGSNO006(R38x25)-RUNRED(P)+RMBAG050
5056261068452
£11.49
46 g
14 x 10cm
Personalised Snood Face Cover with Sporting Icon
Regular (38cm x 25cm) (Running Icon) Purple - Stretch Polyester (Personalised with Text) with Small Black Storage Pouch
FGSNO006(R38x25)-RUNPUR(P)+RMBAG050
5056261068926
£11.49
46 g
14 x 10cm
Personalised Snood Face Cover with Sporting Icon
Regular (38cm x 25cm) (Running Icon) Hot Pink (Fuchsia) - Stretch Polyester (Personalised with Text) with Small Black Storage Pouch
FGSNO006(R38x25)-RUNPFU(P)+RMBAG050
5056261069299
£11.49
46 g
14 x 10cm
Personalised Snood Face Cover with Sporting Icon
Regular (38cm x 25cm) (Running Icon) Baby Pink - Stretch Polyester (Personalised with Text) with Small Black Storage Pouch
FGSNO006(R38x25)-RUNPBA(P)+RMBAG050
5056261069664
£11.49
46 g
14 x 10cm
Personalised Snood Face Cover with Sporting Icon
Regular (38cm x 25cm) (Running Icon) Bright Green - Stretch Polyester (Personalised with Text) with Small Black Storage Pouch
FGSNO006(R38x25)-RUNGBR(P)+RMBAG050
5056261070035
£11.49
46 g
14 x 10cm
Personalised Snood Face Cover with Sporting Icon
Regular (38cm x 25cm) (Running Icon) Burnt Orange - Stretch Polyester (Personalised with Text) with Small Black Storage Pouch
FGSNO006(R38x25)-RUNORA(P)+RMBAG050
5056261070400
£11.49
46 g
14 x 10cm
Personalised Snood Face Cover with Sporting Icon
Regular (38cm x 25cm) (Running Icon) Yellow - Stretch Polyester (Personalised with Text) with Small Black Storage Pouch
FGSNO006(R38x25)-RUNYEL(P)+RMBAG050
5056261070776
£11.49
46 g
14 x 10cm
Personalised Snood Face Cover with Sporting Icon
Regular (38cm x 25cm) (Running Icon) White - Stretch Polyester (Personalised with Text) with Small Black Storage Pouch
FGSNO006(R38x25)-RUNWHI(P)+RMBAG050
5056261071148
£11.49
46 g
14 x 10cm
Personalised Snood Face Cover with Sporting Icon
Regular (38cm x 25cm) (Skiing Icon) Royal Blue - Stretch Polyester (Personalised with Text) with Small Black Storage Pouch
FGSNO006(R38x25)-SKIBRO(P)+RMBAG050
5056261067264
£11.49
46 g
14 x 10cm
Personalised Snood Face Cover with Sporting Icon
Regular (38cm x 25cm) (Skiing Icon) Sky Blue - Stretch Polyester (Personalised with Text) with Small Black Storage Pouch
FGSNO006(R38x25)-SKIBSK(P)+RMBAG050
5056261067943
£11.49
46 g
14 x 10cm
Personalised Snood Face Cover with Sporting Icon
Regular (38cm x 25cm) (Skiing Icon) Black - Stretch Polyester (Personalised with Text) with Small Black Storage Pouch
FGSNO006(R38x25)-SKIBLA(P)+RMBAG050
5056261068209
£11.49
46 g
14 x 10cm
Personalised Snood Face Cover with Sporting Icon
Regular (38cm x 25cm) (Skiing Icon) Red - Stretch Polyester (Personalised with Text) with Small Black Storage Pouch
FGSNO006(R38x25)-SKIRED(P)+RMBAG050
5056261068575
£11.49
46 g
14 x 10cm
Personalised Snood Face Cover with Sporting Icon
Regular (38cm x 25cm) (Skiing Icon) Purple - Stretch Polyester (Personalised with Text) with Small Black Storage Pouch
FGSNO006(R38x25)-SKIPUR(P)+RMBAG050
5056261069053
£11.49
46 g
14 x 10cm
Personalised Snood Face Cover with Sporting Icon
Regular (38cm x 25cm) (Skiing Icon) Hot Pink (Fuchsia) - Stretch Polyester (Personalised with Text) with Small Black Storage Pouch
FGSNO006(R38x25)-SKIPFU(P)+RMBAG050
5056261069428
£11.49
46 g
14 x 10cm
Personalised Snood Face Cover with Sporting Icon
Regular (38cm x 25cm) (Skiing Icon) Baby Pink - Stretch Polyester (Personalised with Text) with Small Black Storage Pouch
FGSNO006(R38x25)-SKIPBA(P)+RMBAG050
5056261069794
£11.49
46 g
14 x 10cm
Personalised Snood Face Cover with Sporting Icon
Regular (38cm x 25cm) (Skiing Icon) Bright Green - Stretch Polyester (Personalised with Text) with Small Black Storage Pouch
FGSNO006(R38x25)-SKIGBR(P)+RMBAG050
5056261070165
£11.49
46 g
14 x 10cm
Personalised Snood Face Cover with Sporting Icon
Regular (38cm x 25cm) (Skiing Icon) Burnt Orange - Stretch Polyester (Personalised with Text) with Small Black Storage Pouch
FGSNO006(R38x25)-SKIORA(P)+RMBAG050
5056261070530
£11.49
46 g
14 x 10cm
Personalised Snood Face Cover with Sporting Icon
Regular (38cm x 25cm) (Skiing Icon) Yellow - Stretch Polyester (Personalised with Text) with Small Black Storage Pouch
FGSNO006(R38x25)-SKIYEL(P)+RMBAG050
5056261070905
£11.49
46 g
14 x 10cm
Personalised Snood Face Cover with Sporting Icon
Regular (38cm x 25cm) (Skiing Icon) White - Stretch Polyester (Personalised with Text) with Small Black Storage Pouch
FGSNO006(R38x25)-SKIWHI(P)+RMBAG050
5056261071278
£11.49
46 g
14 x 10cm
Personalised Snood Face Cover with Sporting Icon
Regular (38cm x 25cm) (Swimming Icon) Royal Blue - Stretch Polyester (Personalised with Text) with Small Black Storage Pouch
FGSNO006(R38x25)-SWIBRO(P)+RMBAG050
5056261067691
£11.49
46 g
14 x 10cm
Personalised Snood Face Cover with Sporting Icon
Regular (38cm x 25cm) (Swimming Icon) Sky Blue - Stretch Polyester (Personalised with Text) with Small Black Storage Pouch
FGSNO006(R38x25)-SWIBSK(P)+RMBAG050
5056261068070
£11.49
46 g
14 x 10cm
Personalised Snood Face Cover with Sporting Icon
Regular (38cm x 25cm) (Swimming Icon) Black - Stretch Polyester (Personalised with Text) with Small Black Storage Pouch
FGSNO006(R38x25)-SWIBLA(P)+RMBAG050
5056261068339
£11.49
46 g
14 x 10cm
Personalised Snood Face Cover with Sporting Icon
Regular (38cm x 25cm) (Swimming Icon) Red - Stretch Polyester (Personalised with Text) with Small Black Storage Pouch
FGSNO006(R38x25)-SWIRED(P)+RMBAG050
5056261068810
£11.49
46 g
14 x 10cm
Personalised Snood Face Cover with Sporting Icon
Regular (38cm x 25cm) (Swimming Icon) Purple - Stretch Polyester (Personalised with Text) with Small Black Storage Pouch
FGSNO006(R38x25)-SWIPUR(P)+RMBAG050
5056261069183
£11.49
46 g
14 x 10cm
Personalised Snood Face Cover with Sporting Icon
Regular (38cm x 25cm) (Swimming Icon) Hot Pink (Fuchsia) - Stretch Polyester (Personalised with Text) with Small Black Storage Pouch
FGSNO006(R38x25)-SWIPFU(P)+RMBAG050
5056261069558
£11.49
46 g
14 x 10cm
Personalised Snood Face Cover with Sporting Icon
Regular (38cm x 25cm) (Swimming Icon) Baby Pink - Stretch Polyester (Personalised with Text) with Small Black Storage Pouch
FGSNO006(R38x25)-SWIPBA(P)+RMBAG050
5056261069923
£11.49
46 g
14 x 10cm
Personalised Snood Face Cover with Sporting Icon
Regular (38cm x 25cm) (Swimming Icon) Bright Green - Stretch Polyester (Personalised with Text) with Small Black Storage Pouch
FGSNO006(R38x25)-SWIGBR(P)+RMBAG050
5056261070295
£11.49
46 g
14 x 10cm
Personalised Snood Face Cover with Sporting Icon
Regular (38cm x 25cm) (Swimming Icon) Burnt Orange - Stretch Polyester (Personalised with Text) with Small Black Storage Pouch
FGSNO006(R38x25)-SWIORA(P)+RMBAG050
5056261070660
£11.49
46 g
14 x 10cm
Personalised Snood Face Cover with Sporting Icon
Regular (38cm x 25cm) (Swimming Icon) Yellow - Stretch Polyester (Personalised with Text) with Small Black Storage Pouch
FGSNO006(R38x25)-SWIYEL(P)+RMBAG050
5056261071032
£11.49
46 g
14 x 10cm
Personalised Snood Face Cover with Sporting Icon
Regular (38cm x 25cm) (Swimming Icon) White - Stretch Polyester (Personalised with Text) with Small Black Storage Pouch
FGSNO006(R38x25)-SWIWHI(P)+RMBAG050
5056261067141
£11.49
46 g
14 x 10cm
Personalised Snood Face Cover with Sporting Icon
Regular (38cm x 25cm) (Tennis Icon) Royal Blue - Stretch Polyester (Personalised with Text) with Small Black Storage Pouch
FGSNO006(R38x25)-TENBRO(P)+RMBAG050
5056261067820
£11.49
46 g
14 x 10cm
Personalised Snood Face Cover with Sporting Icon
Regular (38cm x 25cm) (Tennis Icon) Sky Blue - Stretch Polyester (Personalised with Text) with Small Black Storage Pouch
FGSNO006(R38x25)-TENBSK(P)+RMBAG050
5056261068193
£11.49
46 g
14 x 10cm
Personalised Snood Face Cover with Sporting Icon
Regular (38cm x 25cm) (Tennis Icon) Black - Stretch Polyester (Personalised with Text) with Small Black Storage Pouch
FGSNO006(R38x25)-TENBLA(P)+RMBAG050
5056261068469
£11.49
46 g
14 x 10cm
Personalised Snood Face Cover with Sporting Icon
Regular (38cm x 25cm) (Tennis Icon) Red - Stretch Polyester (Personalised with Text) with Small Black Storage Pouch
FGSNO006(R38x25)-TENRED(P)+RMBAG050
5056261068933
£11.49
46 g
14 x 10cm
Personalised Snood Face Cover with Sporting Icon
Regular (38cm x 25cm) (Tennis Icon) Purple - Stretch Polyester (Personalised with Text) with Small Black Storage Pouch
FGSNO006(R38x25)-TENPUR(P)+RMBAG050
5056261069305
£11.49
46 g
14 x 10cm
Personalised Snood Face Cover with Sporting Icon
Regular (38cm x 25cm) (Tennis Icon) Hot Pink (Fuchsia) - Stretch Polyester (Personalised with Text) with Small Black Storage Pouch
FGSNO006(R38x25)-TENPFU(P)+RMBAG050
5056261069671
£11.49
46 g
14 x 10cm
Personalised Snood Face Cover with Sporting Icon
Regular (38cm x 25cm) (Tennis Icon) Baby Pink - Stretch Polyester (Personalised with Text) with Small Black Storage Pouch
FGSNO006(R38x25)-TENPBA(P)+RMBAG050
5056261070042
£11.49
46 g
14 x 10cm
Personalised Snood Face Cover with Sporting Icon
Regular (38cm x 25cm) (Tennis Icon) Bright Green - Stretch Polyester (Personalised with Text) with Small Black Storage Pouch
FGSNO006(R38x25)-TENGBR(P)+RMBAG050
5056261070417
£11.49
46 g
14 x 10cm
Personalised Snood Face Cover with Sporting Icon
Regular (38cm x 25cm) (Tennis Icon) Burnt Orange - Stretch Polyester (Personalised with Text) with Small Black Storage Pouch
FGSNO006(R38x25)-TENORA(P)+RMBAG050
5056261070783
£11.49
46 g
14 x 10cm
Personalised Snood Face Cover with Sporting Icon
Regular (38cm x 25cm) (Tennis Icon) Yellow - Stretch Polyester (Personalised with Text) with Small Black Storage Pouch
FGSNO006(R38x25)-TENYEL(P)+RMBAG050
5056261071155
£11.49
46 g
14 x 10cm
Personalised Snood Face Cover with Sporting Icon
Regular (38cm x 25cm) (Tennis Icon) White - Stretch Polyester (Personalised with Text) with Small Black Storage Pouch
FGSNO006(R38x25)-TENWHI(P)+RMBAG050
5056261067271
£11.49
46 g
14 x 10cm
Personalised Snood Face Cover with Sporting Icon
Regular (38cm x 25cm) (Trampolining Icon) Royal Blue - Stretch Polyester (Personalised with Text) with Small Black Storage Pouch
FGSNO006(R38x25)-TRABRO(P)+RMBAG050
5056261067950
£11.49
46 g
14 x 10cm
Personalised Snood Face Cover with Sporting Icon
Regular (38cm x 25cm) (Trampolining Icon) Sky Blue - Stretch Polyester (Personalised with Text) with Small Black Storage Pouch
FGSNO006(R38x25)-TRABSK(P)+RMBAG050
5056261068216
£11.49
46 g
14 x 10cm
Personalised Snood Face Cover with Sporting Icon
Regular (38cm x 25cm) (Trampolining Icon) Black - Stretch Polyester (Personalised with Text) with Small Black Storage Pouch
FGSNO006(R38x25)-TRABLA(P)+RMBAG050
5056261068582
£11.49
46 g
14 x 10cm
Personalised Snood Face Cover with Sporting Icon
Regular (38cm x 25cm) (Trampolining Icon) Red - Stretch Polyester (Personalised with Text) with Small Black Storage Pouch
FGSNO006(R38x25)-TRARED(P)+RMBAG050
5056261069060
£11.49
46 g
14 x 10cm
Personalised Snood Face Cover with Sporting Icon
Regular (38cm x 25cm) (Trampolining Icon) Purple - Stretch Polyester (Personalised with Text) with Small Black Storage Pouch
FGSNO006(R38x25)-TRAPUR(P)+RMBAG050
5056261069435
£11.49
46 g
14 x 10cm
Personalised Snood Face Cover with Sporting Icon
Regular (38cm x 25cm) (Trampolining Icon) Hot Pink (Fuchsia) - Stretch Polyester (Personalised with Text) with Small Black Storage Pouch
FGSNO006(R38x25)-TRAPFU(P)+RMBAG050
5056261069800
£11.49
46 g
14 x 10cm
Personalised Snood Face Cover with Sporting Icon
Regular (38cm x 25cm) (Trampolining Icon) Baby Pink - Stretch Polyester (Personalised with Text) with Small Black Storage Pouch
FGSNO006(R38x25)-TRAPBA(P)+RMBAG050
5056261070172
£11.49
46 g
14 x 10cm
Personalised Snood Face Cover with Sporting Icon
Regular (38cm x 25cm) (Trampolining Icon) Bright Green - Stretch Polyester (Personalised with Text) with Small Black Storage Pouch
FGSNO006(R38x25)-TRAGBR(P)+RMBAG050
5056261070547
£11.49
46 g
14 x 10cm
Personalised Snood Face Cover with Sporting Icon
Regular (38cm x 25cm) (Trampolining Icon) Burnt Orange - Stretch Polyester (Personalised with Text) with Small Black Storage Pouch
FGSNO006(R38x25)-TRAORA(P)+RMBAG050
5056261070912
£11.49
46 g
14 x 10cm
Personalised Snood Face Cover with Sporting Icon
Regular (38cm x 25cm) (Trampolining Icon) Yellow - Stretch Polyester (Personalised with Text) with Small Black Storage Pouch
FGSNO006(R38x25)-TRAYEL(P)+RMBAG050
5056261071285
£11.49
46 g
14 x 10cm
Personalised Snood Face Cover with Sporting Icon
Regular (38cm x 25cm) (Trampolining Icon) White - Stretch Polyester (Personalised with Text) with Small Black Storage Pouch
FGSNO006(R38x25)-TRAWHI(P)+RMBAG050
5056261067707
£11.49
46 g
14 x 10cm
Personalised Snood Face Cover with Sporting Icon