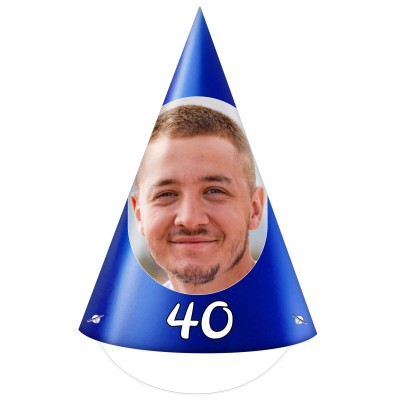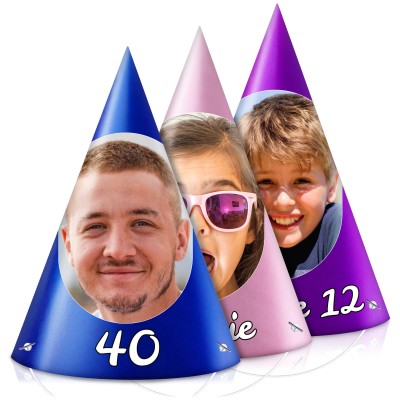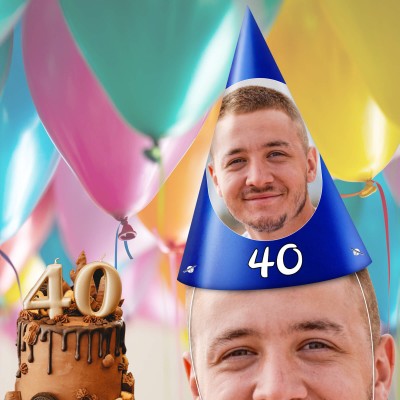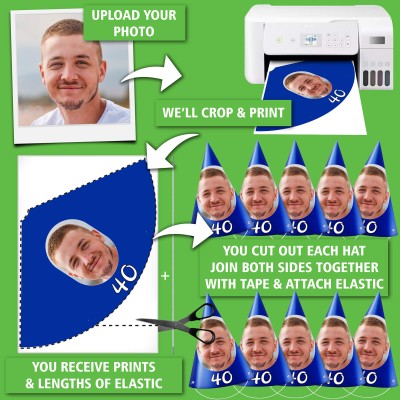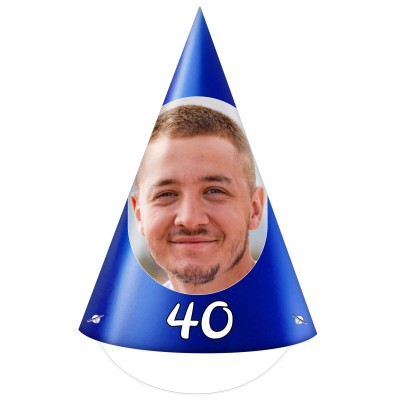 Personalised Photo Party Hat Kit
UK Made
Description
Photo Party Hat Kit printed on to A4 card to add an extra layer of fun and excitement to any celebration. Option to upload the same photo to all the Party Hats or upload a different photo onto each one.
Photo Party Hat Kit printed with your photo.
Comes with fastenings to make your own hat at home.
Various bright colours to choose from.
Personalise with an age or name to the Party Hat.
Great fun for any occasion.
Trusted HappySnapGifts® brand.
Reviews
Delivery
The information below is for guidance. Actual delivery costs and dates depend on the delivery address, weight and time your order is placed. Cut-off time for Overnight Orders is 12 noon.
| Price | Method | Manufacture Time | Delivery Time | Est. Delivery Date |
| --- | --- | --- | --- | --- |
| £3.99 | 2nd Class (Allow 1-3 Days Manufacture Time) (Tracked LL) | 0-3 Days | 2-3 Days | Wed 13 Dec - Tue 19 Dec |
| £5.99 | 1st Class (Allow 1-3 Days Manufacture Time) (Tracked LL) | 0-3 Days | 1-2 Days | Tue 12 Dec - Mon 18 Dec |
| £14.99 | Royal Mail Special Delivery (Overnight Mon-Sat Pre 1pm) | Monday | Next Day (Mon-Sat) | Tue 12 Dec |
More Information
| | |
| --- | --- |
| Despatch | 0-3 Days (to Personalise) or Upgrade at Checkout for Overnight Delivery |
| Brand | HappySnapGifts® |
| RRP | £12.99 |
| Country of Origin | United Kingdom |
| SKU | FGHAT001(10)CAR-HAT-BLN(ELW)PDIY-E(Ph1)(P) |
| Gtin | 5056656362080 |
| Tariff Code | 9505900000 |
| Tariff Description | Festive, carnival or other entertainment articles, including conjuring tricks and novelty jokes > Other |
| Product Weight | 120 g |
Product Options
Size
Pack of 10
Photos to Print
Photos to Front
Made from
Card
Colour
Navy Blue, Sky Blue, Brown, Green, Orange, Pink, Purple, Red
Finishings
White Elastic
Background Theme
Birthday Hat
Product Type
Personalised Gifts > Photo Gifts
Party Hat
Photo Hat

Personalised Photo Party Hat Kit
(Pack of 10) (Navy Blue) with White Elastic DIY + Elastics (10 of Same Faces) (Personalised with Text)
FGHAT001(10)CAR-HAT-BLN(ELW)PDIY-E(Ph1)(P)
5056656362080
£12.99
120 g
Personalised Photo Party Hat Kit
(Pack of 10) (Navy Blue) with White Elastic DIY + Elastics (10 Different Faces) (Personalised with Text)
FGHAT001(10)CAR-HAT-BLN(ELW)PDIY-E(Ph10)(P)
5056656362165
£17.99
120 g
Personalised Photo Party Hat Kit
(Pack of 10) (Sky Blue) with White Elastic DIY + Elastics (10 of Same Faces) (Personalised with Text)
FGHAT001(10)CAR-HAT-BLS(ELW)PDIY-E(Ph1)(P)
5056656362097
£12.99
120 g
Personalised Photo Party Hat Kit
(Pack of 10) (Sky Blue) with White Elastic DIY + Elastics (10 Different Faces) (Personalised with Text)
FGHAT001(10)CAR-HAT-BLS(ELW)PDIY-E(Ph10)(P)
5056656362172
£17.99
120 g
Personalised Photo Party Hat Kit
(Pack of 10) (Brown) with White Elastic DIY + Elastics (10 of Same Faces) (Personalised with Text)
FGHAT001(10)CAR-HAT-BRO(ELW)PDIY-E(Ph1)(P)
5056656362103
£12.99
120 g
Personalised Photo Party Hat Kit
(Pack of 10) (Brown) with White Elastic DIY + Elastics (10 Different Faces) (Personalised with Text)
FGHAT001(10)CAR-HAT-BRO(ELW)PDIY-E(Ph10)(P)
5056656362189
£17.99
120 g
Personalised Photo Party Hat Kit
(Pack of 10) (Green) with White Elastic DIY + Elastics (10 of Same Faces) (Personalised with Text)
FGHAT001(10)CAR-HAT-GRE(ELW)PDIY-E(Ph1)(P)
5056656362110
£12.99
120 g
Personalised Photo Party Hat Kit
(Pack of 10) (Green) with White Elastic DIY + Elastics (10 Different Faces) (Personalised with Text)
FGHAT001(10)CAR-HAT-GRE(ELW)PDIY-E(Ph10)(P)
5056656362196
£17.99
120 g
Personalised Photo Party Hat Kit
(Pack of 10) (Orange) with White Elastic DIY + Elastics (10 of Same Faces) (Personalised with Text)
FGHAT001(10)CAR-HAT-ORA(ELW)PDIY-E(Ph1)(P)
5056656362127
£12.99
120 g
Personalised Photo Party Hat Kit
(Pack of 10) (Orange) with White Elastic DIY + Elastics (10 Different Faces) (Personalised with Text)
FGHAT001(10)CAR-HAT-ORA(ELW)PDIY-E(Ph10)(P)
5056656362202
£17.99
120 g
Personalised Photo Party Hat Kit
(Pack of 10) (Pink) with White Elastic DIY + Elastics (10 of Same Faces) (Personalised with Text)
FGHAT001(10)CAR-HAT-PIN(ELW)PDIY-E(Ph1)(P)
5056656362134
£12.99
120 g
Personalised Photo Party Hat Kit
(Pack of 10) (Pink) with White Elastic DIY + Elastics (10 Different Faces) (Personalised with Text)
FGHAT001(10)CAR-HAT-PIN(ELW)PDIY-E(Ph10)(P)
5056656362219
£17.99
120 g
Personalised Photo Party Hat Kit
(Pack of 10) (Purple) with White Elastic DIY + Elastics (10 of Same Faces) (Personalised with Text)
FGHAT001(10)CAR-HAT-PUR(ELW)PDIY-E(Ph1)(P)
5056656362141
£12.99
120 g
Personalised Photo Party Hat Kit
(Pack of 10) (Purple) with White Elastic DIY + Elastics (10 Different Faces) (Personalised with Text)
FGHAT001(10)CAR-HAT-PUR(ELW)PDIY-E(Ph10)(P)
5056656362226
£17.99
120 g
Personalised Photo Party Hat Kit
(Pack of 10) (Red) with White Elastic DIY + Elastics (10 of Same Faces) (Personalised with Text)
FGHAT001(10)CAR-HAT-RED(ELW)PDIY-E(Ph1)(P)
5056656362158
£12.99
120 g
Personalised Photo Party Hat Kit
(Pack of 10) (Red) with White Elastic DIY + Elastics (10 Different Faces) (Personalised with Text)
FGHAT001(10)CAR-HAT-RED(ELW)PDIY-E(Ph10)(P)
5056656362233
£17.99
120 g
Personalised Photo Party Hat Kit