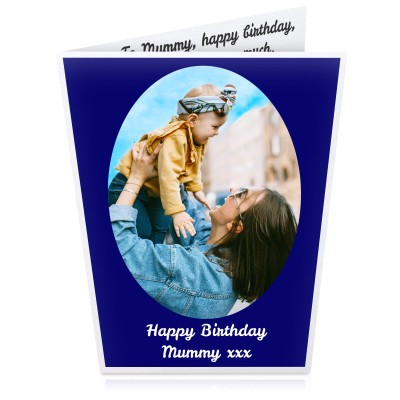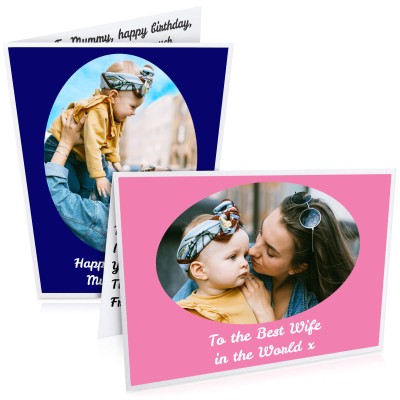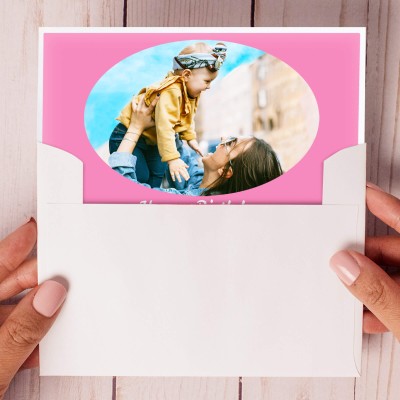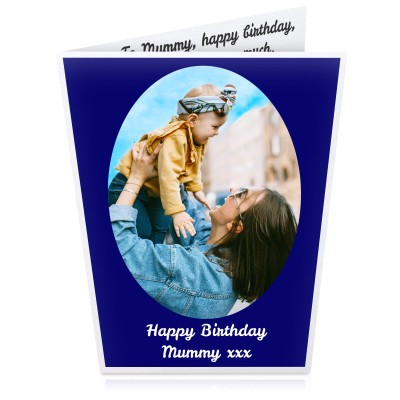 Personalised Photo Greeting Card
UK Made
Description
Personalised Photo Greeting Card from HappySnapGifts®. Perfect for sending with Gift Wrapped Personalised Photo Gifts direct from HappySnapGifts®.
Upload a photo.
Personalise with text.
Choose portrait or landscape.
Trusted HappySnapGifts® brand.
These simple photo greeting cards from HappySnapGifts® are a great way to compliment the photo products you buy from us. Have our gifts individually wrapped with our new optional Personalised Wrapping Paper Service and then choose this Personalised Photo Greeting Card and have the fully presented gift mailed direct to your friends and loved ones.
Reviews
Delivery
The information below is for guidance. Actual delivery costs and dates depend on the delivery address, weight and time your order is placed. Cut-off time for Overnight Orders is 12 noon.
| Price | Method | Manufacture Time | Delivery Time | Est. Delivery Date |
| --- | --- | --- | --- | --- |
| £3.99 | 2nd Class (Tracked LL) | 0-3 Days | 2-3 Days | Mon 4 Dec - Fri 8 Dec |
| £5.99 | 1st Class (Tracked LL) | 0-3 Days | 1-2 Days | Fri 1 Dec - Thu 7 Dec |
| £12.91 | DHL Courier (Economy M-F Pre 6pm) | 0-3 Days | 2-3 Days | Mon 4 Dec - Fri 8 Dec |
| £14.99 | Royal Mail Special Delivery (Overnight Mon-Sat Pre 1pm) | Today | Next Day (Mon-Sat) | Fri 1 Dec |
More Information
| | |
| --- | --- |
| Despatch | 0-3 Days (to Personalise) or Upgrade at Checkout for Overnight Delivery |
| Brand | HappySnapGifts® |
| RRP | £4.99 |
| Country of Origin | United Kingdom |
| SKU | FGCAR001(A5P)CAR-BLNP(Ph1)(P) |
| Gtin | 5056656362691 |
| Product Weight | 26 g |
Product Options
| | |
| --- | --- |
| Size & Shape | A5 Portrait (Approx. 15cm x 21cm), A5 Landscape (Approx. 15cm x 21cm) |
| Photos to Print | Photos to Front |
| Made from | Card |
| Colour | Navy Blue, Sky Blue, Brown, Green, Orange, Pink, Purple, Red, White |
| Print Theme | Photo & Text |
Personalised Photo Greeting Card
(A5) (Navy Blue) (Personalised with Text)
FGCAR001(A5P)CAR-BLNP(Ph1)(P)
5056656362691
£4.99
26 g
Personalised Photo Greeting Card
(A5) (Navy Blue) (Personalised with Text)
FGCAR001(A5L)CAR-BLNP(Ph1)(P)
5056656362707
£4.99
26 g
Personalised Photo Greeting Card
(A5) (Sky Blue) (Personalised with Text)
FGCAR001(A5P)CAR-BLSP(Ph1)(P)
5056656362714
£4.99
26 g
Personalised Photo Greeting Card
(A5) (Sky Blue) (Personalised with Text)
FGCAR001(A5L)CAR-BLSP(Ph1)(P)
5056656362721
£4.99
26 g
Personalised Photo Greeting Card
(A5) (Brown) (Personalised with Text)
FGCAR001(A5P)CAR-BROP(Ph1)(P)
5056656362738
£4.99
26 g
Personalised Photo Greeting Card
(A5) (Brown) (Personalised with Text)
FGCAR001(A5L)CAR-BROP(Ph1)(P)
5056656362745
£4.99
26 g
Personalised Photo Greeting Card
(A5) (Green) (Personalised with Text)
FGCAR001(A5P)CAR-GREP(Ph1)(P)
5056656362752
£4.99
26 g
Personalised Photo Greeting Card
(A5) (Green) (Personalised with Text)
FGCAR001(A5L)CAR-GREP(Ph1)(P)
5056656362769
£4.99
26 g
Personalised Photo Greeting Card
(A5) (Orange) (Personalised with Text)
FGCAR001(A5P)CAR-ORAP(Ph1)(P)
5056656362776
£4.99
26 g
Personalised Photo Greeting Card
(A5) (Orange) (Personalised with Text)
FGCAR001(A5L)CAR-ORAP(Ph1)(P)
5056656362783
£4.99
26 g
Personalised Photo Greeting Card
(A5) (Pink) (Personalised with Text)
FGCAR001(A5P)CAR-PINP(Ph1)(P)
5056656362790
£4.99
26 g
Personalised Photo Greeting Card
(A5) (Pink) (Personalised with Text)
FGCAR001(A5L)CAR-PINP(Ph1)(P)
5056656362806
£4.99
26 g
Personalised Photo Greeting Card
(A5) (Purple) (Personalised with Text)
FGCAR001(A5P)CAR-PURP(Ph1)(P)
5056656362813
£4.99
26 g
Personalised Photo Greeting Card
(A5) (Purple) (Personalised with Text)
FGCAR001(A5L)CAR-PURP(Ph1)(P)
5056656362820
£4.99
26 g
Personalised Photo Greeting Card
(A5) (Red) (Personalised with Text)
FGCAR001(A5P)CAR-REDP(Ph1)(P)
5056656362837
£4.99
26 g
Personalised Photo Greeting Card
(A5) (Red) (Personalised with Text)
FGCAR001(A5L)CAR-REDP(Ph1)(P)
5056656362844
£4.99
26 g
Personalised Photo Greeting Card
(A5) (White) (Personalised with Text)
FGCAR001(A5P)CAR-WHIP(Ph1)(P)
5056656362851
£4.99
26 g
Personalised Photo Greeting Card
(A5) (White) (Personalised with Text)
FGCAR001(A5L)CAR-WHIP(Ph1)(P)
5056656362868
£4.99
26 g
Personalised Photo Greeting Card