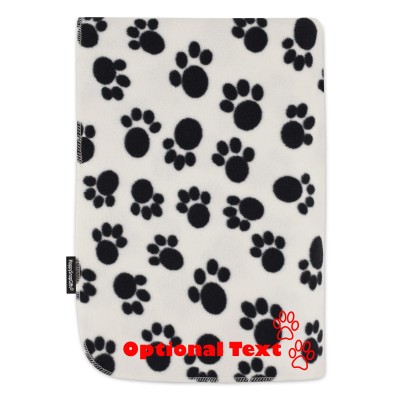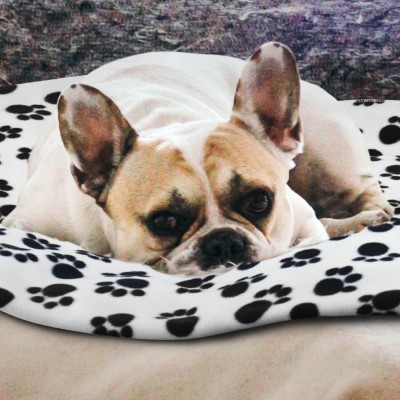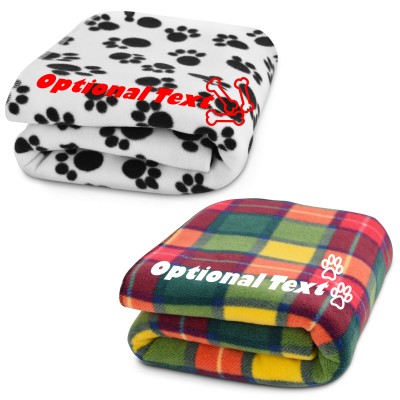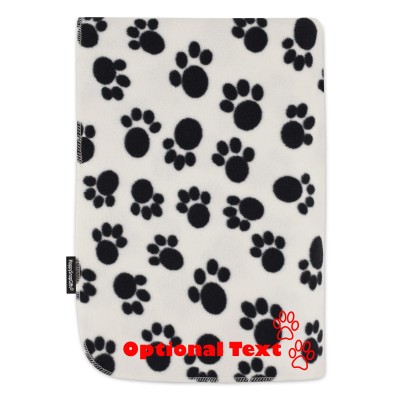 UK Made
Description
Personalised Dog Blankets made from luxury weight fleece fabric, personalised with your dogs' name or initials and comes in a variety of sizes for the ultimate in comfort for your dog. Each dog blanket can be personalised with your dogs' name or phrase or slogan of your choice and you can select from a range of coloured fabrics.
Luxury thick fleece fabric.
UK Made Personalised Dog Blanket.
Personalised blanket with dogs name or initials.
Size and fabric colour options.
Fully washable dog blankets.
Trusted HappySnapGifts® brand.
Our fleece is 100% anti-pill luxury fleece and comes in a range of colour options whether you are looking for grey dog blankets or something fancier with our paws print fleece. Fleece Dog Blankets are great dog blankets for the sofa and a great gift idea, especially as a Christmas Dog Blanket. All our stylish dog blankets can be used of course for any pet though dogs do love these extra thick fleece blankets.
Reviews
Lovely blanket
- Lovely little soft warm blanket. My little dog loves it. Great service too from order to delivery. (KayB, 12/10/21)
Daisy May
- Absolutely delighted with product, bought for a friend who is collecting Daisy-May, (Springer spaniel puppy) on Monday, the personalisation is wonderful and can't wait to give it to him, fantastic 'welcome home' present, so different! Thank you!! Anna Miles (Anna Miles, 24/09/21)
Personalized pet blankets
- I had 2 personalized dog blankets for my friends dogs They're for xmas .They look lovely x very pleased with them (Scrub, 10/12/20)
Pet blanket peronalised
- A lovely blanket! Xmas pressie for my lovely schnauzer. (Kimmy, 03/12/20)
New Doggie
- Bought for sons new dog/ she absolutely loves it/ haven't seen myself but told feel so soft and good quality (Deborah, 17/11/20)
My friend will love this for her dog!
- Blanket arrived promptly and will make a lovely present for a friends dog for Christmas, thank you. (Marion, 17/09/20)
My friend will love this for her dog!
- Bought this personalised blanket for my friends dog for Christmas, I know she will love it, thank you for your prompt despatch. (Marion, 17/09/20)
cat loves it
- Nice cosy warm blanket - Arrived quick, this blanket is perfect just the right size for him to cover up in his bed. (Julie, 28/02/20)
For my dog
- My dog is always jumping on the furniture, I use this blanket to cover a chair that he likes to sit on to keep the furniture looking nice and clean underneath. (Gordon Beckett, 28/02/20)
holly loves it
- got one for my only cat and she loves it, great size and fast delivery 10/10 (Kevin DB, 27/02/20)
My Cat Loves It
- My Cat sleeps in the kitchen at night and it can get quite cold through winter, this Paw Print Blanket is perfect for keeping her warm. I had it personalised with her name to which looks great. (Emily Stevens, 27/02/20)
Lovely blankets
- Purchased this for a christmas present, fast delivery and feels great (Rodrigo, 27/02/20)
Great Quality Blanket & Great Value!
- I purchased this for my 2 puppies. They cuddle up to each other on it and fall asleep. I have found this fleece pet blanket very useful for putting on the couch to stop it getting covered in dog hairs. (Kamal, 27/02/20)
Pugs love their personalised pet blankets
- OK I'm a softy when it comes to my Pugs so I bought these recently for them. Had their names put on them though that's more for my pleasure than them reading ha ha... anyway, great fleece blankets for my pets and sent to me really fast. (Lucy Mellow, 26/02/20)
Dog Blanket
- Great service great product easy to use easy to find easy to sort arrived promptly great thanks so much (Craig)
Dogs are toasty
- I bought 2 of these personalised pet blankets as they are British made and they are gorgeous.  Bought the smaller standards size for Boozer and the larger one for Stones the British Bulldog we have and although they fight over them, they love them... think I will be buying more for winter to keep them warm especially as they seem to want to play tug of war with them.  A good buy and recommended. (Mrs Mary Tweeds)
FAQs
Can you make a fleece blanket for any size?
Yes. As we are the factory that makes all of this range of goods we can manufacture blankets in many colours, any shape, and can even make them double-sided if you wish with matching or contrasting coloured fabric and we have presented many options to choose from online.
How thick is the fleece blanket?
We use an excellent quality anti-pill fleece fabric to ensure you know you can buy with confidence. Some imported cheaper fabric is very thin and feels awful to touch and provides no comfort at all though the fleece we have sourced is premium thickness of around 4mm. If you can, why not consider a "double-thickness" blanket meaning you will get an overall 8mm depth of fabric and this doubling-up will ensure you are superbly warm and comfortable.
Do the blankets have a centre seam down the middle?
The standard blankets are made from a single piece of fabric with no centre seam. All other sizes larger than 140cm will come with a centre seam.
Are these blankets UK Made?
Yes, made in our own factory in Lancashire.
Delivery
The information below is for guidance. Actual delivery costs and dates depend on the delivery address, weight and time your order is placed. Cut-off time for Overnight Orders is 12 noon.
| Price | Method | Manufacture Time | Delivery Time | Est. Delivery Date |
| --- | --- | --- | --- | --- |
| £4.99 | 2nd Class (Tracked) | 0-3 Days | 2-3 Days | Wed 13 Dec - Tue 19 Dec |
| £6.99 | 1st Class (Tracked) | 0-3 Days | 1-2 Days | Tue 12 Dec - Mon 18 Dec |
| £10.99 | Royal Mail (Special Delivery Overnight Mon-Sat Pre 1pm) | Monday | Next Day (Mon-Sat) | Tue 12 Dec |
| £12.97 | DHL Courier (Economy M-F Pre 6pm) | 0-3 Days | 2-3 Days | Wed 13 Dec - Tue 19 Dec |
More Information
| | |
| --- | --- |
| Despatch | 0-3 Days (Made to Order) or Upgrade for Overnight Delivery at Checkout |
| Brand | HappySnapGifts® |
| RRP | £14.99 |
| Country of Origin | United Kingdom |
| SKU | FGBLA002(S70)FLE-PW01(P)(DBO) |
| Gtin | 5056656324729 |
| Tariff Code | 6307209090 |
| Tariff Description | Blankets - Other Textile Items (Polyester Fabric) |
| Product Weight | 132 g |
| Product Dimensions | 70 x 70cm |
Product Options
| | |
| --- | --- |
| Size & Shape | 70cm x 70cm, 100cm x 70cm, 100cm x 140cm |
| Fabric | Fleece |
| Fabric Colour | Paws Print, Red, Royal Blue, Purple, Hot Pink (Fuchsia), Navy Blue, Black, Grey, Burnt Orange, Tartan Check, White, Yellow |
| Icon | Dog Paws |
Personalised Dog Blanket
(70cm x 70cm) with Dog Paws Icon - Paws Fleece Fabric (Personalised with Text)
FGBLA002(S70)FLE-PW01(P)(DPA)
5056656352470
£14.99
132 g
70 x 70cm
Personalised Dog Blanket
(100cm x 70cm) with Dog Paws Icon - Paws Fleece Fabric (Personalised with Text)
FGBLA002(R100x70)FLE-PW01(P)(DPA)
5056656352593
£16.99
200 g
100 x 70cm
Personalised Dog Blanket
(100cm x 140cm) with Dog Paws Icon - Paws Fleece Fabric (Personalised with Text)
FGBLA002(R100x140)FLE-PW01(P)(DPA)
5056656352715
£26.99
404 g
140 x 100cm
Personalised Dog Blanket
(70cm x 70cm) with Dog Paws Icon - Tartan Fleece Fabric (Personalised with Text)
FGBLA002(S70)FLE-TA01(P)(DPA)
5056656352487
£14.99
132 g
70 x 70cm
Personalised Dog Blanket
(100cm x 70cm) with Dog Paws Icon - Tartan Fleece Fabric (Personalised with Text)
FGBLA002(R100x70)FLE-TA01(P)(DPA)
5056656352609
£16.99
200 g
100 x 70cm
Personalised Dog Blanket
(100cm x 140cm) with Dog Paws Icon - Tartan Fleece Fabric (Personalised with Text)
FGBLA002(R100x140)FLE-TA01(P)(DPA)
5056656352722
£26.99
404 g
140 x 100cm
Personalised Dog Blanket
(70cm x 70cm) with Dog Paws Icon - Black Fleece Fabric (Personalised with Text)
FGBLA002(S70)FLE-BLA(P)(DPA)
5056656352371
£12.99
132 g
70 x 70cm
Personalised Dog Blanket
(100cm x 70cm) with Dog Paws Icon - Black Fleece Fabric (Personalised with Text)
FGBLA002(R100x70)FLE-BLA(P)(DPA)
5056656352494
£14.99
200 g
100 x 70cm
Personalised Dog Blanket
(100cm x 140cm) with Dog Paws Icon - Black Fleece Fabric (Personalised with Text)
FGBLA002(R100x140)FLE-BLA(P)(DPA)
5056656352616
£24.99
404 g
140 x 100cm
Personalised Dog Blanket
(70cm x 70cm) with Dog Paws Icon - Grey Fleece Fabric (Personalised with Text)
FGBLA002(S70)FLE-GRA(P)(DPA)
5056656352388
£12.99
132 g
70 x 70cm
Personalised Dog Blanket
(100cm x 70cm) with Dog Paws Icon - Grey Fleece Fabric (Personalised with Text)
FGBLA002(R100x70)FLE-GRA(P)(DPA)
5056656352500
£14.99
200 g
100 x 70cm
Personalised Dog Blanket
(100cm x 140cm) with Dog Paws Icon - Grey Fleece Fabric (Personalised with Text)
FGBLA002(R100x140)FLE-GRA(P)(DPA)
5056656352623
£24.99
404 g
140 x 100cm
Personalised Dog Blanket
(70cm x 70cm) with Dog Paws Icon - Navy Blue Fleece Fabric (Personalised with Text)
FGBLA002(S70)FLE-BNA(P)(DPA)
5056656352395
£12.99
132 g
70 x 70cm
Personalised Dog Blanket
(100cm x 70cm) with Dog Paws Icon - Navy Blue Fleece Fabric (Personalised with Text)
FGBLA002(R100x70)FLE-BNA(P)(DPA)
5056656352517
£14.99
200 g
100 x 70cm
Personalised Dog Blanket
(100cm x 140cm) with Dog Paws Icon - Navy Blue Fleece Fabric (Personalised with Text)
FGBLA002(R100x140)FLE-BNA(P)(DPA)
5056656352630
£24.99
404 g
140 x 100cm
Personalised Dog Blanket
(70cm x 70cm) with Dog Paws Icon - Burnt Orange Fleece Fabric (Personalised with Text)
FGBLA002(S70)FLE-ORA(P)(DPA)
5056656352401
£12.99
132 g
70 x 70cm
Personalised Dog Blanket
(100cm x 70cm) with Dog Paws Icon - Burnt Orange Fleece Fabric (Personalised with Text)
FGBLA002(R100x70)FLE-ORA(P)(DPA)
5056656352524
£14.99
200 g
100 x 70cm
Personalised Dog Blanket
(100cm x 140cm) with Dog Paws Icon - Burnt Orange Fleece Fabric (Personalised with Text)
FGBLA002(R100x140)FLE-ORA(P)(DPA)
5056656352647
£24.99
404 g
140 x 100cm
Personalised Dog Blanket
(70cm x 70cm) with Dog Paws Icon - Yellow Fleece Fabric (Personalised with Text)
FGBLA002(S70)FLE-YEL(P)(DPA)
5056656352418
£12.99
132 g
70 x 70cm
Personalised Dog Blanket
(100cm x 70cm) with Dog Paws Icon - Yellow Fleece Fabric (Personalised with Text)
FGBLA002(R100x70)FLE-YEL(P)(DPA)
5056656352531
£14.99
200 g
100 x 70cm
Personalised Dog Blanket
(100cm x 140cm) with Dog Paws Icon - Yellow Fleece Fabric (Personalised with Text)
FGBLA002(R100x140)FLE-YEL(P)(DPA)
5056656352654
£24.99
404 g
140 x 100cm
Personalised Dog Blanket
(70cm x 70cm) with Dog Paws Icon - Hot Pink (Fuchsia) Fleece Fabric (Personalised with Text)
FGBLA002(S70)FLE-PFU(P)(DPA)
5056656352425
£12.99
132 g
70 x 70cm
Personalised Dog Blanket
(100cm x 70cm) with Dog Paws Icon - Hot Pink (Fuchsia) Fleece Fabric (Personalised with Text)
FGBLA002(R100x70)FLE-PFU(P)(DPA)
5056656352548
£14.99
200 g
100 x 70cm
Personalised Dog Blanket
(100cm x 140cm) with Dog Paws Icon - Hot Pink (Fuchsia) Fleece Fabric (Personalised with Text)
FGBLA002(R100x140)FLE-PFU(P)(DPA)
5056656352661
£24.99
404 g
140 x 100cm
Personalised Dog Blanket
(70cm x 70cm) with Dog Paws Icon - Royal Blue Fleece Fabric (Personalised with Text)
FGBLA002(S70)FLE-BRO(P)(DPA)
5056656352432
£12.99
132 g
70 x 70cm
Personalised Dog Blanket
(100cm x 70cm) with Dog Paws Icon - Royal Blue Fleece Fabric (Personalised with Text)
FGBLA002(R100x70)FLE-BRO(P)(DPA)
5056656352555
£14.99
200 g
100 x 70cm
Personalised Dog Blanket
(100cm x 140cm) with Dog Paws Icon - Royal Blue Fleece Fabric (Personalised with Text)
FGBLA002(R100x140)FLE-BRO(P)(DPA)
5056656352678
£24.99
404 g
140 x 100cm
Personalised Dog Blanket
(70cm x 70cm) with Dog Paws Icon - White Fleece Fabric (Personalised with Text)
FGBLA002(S70)FLE-WHI(P)(DPA)
5056656352449
£12.99
132 g
70 x 70cm
Personalised Dog Blanket
(100cm x 70cm) with Dog Paws Icon - White Fleece Fabric (Personalised with Text)
FGBLA002(R100x70)FLE-WHI(P)(DPA)
5056656352562
£14.99
200 g
100 x 70cm
Personalised Dog Blanket
(100cm x 140cm) with Dog Paws Icon - White Fleece Fabric (Personalised with Text)
FGBLA002(R100x140)FLE-WHI(P)(DPA)
5056656352685
£24.99
404 g
140 x 100cm
Personalised Dog Blanket
(70cm x 70cm) with Dog Paws Icon - Red Fleece Fabric (Personalised with Text)
FGBLA002(S70)FLE-RED(P)(DPA)
5056656352456
£12.99
132 g
70 x 70cm
Personalised Dog Blanket
(100cm x 70cm) with Dog Paws Icon - Red Fleece Fabric (Personalised with Text)
FGBLA002(R100x70)FLE-RED(P)(DPA)
5056656352579
£14.99
200 g
100 x 70cm
Personalised Dog Blanket
(100cm x 140cm) with Dog Paws Icon - Red Fleece Fabric (Personalised with Text)
FGBLA002(R100x140)FLE-RED(P)(DPA)
5056656352692
£24.99
404 g
140 x 100cm
Personalised Dog Blanket
(70cm x 70cm) with Dog Paws Icon - Purple Fleece Fabric (Personalised with Text)
FGBLA002(S70)FLE-PUR(P)(DPA)
5056656352463
£12.99
132 g
70 x 70cm
Personalised Dog Blanket
(100cm x 70cm) with Dog Paws Icon - Purple Fleece Fabric (Personalised with Text)
FGBLA002(R100x70)FLE-PUR(P)(DPA)
5056656352586
£14.99
200 g
100 x 70cm
Personalised Dog Blanket
(100cm x 140cm) with Dog Paws Icon - Purple Fleece Fabric (Personalised with Text)
FGBLA002(R100x140)FLE-PUR(P)(DPA)
5056656352708
£24.99
404 g
140 x 100cm