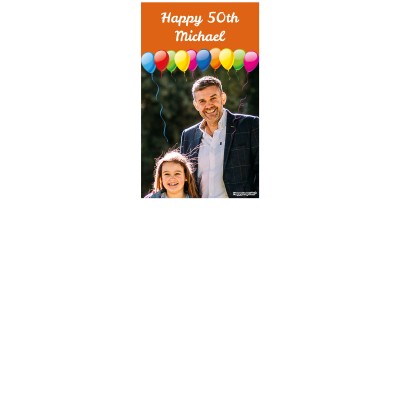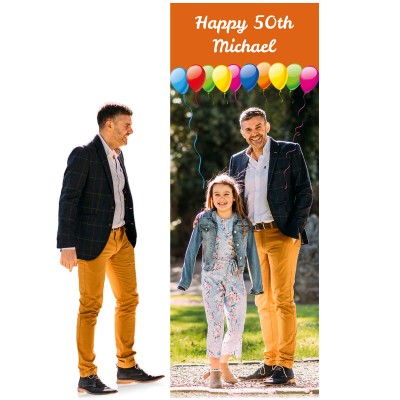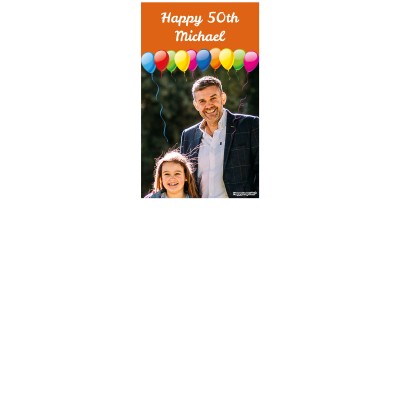 Personalised Birthday Photo Poster
UK Made
Description
Large format printer photo posters personalised with your own uploaded photo, personalised text and colour with balloon theme.
Huge posters printed with your photo.
Personalise with text.
Colour and fun party balloon theme choice.
Paper thickness and quality choices.
Trusted HappySnapGifts® brand.
Huge posters that are designed to be as low cost as we can for a fun way to decorate the home, office or classroom for a birthday or leaving party of just for fun.
Reviews
Instructions
Large Format Poster Photo Quality.
High quality images are best suited for these larger printed posters, the bigger and higher quality the better.
As always you must have the rights to use the photo (i.e. no celebrity images unless you took the photo).
Make sure the photo is Portrait and not Landscape. Landscape (wider photos) won't fit into our Portrait template.
You will have to guide us on what you want on the poster print, are we zooming in on a person for example from a larger group or aiming to have all the photo in the print. We will default to as much of the photo on print as possible without any clear insteuctions.
The photo we used of the Large Format Printed Poster on HappySnapGifts® was taken on an iPhone 13 Pro and looks great when printed. Older pixellated images, screen grabs, smaller images that we have to enlarge a lot or images from social media tend to be low resolution so please don't use them, you'll be disappointed in the print quality.
Delivery
The information below is for guidance. Actual delivery costs and dates depend on the delivery address, weight and time your order is placed. Cut-off time for Overnight Orders is 12 noon.
| Price | Method | Manufacture Time | Delivery Time | Est. Delivery Date |
| --- | --- | --- | --- | --- |
| £4.99 | 2nd Class (Tracked) | 0-3 Days | 2-3 Days | Mon 4 Dec - Fri 8 Dec |
| £7.99 | 1st Class (Tracked) | 0-3 Days | 1-2 Days | Fri 1 Dec - Thu 7 Dec |
| £13.03 | DHL Courier (Economy M-F Pre 6pm) | 0-3 Days | 2-3 Days | Mon 4 Dec - Fri 8 Dec |
| £14.99 | Royal Mail Special Delivery (Overnight Mon-Sat Pre 1pm) | Today | Next Day (Mon-Sat) | Fri 1 Dec |
More Information
| | |
| --- | --- |
| Despatch | 0-3 Days (to Personalise) or Upgrade at Checkout for Overnight Delivery |
| Brand | HappySnapGifts® |
| RRP | £12.99 |
| Country of Origin | United Kingdom |
| SKU | FGPOS001(BAL)ORAPPLI(R100x60)(P) |
| Gtin | 5056656371525 |
| Tariff Code | 9505900000 |
| Tariff Description | Festive, carnival or other entertainment articles, including conjuring tricks and novelty jokes > Other |
| Product Weight | 53 g |
| Product Dimensions | 100 x 60cm |
Product Options
Photos to Print
Photos to Front
Fabric
Paper
Colour
Orange, Navy Blue, Sky Blue, Brown, Green, Pink, Purple, Red
Print Theme
Balloons
Product Type
Personalised Gifts > Photo Gifts
Large format printed posters
Personalised photo posters
Party celebration prints

Personalised Birthday Photo Poster
with Balloons Design (Navy Blue) 100cm x 60cm (70gsm) (Personalised with Text)
FGPOS001(BAL)BNAPPLI(R100x60)(P)
5056656362905
£12.99
53 g
100 x 60cm
Personalised Birthday Photo Poster
with Balloons Design (Navy Blue) 150cm x 60cm (70gsm) (Personalised with Text)
FGPOS001(BAL)BNAPPLI(R150x60)(P)
5056656372737
£14.99
75 g
150 x 60cm
Personalised Birthday Photo Poster
with Balloons Design (Navy Blue) 200cm x 60cm (70gsm) (Personalised with Text)
FGPOS001(BAL)BNAPPLI(R200x60)(P)
5056656372744
£19.99
100 g
200 x 60cm
Personalised Birthday Photo Poster
with Balloons Design (Navy Blue) 200cm x 75cm (70gsm) (Personalised with Text)
FGPOS001(BAL)BNAPPLI(R200x75)(P)
5056656372751
£29.99
230 g
200 x 75cm
Personalised Birthday Photo Poster
with Balloons Design (Navy Blue) 200cm x 100cm (70gsm) (Personalised with Text)
FGPOS001(BAL)BNAPPLI(R200x75)(P)
5056656372768
£34.99
250 g
200 x 100cm
Personalised Birthday Photo Poster
with Balloons Design (Sky Blue) 100cm x 60cm (70gsm) (Personalised with Text)
FGPOS001(BAL)BSKPPLI(R100x60)(P)
5056656372775
£12.99
53 g
100 x 60cm
Personalised Birthday Photo Poster
with Balloons Design (Sky Blue) 150cm x 60cm (70gsm) (Personalised with Text)
FGPOS001(BAL)BSKPPLI(R150x60)(P)
5056656372782
£14.99
75 g
150 x 60cm
Personalised Birthday Photo Poster
with Balloons Design (Sky Blue) 200cm x 60cm (70gsm) (Personalised with Text)
FGPOS001(BAL)BSKPPLI(R200x60)(P)
5056656372799
£19.99
100 g
200 x 60cm
Personalised Birthday Photo Poster
with Balloons Design (Sky Blue) 200cm x 75cm (70gsm) (Personalised with Text)
FGPOS001(BAL)BSKPPLI(R200x75)(P)
5056656372805
£29.99
230 g
200 x 75cm
Personalised Birthday Photo Poster
with Balloons Design (Sky Blue) 200cm x 100cm (70gsm) (Personalised with Text)
FGPOS001(BAL)BSKPPLI(R200x75)(P)
5056656372812
£34.99
250 g
200 x 100cm
Personalised Birthday Photo Poster
with Balloons Design (Brown) 100cm x 60cm (70gsm) (Personalised with Text)
FGPOS001(BAL)BROPPLI(R100x60)(P)
5056656372829
£12.99
53 g
100 x 60cm
Personalised Birthday Photo Poster
with Balloons Design (Brown) 150cm x 60cm (70gsm) (Personalised with Text)
FGPOS001(BAL)BROPPLI(R150x60)(P)
5056656372836
£14.99
75 g
150 x 60cm
Personalised Birthday Photo Poster
with Balloons Design (Brown) 200cm x 60cm (70gsm) (Personalised with Text)
FGPOS001(BAL)BROPPLI(R200x60)(P)
5056656372843
£19.99
100 g
200 x 60cm
Personalised Birthday Photo Poster
with Balloons Design (Brown) 200cm x 75cm (70gsm) (Personalised with Text)
FGPOS001(BAL)BROPPLI(R200x75)(P)
5056656372850
£29.99
230 g
200 x 75cm
Personalised Birthday Photo Poster
with Balloons Design (Brown) 200cm x 100cm (70gsm) (Personalised with Text)
FGPOS001(BAL)BROPPLI(R200x75)(P)
5056656372867
£34.99
250 g
200 x 100cm
Personalised Birthday Photo Poster
with Balloons Design (Green) 100cm x 60cm (70gsm) (Personalised with Text)
FGPOS001(BAL)GREPPLI(R100x60)(P)
5056656372874
£12.99
53 g
100 x 60cm
Personalised Birthday Photo Poster
with Balloons Design (Green) 150cm x 60cm (70gsm) (Personalised with Text)
FGPOS001(BAL)GREPPLI(R150x60)(P)
5056656372881
£14.99
75 g
150 x 60cm
Personalised Birthday Photo Poster
with Balloons Design (Green) 200cm x 60cm (70gsm) (Personalised with Text)
FGPOS001(BAL)GREPPLI(R200x60)(P)
5056656372898
£19.99
100 g
200 x 60cm
Personalised Birthday Photo Poster
with Balloons Design (Green) 200cm x 75cm (70gsm) (Personalised with Text)
FGPOS001(BAL)GREPPLI(R200x75)(P)
5056656372904
£29.99
230 g
200 x 75cm
Personalised Birthday Photo Poster
with Balloons Design (Green) 200cm x 100cm (70gsm) (Personalised with Text)
FGPOS001(BAL)GREPPLI(R200x75)(P)
5056656372911
£34.99
250 g
200 x 100cm
Personalised Birthday Photo Poster
with Balloons Design (Orange) 100cm x 60cm (70gsm) (Personalised with Text)
FGPOS001(BAL)ORAPPLI(R100x60)(P)
5056656371525
£12.99
53 g
100 x 60cm
Personalised Birthday Photo Poster
with Balloons Design (Orange) 150cm x 60cm (70gsm) (Personalised with Text)
FGPOS001(BAL)ORAPPLI(R150x60)(P)
5056656372928
£14.99
75 g
150 x 60cm
Personalised Birthday Photo Poster
with Balloons Design (Orange) 200cm x 60cm (70gsm) (Personalised with Text)
FGPOS001(BAL)ORAPPLI(R200x60)(P)
5056656372935
£19.99
100 g
200 x 60cm
Personalised Birthday Photo Poster
with Balloons Design (Orange) 200cm x 75cm (70gsm) (Personalised with Text)
FGPOS001(BAL)ORAPPLI(R200x75)(P)
5056656372942
£29.99
230 g
200 x 75cm
Personalised Birthday Photo Poster
with Balloons Design (Orange) 200cm x 100cm (70gsm) (Personalised with Text)
FGPOS001(BAL)ORAPPLI(R200x75)(P)
5056656372959
£34.99
250 g
200 x 100cm
Personalised Birthday Photo Poster
with Balloons Design (Pink) 100cm x 60cm (70gsm) (Personalised with Text)
FGPOS001(BAL)PINPPLI(R100x60)(P)
5056656372966
£12.99
53 g
100 x 60cm
Personalised Birthday Photo Poster
with Balloons Design (Pink) 150cm x 60cm (70gsm) (Personalised with Text)
FGPOS001(BAL)PINPPLI(R150x60)(P)
5056656372973
£14.99
75 g
150 x 60cm
Personalised Birthday Photo Poster
with Balloons Design (Pink) 200cm x 60cm (70gsm) (Personalised with Text)
FGPOS001(BAL)PINPPLI(R200x60)(P)
5056656372980
£19.99
100 g
200 x 60cm
Personalised Birthday Photo Poster
with Balloons Design (Pink) 200cm x 75cm (70gsm) (Personalised with Text)
FGPOS001(BAL)PINPPLI(R200x75)(P)
5056656372997
£29.99
230 g
200 x 75cm
Personalised Birthday Photo Poster
with Balloons Design (Pink) 200cm x 100cm (70gsm) (Personalised with Text)
FGPOS001(BAL)PINPPLI(R200x75)(P)
5056656373000
£34.99
250 g
200 x 100cm
Personalised Birthday Photo Poster
with Balloons Design (Purple) 100cm x 60cm (70gsm) (Personalised with Text)
FGPOS001(BAL)PURPPLI(R100x60)(P)
5056656373017
£12.99
53 g
100 x 60cm
Personalised Birthday Photo Poster
with Balloons Design (Purple) 150cm x 60cm (70gsm) (Personalised with Text)
FGPOS001(BAL)PURPPLI(R150x60)(P)
5056656373024
£14.99
75 g
150 x 60cm
Personalised Birthday Photo Poster
with Balloons Design (Purple) 200cm x 60cm (70gsm) (Personalised with Text)
FGPOS001(BAL)PURPPLI(R200x60)(P)
5056656373031
£19.99
100 g
200 x 60cm
Personalised Birthday Photo Poster
with Balloons Design (Purple) 200cm x 75cm (70gsm) (Personalised with Text)
FGPOS001(BAL)PURPPLI(R200x75)(P)
5056656373048
£29.99
230 g
200 x 75cm
Personalised Birthday Photo Poster
with Balloons Design (Purple) 200cm x 100cm (70gsm) (Personalised with Text)
FGPOS001(BAL)PURPPLI(R200x75)(P)
5056656373055
£34.99
250 g
200 x 100cm
Personalised Birthday Photo Poster
with Balloons Design (Red) 100cm x 60cm (70gsm) (Personalised with Text)
FGPOS001(BAL)REDPPLI(R100x60)(P)
5056656373062
£12.99
53 g
100 x 60cm
Personalised Birthday Photo Poster
with Balloons Design (Red) 150cm x 60cm (70gsm) (Personalised with Text)
FGPOS001(BAL)REDPPLI(R150x60)(P)
5056656373079
£14.99
75 g
150 x 60cm
Personalised Birthday Photo Poster
with Balloons Design (Red) 200cm x 60cm (70gsm) (Personalised with Text)
FGPOS001(BAL)REDPPLI(R200x60)(P)
5056656373086
£19.99
100 g
200 x 60cm
Personalised Birthday Photo Poster
with Balloons Design (Red) 200cm x 75cm (70gsm) (Personalised with Text)
FGPOS001(BAL)REDPPLI(R200x75)(P)
5056656373093
£29.99
230 g
200 x 75cm
Personalised Birthday Photo Poster
with Balloons Design (Red) 200cm x 100cm (70gsm) (Personalised with Text)
FGPOS001(BAL)REDPPLI(R200x75)(P)
5056656373109
£34.99
250 g
200 x 100cm
Personalised Birthday Photo Poster