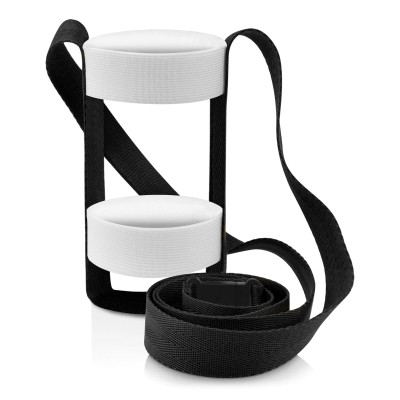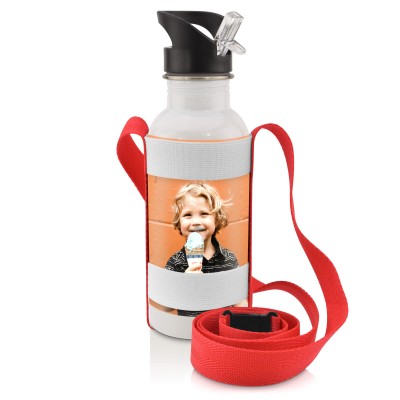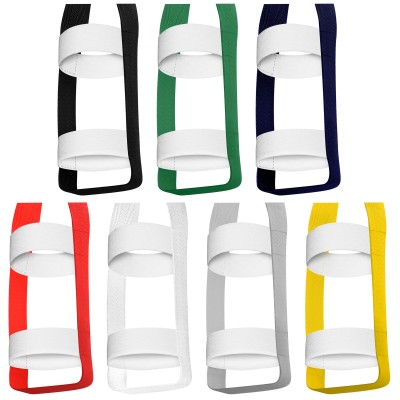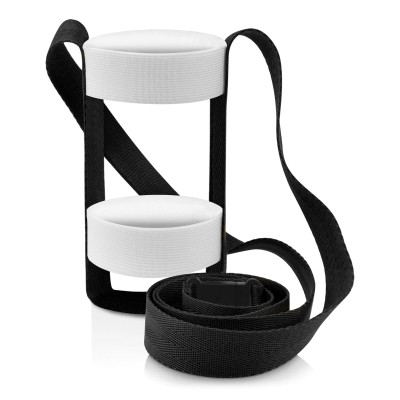 Water Bottle Sling Holder
UK Made
Description
Water Bottle Sling Holders are designed to hold water bottles over the shoulder leaving your hands free for walking or while out and about.
British Made Water Straps from our UK factory.
Designed to hold small bottles of water and sports bottles.
Great for taking on holiday or for long walks.
Low cost and simple design.
Optional colours and size.
Single or double elastic versions.
Trusted HappySnapGifts® brand.
* Does not include sports bottle. Our sports bottle shown on our images is around 22cm tall and is shown to make sure the bottle was held in place securely.
Standard 150cm length straps are intended to go over the shoulder on one side, though perhaps if you wanted it across the chest then a longer length water bottle carrier would suit from the options you need. 150cm is the total length of the strap including the part under the bottle and in effect will be approximately 75cm on each side.
Water Bottle Slings are our own invention and are designed to hold water bottles over the shoulder leaving your hands free. They are a handy piece of fun which are great for long walks, events or days out or on many outdoor occasions. Our Water Bottle Slings are made from polyester fabric which is strong and durable and use elastic to fit around the bottle to make sure they fit many sizes of bottle and we have a range of colours are available to choose from.
Reviews
Excellent
- Very good quality and fits any bottle. We ordered small and medium which suited us. 4 year old small is perfect and 7 years medium is perfect (Leanne, 19/06/21)
Water sling bottle holder
- Easy to use website and ordering system. Fast, efficient delivery in the circumstances (Christmas & Covid). Great product, simple but effective, thank you. (Karen, 07/01/21)
Great easy to use bottle holder.
- This is a reasonably priced bottle holder. Lightweight and will support various sizes of water bottle. Can be worn on shoulder or across body. Great if you want "hands free" walking, running etc. Fast delivery. I would recommend this product and Jetrest. (Barbara, 06/09/20)
Good product
- I wanted something to carry a small bottle of water and I found this product. Originally I ordered the one strap but the bottle just wasn't supported so I returned it, without any hassle, and I bought the two strap version and it works. It is a good little product and keeps your hands free, no more carrying. (Brian from Darlington)
Great holder
- I have now purchased 4 bottle slings and been very happy with them The Web site is easy to use and very prompt on the delivery I will certainly buy from them again (Sharon)
Simple idea, comfortable to use
- Bought 2 of these (150cm)to go with new 500ml filter water bottles. Used them whilst walking on recent holiday. Didn't want to take lots of things with us on walk these were perfect. Even managed to put snack bar down side of bottle as the elastic was big enough. Comfortable to carry over shoulder, can do it cross body but 200cm maybe better if you are taller. (Woman50)
We adorable them
- I bought 2 and we are absolutely delighted with them both (anonymous)
Good idea to carry water bottle and keep hands free
- Good product thank you (Cheryl)
Good idea
- Happy with purchase thank you (Cheryl)
Light weight bottle sling
- What a clever idea for carrying water on walks with no additional weight. We have used these every day on holiday to carry plastic water bottles (500ml). (F L)
Water sling holder
- Water bottle sling order 2 and very pleased with them. Great for when your walking. (Carol bell)
Perfect solution for the school run!
- This product is a great solution to our children's school banning school bags and only allowing book bags (with no way of carrying their own water bottle on the scoot to school). The bottle holder sling is great quality, fits all bottle styles and was delivered really quickly too! (The Jones's)
just waht I wanted
- just what I wanted (H Graham)
Bottle holder with elastic
- More walking recently needed a water bottle but did not need a back pack, this is light fits nicely across my shoulder fab for the price (Holley)
Good purchase for my son to take abroad
- My son is going to Nicaragua to do charity work and I bought this for him so that he can carry a bottle of water around with him hands-free. Not seen anything like this in the shops. It is a reasonable price and I think will be a very useful item for him due to the hot climate there and the need to drink a lot. (Christina)
Great bottle carrier
- As a rambler doing 10 milers every week this sling is perfect for carrying a larger water bottle. It fits neatly over my shoulder and gives instant access to water when I need without fiddling with sports bottle in rucksack pockets - worth every penny. Bought another for my daughter. (Ian J)
My grandsons thought they were great
- A very useful item when out for the day or camping. The children can carry their own water and have it when they like save Mum having to keep taking rucksack of her back!! (Dot)
Perfect for my bike rides
- Just what I needed on my long bike rides! I just through it over my shoulder with my Britta fill&ago fits perfectly & does not slide through stays behind PERFECT!! (Lawson Kingsley - Lowndes)
Water bottle carriers
- I was on holiday recently and carried my water in my hand for 3 weeks, I thought they must be an easier way when I spotted a fellow traveller with one of these, great I thought so I found this company who make them. Great idea, great product would recommend this company. (PamH)
Fantastic product.
- I bought this sling for my water bottle, for use whilst walking in the mountain foothills of Arizona. It was absolutle brilliant and kept my water botttle safely out of my way as I negotiated the rough uneven terrain. I recommend the sling 100%. (Dave)
Great product
- Like all the best ideas, the Water Bottle Sling is quite a simple one and it works! It was extremely useful on a recent birding trip, especially as my rucsac doesn't have a suitable outside pocket for a water bottle. (Emma Wilson)
Great for out and about at festivals
- Excellent product came into great use at trinidad carnival!! (Makak)
made it easier to carry water
- My husband and I took our two grand children round a large theme park spending 12 hours there,it made it easier each carrying our own water which we could fill up from the water fountains. (VerityDJ)
Really handy.
- This bottle sling is ideal for any outing, particularly when you have no pockets or bag to carry water. Taking this to the gym means you've no need to purchase expensive drinks from their machine! On a walk your hands are free, yet you have instant access to water. (Eileen)
Simplicity
- Been looking for one of these for some time - simple,lightweight,flexible and reasonably priced.Will take a variety of bottle sizes,50/75/1.5 litre.Just the thing for casual walking in a hot climate.Others I looked at are over-elaborate and over-priced. (Keith L)
Water Bottle Sling Carrier
- The product is well made, reasonably priced, and delivered on time. I could not ask for more, and would highly recommend the product and the company. (Dee)
Perfect holiday accessory
- Purchased three Water Bottle Slings - two for holiday and one for walking the dog - very good product - holds water bottle tightly and makes it easy to to carry water around all day without holding bottle. Good fit and material - loved the choice of bright colours! (Thomas)
Brilliant for walking
- This sling is brilliant, so lightweight when the bottle is in it. I do a lot of walking and this has been great, no more getting the bottle out of my rucksack, can drink as I go, and I don't even know I am carrying it. (katie)
Water bottle slingtastic
- My children were given water bottles by their school to take every day. They are so practical and my children have never forgotten their water bottles or lost them in the school......which for two lively 6 year olds' is quite a feet. (Margaret)
Does what it says it will!
- convenient, light-weight transport for your water bottle! (anonymous)
Great item
- This is exactly what I have been looking for, hands free and not bulky. Only wish I had bought one earlier. (SG)
Great Bottle Carrier Sling
- Excellent a simple sling carrier which works well with most common water bottles between 500ml and 2 liters at a push.Fits my Camelbak bottles very nicely. (Soup Dragon)
carrying school water bottle
- Ideal for my 5year old grandson to carry his school water bottle without dropping it. (anonymous)
Handy gadget
- Just what I've been looking for to avoid having to carry a bag just for the water bottle - terrific idea! (Goodkent)
Does the job perfectly
- Good product - exactly what I was looking for. Fast dispatch and speedy delivery. (A Customer)
Handy accessory
- Bought the water bottle sling as a present since I thought it would be very handy on holidays, when you travel etc. Very happy with the product. (Birgitta)
Useful
- Useful little gadget for larger water bottles when you don't want to carry a bag. (anonymous)
More Reviews
Delivery
The information below is for guidance. Actual delivery costs and dates depend on the delivery address, weight and time your order is placed. Cut-off time for Overnight Orders is 12 noon.
| Price | Method | Manufacture Time | Delivery Time | Est. Delivery Date |
| --- | --- | --- | --- | --- |
| £4.99 | 2nd Class (Tracked) | 0-3 Days | 2-3 Days | Mon 4 Dec - Fri 8 Dec |
| £7.99 | 1st Class (Tracked) | 0-3 Days | 1-2 Days | Fri 1 Dec - Thu 7 Dec |
| £12.95 | DHL Courier (Economy M-F Pre 6pm) | 0-3 Days | 2-3 Days | Mon 4 Dec - Fri 8 Dec |
| £14.99 | Royal Mail Special Delivery (Overnight Mon-Sat Pre 1pm) | Today | Next Day (Mon-Sat) | Fri 1 Dec |
More Information
| | |
| --- | --- |
| Despatch | 0-3 Days (Made to Order) or Upgrade for Overnight Delivery at Checkout |
| Brand | HappySnapGifts® |
| RRP | £6.99 |
| Country of Origin | United Kingdom |
| SKU | FGWAT003(S100)(WN50-BLK)(Ex2) |
| Gtin | 5056261076884 |
| Tariff Code | 6307909899 |
| Tariff Description | Luggage Strap - Woven Webbing |
| Product Weight | 43 g |
| Product Dimensions | 100 x 2.5cm |
Product Options
| | |
| --- | --- |
| Size | Small (100cm), Medium (150cm), Large (200cm) |
| Colour | Black, Green, Red, White, Silver Grey, Yellow |
| Finishings | Double Elastic |
| Product Type | Water Bottles |
Water Bottle Sling Holder
(100cm) - Black
FGWAT003(S100)(WN50-BLK)(Ex2)
5056261076884
£6.99
43 g
100 x 2.5cm
Water Bottle Sling Holder
(150cm) - Black
FGWAT003(M150)(WN50-BLK)(Ex2)
5056261076907
£7.99
49 g
150 x 2.5cm
Water Bottle Sling Holder
(200cm) - Black
FGWAT003(L200)(WN50-BLK)(Ex2)
5056261076921
£8.99
67 g
200 x 2.5cm
Water Bottle Sling Holder
(100cm) - Green
FGWAT003(S100)(WN50-GBG)(Ex2)
5056261076945
£6.99
43 g
100 x 2.5cm
Water Bottle Sling Holder
(150cm) - Green
FGWAT003(M150)(WN50-GBG)(Ex2)
5056261076969
£7.99
49 g
150 x 2.5cm
Water Bottle Sling Holder
(200cm) - Green
FGWAT003(L200)(WN50-GBG)(Ex2)
5056261076983
£8.99
67 g
200 x 2.5cm
Water Bottle Sling Holder
(100cm) - Red
FGWAT003(S100)(WN50-RED)(Ex2)
5056261077041
£6.99
43 g
100 x 2.5cm
Water Bottle Sling Holder
(150cm) - Red
FGWAT003(M150)(WN50-RED)(Ex2)
5056261077065
£7.99
49 g
150 x 2.5cm
Water Bottle Sling Holder
(200cm) - Red
FGWAT003(L200)(WN50-RED)(Ex2)
5056261077072
£8.99
67 g
200 x 2.5cm
Water Bottle Sling Holder
(100cm) - White
FGWAT003(S100)(WN50-WHI)(Ex2)
5056261076891
£6.99
43 g
100 x 2.5cm
Water Bottle Sling Holder
(150cm) - White
FGWAT003(M150)(WN50-WHI)(Ex2)
5056261076914
£7.99
49 g
150 x 2.5cm
Water Bottle Sling Holder
(200cm) - White
FGWAT003(L200)(WN50-WHI)(Ex2)
5056261076938
£8.99
67 g
200 x 2.5cm
Water Bottle Sling Holder
(100cm) - Silver Grey
FGWAT003(S100)(WN50-GLG)(Ex2)
5056261076952
£6.99
43 g
100 x 2.5cm
Water Bottle Sling Holder
(150cm) - Silver Grey
FGWAT003(M150)(WN50-GLG)(Ex2)
5056261076976
£7.99
49 g
150 x 2.5cm
Water Bottle Sling Holder
(200cm) - Silver Grey
FGWAT003(L200)(WN50-GLG)(Ex2)
5056261076990
£8.99
67 g
200 x 2.5cm
Water Bottle Sling Holder
(100cm) - Yellow
FGWAT003(S100)(WN50-YEL)(Ex2)
5056261077010
£6.99
43 g
100 x 2.5cm
Water Bottle Sling Holder
(150cm) - Yellow
FGWAT003(M150)(WN50-YEL)(Ex2)
5056261077034
£7.99
49 g
150 x 2.5cm
Water Bottle Sling Holder
(200cm) - Yellow
FGWAT003(L200)(WN50-YEL)(Ex2)
5056261077058
£8.99
67 g
200 x 2.5cm
Water Bottle Sling Holder