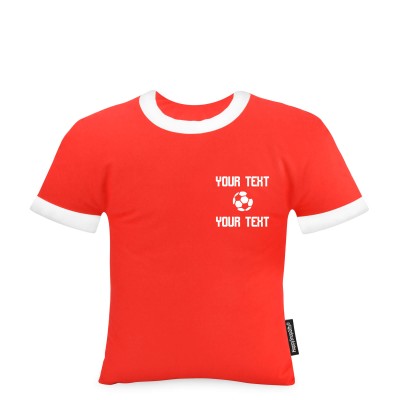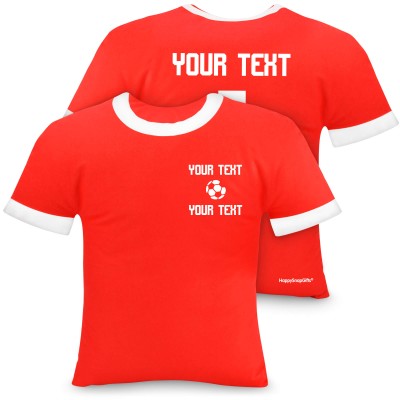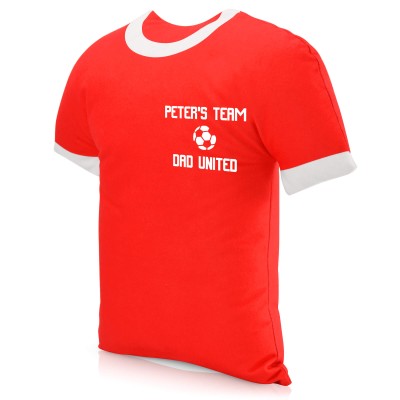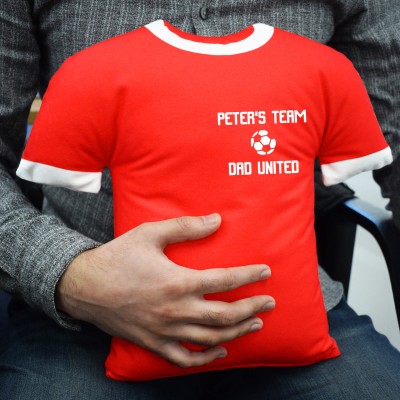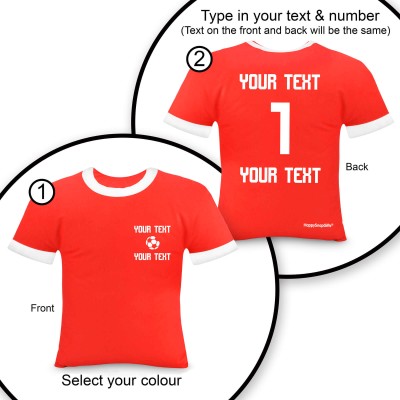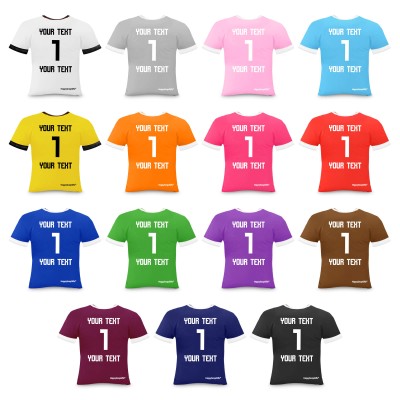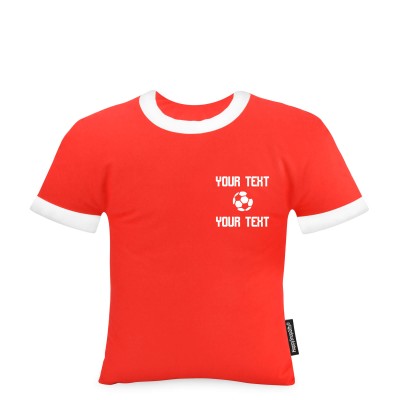 Personalised Football Shirt Cushion
UK Made
BS5852 : 1988
Hypo-Allergenic Filling
Description
Football Shirt Cushion personalised with your text, number & football icon as the best personalised football gift in many colours. UK Made Football Gift.
Football Shirt Cushion.
Personalised football gift.
T-Shirt shaped with many colour options.
Choose a sports design football icon.
Personalise with text and numbers to the front and back.
UK made.
Trusted HappySnapGifts® brand.
Fantastic sports fan gifts don't get better than these sports shirt shaped cushions. Each cushion is UK Made and comes in a range of many colour options to try to get close to your favourite team colours and can be personalised with text and a numbers to the front and back.
Whether you want a football cushion for men or as coach gifts, these cushions are superbly made to order in our UK factory and you will not be disappointed with the high-quality manufacture.
Best of all, select from a number of sports icon badges or contact us to suggest something new to be added to the option as we remain open to any suggestions to get you the best made personalised gifts for sports.
IMPORTANT NOTICE: Please do not personalise this product with any famous sports club name or famous sports persons names. We can never use an actual football team name, or footballers personal names for example so please respect the trademarks of any famous teams. We can not, and do not portray these products as official merchandise from any club as they are not official merchandise. These products are coloured products and you can have the text and number of your choice with respect to all clubs you may be a fan of.
Reviews
FAQs
What type of Fibre is used to fill our cushion & pillow Products?
Generally speaking, we use a luxury, spiral twisted and smooth-coated polyester fibre (Lux.) to fill our cushion products. Normal fibre can become lumpy over time but ours will bounce back time and again and has the benefit of being Hypoallergenic.
Does the Lux. Fibre have a Fire Rating?
Yes. We buy our fibre only from a trusted UK source that has their fibre meet the Furniture (Fire) (Safety) Regulations (BS5852). We regularly obtain updated certificates to check the latest batches meet the current requirements.
What happens if the Lux. Fibre gets wet or is washed in the machine?
No harm will come to the polyester fibre in theory, getting it wet is inadvisable though don't panic, just dry it out normally at room temperature though don't put it in the dryer. We found on testing that if you do put the cushion in the washing machine, it will dry out ok though the tumbling in the washing machine tends to make the fibres all clump together and become less evenly spaced in the cushion.
Delivery
The information below is for guidance. Actual delivery costs and dates depend on the delivery address, weight and time your order is placed. Cut-off time for Overnight Orders is 12 noon.
| Price | Method | Manufacture Time | Delivery Time | Est. Delivery Date |
| --- | --- | --- | --- | --- |
| £4.99 | 2nd Class (Tracked) | 0-3 Days | 2-3 Days | Wed 13 Dec - Tue 19 Dec |
| £7.99 | 1st Class (Tracked) | 0-3 Days | 1-2 Days | Tue 12 Dec - Mon 18 Dec |
| £13.03 | DHL Courier (Economy M-F Pre 6pm) | 0-3 Days | 2-3 Days | Wed 13 Dec - Tue 19 Dec |
| £14.99 | Royal Mail Special Delivery (Overnight Mon-Sat Pre 1pm) | Today | Next Day (Mon-Sat) | Mon 11 Dec |
More Information
| | |
| --- | --- |
| Despatch | 0-3 Days (to Personalise) or Upgrade at Checkout for Overnight Delivery |
| Brand | HappySnapGifts® |
| RRP | £19.99 |
| Country of Origin | United Kingdom |
| SKU | FGCUS029(Sh35)PSV-FOORED(P) |
| Gtin | 5060089255444 |
| Tariff Code | 9404909000 |
| Tariff Description | Cushion - Polyester Fibre Filled (Polyester Cover) |
| Product Weight | 251 g |
| Product Dimensions | 35 x 38 x 10cm |
Product Options
Cushion Size
Regular (35cm)
Fabric
Soft Velvet Polyester
Theme Colour
Red, Black, Navy Blue, Royal Blue, Sky Blue, Brown, Burgundy, Bright Green, Grey, Burnt Orange, Baby Pink, Hot Pink (Fuchsia), Purple, White, Yellow
Print Theme
Text & Number
Icon
Football, Champions, Single Finger
Filling
100% Polyester Fibre
Product Type
Cushion > Personalised Cushion
Football cushion > football shirt cushion
personalised football cushion
football gift
personalised football gift

Personalised Football Shirt Cushion
(Regular 35cm) (Football Icon) Red Soft Velvet Polyester Fabric (Personalised with Text)
FGCUS029(Sh35)PSV-FOORED(P)
5060089255444
£19.99
251 g
35 x 38 x 10cm
Personalised Football Shirt Cushion
(Regular 35cm) (Football Icon) Black Soft Velvet Polyester Fabric (Personalised with Text)
FGCUS029(Sh35)PSV-FOOBLA(P)
5056656361649
£19.99
251 g
35 x 38 x 10cm
Personalised Football Shirt Cushion
(Regular 35cm) (Football Icon) Navy Blue Soft Velvet Polyester Fabric (Personalised with Text)
FGCUS029(Sh35)PSV-FOOBNA(P)
5056656361656
£19.99
251 g
35 x 38 x 10cm
Personalised Football Shirt Cushion
(Regular 35cm) (Football Icon) Royal Blue Soft Velvet Polyester Fabric (Personalised with Text)
FGCUS029(Sh35)PSV-FOOBRO(P)
5056656361663
£19.99
251 g
35 x 38 x 10cm
Personalised Football Shirt Cushion
(Regular 35cm) (Football Icon) Sky Blue Soft Velvet Polyester Fabric (Personalised with Text)
FGCUS029(Sh35)PSV-FOOBSK(P)
5056656361670
£19.99
251 g
35 x 38 x 10cm
Personalised Football Shirt Cushion
(Regular 35cm) (Football Icon) Brown Soft Velvet Polyester Fabric (Personalised with Text)
FGCUS029(Sh35)PSV-FOOBRW(P)
5056656361687
£19.99
251 g
35 x 38 x 10cm
Personalised Football Shirt Cushion
(Regular 35cm) (Football Icon) Burgundy Soft Velvet Polyester Fabric (Personalised with Text)
FGCUS029(Sh35)PSV-FOOBUR(P)
5056656361694
£19.99
251 g
35 x 38 x 10cm
Personalised Football Shirt Cushion
(Regular 35cm) (Football Icon) Bright Green Soft Velvet Polyester Fabric (Personalised with Text)
FGCUS029(Sh35)PSV-FOOGBR(P)
5056656361700
£19.99
251 g
35 x 38 x 10cm
Personalised Football Shirt Cushion
(Regular 35cm) (Football Icon) Grey Soft Velvet Polyester Fabric (Personalised with Text)
FGCUS029(Sh35)PSV-FOOGRY(P)
5056656361717
£19.99
251 g
35 x 38 x 10cm
Personalised Football Shirt Cushion
(Regular 35cm) (Football Icon) Burnt Orange Soft Velvet Polyester Fabric (Personalised with Text)
FGCUS029(Sh35)PSV-FOOORA(P)
5056656361724
£19.99
251 g
35 x 38 x 10cm
Personalised Football Shirt Cushion
(Regular 35cm) (Football Icon) Baby Pink Soft Velvet Polyester Fabric (Personalised with Text)
FGCUS029(Sh35)PSV-FOOPBA(P)
5056656361731
£19.99
251 g
35 x 38 x 10cm
Personalised Football Shirt Cushion
(Regular 35cm) (Football Icon) Hot Pink (Fuchsia) Soft Velvet Polyester Fabric (Personalised with Text)
FGCUS029(Sh35)PSV-FOOPFU(P)
5056656361748
£19.99
251 g
35 x 38 x 10cm
Personalised Football Shirt Cushion
(Regular 35cm) (Football Icon) Purple Soft Velvet Polyester Fabric (Personalised with Text)
FGCUS029(Sh35)PSV-FOOPUR(P)
5056656361755
£19.99
251 g
35 x 38 x 10cm
Personalised Football Shirt Cushion
(Regular 35cm) (Football Icon) White Soft Velvet Polyester Fabric (Personalised with Text)
FGCUS029(Sh35)PSV-FOOWHI(P)
5056656361762
£19.99
251 g
35 x 38 x 10cm
Personalised Football Shirt Cushion
(Regular 35cm) (Football Icon) Yellow Soft Velvet Polyester Fabric (Personalised with Text)
FGCUS029(Sh35)PSV-FOOYEL(P)
5056656361779
£19.99
251 g
35 x 38 x 10cm
Personalised Football Shirt Cushion
(Regular 35cm) (Champions Icon) Red Soft Velvet Polyester Fabric (Personalised with Text)
FGCUS029(Sh35)PSV-CHARED(P)
5056656361786
£19.99
251 g
35 x 38 x 10cm
Personalised Football Shirt Cushion
(Regular 35cm) (Champions Icon) Black Soft Velvet Polyester Fabric (Personalised with Text)
FGCUS029(Sh35)PSV-CHABLA(P)
5056656361793
£19.99
251 g
35 x 38 x 10cm
Personalised Football Shirt Cushion
(Regular 35cm) (Champions Icon) Navy Blue Soft Velvet Polyester Fabric (Personalised with Text)
FGCUS029(Sh35)PSV-CHABNA(P)
5056656361809
£19.99
251 g
35 x 38 x 10cm
Personalised Football Shirt Cushion
(Regular 35cm) (Champions Icon) Royal Blue Soft Velvet Polyester Fabric (Personalised with Text)
FGCUS029(Sh35)PSV-CHABRO(P)
5056656361816
£19.99
251 g
35 x 38 x 10cm
Personalised Football Shirt Cushion
(Regular 35cm) (Champions Icon) Sky Blue Soft Velvet Polyester Fabric (Personalised with Text)
FGCUS029(Sh35)PSV-CHABSK(P)
5056656361823
£19.99
251 g
35 x 38 x 10cm
Personalised Football Shirt Cushion
(Regular 35cm) (Champions Icon) Brown Soft Velvet Polyester Fabric (Personalised with Text)
FGCUS029(Sh35)PSV-CHABRW(P)
5056656361830
£19.99
251 g
35 x 38 x 10cm
Personalised Football Shirt Cushion
(Regular 35cm) (Champions Icon) Burgundy Soft Velvet Polyester Fabric (Personalised with Text)
FGCUS029(Sh35)PSV-CHABUR(P)
5056656361847
£19.99
251 g
35 x 38 x 10cm
Personalised Football Shirt Cushion
(Regular 35cm) (Champions Icon) Bright Green Soft Velvet Polyester Fabric (Personalised with Text)
FGCUS029(Sh35)PSV-CHAGBR(P)
5056656361854
£19.99
251 g
35 x 38 x 10cm
Personalised Football Shirt Cushion
(Regular 35cm) (Champions Icon) Grey Soft Velvet Polyester Fabric (Personalised with Text)
FGCUS029(Sh35)PSV-CHAGRY(P)
5056656361861
£19.99
251 g
35 x 38 x 10cm
Personalised Football Shirt Cushion
(Regular 35cm) (Champions Icon) Burnt Orange Soft Velvet Polyester Fabric (Personalised with Text)
FGCUS029(Sh35)PSV-CHAORA(P)
5056656361878
£19.99
251 g
35 x 38 x 10cm
Personalised Football Shirt Cushion
(Regular 35cm) (Champions Icon) Baby Pink Soft Velvet Polyester Fabric (Personalised with Text)
FGCUS029(Sh35)PSV-CHAPBA(P)
5056656361885
£19.99
251 g
35 x 38 x 10cm
Personalised Football Shirt Cushion
(Regular 35cm) (Champions Icon) Hot Pink (Fuchsia) Soft Velvet Polyester Fabric (Personalised with Text)
FGCUS029(Sh35)PSV-CHAPFU(P)
5056656361892
£19.99
251 g
35 x 38 x 10cm
Personalised Football Shirt Cushion
(Regular 35cm) (Champions Icon) Purple Soft Velvet Polyester Fabric (Personalised with Text)
FGCUS029(Sh35)PSV-CHAPUR(P)
5056656361908
£19.99
251 g
35 x 38 x 10cm
Personalised Football Shirt Cushion
(Regular 35cm) (Champions Icon) White Soft Velvet Polyester Fabric (Personalised with Text)
FGCUS029(Sh35)PSV-CHAWHI(P)
5056656361915
£19.99
251 g
35 x 38 x 10cm
Personalised Football Shirt Cushion
(Regular 35cm) (Champions Icon) Yellow Soft Velvet Polyester Fabric (Personalised with Text)
FGCUS029(Sh35)PSV-CHAYEL(P)
5056656361922
£19.99
251 g
35 x 38 x 10cm
Personalised Football Shirt Cushion
(Regular 35cm) (Single Finger Icon) Red Soft Velvet Polyester Fabric (Personalised with Text)
FGCUS029(Sh35)PSV-SFIRED(P)
5056656361939
£19.99
251 g
35 x 38 x 10cm
Personalised Football Shirt Cushion
(Regular 35cm) (Single Finger Icon) Black Soft Velvet Polyester Fabric (Personalised with Text)
FGCUS029(Sh35)PSV-SFIBLA(P)
5056656361946
£19.99
251 g
35 x 38 x 10cm
Personalised Football Shirt Cushion
(Regular 35cm) (Single Finger Icon) Navy Blue Soft Velvet Polyester Fabric (Personalised with Text)
FGCUS029(Sh35)PSV-SFIBNA(P)
5056656361953
£19.99
251 g
35 x 38 x 10cm
Personalised Football Shirt Cushion
(Regular 35cm) (Single Finger Icon) Royal Blue Soft Velvet Polyester Fabric (Personalised with Text)
FGCUS029(Sh35)PSV-SFIBRO(P)
5056656361960
£19.99
251 g
35 x 38 x 10cm
Personalised Football Shirt Cushion
(Regular 35cm) (Single Finger Icon) Sky Blue Soft Velvet Polyester Fabric (Personalised with Text)
FGCUS029(Sh35)PSV-SFIBSK(P)
5056656361977
£19.99
251 g
35 x 38 x 10cm
Personalised Football Shirt Cushion
(Regular 35cm) (Single Finger Icon) Brown Soft Velvet Polyester Fabric (Personalised with Text)
FGCUS029(Sh35)PSV-SFIBRW(P)
5056656361984
£19.99
251 g
35 x 38 x 10cm
Personalised Football Shirt Cushion
(Regular 35cm) (Single Finger Icon) Burgundy Soft Velvet Polyester Fabric (Personalised with Text)
FGCUS029(Sh35)PSV-SFIBUR(P)
5056656361991
£19.99
251 g
35 x 38 x 10cm
Personalised Football Shirt Cushion
(Regular 35cm) (Single Finger Icon) Bright Green Soft Velvet Polyester Fabric (Personalised with Text)
FGCUS029(Sh35)PSV-SFIGBR(P)
5056656362004
£19.99
251 g
35 x 38 x 10cm
Personalised Football Shirt Cushion
(Regular 35cm) (Single Finger Icon) Grey Soft Velvet Polyester Fabric (Personalised with Text)
FGCUS029(Sh35)PSV-SFIGRY(P)
5056656362011
£19.99
251 g
35 x 38 x 10cm
Personalised Football Shirt Cushion
(Regular 35cm) (Single Finger Icon) Burnt Orange Soft Velvet Polyester Fabric (Personalised with Text)
FGCUS029(Sh35)PSV-SFIORA(P)
5056656362028
£19.99
251 g
35 x 38 x 10cm
Personalised Football Shirt Cushion
(Regular 35cm) (Single Finger Icon) Baby Pink Soft Velvet Polyester Fabric (Personalised with Text)
FGCUS029(Sh35)PSV-SFIPBA(P)
5056656362035
£19.99
251 g
35 x 38 x 10cm
Personalised Football Shirt Cushion
(Regular 35cm) (Single Finger Icon) Hot Pink (Fuchsia) Soft Velvet Polyester Fabric (Personalised with Text)
FGCUS029(Sh35)PSV-SFIPFU(P)
5056656362042
£19.99
251 g
35 x 38 x 10cm
Personalised Football Shirt Cushion
(Regular 35cm) (Single Finger Icon) Purple Soft Velvet Polyester Fabric (Personalised with Text)
FGCUS029(Sh35)PSV-SFIPUR(P)
5056656362059
£19.99
251 g
35 x 38 x 10cm
Personalised Football Shirt Cushion
(Regular 35cm) (Single Finger Icon) White Soft Velvet Polyester Fabric (Personalised with Text)
FGCUS029(Sh35)PSV-SFIWHI(P)
5056656362066
£19.99
251 g
35 x 38 x 10cm
Personalised Football Shirt Cushion
(Regular 35cm) (Single Finger Icon) Yellow Soft Velvet Polyester Fabric (Personalised with Text)
FGCUS029(Sh35)PSV-SFIYEL(P)
5056656362073
£19.99
251 g
35 x 38 x 10cm
Personalised Football Shirt Cushion