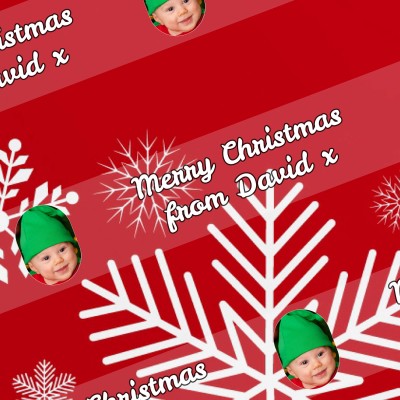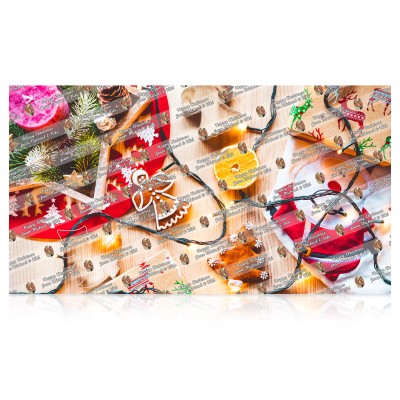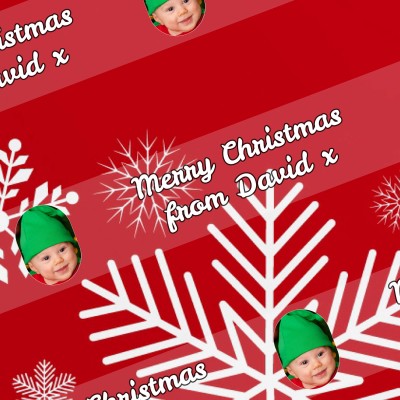 Personalised Photo Christmas Wrapping Paper
UK Made
Description
Personalised Christmas Photo Gift Wrapping paper with photo printed all over and Christmas-themed designs to wrap your lovely presents. Available in different sizes with colour options and personalised with your photo.
Photo Christmas Wrapping Paper.
Printed with stripes and themed designs.
Lots of size options.
Upload photo and personalise with text.
Trusted HappySnapGifts® brand.
Reviews
Delivery
The information below is for guidance. Actual delivery costs and dates depend on the delivery address, weight and time your order is placed. Cut-off time for Overnight Orders is 12 noon.
| Price | Method | Manufacture Time | Delivery Time | Est. Delivery Date |
| --- | --- | --- | --- | --- |
| £4.99 | 2nd Class (Tracked) | 0-3 Days | 2-3 Days | Wed 13 Dec - Tue 19 Dec |
| £7.99 | 1st Class (Tracked) | 0-3 Days | 1-2 Days | Tue 12 Dec - Mon 18 Dec |
| £13.03 | DHL Courier (Economy M-F Pre 6pm) | 0-3 Days | 2-3 Days | Wed 13 Dec - Tue 19 Dec |
| £14.99 | Royal Mail Special Delivery (Overnight Mon-Sat Pre 1pm) | Monday | Next Day (Mon-Sat) | Tue 12 Dec |
More Information
| | |
| --- | --- |
| Despatch | 0-3 Days (to Personalise) or Upgrade at Checkout for Overnight Delivery |
| Brand | HappySnapGifts® |
| RRP | £12.99 |
| Country of Origin | United Kingdom |
| SKU | FGGIF002(STR)SREPPLI(R100x60)(P) |
| Gtin | 5056656371426 |
| Tariff Code | 9505900000 |
| Tariff Description | Festive, carnival or other entertainment articles, including conjuring tricks and novelty jokes > Other |
| Product Weight | 53 g |
| Product Dimensions | 100 x 60cm |
Product Options
Made from
Paper
Colour
Snowflakes Red, Xmas Decorations
Print Theme
Stripes
Product Type
Personalised Wrapping Paper
Photo Wrapping Paper
Photo Gift Wrapping Paper
Christmas Wrapping Paper
Personalised Photo Christmas Wrapping Paper
(Striped Design) (Snowflakes red) 100cm x 60cm (70gsm) (Personalised with Text)
FGGIF002(STR)SREPPLI(R100x60)(P)
5056656371426
£12.99
53 g
100 x 60cm
Personalised Photo Christmas Wrapping Paper
(Striped Design) (Snowflakes red) 150cm x 60cm (70gsm) (Personalised with Text)
FGGIF002(STR)SREPPLI(R150x60)(P)
5056656371433
£14.99
75 g
150 x 60cm
Personalised Photo Christmas Wrapping Paper
(Striped Design) (Snowflakes red) 200cm x 60cm (70gsm) (Personalised with Text)
FGGIF002(STR)SREPPLI(R200x60)(P)
5056656371440
£19.99
100 g
200 x 60cm
Personalised Photo Christmas Wrapping Paper
(Striped Design) (Snowflakes red) 200cm x 75cm (70gsm) (Personalised with Text)
FGGIF002(STR)SREPPLI(R200x75)(P)
5056656371457
£29.99
230 g
200 x 75cm
Personalised Photo Christmas Wrapping Paper
(Striped Design) (Snowflakes red) 200cm x 100cm (70gsm) (Personalised with Text)
FGGIF002(STR)SREPPLI(R200x75)(P)
5056656371464
£34.99
250 g
200 x 100cm
Personalised Photo Christmas Wrapping Paper
(Striped Design) (Xmas Decorations) 100cm x 60cm (70gsm) (Personalised with Text)
FGGIF002(STR)XDEPPLI(R100x60)(P)
5056656371471
£12.99
53 g
100 x 60cm
Personalised Photo Christmas Wrapping Paper
(Striped Design) (Xmas Decorations) 150cm x 60cm (70gsm) (Personalised with Text)
FGGIF002(STR)XDEPPLI(R150x60)(P)
5056656371488
£14.99
75 g
150 x 60cm
Personalised Photo Christmas Wrapping Paper
(Striped Design) (Xmas Decorations) 200cm x 60cm (70gsm) (Personalised with Text)
FGGIF002(STR)XDEPPLI(R200x60)(P)
5056656371495
£19.99
100 g
200 x 60cm
Personalised Photo Christmas Wrapping Paper
(Striped Design) (Xmas Decorations) 200cm x 75cm (70gsm) (Personalised with Text)
FGGIF002(STR)XDEPPLI(R200x75)(P)
5056656371501
£29.99
230 g
200 x 75cm
Personalised Photo Christmas Wrapping Paper
(Striped Design) (Xmas Decorations) 200cm x 100cm (70gsm) (Personalised with Text)
FGGIF002(STR)XDEPPLI(R200x75)(P)
5056656371518
£34.99
250 g
200 x 100cm
Personalised Photo Christmas Wrapping Paper