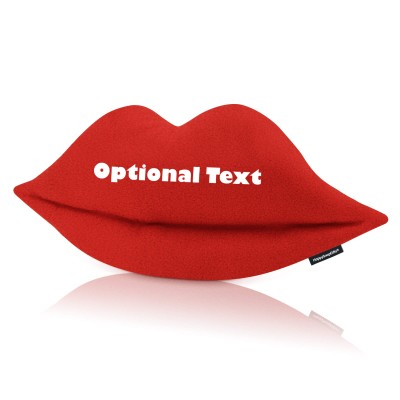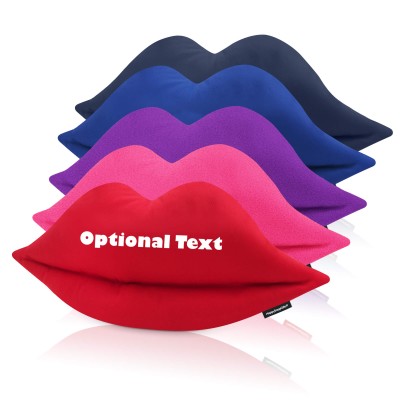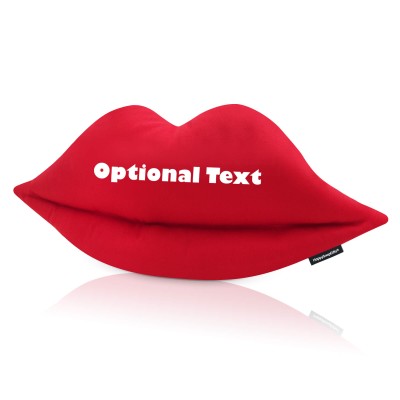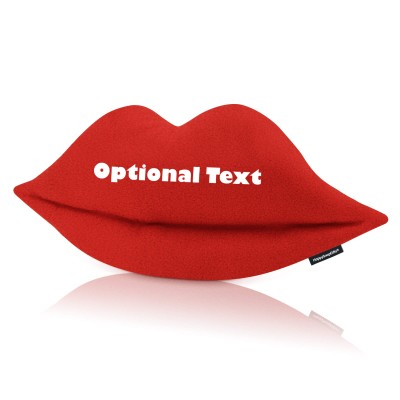 Personalised Hot Lips Cushion
UK Made
BS5852 : 1988
Hypo-Allergenic Filling
Description
Personalised Lip Cushions made to order in the UK from a variety of fabric and colour choices.
British-made.
Stunning fabric colours.
Larger size options.
Optional personalised text.
Filled with polyester fibre (BS8433).
Trsuted HappySnapGifts® brand.
Lip Cushions are a fun decoration for any bedroom or lounge but better still, how about personalising your lip cushion with the text of your choice for a great personalised gift.
These cushions have been carefully designed to resemble a stylish, yet classic pair of lips and they make for a wonderful novelty gift for birthdays, Valentine's Day and other special occasions.
We manufacture cushions in the UK and as such have a lot of fabric and colour choices to choose from and we hope you find one that will be perfect for the gift you have in mind. Each cushion is filled with our luxury spiral-twisted polyester fibre filling that is regulation compliant (BS5852) and also has the benefit of being hypo-allergenic.
Personalising your cushion is easy; simply select the colour you want the text to be created in and write in the words and symbols that you want. The text is pressed onto one side of the cushion as shown in the image on our website.
Reviews
Just what I was looking for
- I am very happy with this cushion, I bought it as a gift for a friends birthday and though I am yet to give it to her, I know that she will absolutely love it! Nice purchase and fast delivery too, a very satisfied customer here! :) (Nic, 13/06/20)
lips cushion
- the wife loves it (daryl smith, 29/05/20)
Directors Review of the Personalised Lip Cushion
- Great fun British Made cushions in the shape of a pair of lips, made to our usual high quality standard and personalised with text of your choice for a fun personalised gift... perhaps for Valentines Day or any time of year. (Michael Robinson)
FAQs
What type of Fibre is used to fill our cushion & pillow Products?
Generally speaking, we use a luxury, spiral twisted and smooth-coated polyester fibre (Lux.) to fill our cushion products. Normal fibre can become lumpy over time but ours will bounce back time and again and has the benefit of being Hypoallergenic.
Does the Lux. Fibre have a Fire Rating?
Yes. We buy our fibre only from a trusted UK source that has their fibre meet the Furniture (Fire) (Safety) Regulations (BS5852). We regularly obtain updated certificates to check the latest batches meet the current requirements.
What happens if the Lux. Fibre gets wet or is washed in the machine?
No harm will come to the polyester fibre in theory, getting it wet is inadvisable though don't panic, just dry it out normally at room temperature though don't put it in the dryer. We found on testing that if you do put the cushion in the washing machine, it will dry out ok though the tumbling in the washing machine tends to make the fibres all clump together and become less evenly spaced in the cushion.
Delivery
The information below is for guidance. Actual delivery costs and dates depend on the delivery address, weight and time your order is placed. Cut-off time for Overnight Orders is 12 noon.
| Price | Method | Manufacture Time | Delivery Time | Est. Delivery Date |
| --- | --- | --- | --- | --- |
| £4.99 | 2nd Class (Tracked) | 0-3 Days | 2-3 Days | Wed 13 Dec - Tue 19 Dec |
| £7.99 | 1st Class (Tracked) | 0-3 Days | 1-2 Days | Tue 12 Dec - Mon 18 Dec |
| £13.00 | DHL Courier (Economy M-F Pre 6pm) | 0-3 Days | 2-3 Days | Wed 13 Dec - Tue 19 Dec |
| £14.99 | Royal Mail Special Delivery (Overnight Mon-Sat Pre 1pm) | Monday | Next Day (Mon-Sat) | Tue 12 Dec |
More Information
| | |
| --- | --- |
| Despatch | Today (Cut off time 3pm) (0-3 Days if Personalised) or Upgrade at Checkout for Overnight Delivery |
| Brand | HappySnapGifts® |
| RRP | £17.99 |
| Country of Origin | United Kingdom |
| SKU | FGCUS007(L55x25)FLE-RED(P) |
| Gtin | 5056656340774 |
| Tariff Code | 9404909000 |
| Tariff Description | Cushion - Polyester Fibre Filled (Polyester Cover) |
| Product Weight | 185 g |
| Product Dimensions | 25 x 55 x 9cm |
Product Options
Filling
100% Polyester Fibre
Cushion Size
Regular (55cm x 25cm), Large (70cm x 30cm), XL (100cm x 45cm)
Fabric
Fleece
Fabric Colour
Red, Royal Blue, Purple, Hot Pink (Fuchsia), Navy Blue
Product Type
Cushion > Personalised Cushion
Cushion > Personalised Cushion > Lip Cushion
Personalised Name Cushion > Lip Cushion
Lip Cushion

Personalised Hot Lips Cushion
Regular (55cm x 25cm) - Red Fleece Fabric (Personalised with Text)
FGCUS007(L55x25)FLE-RED(P)
5056656340774
£17.99
185 g
25 x 55 x 9cm
Personalised Hot Lips Cushion
Large (70cm x 30cm) - Red Fleece Fabric (Personalised with Text)
FGCUS007(L70x30)FLE-RED(P)
5056656353804
£24.99
485 g
30 x 70 x 9cm
Personalised Hot Lips Cushion
XL (100cm x 45cm) - Red Fleece Fabric (Personalised with Text)
FGCUS007(L100x45)FLE-RED(P)
5056656353897
£44.99
685 g
45 x 100 x 10cm
Personalised Hot Lips Cushion
Regular (55cm x 25cm) - Navy Blue Fleece Fabric (Personalised with Text)
FGCUS007(L55x25)FLE-BNA(P)
5056656353811
£17.99
185 g
25 x 55 x 9cm
Personalised Hot Lips Cushion
Large (70cm x 30cm) - Navy Blue Fleece Fabric (Personalised with Text)
FGCUS007(L70x30)FLE-BNA(P)
5056656353828
£24.99
485 g
30 x 70 x 9cm
Personalised Hot Lips Cushion
XL (100cm x 45cm) - Navy Blue Fleece Fabric (Personalised with Text)
FGCUS007(L100x45)FLE-BNA(P)
5056656353903
£44.99
685 g
45 x 100 x 10cm
Personalised Hot Lips Cushion
Regular (55cm x 25cm) - Hot Pink (Fuchsia) Fleece Fabric (Personalised with Text)
FGCUS007(L55x25)FLE-PFU(P)
5056656353835
£17.99
185 g
25 x 55 x 9cm
Personalised Hot Lips Cushion
Large (70cm x 30cm) - Hot Pink (Fuchsia) Fleece Fabric (Personalised with Text)
FGCUS007(L70x30)FLE-PFU(P)
5056656353842
£24.99
485 g
30 x 70 x 9cm
Personalised Hot Lips Cushion
XL (100cm x 45cm) - Hot Pink (Fuchsia) Fleece Fabric (Personalised with Text)
FGCUS007(L100x45)FLE-PFU(P)
5056656353910
£44.99
685 g
45 x 100 x 10cm
Personalised Hot Lips Cushion
Regular (55cm x 25cm) - Purple Fleece Fabric (Personalised with Text)
FGCUS007(L55x25)FLE-PUR(P)
5056656353859
£17.99
185 g
25 x 55 x 9cm
Personalised Hot Lips Cushion
Large (70cm x 30cm) - Purple Fleece Fabric (Personalised with Text)
FGCUS007(L70x30)FLE-PUR(P)
5056656353866
£24.99
485 g
30 x 70 x 9cm
Personalised Hot Lips Cushion
XL (100cm x 45cm) - Purple Fleece Fabric (Personalised with Text)
FGCUS007(L100x45)FLE-PUR(P)
5056656353927
£44.99
685 g
45 x 100 x 10cm
Personalised Hot Lips Cushion
Regular (55cm x 25cm) - Royal Blue Fleece Fabric (Personalised with Text)
FGCUS007(L55x25)FLE-BRO(P)
5056656353873
£17.99
185 g
25 x 55 x 9cm
Personalised Hot Lips Cushion
Large (70cm x 30cm) - Royal Blue Fleece Fabric (Personalised with Text)
FGCUS007(L70x30)FLE-BRO(P)
5056656353880
£24.99
485 g
30 x 70 x 9cm
Personalised Hot Lips Cushion
XL (100cm x 45cm) - Royal Blue Fleece Fabric (Personalised with Text)
FGCUS007(L100x45)FLE-BRO(P)
5056656353934
£44.99
685 g
45 x 100 x 10cm
Personalised Hot Lips Cushion