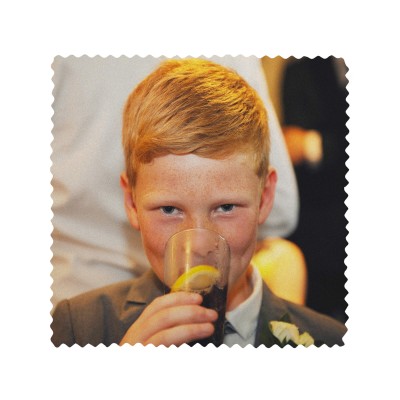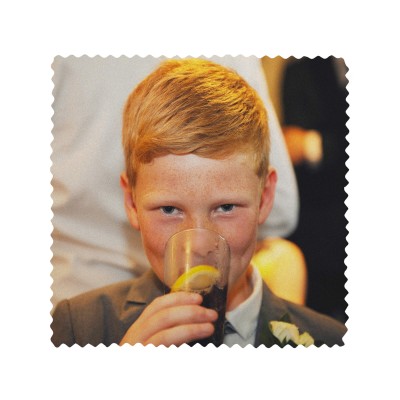 UK Made
Description
Glasses Cleaning Cloth is a UK Made Lens Cloth with the softest microfibre photo fabric and personalised with your own uploaded photo.
Glasses Cloths for cleaning Spectacles.
Luxury microfibre cloth for glasses and lenses.
Shape and Size options - Large and Small.
Personalise with photo upload.
Trusted HappySnapGifts® UK Made brand.
Glasses Cleaning Cloths and Lens Cloths are such a popular item for cleaning sunglasses, mobile phone screens, tablets and camera lenses and now we have a personalised version featuring your favourite photos on our luxury microfibre fabric. The fabric we use is pure polyester and has a super-soft side to it that is perfect for cleaning away the grease and smudge marks from glass and other such surfaces.
Each Glasses Lens Cloth is made to order here in the UK and we offer a range of shapes and sizes to suit every need including some larger size options.
Reviews
Great product
- Really pleased with my personalised cleaning cloth. Easy to create by uploading a photo, quick delivery and reasonable price. (Mrs R, 25/11/23)
Perfect gift
- Brilliant quality, good colour depth and picture definition, and the photo just came from a screen shot! Amazing! Perfect gift (Debster, 22/02/23)
Excellent
- The glasses cleaner/cloth are brilliant (Clare, 24/10/21)
Great stocking fillers
- Ordered glasses cleaning cloths then ordered more in different designs - different sizes to choose from and a quality product received - good picture quality. Easy to order and quick to despatch - thank you. (anonymous, 21/12/20)
Fantastic little gift
- I ordered two glasses cloths as little gifts and when I showed the family they were really impressed - so I ordered three more with different photos! These are great - really fast service and space when ordering for an instruction of portrait or landscape or whatever - really easy and really pleased! Thank you (anonymous, 21/12/20)
Fabulous Gifts
- I ordered two differently sized glasses clothes with different single photos on. I was so pleased with the end result I quickly ordered three more with different photos on each. I was really pleased with ALL of them - the quality product and the speed that each of the orders was fulfilled - great stocking fillers for the family. Thank you. (anonymous, 10/12/20)
Great gift for mum
- In lockdown we wanted to get something memorable for mum/grannie to open on her birthday. A photo lens cloth with the grand-kids on was my daughter's idea and this was easy to order and good quality product. Thank you! (James H, 25/05/20)
Bday present
- My frame really enjoyed the present (Sofia Santos, 01/04/20)
Excellent Christmas Present
- Take your favourite photo with you everywhere in your glasses case! Bought this for a friend's Christmas present and it didn't disappoint. It does exactly what it says on the tin! (TracyH, 01/02/20)
Hubbys birthday present
- Love these lens cloths, fantastic service from this company, email updates during process, very speedy delivery, but I rather stupidly ordered the tint sizes, I'm sure he will love them though and he will have a chuckle at my ineptitude! (anonymous)
Great gift
- Great photo quality and good price. Really glad I chose this site to order from. :) (Roberta)
Pet Gifts
- Always look for something wacky and surprising so ordered two of these with different photos of our pets. Easy to order and upload images, arrived quickly and are perfect for what I wanted. (Jon)
Great concept
- Ordered a few with photos of my husband and his friends taken on holidyas when they were 18 for their 50th birthdays. Quality of the photo I had wasn't great but came out as best as I expected. Only wish I had taken a bit more time to order as I didn't realise there were alternative sizes you could order. I got 10cmx10cm so they are around the size of a coaster so a bit small, and would have been better with the next size up of 15cmx15cm. I would definitely recommend and order again. (Terri)
Great lens cleaners
- Great service-quality product and speedy delivery! (Hayley Todd)
Great Lens Wipe
- Easy to place order on line and very quick delivery. Good quality product already in use (P HANHAM)
Excellent product
- Great product. Very happy with the result. Gave one to my Dad too and the was thrilled with it. (Yvonne)
My grandson is pleased with the glasses cloth
- The picture was clear on the glasses cleaning cloth and the cloth is good quality for the task of cleaning his glasses (Patrician Blyrh)
I love my photo lens cloth.
- Would definately recommend Happy Snap Gifts to friends and family. Brilliant speedy service and the product was excellent (Clare Grindal)
Directors Review of the Photo Lens Cloths
- I used a lens cloth on my phone and iPad at home so many times and we've been on the hunt for a fabric that we can use that is super-soft and takes the photo prints perfectly for a while. These Photo Lens Cloths really are very sift and, being made of pure polyester, should be great for cleaning your mobile phone screen, tablet, glasses and sun glasses and so many other glass based products. Great stocking fillers for Christmas too ! (Michael Robinson)
Instructions
Our products will have a sewn-in Care Label giving you guidance on Care and Washing this Product. In summary however, they will contain the following instructions though please do refer to the specific label on your individual item for latest information:
For 100% Cotton, 100% Polycotton & 100% Polyester Fabrics (eg Fleece).
CARELESSNESS CAUSES FIRE.
Remove outer cover if supplied before carefully cleaning.
Do not wash the inner filled product or get it wet.
Warm hand or machine wash and cold rinse.
Wash with like colours at max. 40 degree temperature.
Do not bleach.
1 spot iron (Cotton / Fleece) or 2 spot iron (Polycotton).
Do not tumble dry.
Delivery
The information below is for guidance. Actual delivery costs and dates depend on the delivery address, weight and time your order is placed. Cut-off time for Overnight Orders is 12 noon.
| Price | Method | Manufacture Time | Delivery Time | Est. Delivery Date |
| --- | --- | --- | --- | --- |
| £3.99 | 2nd Class (Tracked LL) | 0-3 Days | 2-3 Days | Wed 13 Dec - Tue 19 Dec |
| £5.99 | 1st Class (Tracked LL) | 0-3 Days | 1-2 Days | Tue 12 Dec - Mon 18 Dec |
| £12.93 | DHL Courier (Economy M-F Pre 6pm) | 0-3 Days | 2-3 Days | Wed 13 Dec - Tue 19 Dec |
| £14.99 | Royal Mail Special Delivery (Overnight Mon-Sat Pre 1pm) | Today | Next Day (Mon-Sat) | Mon 11 Dec |
More Information
| | |
| --- | --- |
| Despatch | 0-3 Days (to Personalise) or Upgrade at Checkout for Overnight Delivery |
| Brand | HappySnapGifts® |
| RRP | £5.99 |
| Country of Origin | United Kingdom |
| SKU | FGLEN001(S15)PLP(Ph1)(P) |
| Gtin | 5060089254881 |
| Tariff Code | 6307109090 |
| Tariff Description | Floorcloths, dishcloths, dusters and similar cleaning cloths |
| Product Weight | 7 g |
| Product Dimensions | 15 x 15cm |
Product Options
Size
Square 15cm, Heart 15cm, Rectangle 15cm, Square 20cm, Heart 20cm, Rectangle 20cm
Photos to Print
Photos to Front
Fabric
Polyester
Fabric Colour (Before Printing)
White
Product Type
Glasses Cleaning Cloths
microfiber cloth for glasses
personalised glasses cleaning cloth
glasses cloth
lens cloth

Glasses Cleaning Cloth
- Square (15cm) Polyester (Personalised with Text)
FGLEN001(S15)PLP(Ph1)(P)
5060089254881
£5.99
7 g
15 x 15cm
Glasses Cleaning Cloth
- Heart Shaped (15cm) Polyester (Personalised with Text)
FGLEN001(H15)PLP(Ph1)(P)
5056656305445
£5.99
7 g
15 x 15cm
Glasses Cleaning Cloth
- Rectangle (15cm x 10cm) Polyester (Personalised with Text)
FGLEN001(R15x10)PLP(Ph1)(P)
5056656305452
£5.99
7 g
10 x 15cm
Glasses Cleaning Cloth
- Square (20cm) Polyester (Personalised with Text)
FGLEN001(S20)PLP(Ph1)(P)
5056656305469
£5.99
9 g
20 x 20cm
Glasses Cleaning Cloth
- Heart Shaped (20cm) Polyester (Personalised with Text)
FGLEN001(H20)PLP(Ph1)(P)
5056656305476
£5.99
9 g
20 x 20cm
Glasses Cleaning Cloth
- Rectangle (20cm x 15cm) Polyester (Personalised with Text)
FGLEN001(R20x15)PLP(Ph1)(P)
5056656305483
£5.99
9 g
15 x 20cm
Photos & Artwork
Have your photos ready as they need to be uploaded before you pay for your order.
Loading photos on HappySnapGifts®
Select your Products & Add to Cart.
You will be presented with a screen to upload the correct number of photos for each item in the cart OR Continue Shopping to add other products.
"Personalise Here" for the 1st product & upload photos.
TOP TIP Drag your photos into the order you want them to appear on the product.
Add any Personalised Text.
"Save and Continue".
Personalise other items in the cart and "Complete Order"
Can I pay now and upload later?
No. Our system is set to be fail-safe and ensure you can only order if you have completed all the photo uploading to complete your product.
Can I place the photo's in a certain order?
Yes. You will be presented with a "mock-up" of your product which will have the corresponding numbers of where the photos will be placed. If your item has say 6 photo's to upload then upload them all, then if needed, drag them into a different order to correspond with the mini-mock-up image presented. Only click to submit and pay when you are ready as we will use these images in the right order for your order.
Can I see a preview of my product?
Not yet. We ask you to upload the photos and drag them into the right order on the system to match the mock-up you will see. At a later date, very soon we hope, you will be able to click and upload in the right position and see a preview at the same time as you build the product ready to order. This will be ready as we say as soon as we can so our best advice is to take care and re-order your product photo's before confirming your order. It's really very easy - give it a go and you will see.
Image Quality
Replication of your photo is to the best standard possible though we do not edit or alter image quality before we print. Send us the very best "in-focus" and well-lit image and to the largest size possible and you will be amazed at the incredible detail. Send us fuzzy, old or out-of-focus images and these will be replicated in detail without editing so you will get a product as good as the images you send. Most new mobile phones produce great quality images though where we usually have problems is where we receive a scan of a very old photo or a pixellated image that was so small when it was taken (perhaps on early 1990's style phones) that we have to enlarge to fit onto a relatively large product.
Luxury Photo Fabric
We use a luxury photo fabric for our photo-printed fabric products. The print method we use is the latest state-of-the-art dye-sublimation process and the inks we use will not run; the image is actually dyed into the fabric itself.
Glasses Cleaning Cloth