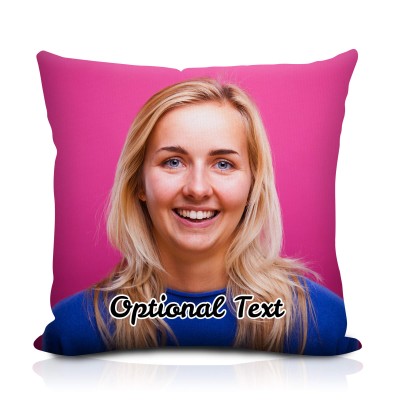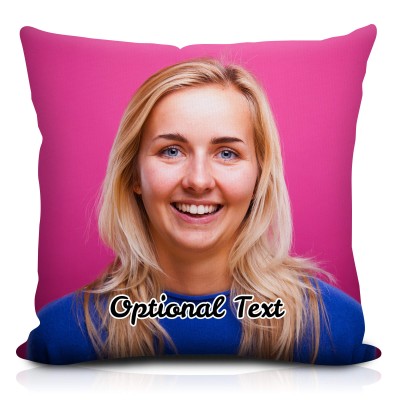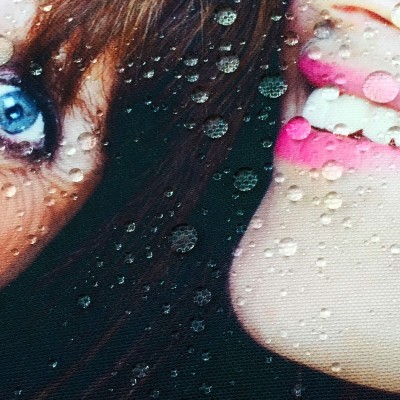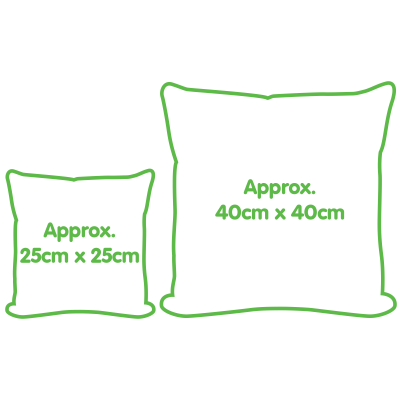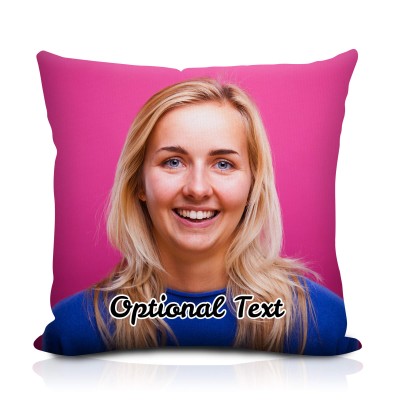 Water Resistant Photo Cushion
UK Made
BS5852 : 1988
Hypo-Allergenic Filling
Description
Water Repellent Photo Cushions, British Made, Size & Shape Options and a wonderful photo gift that can be used indoors as well as outside without the worry of the cushion getting wet.
Luxury Water Repellent Photo Cushion.
Your photo printed to both sides.
Many size and shape options.
BS5852 approved polyester fibre filling.
Hypo-allergenic filling.
Trusted HappySnapGifts® brand.
Our YouTube video shows just how water-resistant this photo cushion is.
Photo Cushions are one of our most popular photo gifts and these Water Repellent Photo Cushions take the product to the next level of quality and diversity of use.
Being water repellent, the fabric ensures that if the cushions get wet, whether this be from spilt drinks, or from being used outdoors at a BBQ, on your boat or out camping, no harm will come to the cushion, how it looks or the quality of the photo that we have printed into the fabric itself.
The water-repellent photo fabric is really very soft and has a silky matt finish to it so the cushions can be used indoors at home and certainly don't feel like an outdoor product.
We print your photo as standard to both sides of the photo cushion all within the same price. We have to use the water repellent fabric on both sides for obvious reasons so we can offer you the choice of the same photo on the reverse, or even a totally different image if you prefer.
Water Repellent Photo Cushions are made to our premium quality standard and use our fire safety-approved hypo-allergenic polyester fibre as the filling.
Reviews
Dogs
- Very well presented lovely fabric (Leonie Richards , 13/04/22)
Waterproof Cushions for my Friends
- Really, really happy with these gifts for my friends at Christmas. I am sure they will be delighted. (Tracey Hedges, 18/12/20)
Water resistant cushions
- I have ordered loads of these cushions for myself and for presents for family & friends. The quality never fails. They are superb. Thank you (Julia McQuigg, 01/09/20)
Waterproof personalised cushion
- Bought for my cousins birthday to go in her newly refurbished garden with her and her new husbands pictures on. Spur of the moment present idea but arrived promptly, was easy to organise/ produce and looked/ felt amazing. (Jo, 16/07/20)
Cushions
- This must be my 4th order of outdoor cushions for myself and friends. Probably now had 15 in total. All created from my own flower photographs. I am a professional photographer and send in high quality and high resolution images ( which is key), so I am keen that they are reproduced accurately. I have read reviews that state that photos were not reproduced well on items. I suggest this is because a low quality image was submitted originally. You need to create and send an image of 300dpi and at least the size the resultant item is going to be.My friends and I are absolutely thrilled with the results. Colour reproduction is spot on and the clarity superb. We had a tight deadline to meet for one order, and they went above and beyond to meet this and did. 5 stars from us. THANK YOU (Julia McQuigg, 10/07/20)
Great Cushions
- Easy to order and upload photos to use on waterproof cushions. Contacted customer service and query was dealt with swiftly and efficiently. Would recommend, arrived within specified delivery time, good quality. Very pleased with my purchases. (Chips, 01/07/20)
Great Cushions
- Easy to order and upload photos, arrived quickly and quality of cushions was good. (Chips, 18/06/20)
Eye catching cushions
- Website easy to use, fast delivery, good quality cushions (Chips, 11/06/20)
Photo cushion
- Love them, going to get lots more (Julia, 25/05/20)
Absolutely perfect
- When this came in I was pleasantly surprised as they are brilliant. The photos came through really well and I am very happy with it (Will, 21/05/20)
Water resistant photo cushion
- I bought this for my daughter's birthday and she absolutely loves it. Good quality and lovely colours. (anonymous, 12/05/20)
Fab present
- Good quality cushion and photos came out clearly and centred. Have already ordered a second cushion for another present. Would order again. Bought 40x40 square size (Sally E, 04/05/20)
Secret Santa gift!
- The cushion looks fab can't wait to see his face when he unwraps it! Thanks so much !!! (Karen F)
My husband loves his Father's Day cushion present
- Great cushion and really good value for money. Very quick delivery too. (Lara)
My husband loves his cushion
- My husband wanted a travel cushion for resting his head for sunbathing! The option of having material compatible with the outdoors is perfect. The colour and the clarity of the pictures came out really well. The cushion has been well stitched. Good speedy service. (Kate)
Man Cave
- Bought cushion for husband with photo of his best mate, the dog. Very easy ordering process! Cushion small( but dimensions are on the website) Nice clear pictures and very speedy delivery (JOH)
Loved it!
- I got this as a Christmas present for a good friend and she loved it. Would definitely recommend purchasing this item. (Chrissy)
Good quality cushion
- I ordered 2 cushions for my nieces for Christmas, with family photos. Good guality prints and very clear. I would recommend your website to a friend. (Jackie)
Fantastic cushions
- I had my photos put onto 3 cushions and wow they all look fantastic. The photos are really sharp and the colours are perfect. I know my family will be extremley pleased to open these at christmas (MaggyA)
ordered for an early for a xmas present!
- nice quality, very helpful and prompt service. (linda)
Directors Review of the Water Resistant Photo Cushions
- The fabric we have sourced to make these water resistant photo cushions is amazing; it's super soft with a silky matt coating and totally repels water so will be great to use both indoors and outdoors. I tested these cushions personally and ran a hose-pipe over them outside and the water just bounced off so you can rest assured these cushions will be a great photo gift. (Michael Robinson)
FAQs
Do these photo cushions really repel water ?
Yes. We use specially coated, super soft fabric for your photo on both sides of the cushion and water literally runs off the surface.
Are these cushions suitable for indoor and outdoor use ?
Yes. The fabric is so soft that they would be great in any home or office, and as they repel water, they can be taken outdoors without risk of them soaking water.
Can they be left outdoors permenantly ?
We don't know how the fabric will perform outdoors for the longer term so suggest keeping the cushions indoors when not in use, though rest assured they repel water.
Are these photo cushions waterproof ?
No. Full waterproofing would require us to seal the sewing seams from the inside and this would add too much cost to the cushions so we feel full water repellancy would be a good compromise.
Will the fibre be damaged inside if they get really soaked ?
No. The inner polyester fibre filling won't come to any harm if it did on the off-chance get wet through the seams. Simply allow it to dry out of the rain.
Delivery
The information below is for guidance. Actual delivery costs and dates depend on the delivery address, weight and time your order is placed. Cut-off time for Overnight Orders is 12 noon.
| Price | Method | Manufacture Time | Delivery Time | Est. Delivery Date |
| --- | --- | --- | --- | --- |
| £4.99 | 2nd Class (Tracked) | 0-3 Days | 2-3 Days | Mon 4 Dec - Fri 8 Dec |
| £7.99 | 1st Class (Tracked) | 0-3 Days | 1-2 Days | Fri 1 Dec - Thu 7 Dec |
| £12.97 | DHL Courier (Economy M-F Pre 6pm) | 0-3 Days | 2-3 Days | Mon 4 Dec - Fri 8 Dec |
| £14.99 | Royal Mail Special Delivery (Overnight Mon-Sat Pre 1pm) | Today | Next Day (Mon-Sat) | Fri 1 Dec |
More Information
| | |
| --- | --- |
| Despatch | 0-3 Days (to Personalise) or Upgrade at Checkout for Overnight Delivery |
| Brand | HappySnapGifts® |
| Country of Origin | United Kingdom |
| SKU | FGCUS009(S25)PWR-P(Ph1)(PhB1)(P) |
| Gtin | 5056656340682 |
| Tariff Code | 9404909000 |
| Tariff Description | Cushion - Polyester Fibre Filled (Polyester Cover) |
| Product Weight | 141 g |
| Product Dimensions | 25 x 25 x 7cm |
Product Options
Filling
100% Polyester Fibre
Shape & Size
25cm Square, 40cm Square , 40cm Circle, 40cm Heart, 36cm x 25cm, 57cm x 40cm
Photo Print Choice
Photos to Front & Back
Fabric
Water Resistant Polyester
Product Type
Cushion > Photo Cushions
Personalised Gifts > Photo Gifts
Photo Cushions > Personalised Photo Cushions
Photo Cushions > Water Resistant Photo Cushions

Water Resistant Photo Cushion
(25cm Square) Water Resistant Polyester Fabric (Personalised with Text)
FGCUS009(S25)PWR-P(Ph1)(PhB1)(P)
5056656340682
£14.99
141 g
25 x 25 x 7cm
Water Resistant Photo Cushion
(40cm Square) Water Resistant Polyester Fabric (Personalised with Text)
FGCUS009(S40)PWR-P(Ph1)(PhB1)(P)
5056656347100
£19.99
401 g
40 x 40 x 12cm
Water Resistant Photo Cushion
(40cm Circle) Water Resistant Polyester Fabric (Personalised with Text)
FGCUS009(C40)PWR-P(Ph1)(PhB1)(P)
5056656347117
£19.99
351 g
40 x 40 x 10cm
Water Resistant Photo Cushion
(40cm Heart) Water Resistant Polyester Fabric (Personalised with Text)
FGCUS009(H40)PWR-P(Ph1)(PhB1)(P)
5056656347124
£19.99
351 g
40 x 40 x 10cm
Water Resistant Photo Cushion
(36cm) Water Resistant Polyester Fabric (Personalised with Text)
FGCUS009(R36x25)PWR-P(Ph1)(PhB1)(P)
5056656347131
£14.99
251 g
25 x 36 x 11cm
Water Resistant Photo Cushion
(57cm x 40cm) Water Resistant Polyester Fabric (Personalised with Text)
FGCUS009(R57x40)PWR-P(Ph1)(PhB1)(P)
5056656347148
£29.99
601 g
40 x 57 x 16cm
Photos & Artwork
Have your photos ready as they need to be uploaded before you pay for your order.
Loading photos on HappySnapGifts®
Select your Products & Add to Cart.
You will be presented with a screen to upload the correct number of photos for each item in the cart OR Continue Shopping to add other products.
"Personalise Here" for the 1st product & upload photos.
TOP TIP Drag your photos into the order you want them to appear on the product.
Add any Personalised Text.
"Save and Continue".
Personalise other items in the cart and "Complete Order"
Can I pay now and upload later?
No. Our system is set to be fail-safe and ensure you can only order if you have completed all the photo uploading to complete your product.
Can I place the photo's in a certain order?
Yes. You will be presented with a "mock-up" of your product which will have the corresponding numbers of where the photos will be placed. If your item has say 6 photo's to upload then upload them all, then if needed, drag them into a different order to correspond with the mini-mock-up image presented. Only click to submit and pay when you are ready as we will use these images in the right order for your order.
Can I see a preview of my product?
Not yet. We ask you to upload the photos and drag them into the right order on the system to match the mock-up you will see. At a later date, very soon we hope, you will be able to click and upload in the right position and see a preview at the same time as you build the product ready to order. This will be ready as we say as soon as we can so our best advice is to take care and re-order your product photo's before confirming your order. It's really very easy - give it a go and you will see.
Image Quality
Replication of your photo is to the best standard possible though we do not edit or alter image quality before we print. Send us the very best "in-focus" and well-lit image and to the largest size possible and you will be amazed at the incredible detail. Send us fuzzy, old or out-of-focus images and these will be replicated in detail without editing so you will get a product as good as the images you send. Most new mobile phones produce great quality images though where we usually have problems is where we receive a scan of a very old photo or a pixellated image that was so small when it was taken (perhaps on early 1990's style phones) that we have to enlarge to fit onto a relatively large product.
Luxury Photo Fabric
We use a luxury photo fabric for our photo-printed fabric products. The print method we use is the latest state-of-the-art dye-sublimation process and the inks we use will not run; the image is actually dyed into the fabric itself.
Can Photos be printed on both sides of this product?
This product has the option of having your photos printed to both sides of the product and you will be presented with the photo upload options when placing the order. You will also be able to tell us which photo is to be placed on which of the sides using the upload template.
Water Resistant Photo Cushion