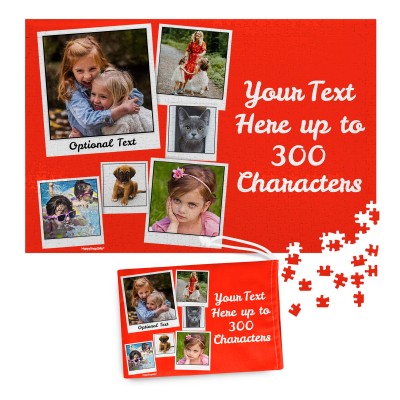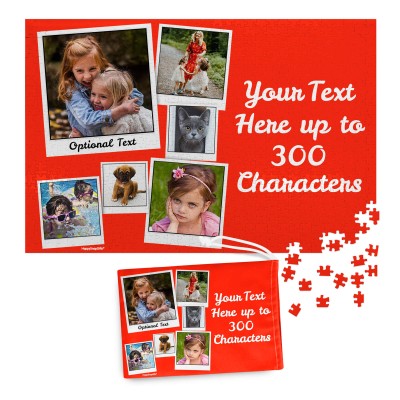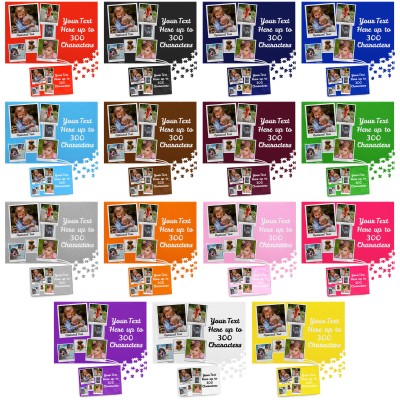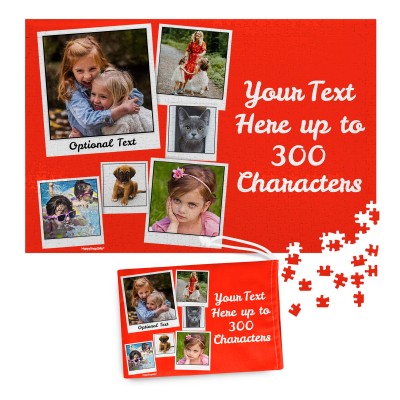 Description
Photo Jigsaw Puzzle with Polaroid Style Theme, stunning background colour choices and a free luxury photo printed gift bag for your personalised jigsaw.
UK Printed Photo Jigsaw Puzzle.
Luxury Gift Bag with matching Photo Print.
Collage of Polaroid style prints.
Personalise the main photo.
Personalised text with space for hundreds of characters.
Trusted HappySnapGifts® brand.
Reviews
FAQs
General Jigsaw Care
Please take great care taking your jigsaw apart after completing it in order to not tear the top glossy print off the card backing. We recommend storing your puzzle in the drawstring bag so you don't lose any pieces.
Delivery
The information below is for guidance. Actual delivery costs and dates depend on the delivery address, weight and time your order is placed. Cut-off time for Overnight Orders is 12 noon.
| Price | Method | Manufacture Time | Delivery Time | Est. Delivery Date |
| --- | --- | --- | --- | --- |
| £4.99 | 2nd Class (Tracked) | 0-3 Days | 2-3 Days | Mon 4 Dec - Fri 8 Dec |
| £7.99 | 1st Class (Tracked) | 0-3 Days | 1-2 Days | Fri 1 Dec - Thu 7 Dec |
| £13.02 | DHL Courier (Economy M-F Pre 6pm) | 0-3 Days | 2-3 Days | Mon 4 Dec - Fri 8 Dec |
| £14.99 | Royal Mail Special Delivery (Overnight Mon-Sat Pre 1pm) | Today | Next Day (Mon-Sat) | Fri 1 Dec |
More Information
| | |
| --- | --- |
| Despatch | 0-3 Days (to Personalise) or Upgrade at Checkout for Overnight Delivery |
| Brand | HappySnapGifts® |
| RRP | £24.99 |
| Country of Origin | United Kingdom |
| SKU | FGJIG002(Th2)REDP(PhF6)(P)+BAG |
| Gtin | 5060089255239 |
| Tariff Code | 9503006900 |
| Tariff Description | Misc Manufactured Articles Puzzles Other (Jigsaw Puzzle) |
| Product Weight | 223 g |
| Product Dimensions | 28 x 19cm |
Product Options
Size
300 Pieces
Photos to Print
Photos to Front
Fabric
Polyester - Non Fabric
Theme Colour
Red, Black, Navy Blue, Royal Blue, Sky Blue, Brown, Burgundy, Bright Green, Grey, Burnt Orange, Baby Pink, Hot Pink (Fuchsia), Purple, White, Yellow
Special Offer Products
Drawstring Bag with Print
Print Theme
Polaroid Style Photo Print
Product Type
Jigsaw Puzzle - Personalised
photo jigsaw puzzle
personalised jigsaw
photo collage jigsaw

Photo Jigsaw
300 Pieces (Polaroid Style Photo Print) Red (Personalised with Text) & Matching Drawstring Gift Bag
FGJIG002(Th2)REDP(PhF6)(P)+BAG
5060089255239
£24.99
223 g
28 x 19cm
Photo Jigsaw
300 Pieces (Polaroid Style Photo Print) Black (Personalised with Text) & Matching Drawstring Gift Bag
FGJIG002(Th2)BLAP(PhF6)(P)+BAG
5056656315758
£24.99
223 g
28 x 19cm
Photo Jigsaw
300 Pieces (Polaroid Style Photo Print) Navy Blue (Personalised with Text) & Matching Drawstring Gift Bag
FGJIG002(Th2)BNAP(PhF6)(P)+BAG
5056656315499
£24.99
223 g
28 x 19cm
Photo Jigsaw
300 Pieces (Polaroid Style Photo Print) Royal Blue (Personalised with Text) & Matching Drawstring Gift Bag
FGJIG002(Th2)BROP(PhF6)(P)+BAG
5056656315529
£24.99
223 g
28 x 19cm
Photo Jigsaw
300 Pieces (Polaroid Style Photo Print) Sky Blue (Personalised with Text) & Matching Drawstring Gift Bag
FGJIG002(Th2)BSKP(PhF6)(P)+BAG
5056656315550
£24.99
223 g
28 x 19cm
Photo Jigsaw
300 Pieces (Polaroid Style Photo Print) Brown (Personalised with Text) & Matching Drawstring Gift Bag
FGJIG002(Th2)BRWP(PhF6)(P)+BAG
5056656315574
£24.99
223 g
28 x 19cm
Photo Jigsaw
300 Pieces (Polaroid Style Photo Print) Burgundy (Personalised with Text) & Matching Drawstring Gift Bag
FGJIG002(Th2)BURP(PhF6)(P)+BAG
5056656315598
£24.99
223 g
28 x 19cm
Photo Jigsaw
300 Pieces (Polaroid Style Photo Print) Bright Green (Personalised with Text) & Matching Drawstring Gift Bag
FGJIG002(Th2)GBRP(PhF6)(P)+BAG
5056656315628
£24.99
223 g
28 x 19cm
Photo Jigsaw
300 Pieces (Polaroid Style Photo Print) Grey (Personalised with Text) & Matching Drawstring Gift Bag
FGJIG002(Th2)GRYP(PhF6)(P)+BAG
5056656315659
£24.99
223 g
28 x 19cm
Photo Jigsaw
300 Pieces (Polaroid Style Photo Print) Burnt Orange (Personalised with Text) & Matching Drawstring Gift Bag
FGJIG002(Th2)ORAP(PhF6)(P)+BAG
5056656315680
£24.99
223 g
28 x 19cm
Photo Jigsaw
300 Pieces (Polaroid Style Photo Print) Baby Pink (Personalised with Text) & Matching Drawstring Gift Bag
FGJIG002(Th2)PBAP(PhF6)(P)+BAG
5056656315710
£24.99
223 g
28 x 19cm
Photo Jigsaw
300 Pieces (Polaroid Style Photo Print) Hot Pink (Fuchsia) (Personalised with Text) & Matching Drawstring Gift Bag
FGJIG002(Th2)PFUP(PhF6)(P)+BAG
5056656315734
£24.99
223 g
28 x 19cm
Photo Jigsaw
300 Pieces (Polaroid Style Photo Print) Purple (Personalised with Text) & Matching Drawstring Gift Bag
FGJIG002(Th2)PURP(PhF6)(P)+BAG
5056656315475
£24.99
223 g
28 x 19cm
Photo Jigsaw
300 Pieces (Polaroid Style Photo Print) White (Personalised with Text) & Matching Drawstring Gift Bag
FGJIG002(Th2)WHIP(PhF6)(P)+BAG
5056656315505
£24.99
223 g
28 x 19cm
Photo Jigsaw
300 Pieces (Polaroid Style Photo Print) Yellow (Personalised with Text) & Matching Drawstring Gift Bag
FGJIG002(Th2)YELP(PhF6)(P)+BAG
5056656315536
£24.99
223 g
28 x 19cm
Photo Jigsaw