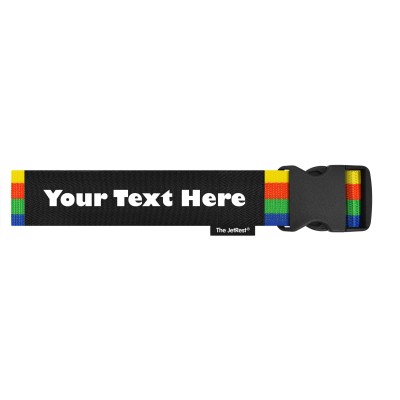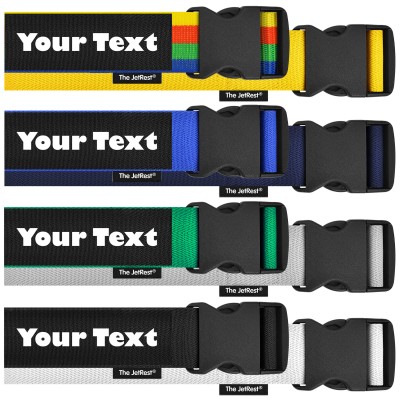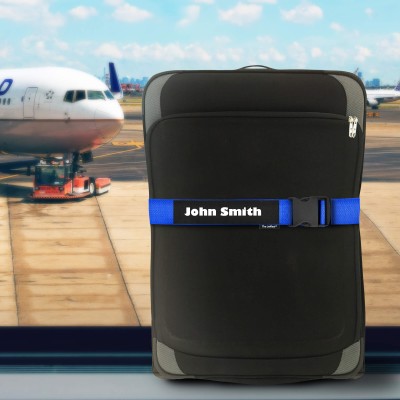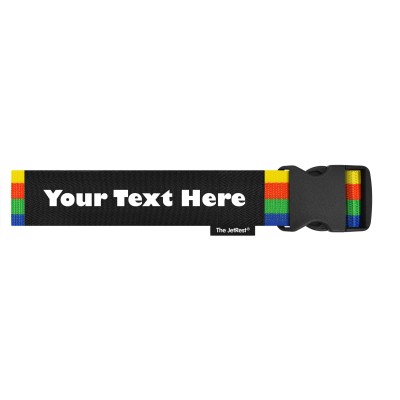 Personalised Luggage Straps (UK Made Suitcase Straps)
UK Made
Description
Personalised Luggage Straps with colour options made to order in the UK and printed with your name or slogan of your choice.
Personalise your strap with text and characters.
Wide variety of striking colours.
Robust suitcase strap buckle and clasp design.
Size options from 180cm..
Optional longer lengths.
Trusted JetRest® brand.
Manufactured in our factory in Britain, these suitcase straps come personalised with a name of your choosing and are pressed in a super bold font for easy spotting at the carousel. Simplify your airport experience with our lovely British-made straps.
We offer our straps in a 180cm length as standard, though you can actually choose to have your strap up to 300cm in length, for those who have super size luggage. As we manufacture these to order, you can create a strap that is exactly to your specification.
Mix-and-match text colour and strap colour for a truly unique gift idea. Personalised Luggage Straps make for a great gift for frequent flyers, as it gives them that much needed peace of mind that their luggage will be secure during transit.
Reviews
Bee's Knees!
- These really are the 'Bee's Knees' of case identification straps. Ideal presents for friends, given with confidence as my own have easily survived 12 holiday-trips already, with 'bags' more life in them! Easily washable in the washing machine if necessary [in a laundry net bag] to bring them back sparkling. A truly great product. (Travelling_Man, 02/08/23)
Easy to pick out
- Great to be able to personalise the colour and the text of the straps. It made our luggage instantly recognisable on a very busy luggage belt. (David Sandy, 28/07/23)
Luggage strap
- Really pleased with our personalised luggage straps . It was so easy to see our luggage at the airport. Very fast delivery too ! (Val W, 27/06/23)
Mr
- Great product, great service, will buy again (Iwan Rees, 14/06/23)
strap
- the strap is great success, as it was a gift they are pleased with it. it came on time as by email. (bobcox, 11/06/23)
Brilliant!
- Arrived very quickly. Strong, durable and the colours make it easy to recognise my case Will recommend (Tessa, 21/04/23)
Suitcase trap
- I have used this luggage strap several times now and it is robust and really stands out on the luggage carousel. Very happy with this purchase. (Keith F, 15/03/23)
Personalised Luggage Strap
- Excellent. Sturdy and does the job perfectly. Just what we wanted! (Damper, 24/10/22)
Strap
- The mutts nutts (David Hollins, 16/09/22)
Good buy
- Really pleased with my purchase. So easy to identify case (Sue, 29/07/22)
Excellent in every way
- I've done four EU trips this year so far with my rainbow strap. It's absolutely the "bee's knees" when identifying the arrival of my case on the carousel from way across the baggage hall, especially as so many seem to have used my idea of buying a grey IT suitcase! With the stand-out, durable white text and bright colours, it's not going to get confused with anybody else's. The clasp clicks VERY confidently into place so it's never going to come undone by accident. This is a first-rate bit of must-have kit : buy with confidence - and treat family and friends while you're ordering! (Travelling_Man, 20/03/22)
Jetrest
- Using them for the first time today . Perfect. Thanks (Pippa Field, 14/02/22)
Luggage straps
- We're bought as a Christmas gift so haven't been used yet but they were delighted to receive them.would highly recommend excellent quality. (Susan gibson, 31/12/21)
Luggage straps
- Good sturdy straps that were easily identifiable from a distance. This made life easier this year as luggage does seem to become one large black or blue stream at reclaim. (Priddyd, 11/10/21)
Good quality and prompt delivery
- I like the straps. The font is clear and it'll makes my bag stand out. (Traveller, 25/08/21)
Luggage straps
- I bought Mr & Mrs luggage straps for part of my daughter and son in laws wedding gift of suitcases. They came in a few days and were exactly as stated. Good quality , bright and sturdy. They were delighted with them and can't wait to travel to use the, fir their honeymoon! (Gleneagles50, 18/07/21)
Suitcase strap
- Good and strong. Delivered on time. (I BEAVER, 02/01/21)
Great!
- Absolutely love these personalised luggage straps! Have several myself and often get them for friends as a cool personalised gift! They are super durable and it's great that you can see your suitcases coming around the conveyor belt from miles away! Highly recommend them :) XXX F (Fiona Von Schenk, 23/12/20)
Personalised strap
- Bought for my grandson wo absolutely loves it. Well made, good quality (Chrissie , 15/10/20)
Fab Straps
- I use luggage straps for my work as a Postural Alignment Specialist. These luggage straps are fantastic as I can put my tel no on them, then my clients can never forget me! (Caroline , 11/10/20)
Excellent
- These personised luggage straps are excellent value for money and very well made. (Steve, 27/08/20)
Useful strap.
- Not been able to use it yet due to current conditions but I have another that I bought erlier and used, it was very useful, effective, and easy to identify. (colinp, 15/08/20)
Kim
- I've bought these before but nice to now have a personalised one. Sturdy and do the job well. (Kim, 10/06/20)
Dave H
- Easy to negotiate website. Excellent quality products Easy to fit and really durable Speedy dispatch. Would thoroughly recommend Sincerley Dave H (Dave H, 09/06/20)
JACKIE FISCH
- FIVE STARS X MORE (JACKIE FISCH, 09/06/20)
Merry
- Great strong belt. Nicely done. Very pleased. (Merry, 09/06/20)
Merry
- Great strong belt. Nicely done. Very pleased. (Merry, 09/06/20)
Angela
- We toured Australia for a month on an escorted tour with 7 internal flights. It was so easy to instantly pick out our cases due to the straps. It was reassuring to know that the strap gave our cases an extra bit of protection as they were handled so much in hotels as well as at the airports. Highly recommended. (Angela, 08/06/20)
Ellen
- Love this product. Nice colours and easy to recognise bags/suitcases. Great quality straps! (Ellen, 06/06/20)
deniseluggage straps
- Very useful, and so easy to find your own case when traveling. Easy to fit and they stay put. (deniseluggage straps, 05/06/20)
Luggage Strap
- Bought as a Secret Santa present and the recipient was over the moon with it as she has 2 trips abroad this year. (Alan Raines)
Just the thing.
- Waiting at the carousel. Is that my case? Struggling to the front, only to find out it isn't. No more. Now we have our brightly coloured straps bearing out name in large letters. (Phil Walker)
luggage straps
- Look good. Should be much easier to locate our suitcases from now on (Phil)
Happy!
- Two personalised luggage straps purchased ready for our first cruise , delighted with them thank you xx (Lynn Essex)
Excellent
- Just what we expected - first class product (Alan Ormerod)
Luggage Straps
- I ordered the personalised luggage straps and received regular emails advising me of progress. The straps arrived promptly and are exactly as described. Having our name added really makes the straps stand out and they look brilliant on our luggage. Very happy indeed. Would definitely recommend these items. (Fran W)
Excellent item
- Very pleased with my luggage strap and the travel pillow I ordered with it. Very quick delivery. (Suzanne)
Great luggage strap
- Excellent luggage strap, makes my bag easily identifiable, great as a gift too. (Goose)
Excellent quality
- We ordered these for a big holiday we have coming up to allow us extra security for our cases and also make it easier to identify our luggage quickly. Fantastic quality and easy to use. Highly recommend. (Sandra King)
Great product great service
- Extremely pleased with our luggage straps in BRIGHT YELLOW with our name will be great to identify on the carousel. We were even more impressed with the very quick no quibble service in supplying replacement straps when the original ones had a spelling mistake. Very pleased with this company here in the North of England and have no hesitation in recommending. (Alan)
Great Luggage Straps
- My yellow Personalised Luggage straps are amazing - no more trying to work out which are our cases. Fast and efficient services - highly recommend. (Vicky)
Daughter very pleased
- Just what my daughter wanted. Already have them for my wife and I and work well. Thanks (anonymous)
Handy
- Bought suitcase straps so we can identify our cases from all the other black ones on the carosel,. Good size print, no one should mistake our cases for theirs and we will spot ours quicker (Elaine)
Travel made easier at the airport
- The luggage straps are strong and colourful making identification on the airport carousel more easy as my cases are black also with our family name added is a further point of ID. (Susan Joyce)
My wife loved the luggage strap.
- A personalised luggage strap was just the extra thing to add to the new luggage my wife wanted. Quick delivery and great quality. Thank you JetRest. (Nigel)
See my case.
- I've used a personalised luggage strap for years and find it really useful to spot my case on luggage carousels.When I came to collect my case from Heathrow recently the strap was missing so I searched on line and found JetRest. I haven't used it yet but it looks much more substantial than the last one and am sure it will serve me well on future travels. (Mike Kempton)
Great product
- It's my second order in four years. Ordered in a different colour just recently and I'm more than happy with my purchases. Arrived about 5 days after ordering. Good strong sturdy straps that have been on about ten trips all in all. Would definitely recommend ???????? (Emilion)
PERSONALISED LUGGAGE STRAPS
- WE BOUGHT THESE STRAPS SOME YEARS AGO AND HAVE BEEN ALL AROUND THE WORLD, BEING HANDLED DRAGGED & THROWN IN ALL WEATHERS AND LOOK AS GOOD AS THEY DID THE DAY WE GOT THEM. VERY STRONG CLASPS & VERY WELL MADE. WE HAVE JUST BOUGHT NEW AS OUR CASES WHERE LOST IN THE STATES. I WOULD BUY OVER AND OVER AGAIN! THANK JETREST (ANTHONY BLAND)
An excellent product.
- All my children and grandchildren were delighted with this little extra personalised gift. Perfect all year round but especially at Christmas. (Granny B.)
suitcase straps
- very good quality , (mary)
Luggage straps
- For the money - very good (Spread)
Best Purchase for a very long time
- Having looked through many retail and on-line and distribution centres, JetRest Luggage Straps were far the best we have ever found. Well done JetRest we will certainly call again on any other purchase we may require in the future. Thank you for your help and prompt attention to our purchase. (Kenneth Hodges)
Great success
- Purchased as gift. Recipients thrilled. (anonymous)
Exceptional
- Ordered personalised luggage straps for two people going on the trip of a lifetime. Arrived quickly and pleased with the items. (Sandra Falconbury)
PROMPT SERVICE
- Found the web site, found the required product. Ordering was simple even for a nontechnical old fool like me. The speed of delivery surprised me, I was kept informed every step of the way. The product arrived well packed and in perfect condition. I would recommend this Companyt to any prospective customer. (Roy Saywell)
Personalised luggage Straps
- These personalised luggage straps are of good quality and makes the visibility of ones luggage at airports easy to identify. (Philip Saxton)
Amongst a sea of black cases, mine stood out.
- Extremely well made and effective straps. (Linda McD)
Never pick up the wrong case again!
- After picking up the wrong luggage whilst on holiday, This was the perfect gift for my father - hopefully he won't do it again! (Pam Gregs)
Excellent
- I purchased four personalised luggage straps last year for ourselves and family and they arrived promptly. We are all delighted with them. They stand out when we are looking for our luggage in airport and especially at a cruise terminal with hundreds of cases in the baggage hall. I can highly recommend them. (anonymous)
sturdy quality straps
- A really practical strap with our names on - no more hunting for cases at the airport! (Mrs Clifford)
Great just what was needed
- These are great for our suitcases when going on holiday easy to see when they go around the conveyor belt (J Taylor)
strapped for cash
- one of those things which does exactly what its supposed to and will last with no need to improve (jim)
Perfect 40th b`day present
- Perfect 40th birthday present for the girl who has everything. Personalized with phrase "making memories" instead of using her name. She was delighted. Easy to order, prompt delivery, good quality product with nice storage pouch. (Kathy Belfield)
Sturdy luggage straps
- I bought this as we have black cases & everybody in the world has the same. These personalised straps just make the cases stand out on the conveyor. Very pleased with them. (Chris Rothery)
Excellent
- Good quality, good price, fast delivery (Jim Wright)
Bright and strong
- Great quality, personalisation clear and strongly attached. You won't miss your case in baggage claim if it's got one of these wrapped around it ! (Dot)
Ideal Luggage Straps
- Great luggage straps made for an ideal gift for our family who were setting off on their travels. Bright colours, with white names on black labels- really stood out! Thank you (anonymous)
a must have when traveling
- the best luggage straps I have ever purchased they are strong bright and the name is written in bold clear print easy to spot in any baggage hall a must have for the frequent flier or like me partly sighted. (mr a perrin)
Great for identifying my case!
- Very pleased with the personalised straps. I purchased some previously and had the combination ones for extra security but changed my name recently and wanted to purchase some more but inadvertently clicked on the non combination instead, but still very pleased with them - would recommend this product. (Sue)
Personalised Luggage straps ideal Xmas gifts!
- Good quality hard wearing personalised luggage straps made an ideal Xmas gift. I have even order another couple. (Patricia Williams)
Named luggage strap.
- I ordered this for my grandson for a school trip to the USA. He found it very useful and spotted his case very easily thank you. (jean layton)
Personalised luggage straps
- The personalised luggage straps are fantastic. The entire process from placing the order to delivery of the items was easy and trouble free. (anonymous)
Luggage Straps
- They arrived promptly and exactly as ordered. They're long enough to fit most suitcases and are strong and well made (Patricia Graham)
Bright and Impressive
- After searching many sites to purchase personalized luggage straps, I purchased them from JetRest. My husband questioned purchasing from a British Company. Well, just love them and can't wait for Christmas in order to give them as gifts. They are excellent quality, bright, and impressive. Ordering was easy and the straps arrived within a reasonable time. I would order from JetRest again. (Sue Mattingly)
Spotting your luggage on the airport conveyor belt.
- Used the straps on a recent trip and very easy to spot on the conveyor belt after the flight arrival. The straps are bright and so very easy to spot. (L D Walker)
Personalised luggage straps
- Really pleased with these straps. Good quality product. We were amazed at the airport when waiting for our luggage, no problem identifying ours. (anonymous)
Luggage straps for both me and my wife
- We were both well pleased withe the quality and appearance of the straps (David Bootby)
Great straps
- Purchased two luggage straps with surname on, good solid well made straps, easy to see. (Pol)
Just what we needed
- After going on holiday this year and having difficulty identifying our new cases, we thought we should do something about it, so ordered two Straps with our Surname on. Excellent, just what we needed and got an extra one free. Although we haven't traveled with them and given airport staff time to try and break them, they look as if they will do the job. (Kim)
Luggage straps for our team ❤️
- These straps for our luggage are brilliant - no more can you see our cases at the carousel - bright red gleaming out with our personal slogan Team Jackson - just love them. (Team Jackson)
Personalised Luggage Strap
- Really very pleased with the personalised luggage strap. (Lorraine)
Take the stress out of baggage claim!
- Fantastic product! Makes spotting your case so easy. Even though both of our cases are plain black grips these straps celarly identify them as ours! No more worries that someone else will grab them by mistake! (Ojarm)
Well made straps
- Ordered 3 sets of personalised luggage straps. Delivered within 3 days. Good quality and good clear printing. (JR)
glad i bought these luggage straps.
- these are a great buy saves time at airport would recommend . (hil)
great product
- this luggage strap is ideal, nice bright colour, no more searching for my suitcase, easy to pick it out with the luggage strap on it (maggie)
A great gift
- It is very good and so practical (Julie Holmes)
Perfect for the job
- Ordered personalised luggage straps. Good quality and strong. Lettering very clear. (Janet Anderson)
Great gifts
- Ordered personalised luggage straps for my granddaughters prior to their holiday, they were tickled pink and absolutely loved them. Their message to me "how cool". (Bee Bee)
My grandson's are very pleased with their personalised case straps.
- Very easy website, good quality goods, delivered promptly, excellent service. (Sandra)
Never miss our luggage again...
- I purchased the personalised luggage straps, after having our case mistakingly taken last year. Was not disappointed, good quality and was able to identify our cases very quickly. Even had remarks on how good they were. Would definitely recommend.. (Joanne Hale)
Perfect for travelling!
- Having had another passenger take one of our cases from the airport last year by mistake, these coloured personalised luggage straps were perfect for our US travels this year, ensuring our cases were clearly identified! (Bishop Family)
Great personalised Straps
- These straps are excellent quality, look great, you can tell what good quality they are by just looking at them, made spotting the cases very easy, will be ordering more. (Russ)
Good strong luggage strap
- We looked around for ages for a personalised luggage strap. Found this site easy ordering,choice of colours took about a week to arrive. (Sandra Fortune)
GOOD PRODUCT
- First class, well made luggage strap, delivered in 36 hours.Well done, well recommended. (JEFF ROGERS)
Luggage Straps
- When the arrived they were as advertised, they are made of strong webbing with a strong clasp, I cant tell you how the perform because I havn't used them yet, but I'm sure they will do the job. (John Nugent)
Tastefully makes your luggage stand out
- Straps are well made and robust. Personalised colour and wording really helps luggage stand out on airport baggage claims. Made and delivered in a few days. (David)
Luggage strap
- Was pleased with the purchase and service (alan jones)
Personalised Luggage Straps
- We recently purchased some Personalised Luggage Straps which arrived in good time. We haven't used them yet, but they look substantial and should last for a long time. (Mr J E Boswell)
Say my name
- Purchased personalised luggage straps on line. Quick acknowledgement and service. Reasonable price and great robust quality. Delighted. (Alan Riley)
Fantastic luggage strap
- I wanted to buy some luggage straps so I could identify my suitcases easily when going/returning from holiday. The straps I got are fantastic, I ordered the blue straps, they are really strong, long and a good clasp, I personalised mine and they look brilliant - in fact I cannot fault them (Angela100)
More Reviews
FAQs
Can I personalise this strap with something other than my name?
Yes. You are free to type whatever name, message or phrase you want, as long as it's within the 18-character limit.
How are the straps printed?
We heat press your text on to a black strip which is then sewn carefully on to the strap to make a durable and strong personalisation for your straps.
Can I have different text on each strap?
Yes. Just fill in the text field for the personalised text you want on each strap.
Can the luggage strap fit different size suitcases?
Yes. Luggage Straps have an adjustable buckle and will fit the vast majority of sizes. Simply order a longer version if required in the options.
Are the Luggage Straps easy to remove?
Yes. Luggage Straps come with a buckle that is easy to release.
Can I have my luggage strap made to a different length?
Yes. We manufacture all of our luggage straps in our factory so can make them as a bespoke item to your own requirements. If the luggage strap is to be made longer, please place your order and select the size you would like.
Delivery
The information below is for guidance. Actual delivery costs and dates depend on the delivery address, weight and time your order is placed. Cut-off time for Overnight Orders is 12 noon.
| Price | Method | Manufacture Time | Delivery Time | Est. Delivery Date |
| --- | --- | --- | --- | --- |
| £3.99 | 2nd Class (Tracked LL) | 0-3 Days | 2-3 Days | Wed 13 Dec - Tue 19 Dec |
| £5.99 | 1st Class (Tracked LL) | 0-3 Days | 1-2 Days | Tue 12 Dec - Mon 18 Dec |
| £12.99 | DHL Courier (Economy M-F Pre 6pm) | 0-3 Days | 2-3 Days | Wed 13 Dec - Tue 19 Dec |
| £14.99 | Royal Mail Special Delivery (Overnight Mon-Sat Pre 1pm) | Today | Next Day (Mon-Sat) | Mon 11 Dec |
More Information
| | |
| --- | --- |
| Despatch | 0-3 Days (to Personalise) or Upgrade at Checkout for Overnight Delivery |
| Brand | The JetRest® |
| RRP | £7.99 |
| Country of Origin | United Kingdom |
| SKU | FGLUG001(180cm)(WN50-STR)(P) |
| Gtin | 5056656340736 |
| Tariff Code | 6307909899 |
| Tariff Description | Luggage Strap - Woven Webbing |
| Product Weight | 106 g |
| Product Dimensions | 5 x 180cm |
Product Options
Size
180cm, 250cm, 300cm
Colour
Striped, Royal Blue, Black, Green, Silver Grey, Navy Blue, Yellow, Red, White
Product Type
Luggage Straps
Travel & Outdoors > Personalised Luggage Straps
Personalised Gifts > Personalised Travel Gifts
personalised suitcase straps

Personalised Luggage Straps (UK Made Suitcase Straps)
(180cm) - Royal Blue (Personalised with Text)
FGLUG001(180cm)(WN50-BRO)(P)
5056656348060
£7.99
106 g
5 x 180cm
Personalised Luggage Straps (UK Made Suitcase Straps)
(250cm) - Royal Blue (Personalised with Text)
FGLUG001(250cm)(WN50-BRO)(P)
5056656348077
£8.99
140 g
5 x 200cm
Personalised Luggage Straps (UK Made Suitcase Straps)
(300cm) - Royal Blue (Personalised with Text)
FGLUG001(300cm)(WN50-BRO)(P)
5056656348084
£9.99
163 g
5 x 300cm
Personalised Luggage Straps (UK Made Suitcase Straps)
(180cm) - Black (Personalised with Text)
FGLUG001(180cm)(WN50-BLK)(P)
5056656348091
£7.99
106 g
5 x 180cm
Personalised Luggage Straps (UK Made Suitcase Straps)
(250cm) - Black (Personalised with Text)
FGLUG001(250cm)(WN50-BLK)(P)
5056656348107
£8.99
140 g
5 x 200cm
Personalised Luggage Straps (UK Made Suitcase Straps)
(300cm) - Black (Personalised with Text)
FGLUG001(300cm)(WN50-BLK)(P)
5056656348114
£9.99
163 g
5 x 300cm
Personalised Luggage Straps (UK Made Suitcase Straps)
(180cm) - Green (Personalised with Text)
FGLUG001(180cm)(WN50-GBG)(P)
5056656348121
£7.99
106 g
5 x 180cm
Personalised Luggage Straps (UK Made Suitcase Straps)
(250cm) - Green (Personalised with Text)
FGLUG001(250cm)(WN50-GBG)(P)
5056656348138
£8.99
140 g
5 x 200cm
Personalised Luggage Straps (UK Made Suitcase Straps)
(300cm) - Green (Personalised with Text)
FGLUG001(300cm)(WN50-GBG)(P)
5056656348145
£9.99
163 g
5 x 300cm
Personalised Luggage Straps (UK Made Suitcase Straps)
(180cm) - Silver Grey (Personalised with Text)
FGLUG001(180cm)(WN50-GLG)(P)
5056656348152
£7.99
106 g
5 x 180cm
Personalised Luggage Straps (UK Made Suitcase Straps)
(250cm) - Silver Grey (Personalised with Text)
FGLUG001(250cm)(WN50-GLG)(P)
5056656348169
£8.99
140 g
5 x 200cm
Personalised Luggage Straps (UK Made Suitcase Straps)
(300cm) - Silver Grey (Personalised with Text)
FGLUG001(300cm)(WN50-GLG)(P)
5056656348176
£9.99
163 g
5 x 300cm
Personalised Luggage Straps (UK Made Suitcase Straps)
(180cm) - Navy Blue (Personalised with Text)
FGLUG001(180cm)(WN50-BNA)(P)
5056656348183
£7.99
106 g
5 x 180cm
Personalised Luggage Straps (UK Made Suitcase Straps)
(250cm) - Navy Blue (Personalised with Text)
FGLUG001(250cm)(WN50-BNA)(P)
5056656348190
£8.99
140 g
5 x 200cm
Personalised Luggage Straps (UK Made Suitcase Straps)
(300cm) - Navy Blue (Personalised with Text)
FGLUG001(300cm)(WN50-BNA)(P)
5056656348206
£9.99
163 g
5 x 300cm
Personalised Luggage Straps (UK Made Suitcase Straps)
(180cm) - Yellow (Personalised with Text)
FGLUG001(180cm)(WN50-YEL)(P)
5056656348213
£7.99
106 g
5 x 180cm
Personalised Luggage Straps (UK Made Suitcase Straps)
(250cm) - Yellow (Personalised with Text)
FGLUG001(250cm)(WN50-YEL)(P)
5056656348220
£8.99
140 g
5 x 200cm
Personalised Luggage Straps (UK Made Suitcase Straps)
(300cm) - Yellow (Personalised with Text)
FGLUG001(300cm)(WN50-YEL)(P)
5056656348237
£9.99
163 g
5 x 300cm
Personalised Luggage Straps (UK Made Suitcase Straps)
(180cm) - Red (Personalised with Text)
FGLUG001(180cm)(WN50-RED)(P)
5056656348244
£7.99
106 g
5 x 180cm
Personalised Luggage Straps (UK Made Suitcase Straps)
(250cm) - Red (Personalised with Text)
FGLUG001(250cm)(WN50-RED)(P)
5056656348251
£8.99
140 g
5 x 200cm
Personalised Luggage Straps (UK Made Suitcase Straps)
(300cm) - Red (Personalised with Text)
FGLUG001(300cm)(WN50-RED)(P)
5056656348268
£9.99
163 g
5 x 300cm
Personalised Luggage Straps (UK Made Suitcase Straps)
(180cm) - White (Personalised with Text)
FGLUG001(180cm)(WN50-WHI)(P)
5056656348275
£7.99
106 g
5 x 180cm
Personalised Luggage Straps (UK Made Suitcase Straps)
(250cm) - White (Personalised with Text)
FGLUG001(250cm)(WN50-WHI)(P)
5056656348282
£8.99
140 g
5 x 200cm
Personalised Luggage Straps (UK Made Suitcase Straps)
(300cm) - White (Personalised with Text)
FGLUG001(300cm)(WN50-WHI)(P)
5056656348299
£9.99
163 g
5 x 300cm
Personalised Luggage Straps (UK Made Suitcase Straps)
(180cm) Striped (Personalised with Text)
FGLUG001(180cm)(WN50-STR)(P)
5056656340736
£7.99
106 g
5 x 180cm
Personalised Luggage Straps (UK Made Suitcase Straps)
(250cm) Striped (Personalised with Text)
FGLUG001(250cm)(WN50-STR)(P)
5056656348305
£8.99
140 g
5 x 200cm
Personalised Luggage Straps (UK Made Suitcase Straps)
(300cm) Striped (Personalised with Text)
FGLUG001(300cm)(WN50-STR)(P)
5056656348312
£9.99
163 g
5 x 300cm
Personalised Luggage Straps (UK Made Suitcase Straps)