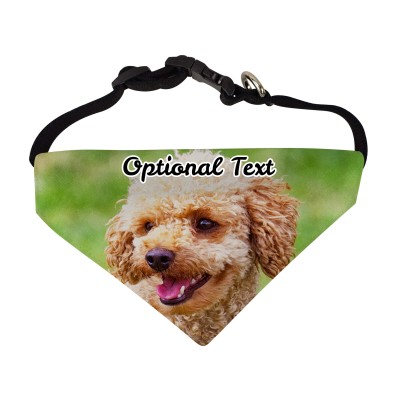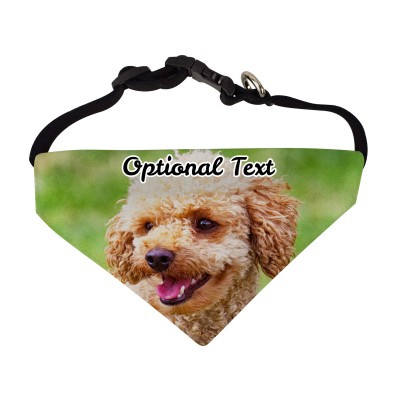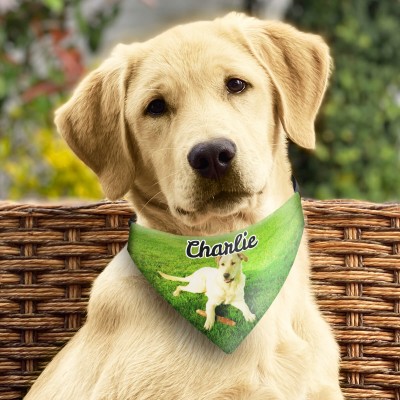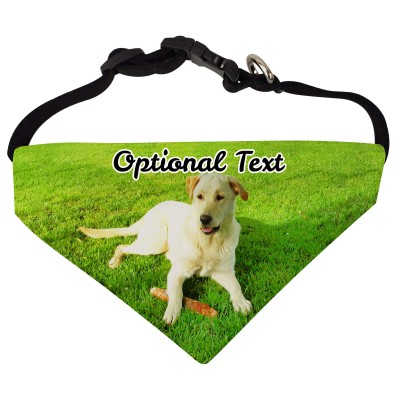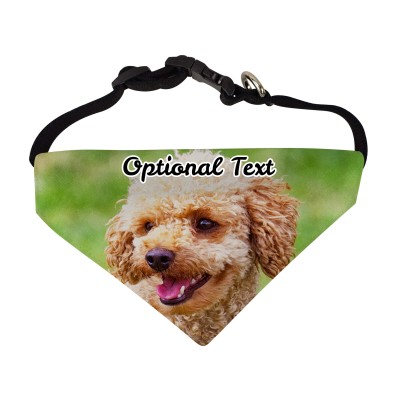 Description
Personalised Dog Bandana, with an adjustable band and a photo of your dog. Create your dog a beautiful bandana personalised with their name or the text of your choice. Available in a variety of sizes with adjustable strap to ensure a great fit, each puppy bandana includes a metal loop to allow a pet lead to clip onto it.
UK printed Dog Bandana.
Personalised with your dogs name or your own text.
Photo of your dog on the front.
Made from a white polyester fabric perfect for photos to be printed on.
Small bandana adjusts from 24cm to 35cm.
Medium bandana adjusts from 30cm to 43cm.
Large bandana adjusts from 30cm to 53cm.
Machine washable at 30°.
Trusted HappySnapGifts® brand.
Reviews
Personalised dog bandana
- Loved how this came out for my sister's birthday for her dog to wear on the day. (Tina, 05/08/23)
Birthday bandana.
- We bought a personalised bandana with a photo of my daughter and our dog together. It was for our daughter's 21st birthday. We put it on our dog, ready to be greeted by the birthday girl on her birthday morning. Our daughter loved it and it added to the day's celebrations. She adores our dog, so this was very special. It was good quality and the adjustable collar made it easy to fit around our Westies neck. (Hayley , 12/02/23)
Instructions
For 100% Cotton, 100% Polycotton & 100% Polyester Fabrics (eg Fleece).
CARELESSNESS CAUSES FIRE.
Remove outer cover if supplied before carefully cleaning.
Warm hand or machine wash and cold rinse.
Wash with like colours at max. 40 degree temperature.
Do not bleach.
1 spot iron (Cotton / Fleece) or 2 spot iron (Polycotton).
Do not tumble dry.
Delivery
The information below is for guidance. Actual delivery costs and dates depend on the delivery address, weight and time your order is placed. Cut-off time for Overnight Orders is 12 noon.
| Price | Method | Manufacture Time | Delivery Time | Est. Delivery Date |
| --- | --- | --- | --- | --- |
| £3.99 | 2nd Class (Tracked LL) | 0-3 Days | 2-3 Days | Mon 4 Dec - Fri 8 Dec |
| £5.99 | 1st Class (Tracked LL) | 0-3 Days | 1-2 Days | Fri 1 Dec - Thu 7 Dec |
| £12.98 | DHL Courier (Economy M-F Pre 6pm) | 0-3 Days | 2-3 Days | Mon 4 Dec - Fri 8 Dec |
| £14.99 | Royal Mail Special Delivery (Overnight Mon-Sat Pre 1pm) | Today | Next Day (Mon-Sat) | Fri 1 Dec |
More Information
| | |
| --- | --- |
| Despatch | 0-3 Days (to Personalise) or Upgrade at Checkout for Overnight Delivery |
| Brand | HappySnapGifts® |
| RRP | £9.99 |
| Country of Origin | United Kingdom |
| SKU | FGBAN001(S)P(Ph1)(P) |
| Gtin | 5060089255734 |
| Tariff Code | 6307909899 |
| Tariff Description | Other Made Up Articles (Polyester Fabric) |
| Product Weight | 26 g |
| Product Dimensions | 17 x 12cm |
Product Options
Size
Small (17cm x 12cm), Medium (21cm x 13cm), Large (24cm x 14cm)
Photos to Print
Photos to Front
Product Type
Pets > Dog Bandana
personalised dog bandana
puppy bandanas
dog scarf
dog birthday bandana

Personalised Dog Bandana
Small (17cm x 12cm) (Personalised with Text)
FGBAN001(S)P(Ph1)(P)
5060089255734
£9.99
26 g
17 x 12cm
Personalised Dog Bandana
Medium (21cm x 13cm) (Personalised with Text)
FGBAN001(M)P(Ph1)(P)
5060089255666
£9.99
26 g
20 x 13cm
Personalised Dog Bandana
Large (24cm x 14cm) (Personalised with Text)
FGBAN001(L)P(Ph1)(P)
5060089255635
£9.99
26 g
20 x 13cm
Photos & Artwork
Have your photos ready as they need to be uploaded before you pay for your order.
Loading photos on HappySnapGifts®
Select your Products & Add to Cart.
You will be presented with a screen to upload the correct number of photos for each item in the cart OR Continue Shopping to add other products.
"Personalise Here" for the 1st product & upload photos.
TOP TIP Drag your photos into the order you want them to appear on the product.
Add any Personalised Text.
"Save and Continue".
Personalise other items in the cart and "Complete Order"
Can I pay now and upload later?
No. Our system is set to be fail-safe and ensure you can only order if you have completed all the photo uploading to complete your product.
Can I place the photo's in a certain order?
Yes. You will be presented with a "mock-up" of your product which will have the corresponding numbers of where the photos will be placed. If your item has say 6 photo's to upload then upload them all, then if needed, drag them into a different order to correspond with the mini-mock-up image presented. Only click to submit and pay when you are ready as we will use these images in the right order for your order.
Can I see a preview of my product?
Not yet. We ask you to upload the photos and drag them into the right order on the system to match the mock-up you will see. At a later date, very soon we hope, you will be able to click and upload in the right position and see a preview at the same time as you build the product ready to order. This will be ready as we say as soon as we can so our best advice is to take care and re-order your product photo's before confirming your order. It's really very easy - give it a go and you will see.
Image Quality
Replication of your photo is to the best standard possible though we do not edit or alter image quality before we print. Send us the very best "in-focus" and well-lit image and to the largest size possible and you will be amazed at the incredible detail. Send us fuzzy, old or out-of-focus images and these will be replicated in detail without editing so you will get a product as good as the images you send. Most new mobile phones produce great quality images though where we usually have problems is where we receive a scan of a very old photo or a pixellated image that was so small when it was taken (perhaps on early 1990's style phones) that we have to enlarge to fit onto a relatively large product.