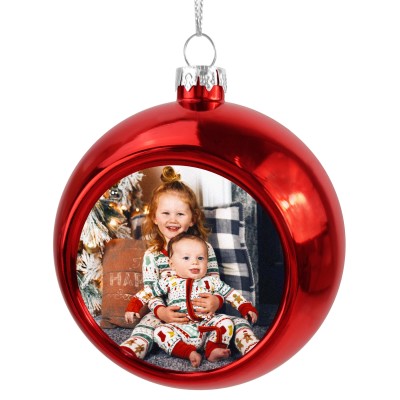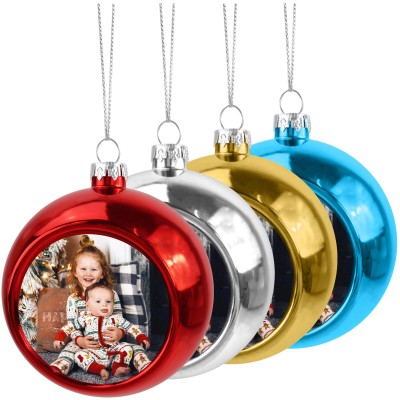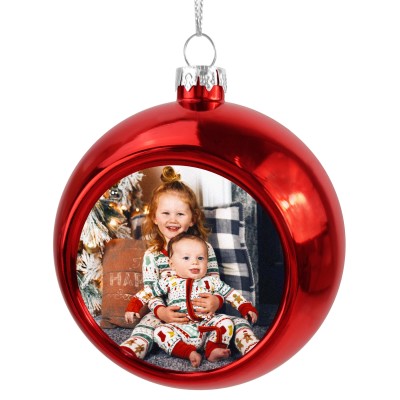 Personalised Christmas Photo Bauble
Description
Personalised Christmas Baubles with your photo on the front, to be used as unique personalised Christmas tree decoration.
Personalised in our UK factory.
Various eye-catching colour options.
Comes attached with string for easy hanging.
Individually boxed.
Trusted HappySnapGifts® brand.
Add some loving memories to these personalised photo christmas baubles and show them off to your family and friends this Christmas.
Reviews
Delivery
The information below is for guidance. Actual delivery costs and dates depend on the delivery address, weight and time your order is placed. Cut-off time for Overnight Orders is 12 noon.
| Price | Method | Manufacture Time | Delivery Time | Est. Delivery Date |
| --- | --- | --- | --- | --- |
| £4.99 | 2nd Class (Tracked) | 0-3 Days | 2-3 Days | Wed 13 Dec - Tue 19 Dec |
| £7.99 | 1st Class (Tracked) | 0-3 Days | 1-2 Days | Tue 12 Dec - Mon 18 Dec |
| £12.92 | DHL Courier (Economy M-F Pre 6pm) | 0-3 Days | 2-3 Days | Wed 13 Dec - Tue 19 Dec |
| £14.99 | Royal Mail Special Delivery (Overnight Mon-Sat Pre 1pm) | Today | Next Day (Mon-Sat) | Mon 11 Dec |
More Information
| | |
| --- | --- |
| Despatch | 0-3 Days (to Personalise) or Upgrade at Checkout for Overnight Delivery |
| Brand | HappySnapGifts® |
| RRP | £9.99 |
| Country of Origin | United Kingdom |
| SKU | FGBAU003P(Ph1) |
| Gtin | 5056656304202 |
| Tariff Code | 9505109000 |
| Tariff Description | Articles for Christmas festivities |
| Product Weight | 27 g |
| Product Dimensions | 8.5 x 7 x 7cm |
Product Options
Size & Colour
Red 8.5cm, Silver 8.5cm, Blue 8.5cm, Gold 8.5cm
Photos to Print
Photos to Front
Product Type
Home > Christmas
Personalised Gifts > Photo Gifts
Photo Bauble
Personalised Bauble

Personalised Christmas Photo Bauble
(Red)
FGBAU003P(Ph1)
5056656304202
£9.99
27 g
8.5 x 7 x 7cm
Personalised Christmas Photo Bauble
(Silver)
FGBAU001P(Ph1)
5056656304219
£9.99
27 g
8.5 x 7 x 7cm
Personalised Christmas Photo Bauble
- Blue
FGBAU004P(Ph1)
5056656304226
£9.99
27 g
8.5 x 7 x 7cm
Personalised Christmas Photo Bauble
(Gold)
FGBAU002P(Ph1)
5056656304196
£9.99
27 g
8.5 x 7 x 7cm
Photos & Artwork
Have your photos ready as they need to be uploaded before you pay for your order.
Loading photos on HappySnapGifts®
Select your Products & Add to Cart.
You will be presented with a screen to upload the correct number of photos for each item in the cart OR Continue Shopping to add other products.
"Personalise Here" for the 1st product & upload photos.
TOP TIP Drag your photos into the order you want them to appear on the product.
Add any Personalised Text.
"Save and Continue".
Personalise other items in the cart and "Complete Order"
Can I pay now and upload later?
No. Our system is set to be fail-safe and ensure you can only order if you have completed all the photo uploading to complete your product.
Can I place the photo's in a certain order?
Yes. You will be presented with a "mock-up" of your product which will have the corresponding numbers of where the photos will be placed. If your item has say 6 photo's to upload then upload them all, then if needed, drag them into a different order to correspond with the mini-mock-up image presented. Only click to submit and pay when you are ready as we will use these images in the right order for your order.
Can I see a preview of my product?
Not yet. We ask you to upload the photos and drag them into the right order on the system to match the mock-up you will see. At a later date, very soon we hope, you will be able to click and upload in the right position and see a preview at the same time as you build the product ready to order. This will be ready as we say as soon as we can so our best advice is to take care and re-order your product photo's before confirming your order. It's really very easy - give it a go and you will see.
Image Quality
Replication of your photo is to the best standard possible though we do not edit or alter image quality before we print. Send us the very best "in-focus" and well-lit image and to the largest size possible and you will be amazed at the incredible detail. Send us fuzzy, old or out-of-focus images and these will be replicated in detail without editing so you will get a product as good as the images you send. Most new mobile phones produce great quality images though where we usually have problems is where we receive a scan of a very old photo or a pixellated image that was so small when it was taken (perhaps on early 1990's style phones) that we have to enlarge to fit onto a relatively large product.
Personalised Christmas Photo Bauble