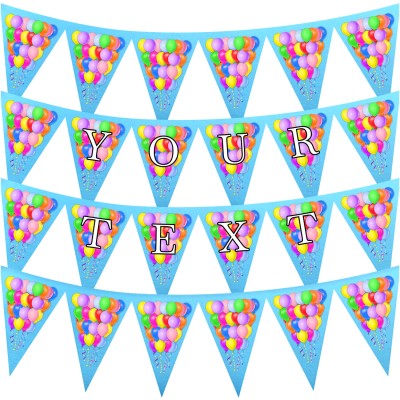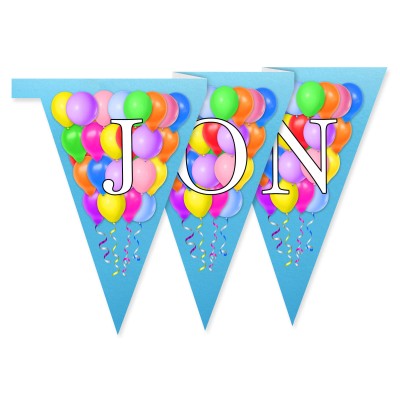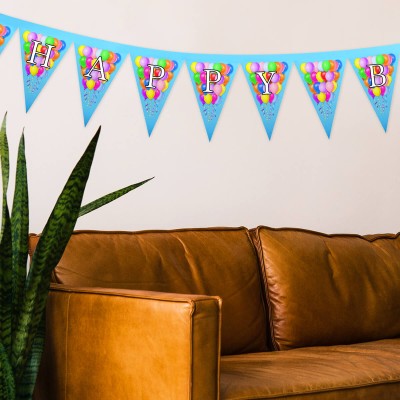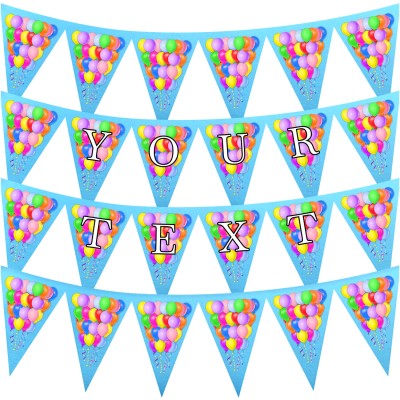 Personalised Birthday Bunting Banner (Balloon Design)
UK Made
Description
Personalised Birthday Bunting Banner with balloons design in various colours, add a name or message to this birthday bunting for a unique decoration to compliment any party.
UK Made Happy Birthday Balloon Bunting.
Several lovely bright colours to select from.
Add your own text to fill all 24 flags.
The design is printed to a premium polyester fabric bunting.
Trusted HappySnapGifts® brand.
Add this balloon themed bunting to a 1st birthday, 18th birthday or even 50th birthday and keep the theme going with our wide selection of bunting colours.
Reviews
Instructions
Products made with Luxury Polyester Mock-Suede Photo Fabric Option
If your product is made from (or has the option of choosing) Luxury Polyester Mock-Suede Photo Fabric, the fabric has a fire rating for safety and full details can be supplied on request. Please note this fire application is water-soluble and will wash off if the fabric is washed or gets wet.
FAQs
Is this fabric Bunting?
Yes. We manufacture and only sell premium quality fabric bunting (never paper-printed bunting). The fabric in use is shown on the product choices along with any other aspects like ribbon colour or print themes.
Is the Bunting waterproof?
Yes. We print your photos using the latest dye-sub method meaning the inks are dyed into the fabric itself and will not run even if you get the fabric wet. The fabric has a water repellency that will fade over time and perhaps become soaked if constantly left wet but the inks will never run.
How long is the Bunting?
Bunting is sold in different metre lengths though of course you can order as many lengths as you wish. How many metres is shown on the product options and sizes.
Delivery
The information below is for guidance. Actual delivery costs and dates depend on the delivery address, weight and time your order is placed. Cut-off time for Overnight Orders is 12 noon.
| Price | Method | Manufacture Time | Delivery Time | Est. Delivery Date |
| --- | --- | --- | --- | --- |
| £3.99 | 2nd Class (Tracked LL) | 0-3 Days | 2-3 Days | Mon 4 Dec - Fri 8 Dec |
| £5.99 | 1st Class (Tracked LL) | 0-3 Days | 1-2 Days | Fri 1 Dec - Thu 7 Dec |
| £12.99 | DHL Courier (Economy M-F Pre 6pm) | 0-3 Days | 2-3 Days | Mon 4 Dec - Fri 8 Dec |
| £14.99 | Royal Mail Special Delivery (Overnight Mon-Sat Pre 1pm) | Today | Next Day (Mon-Sat) | Fri 1 Dec |
More Information
| | |
| --- | --- |
| Despatch | 0-3 Days (to Personalise) or Upgrade at Checkout for Overnight Delivery |
| Brand | HappySnapGifts® |
| RRP | £24.99 |
| Country of Origin | United Kingdom |
| SKU | FGBUN015(T20)PMS-(BAL)BSK(P) |
| Gtin | 5060089254829 |
| Tariff Code | 6307209090 |
| Tariff Description | Bunting - Other Textile Items (Polyester Fabric) |
| Product Weight | 180 g |
| Product Dimensions | 28 x 20cm |
Product Options
Bunting Size
24 Flags (3 metres / Triangle 20cm)
Bunting Fabric
Mock Suede Polyester
Bunting Colour
Sky Blue, Navy Blue, Royal Blue, Brown, Burgundy, Bright Green, Grey, Burnt Orange, Baby Pink, Hot Pink (Fuchsia), Purple, Red, Black, Black & Gold, White, Yellow
Print Theme
Balloons
Product Type
Bunting
Home > Bunting
Birthday Bunting
Happy Birthday Bunting
Happy Birthday Fabric Bunting

Personalised Birthday Bunting Banner (Balloon Design)
- 3 Metres with 24 Triangle Flags (20cm) with Balloons Design Sky Blue Mock Suede Polyester Fabric (Personalised with Text)
FGBUN015(T20)PMS-(BAL)BSK(P)
5060089254829
£24.99
180 g
28 x 20cm
Personalised Birthday Bunting Banner (Balloon Design)
- 3 Metres with 24 Triangle Flags (20cm) with Balloons Design Black & Gold Mock Suede Polyester Fabric (Personalised with Text)
FGBUN015(T20)PMS-(BAL)BGO(P)
5056656310289
£24.99
180 g
28 x 20cm
Personalised Birthday Bunting Banner (Balloon Design)
- 3 Metres with 24 Triangle Flags (20cm) with Balloons Design Black Mock Suede Polyester Fabric (Personalised with Text)
FGBUN015(T20)PMS-(BAL)BLA(P)
5056656310302
£24.99
180 g
28 x 20cm
Personalised Birthday Bunting Banner (Balloon Design)
- 3 Metres with 24 Triangle Flags (20cm) with Balloons Design Navy Blue Mock Suede Polyester Fabric (Personalised with Text)
FGBUN015(T20)PMS-(BAL)BNA(P)
5056656310326
£24.99
180 g
28 x 20cm
Personalised Birthday Bunting Banner (Balloon Design)
- 3 Metres with 24 Triangle Flags (20cm) with Balloons Design Royal Blue Mock Suede Polyester Fabric (Personalised with Text)
FGBUN015(T20)PMS-(BAL)BRO(P)
5056656310340
£24.99
180 g
28 x 20cm
Personalised Birthday Bunting Banner (Balloon Design)
- 3 Metres with 24 Triangle Flags (20cm) with Balloons Design Brown Mock Suede Polyester Fabric (Personalised with Text)
FGBUN015(T20)PMS-(BAL)BRW(P)
5056656310364
£24.99
180 g
28 x 20cm
Personalised Birthday Bunting Banner (Balloon Design)
- 3 Metres with 24 Triangle Flags (20cm) with Balloons Design Burgundy Mock Suede Polyester Fabric (Personalised with Text)
FGBUN015(T20)PMS-(BAL)BUR(P)
5056656310371
£24.99
180 g
28 x 20cm
Personalised Birthday Bunting Banner (Balloon Design)
- 3 Metres with 24 Triangle Flags (20cm) with Balloons Design Bright Green Mock Suede Polyester Fabric (Personalised with Text)
FGBUN015(T20)PMS-(BAL)GBR(P)
5056656310388
£24.99
180 g
28 x 20cm
Personalised Birthday Bunting Banner (Balloon Design)
- 3 Metres with 24 Triangle Flags (20cm) with Balloons Design Grey Mock Suede Polyester Fabric (Personalised with Text)
FGBUN015(T20)PMS-(BAL)GRY(P)
5056656310395
£24.99
180 g
28 x 20cm
Personalised Birthday Bunting Banner (Balloon Design)
- 3 Metres with 24 Triangle Flags (20cm) with Balloons Design Burnt Orange Mock Suede Polyester Fabric (Personalised with Text)
FGBUN015(T20)PMS-(BAL)ORA(P)
5056656310258
£24.99
180 g
28 x 20cm
Personalised Birthday Bunting Banner (Balloon Design)
- 3 Metres with 24 Triangle Flags (20cm) with Balloons Design Baby Pink Mock Suede Polyester Fabric (Personalised with Text)
FGBUN015(T20)PMS-(BAL)PBA(P)
5056656310265
£24.99
180 g
28 x 20cm
Personalised Birthday Bunting Banner (Balloon Design)
- 3 Metres with 24 Triangle Flags (20cm) with Balloons Design Hot Pink (Fuchsia) Mock Suede Polyester Fabric (Personalised with Text)
FGBUN015(T20)PMS-(BAL)PFU(P)
5056656310272
£24.99
180 g
28 x 20cm
Personalised Birthday Bunting Banner (Balloon Design)
- 3 Metres with 24 Triangle Flags (20cm) with Balloons Design Purple Mock Suede Polyester Fabric (Personalised with Text)
FGBUN015(T20)PMS-(BAL)PUR(P)
5056656310296
£24.99
180 g
28 x 20cm
Personalised Birthday Bunting Banner (Balloon Design)
- 3 Metres with 24 Triangle Flags (20cm) with Balloons Design Red Mock Suede Polyester Fabric (Personalised with Text)
FGBUN015(T20)PMS-(BAL)RED(P)
5056656310319
£24.99
180 g
28 x 20cm
Personalised Birthday Bunting Banner (Balloon Design)
- 3 Metres with 24 Triangle Flags (20cm) with Balloons Design White Mock Suede Polyester Fabric (Personalised with Text)
FGBUN015(T20)PMS-(BAL)WHI(P)
5056656310333
£24.99
180 g
28 x 20cm
Personalised Birthday Bunting Banner (Balloon Design)
- 3 Metres with 24 Triangle Flags (20cm) with Balloons Design Yellow Mock Suede Polyester Fabric (Personalised with Text)
FGBUN015(T20)PMS-(BAL)YEL(P)
5056656310357
£24.99
180 g
28 x 20cm
Personalised Birthday Bunting Banner (Balloon Design)