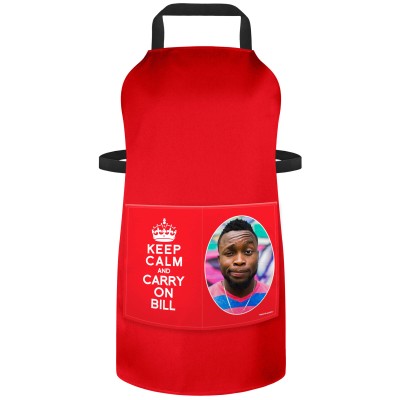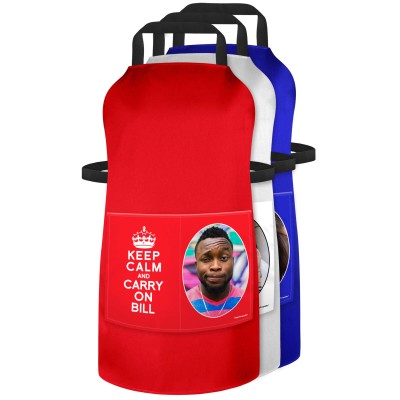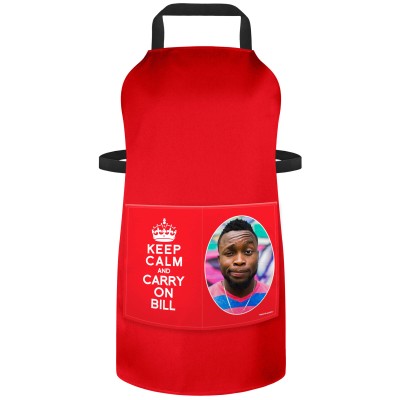 Funny Personalised Photo Apron (Keep Calm & Carry On)
UK Made
Organic Options *
Description
Personalised Photo Apron with funny "Keep Calm and Carry On " slogan printed along with the personalised text of your choice and your photo.
UK Made luxury apron.
Iconic "Keep Calm and Carry On" design.
Photo Apron.
Modify the slogan with your own personalised text.
Twin compartment optional pocket.
Neck tie and fastening choices.
Size options.
Fabric & Colour choices.
Trusted HappySnapGifts® brand.
Reviews
Superb quality British apron with a very British design
- Got this apron for myself and I absolutely love it. I changed the slogan to "Keep Calm and Eat Cupcakes" and it looks beautiful. The print is really clear and the apron material is very soft and lovely. Five stars and would recommend to anyone.  (Carol Jeffries)
Instructions
Our products will have a sewn-in Care Label giving you guidance on Care and Washing this Product. In summary however, they will contain the following instructions though please do refer to the specific label on your individual item for latest information:
For 100% Cotton, 100% Polycotton & 100% Polyester Fabrics (eg Fleece).
CARELESSNESS CAUSES FIRE.
Remove outer cover if supplied before carefully cleaning.
Do not wash the inner filled product or get it wet.
Warm hand or machine wash and cold rinse.
Wash with like colours at max. 40 degree temperature.
Do not bleach.
1 spot iron (Cotton / Fleece) or 2 spot iron (Polycotton).
Do not tumble dry.
FAQs
What can I have printed on my Personalised Apron?
You can have any text you like printed onto this Apron as well as the icon - customers usually choose a persons name or nickname and then perhaps a birthday age. We don't mind as you can have printed anything you like and this is printed as shown in our example online next to the icon you've chosen.
Will the print stay on the Apron even when washed?
Yes. We use a specialist clothing method of applying the print onto the fabric and this will withstand washing over time.
Can I wash my Personalised Apron?
Yes. Please see the care label that will be attached to your apron on delivery or see the Instructions tab on our product online.
What are the Organic Fabric Options?
Where shown, this product has an Organic Fabric Option. We purchase organic fabric from trusted UK Fabric Merchants who are registered under the Global Organic Textile Standard (GOTS) to enable full traceability of the fabric we use through to the final product you are purchasing today.
Delivery
The information below is for guidance. Actual delivery costs and dates depend on the delivery address, weight and time your order is placed. Cut-off time for Overnight Orders is 12 noon.
| Price | Method | Manufacture Time | Delivery Time | Est. Delivery Date |
| --- | --- | --- | --- | --- |
| £3.99 | 2nd Class (Tracked LL) | 0-3 Days | 2-3 Days | Wed 13 Dec - Tue 19 Dec |
| £5.99 | 1st Class (Tracked LL) | 0-3 Days | 1-2 Days | Tue 12 Dec - Mon 18 Dec |
| £13.03 | DHL Courier (Economy M-F Pre 6pm) | 0-3 Days | 2-3 Days | Wed 13 Dec - Tue 19 Dec |
| £14.99 | Royal Mail Special Delivery (Overnight Mon-Sat Pre 1pm) | Monday | Next Day (Mon-Sat) | Tue 12 Dec |
More Information
| | |
| --- | --- |
| Despatch | 0-3 Days (to Personalise) or Upgrade at Checkout for Overnight Delivery |
| Brand | HappySnapGifts® |
| Country of Origin | United Kingdom |
| SKU | FGAPR107(70cm)COT-REDP(PhP1)(P)-KCCPoc |
| Gtin | 5056656346165 |
| Tariff Code | 6114300000 |
| Tariff Description | Aprons - Man Made Fabric |
| Product Weight | 151 g |
| Product Dimensions | 70 x 55cm |
Product Options
Size
Medium 70cm x 55cm, Large 90cm x 70cm
Photos to Print
Photos to Front
Fabric
Cotton, Luxury Cotton, Organic Cotton
Fabric Colour
Red, White, Royal Blue, Navy Blue, Purple, Natural, Hot Pink, Black, Chocolate, Gothic Blue
Design
Keep Calm
Apron Pocket
Pocket for Photo Print
Product Type
Aprons
Personalised Apron
Funny Apron
Personalised Cooking Apron
Personalised Baking Apron

Funny Personalised Photo Apron (Keep Calm & Carry On)
(70cm x 55cm) - Red Cotton Fabric (Personalised with Text) and Photo Printed Pocket
FGAPR107(70cm)COT-REDP(PhP1)(P)-KCCPoc
5056656346165
£19.99
151 g
70 x 55cm
Funny Personalised Photo Apron (Keep Calm & Carry On)
(90cm x 70cm) - Red Cotton Fabric (Personalised with Text) and Photo Printed Pocket
FGAPR107(90cm)COT-REDP(PhP1)(P)-KCCPoc
5056656354153
£24.99
241 g
90 x 70cm
Funny Personalised Photo Apron (Keep Calm & Carry On)
(70cm x 55cm) - White Cotton Fabric (Personalised with Text) and Photo Printed Pocket
FGAPR107(70cm)COT-WHIP(PhP1)(P)-KCCPoc
5056656354160
£19.99
151 g
70 x 55cm
Funny Personalised Photo Apron (Keep Calm & Carry On)
(90cm x 70cm) - White Cotton Fabric (Personalised with Text) and Photo Printed Pocket
FGAPR107(90cm)COT-WHIP(PhP1)(P)-KCCPoc
5056656354177
£24.99
241 g
90 x 70cm
Funny Personalised Photo Apron (Keep Calm & Carry On)
(70cm x 55cm) - Royal Blue Cotton Fabric (Personalised with Text) and Photo Printed Pocket
FGAPR107(70cm)COT-BROP(PhP1)(P)-KCCPoc
5056656354184
£19.99
151 g
70 x 55cm
Funny Personalised Photo Apron (Keep Calm & Carry On)
(90cm x 70cm) - Royal Blue Cotton Fabric (Personalised with Text) and Photo Printed Pocket
FGAPR107(90cm)COT-BROP(PhP1)(P)-KCCPoc
5056656354191
£24.99
241 g
90 x 70cm
Funny Personalised Photo Apron (Keep Calm & Carry On)
(70cm x 55cm) - Navy Blue Cotton Fabric (Personalised with Text) and Photo Printed Pocket
FGAPR107(70cm)COT-BNAP(PhP1)(P)-KCCPoc
5056656354207
£19.99
151 g
70 x 55cm
Funny Personalised Photo Apron (Keep Calm & Carry On)
(90cm x 70cm) - Navy Blue Cotton Fabric (Personalised with Text) and Photo Printed Pocket
FGAPR107(90cm)COT-BNAP(PhP1)(P)-KCCPoc
5056656354214
£24.99
241 g
90 x 70cm
Funny Personalised Photo Apron (Keep Calm & Carry On)
(70cm x 55cm) - Purple Cotton Fabric (Personalised with Text) and Photo Printed Pocket
FGAPR107(70cm)COT-PURP(PhP1)(P)-KCCPoc
5056656354221
£19.99
151 g
70 x 55cm
Funny Personalised Photo Apron (Keep Calm & Carry On)
(90cm x 70cm) - Purple Cotton Fabric (Personalised with Text) and Photo Printed Pocket
FGAPR107(90cm)COT-PURP(PhP1)(P)-KCCPoc
5056656354238
£24.99
241 g
90 x 70cm
Funny Personalised Photo Apron (Keep Calm & Carry On)
(70cm x 55cm) - Natural Cotton Fabric (Personalised with Text) and Photo Printed Pocket
FGAPR107(70cm)COT-NATP(PhP1)(P)-KCCPoc
5056656354245
£19.99
151 g
70 x 55cm
Funny Personalised Photo Apron (Keep Calm & Carry On)
(90cm x 70cm) - Natural Cotton Fabric (Personalised with Text) and Photo Printed Pocket
FGAPR107(90cm)COT-NATP(PhP1)(P)-KCCPoc
5056656354252
£24.99
241 g
90 x 70cm
Funny Personalised Photo Apron (Keep Calm & Carry On)
(70cm x 55cm) - Hot Pink Cotton Fabric (Personalised with Text) and Photo Printed Pocket
FGAPR107(70cm)COT-PBUP(PhP1)(P)-KCCPoc
5056656354269
£19.99
151 g
70 x 55cm
Funny Personalised Photo Apron (Keep Calm & Carry On)
(90cm x 70cm) - Hot Pink Cotton Fabric (Personalised with Text) and Photo Printed Pocket
FGAPR107(90cm)COT-PBUP(PhP1)(P)-KCCPoc
5056656354276
£24.99
241 g
90 x 70cm
Funny Personalised Photo Apron (Keep Calm & Carry On)
(70cm x 55cm) Black Cotton Fabric (Personalised with Text) and Photo Printed Pocket
FGAPR107(70cm)COT-BLAP(PhP1)(P)-KCCPoc
5056656354283
£19.99
151 g
70 x 55cm
Funny Personalised Photo Apron (Keep Calm & Carry On)
(90cm x 70cm) Black Cotton Fabric (Personalised with Text) and Photo Printed Pocket
FGAPR107(90cm)COT-BLAP(PhP1)(P)-KCCPoc
5056656354290
£24.99
241 g
90 x 70cm
Funny Personalised Photo Apron (Keep Calm & Carry On)
(70cm x 55cm) - Chocolate Luxury Cotton Fabric (Personalised with Text) and Photo Printed Pocket
FGAPR107(70cm)COL-BMOP(PhP1)(P)-KCCPoc
5056656354306
£29.99
151 g
70 x 55cm
Funny Personalised Photo Apron (Keep Calm & Carry On)
(90cm x 70cm) - Chocolate Luxury Cotton Fabric (Personalised with Text) and Photo Printed Pocket
FGAPR107(90cm)COL-BMOP(PhP1)(P)-KCCPoc
5056656354313
£34.99
241 g
90 x 70cm
Funny Personalised Photo Apron (Keep Calm & Carry On)
(70cm x 55cm) - Gothic Blue Luxury Cotton Fabric (Personalised with Text) and Photo Printed Pocket
FGAPR107(70cm)COL-BGOP(PhP1)(P)-KCCPoc
5056656354320
£29.99
151 g
70 x 55cm
Funny Personalised Photo Apron (Keep Calm & Carry On)
(90cm x 70cm) - Gothic Blue Luxury Cotton Fabric (Personalised with Text) and Photo Printed Pocket
FGAPR107(90cm)COL-BGOP(PhP1)(P)-KCCPoc
5056656354337
£34.99
241 g
90 x 70cm
Funny Personalised Photo Apron (Keep Calm & Carry On)
(70cm x 55cm) - Natural Organic Cotton (Personalised with Text) and Photo Printed Pocket
FGAPR107(70cm)COO-NATP(PhP1)(P)-KCCPoc
5056656354344
£26.99
151 g
70 x 55cm
Funny Personalised Photo Apron (Keep Calm & Carry On)
(90cm x 70cm) - Natural Organic Cotton (Personalised with Text) and Photo Printed Pocket
FGAPR107(90cm)COO-NATP(PhP1)(P)-KCCPoc
5056656354351
£31.99
241 g
90 x 70cm
Funny Personalised Photo Apron (Keep Calm & Carry On)