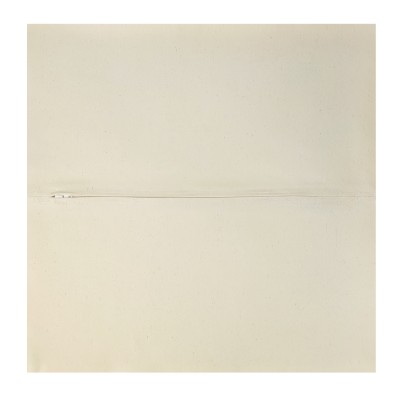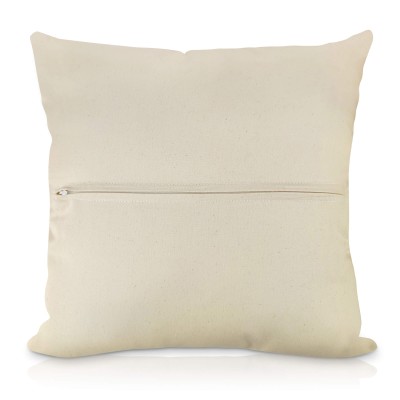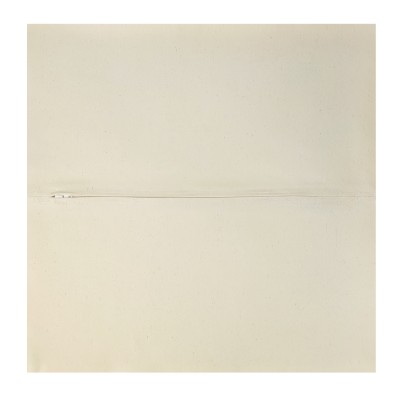 UK Made
Organic Options *
Description
Cushion Back with Zip, available in a variety of fabrics colours, and sizes. Our premium cushion backs can be used to create your very own cushion using your cross stitch pattern, or any fabric of your choosing. The cushion back comes ready with zip so it can be sewn straight onto your fabric and filled with your desired inner.
UK Made cushion backs with zip.
Available in a range of sizes.
Various fabric and colour options.
Features a handy zip on the back across the centre.
Easy to fill.
Perfect for cross-stitch cushions.
Trusted HappySnapGifts® brand.
Reviews
Delivery
The information below is for guidance. Actual delivery costs and dates depend on the delivery address, weight and time your order is placed. Cut-off time for Overnight Orders is 12 noon.
| Price | Method | Manufacture Time | Delivery Time | Est. Delivery Date |
| --- | --- | --- | --- | --- |
| £4.99 | 2nd Class (Tracked) | 0-3 Days | 2-3 Days | Mon 4 Dec - Fri 8 Dec |
| £7.99 | 1st Class (Tracked) | 0-3 Days | 1-2 Days | Fri 1 Dec - Thu 7 Dec |
| £13.05 | DHL Courier (Economy M-F Pre 6pm) | 0-3 Days | 2-3 Days | Mon 4 Dec - Fri 8 Dec |
| £14.99 | Royal Mail Special Delivery (Overnight Mon-Sat Pre 1pm) | Today | Next Day (Mon-Sat) | Fri 1 Dec |
More Information
| | |
| --- | --- |
| Despatch | 0-3 Days (Made to Order) or Upgrade for Overnight Delivery at Checkout |
| Brand | HappySnapGifts® |
| RRP | £12.99 |
| Country of Origin | United Kingdom |
| SKU | FGCUS050(S40)COT-NAT(Zip) |
| Gtin | 5056261022454 |
| Tariff Code | 9404909000 |
| Tariff Description | Cushion - Polyester Fibre Filled (Polyester Cover) |
| Product Weight | 54 g |
| Product Dimensions | 40 x 40cm |
Product Options
Cushion Back Size
40cm Square, 30cm Square, 36cm x 25cm, 57cm x 40cm
Fabric
Cotton, Luxury Cotton, Organic Cotton, Fleece
Fabric Colour
Natural, Royal Blue, Navy Blue, Purple, Hot Pink, Chocolate, Gothic Blue, Hot Pink (Fuchsia)
Finishings
Zip
Product Type
Cushion
Cushion > Cushion Back with Zip
Cushion > Cushion Backs

Cushion Back with Zip
(40cm Square) - Natural Cotton Fabric with Zip Opening
FGCUS050(S40)COT-NAT(Zip)
5056261022454
£12.99
54 g
40 x 40cm
Cushion Back with Zip
(30cm Square) - Natural Cotton Fabric with Zip Opening
FGCUS050(S30)COT-NAT(Zip)
5056261022454
£12.99
34 g
30 x 30cm
Cushion Back with Zip
(36cm x 25cm) - Natural Cotton Fabric with Zip Opening
FGCUS050(36cmx25cm)COT-NAT(Zip)
5056261022454
£12.99
34 g
36 x 25cm
Cushion Back with Zip
(57cm x 40cm) - Natural Cotton Fabric with Zip Opening
FGCUS050(57cmx40cm)COT-NAT(Zip)
5056261022454
£14.99
64 g
57 x 40cm
Cushion Back with Zip
(40cm Square) - Navy Blue Cotton Fabric with Zip Opening
FGCUS050(S40)COT-BNA(Zip)
5056261022454
£12.99
54 g
40 x 40cm
Cushion Back with Zip
(30cm Square) - Navy Blue Cotton Fabric with Zip Opening
FGCUS050(S30)COT-BNA(Zip)
5056261022454
£12.99
34 g
30 x 30cm
Cushion Back with Zip
(36cm x 25cm) - Navy Blue Cotton Fabric with Zip Opening
FGCUS050(36cmx25cm)COT-BNA(Zip)
5056261022454
£12.99
34 g
36 x 25cm
Cushion Back with Zip
(57cm x 40cm) - Navy Blue Cotton Fabric with Zip Opening
FGCUS050(57cmx40cm)COT-BNA(Zip)
5056261022454
£14.99
64 g
57 x 40cm
Cushion Back with Zip
(40cm Square) - Purple Cotton Fabric with Zip Opening
FGCUS050(S40)COT-PUR(Zip)
5056261022454
£12.99
54 g
40 x 40cm
Cushion Back with Zip
(30cm Square) - Purple Cotton Fabric with Zip Opening
FGCUS050(S30)COT-PUR(Zip)
5056261022454
£12.99
34 g
30 x 30cm
Cushion Back with Zip
(36cm x 25cm) - Purple Cotton Fabric with Zip Opening
FGCUS050(36cmx25cm)COT-PUR(Zip)
5056261022454
£12.99
34 g
36 x 25cm
Cushion Back with Zip
(57cm x 40cm) - Purple Cotton Fabric with Zip Opening
FGCUS050(57cmx40cm)COT-PUR(Zip)
5056261022454
£14.99
64 g
57 x 40cm
Cushion Back with Zip
(40cm Square) - Hot Pink Cotton Fabric with Zip Opening
FGCUS050(S40)COT-PBU(Zip)
5056261022454
£12.99
54 g
40 x 40cm
Cushion Back with Zip
(30cm Square) - Hot Pink Cotton Fabric with Zip Opening
FGCUS050(S30)COT-PBU(Zip)
5056261022454
£12.99
34 g
30 x 30cm
Cushion Back with Zip
(36cm x 25cm) - Hot Pink Cotton Fabric with Zip Opening
FGCUS050(36cmx25cm)COT-PBU(Zip)
5056261022454
£12.99
34 g
36 x 25cm
Cushion Back with Zip
(57cm x 40cm) - Hot Pink Cotton Fabric with Zip Opening
FGCUS050(57cmx40cm)COT-PBU(Zip)
5056261022454
£14.99
64 g
57 x 40cm
Cushion Back with Zip
(40cm Square) - Royal Blue Cotton Fabric with Zip Opening
FGCUS050(S40)COT-BRO(Zip)
5056261022454
£12.99
54 g
40 x 40cm
Cushion Back with Zip
(30cm Square) - Royal Blue Cotton Fabric with Zip Opening
FGCUS050(S30)COT-BRO(Zip)
5056261022454
£12.99
34 g
30 x 30cm
Cushion Back with Zip
(36cm x 25cm) - Royal Blue Cotton Fabric with Zip Opening
FGCUS050(36cmx25cm)COT-BRO(Zip)
5056261022454
£12.99
34 g
36 x 25cm
Cushion Back with Zip
(57cm x 40cm) - Royal Blue Cotton Fabric with Zip Opening
FGCUS050(57cmx40cm)COT-BRO(Zip)
5056261022454
£14.99
64 g
57 x 40cm
Cushion Back with Zip
(40cm Square) - Navy Blue Fleece Fabric with Zip Opening
FGCUS050(S40)FLE-BNA(Zip)
5056261022454
£12.99
54 g
40 x 40cm
Cushion Back with Zip
(30cm Square) - Navy Blue Fleece Fabric with Zip Opening
FGCUS050(S30)FLE-BNA(Zip)
5056261022454
£12.99
34 g
30 x 30cm
Cushion Back with Zip
(36cm x 25cm) - Navy Blue Fleece Fabric with Zip Opening
FGCUS050(36cmx25cm)FLE-BNA(Zip)
5056261022454
£12.99
34 g
36 x 25cm
Cushion Back with Zip
(57cm x 40cm) - Navy Blue Fleece Fabric with Zip Opening
FGCUS050(57cmx40cm)FLE-BNA(Zip)
5056261022454
£14.99
64 g
57 x 40cm
Cushion Back with Zip
(40cm Square) - Hot Pink (Fuchsia) Fleece Fabric with Zip Opening
FGCUS050(S40)FLE-PFU(Zip)
5056261022454
£12.99
54 g
40 x 40cm
Cushion Back with Zip
(30cm Square) - Hot Pink (Fuchsia) Fleece Fabric with Zip Opening
FGCUS050(S30)FLE-PFU(Zip)
5056261022454
£12.99
34 g
30 x 30cm
Cushion Back with Zip
(36cm x 25cm) - Hot Pink (Fuchsia) Fleece Fabric with Zip Opening
FGCUS050(36cmx25cm)FLE-PFU(Zip)
5056261022454
£12.99
34 g
36 x 25cm
Cushion Back with Zip
(57cm x 40cm) - Hot Pink (Fuchsia) Fleece Fabric with Zip Opening
FGCUS050(57cmx40cm)FLE-PFU(Zip)
5056261022454
£14.99
64 g
57 x 40cm
Cushion Back with Zip
(40cm Square) - Purple Fleece Fabric with Zip Opening
FGCUS050(S40)FLE-PUR(Zip)
5056261022454
£12.99
54 g
40 x 40cm
Cushion Back with Zip
(30cm Square) - Purple Fleece Fabric with Zip Opening
FGCUS050(S30)FLE-PUR(Zip)
5056261022454
£12.99
34 g
30 x 30cm
Cushion Back with Zip
(36cm x 25cm) - Purple Fleece Fabric with Zip Opening
FGCUS050(36cmx25cm)FLE-PUR(Zip)
5056261022454
£12.99
34 g
36 x 25cm
Cushion Back with Zip
(57cm x 40cm) - Purple Fleece Fabric with Zip Opening
FGCUS050(57cmx40cm)FLE-PUR(Zip)
5056261022454
£14.99
64 g
57 x 40cm
Cushion Back with Zip
(40cm Square) - Royal Blue Fleece Fabric with Zip Opening
FGCUS050(S40)FLE-BRO(Zip)
5056261022454
£12.99
54 g
40 x 40cm
Cushion Back with Zip
(30cm Square) - Royal Blue Fleece Fabric with Zip Opening
FGCUS050(S30)FLE-BRO(Zip)
5056261022454
£12.99
34 g
30 x 30cm
Cushion Back with Zip
(36cm x 25cm) - Royal Blue Fleece Fabric with Zip Opening
FGCUS050(36cmx25cm)FLE-BRO(Zip)
5056261022454
£12.99
34 g
36 x 25cm
Cushion Back with Zip
(57cm x 40cm) - Royal Blue Fleece Fabric with Zip Opening
FGCUS050(57cmx40cm)FLE-BRO(Zip)
5056261022454
£14.99
64 g
57 x 40cm
Cushion Back with Zip
(40cm Square) - Chocolate Luxury Cotton Fabric with Zip Opening
FGCUS050(S40)COL-BMO(Zip)
5056261022454
£22.99
54 g
40 x 40cm
Cushion Back with Zip
(30cm Square) - Chocolate Luxury Cotton Fabric with Zip Opening
FGCUS050(S30)COL-BMO(Zip)
5056261022454
£22.99
34 g
30 x 30cm
Cushion Back with Zip
(36cm x 25cm) - Chocolate Luxury Cotton Fabric with Zip Opening
FGCUS050(36cmx25cm)COL-BMO(Zip)
5056261022454
£22.99
34 g
36 x 25cm
Cushion Back with Zip
(57cm x 40cm) - Chocolate Luxury Cotton Fabric with Zip Opening
FGCUS050(57cmx40cm)COL-BMO(Zip)
5056261022454
£24.99
64 g
57 x 40cm
Cushion Back with Zip
(40cm Square) - Gothic Blue Luxury Cotton Fabric with Zip Opening
FGCUS050(S40)COL-BGO(Zip)
5056261022454
£22.99
54 g
40 x 40cm
Cushion Back with Zip
(30cm Square) - Gothic Blue Luxury Cotton Fabric with Zip Opening
FGCUS050(S30)COL-BGO(Zip)
5056261022454
£22.99
34 g
30 x 30cm
Cushion Back with Zip
(36cm x 25cm) - Gothic Blue Luxury Cotton Fabric with Zip Opening
FGCUS050(36cmx25cm)COL-BGO(Zip)
5056261022454
£22.99
34 g
36 x 25cm
Cushion Back with Zip
(57cm x 40cm) - Gothic Blue Luxury Cotton Fabric with Zip Opening
FGCUS050(57cmx40cm)COL-BGO(Zip)
5056261022454
£24.99
64 g
57 x 40cm
Cushion Back with Zip
(40cm Square) - Natural Organic Cotton with Zip Opening
FGCUS050(S40)COO-NAT(Zip)
5056261022454
£19.99
54 g
40 x 40cm
Cushion Back with Zip
(30cm Square) - Natural Organic Cotton with Zip Opening
FGCUS050(S30)COO-NAT(Zip)
5056261022454
£19.99
34 g
30 x 30cm
Cushion Back with Zip
(36cm x 25cm) - Natural Organic Cotton with Zip Opening
FGCUS050(36cmx25cm)COO-NAT(Zip)
5056261022454
£19.99
34 g
36 x 25cm
Cushion Back with Zip
(57cm x 40cm) - Natural Organic Cotton with Zip Opening
FGCUS050(57cmx40cm)COO-NAT(Zip)
5056261022454
£21.99
64 g
57 x 40cm
Cushion Back with Zip