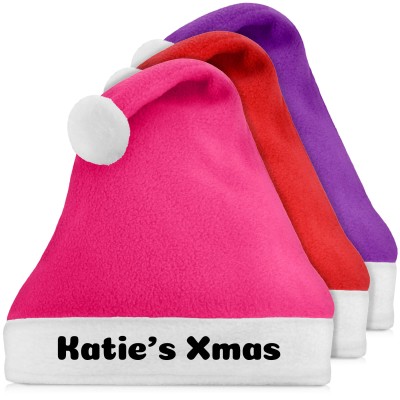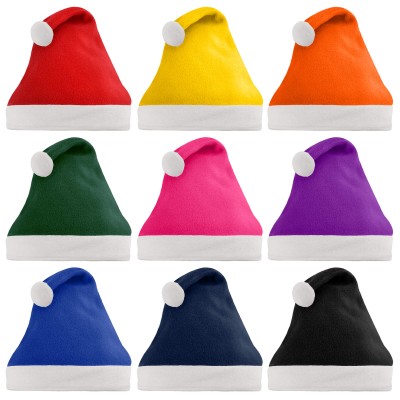 UK Made
Description
Christmas Hats in luxury fleece and a range of colour options are UK Made and can be personalised with FREE Personalised Text.
Premium quality fleece Personalised Santa Hats.
Size options for adults and kids.
Great for Christmas Party Hats and carol singing events.
Choose from a variety of colours.
Optional FREE Personalised Text.
Trusted HappySnapGifts® UK Made brand.
Christmas never seems far away and with these fun fleece Personalised Christmas Hats hats you will be a hit at any festive party or family event.
They are British made and produced from top quality fleece fabric, and are available in a range of vibrant colours including of course Red and White but also Black Santa Hats, Blue Christmas Hats and Pink and a range of other colours.
Each hat can be personalsied with the text or slogan of your choice for a small extra charge so why not wear your name or nickname with pride, or make a funny novelty Christmas Hat with an in-joke for family and friends.
Reviews
It was a *Bit of Fun ! *
- Bought this hat for my grown up son to wear the week before Christmas. With a yellow T-shirt, it looked great. Not sure he was happy to have his name on it !. But hey-ho. (SilverDave, 06/02/22)
Great hat
- Fun hat, tartan well received by the family, think I've encouraged them to get more for next year! (Rob, 12/01/22)
My kids loved these novelty hats
- I ordered 4 personalised hats for my kids this Christmas. Each hat was individually personalised with their 'task' on Christmas Day! They arrived promptly and were of a good quality - I was very impressed and if I need personalised gifts in the future I will order from Happy Snap Gifts. (Amanda, 12/01/20)
Directors Review of the British Made Christmas Hats
- Low cost Christmas Hats are available to buy everywhere but our seasonal hats are British Made in luxury fleece fabric, come with free personalisation and some in a range of made to order colours. What better way to help personalise Christmas this year for your friends and family. (Michael Robinson)
Instructions
Our products will have a sewn-in Care Label giving you guidance on Care and Washing this Product. In summary however, they will contain the following instructions though please do refer to the specific label on your individual item for latest information:
For 100% Cotton, 100% Polycotton & 100% Polyester Fabrics (eg Fleece).
CARELESSNESS CAUSES FIRE.
Remove outer cover if supplied before carefully cleaning.
Do not wash the inner filled product or get it wet.
Warm hand or machine wash and cold rinse.
Wash with like colours at max. 40 degree temperature.
Do not bleach.
1 spot iron (Cotton / Fleece) or 2 spot iron (Polycotton).
Do not tumble dry.
Delivery
The information below is for guidance. Actual delivery costs and dates depend on the delivery address, weight and time your order is placed. Cut-off time for Overnight Orders is 12 noon.
| Price | Method | Manufacture Time | Delivery Time | Est. Delivery Date |
| --- | --- | --- | --- | --- |
| £3.99 | 2nd Class (Tracked LL) | 0-3 Days | 2-3 Days | Mon 4 Dec - Fri 8 Dec |
| £5.99 | 1st Class (Tracked LL) | 0-3 Days | 1-2 Days | Fri 1 Dec - Thu 7 Dec |
| £12.96 | DHL Courier (Economy M-F Pre 6pm) | 0-3 Days | 2-3 Days | Mon 4 Dec - Fri 8 Dec |
| £14.99 | Royal Mail Special Delivery (Overnight Mon-Sat Pre 1pm) | Today | Next Day (Mon-Sat) | Fri 1 Dec |
More Information
| | |
| --- | --- |
| Despatch | Today (Cut off time 3pm) (0-3 Days if Personalised) or Upgrade at Checkout for Overnight Delivery |
| Brand | HappySnapGifts® |
| RRP | £5.99 |
| Country of Origin | United Kingdom |
| SKU | FGSAN001(R)FLE-RED |
| Gtin | 5060089254096 |
| Tariff Code | 9505109000 |
| Tariff Description | Articles for Christmas festivities |
| Product Weight | 40 g |
| Product Dimensions | 32 x 31cm |
Product Options
Size
Regular Adult (31cm Wide), Smaller Adult / Teen (28cm)
Fabric
Fleece
Santa Hat Colour
Red, Royal Blue, Purple, Hot Pink (Fuchsia), Navy Blue, Black, Dark Green, Burnt Orange, Grey, White, Yellow
Product Type
Christmas Hats
santa hat
xmas hat
christmas party hat
luxury santa hats

Christmas Hat
Regular Size - Red Fleece Fabric (Personalised with Text)
FGSAN001(R)FLE-RED(P)
5056656366637
£5.99
40 g
32 x 31cm
Christmas Hat
Smaller Adult Teen Size - Red Fleece Fabric (Personalised with Text)
FGSAN001(S)FLE-RED(P)
5056656366644
£5.99
34 g
29 x 28cm
Christmas Hat
Regular Size - Black Fleece Fabric (Personalised with Text)
FGSAN001(R)FLE-BLA(P)
5056656366651
£5.99
40 g
32 x 31cm
Christmas Hat
Smaller Adult Teen Size - Black Fleece Fabric (Personalised with Text)
FGSAN001(S)FLE-BLA(P)
5056656366668
£5.99
34 g
29 x 28cm
Christmas Hat
Regular Size - Dark Green Fleece Fabric (Personalised with Text)
FGSAN001(R)FLE-GDA(P)
5056656366675
£5.99
40 g
32 x 31cm
Christmas Hat
Smaller Adult Teen Size - Dark Green Fleece Fabric (Personalised with Text)
FGSAN001(S)FLE-GDA(P)
5056656366682
£5.99
34 g
29 x 28cm
Christmas Hat
Regular Size - Grey Fleece Fabric (Personalised with Text)
FGSAN001(R)FLE-GRA(P)
5056656366699
£5.99
40 g
32 x 31cm
Christmas Hat
Smaller Adult Teen Size - Grey Fleece Fabric (Personalised with Text)
FGSAN001(S)FLE-GRA(P)
5056656366705
£5.99
34 g
29 x 28cm
Christmas Hat
Regular Size - Navy Blue Fleece Fabric (Personalised with Text)
FGSAN001(R)FLE-BNA(P)
5056656366712
£5.99
40 g
32 x 31cm
Christmas Hat
Smaller Adult Teen Size - Navy Blue Fleece Fabric (Personalised with Text)
FGSAN001(S)FLE-BNA(P)
5056656366729
£5.99
34 g
29 x 28cm
Christmas Hat
Regular Size - Burnt Orange Fleece Fabric (Personalised with Text)
FGSAN001(R)FLE-ORA(P)
5056656366736
£5.99
40 g
32 x 31cm
Christmas Hat
Smaller Adult Teen Size - Burnt Orange Fleece Fabric (Personalised with Text)
FGSAN001(S)FLE-ORA(P)
5056656366743
£5.99
34 g
29 x 28cm
Christmas Hat
Regular Size - Hot Pink (Fuchsia) Fleece Fabric (Personalised with Text)
FGSAN001(R)FLE-PFU(P)
5056656366750
£5.99
40 g
32 x 31cm
Christmas Hat
Smaller Adult Teen Size - Hot Pink (Fuchsia) Fleece Fabric (Personalised with Text)
FGSAN001(S)FLE-PFU(P)
5056656366767
£5.99
34 g
29 x 28cm
Christmas Hat
Regular Size - Purple Fleece Fabric (Personalised with Text)
FGSAN001(R)FLE-PUR(P)
5056656366774
£5.99
40 g
32 x 31cm
Christmas Hat
Smaller Adult Teen Size - Purple Fleece Fabric (Personalised with Text)
FGSAN001(S)FLE-PUR(P)
5056656366781
£5.99
34 g
29 x 28cm
Christmas Hat
Regular Size - Royal Blue Fleece Fabric (Personalised with Text)
FGSAN001(R)FLE-BRO(P)
5056656366798
£5.99
40 g
32 x 31cm
Christmas Hat
Smaller Adult Teen Size - Royal Blue Fleece Fabric (Personalised with Text)
FGSAN001(S)FLE-BRO(P)
5056656366804
£5.99
34 g
29 x 28cm
Christmas Hat
Regular Size - White Fleece Fabric (Personalised with Text)
FGSAN001(R)FLE-WHI(P)
5056656366811
£5.99
40 g
32 x 31cm
Christmas Hat
Smaller Adult Teen Size - White Fleece Fabric (Personalised with Text)
FGSAN001(S)FLE-WHI(P)
5056656366828
£5.99
34 g
29 x 28cm
Christmas Hat
Regular Size - Yellow Fleece Fabric (Personalised with Text)
FGSAN001(R)FLE-YEL(P)
5056656366835
£5.99
40 g
32 x 31cm
Christmas Hat
Smaller Adult Teen Size - Yellow Fleece Fabric (Personalised with Text)
FGSAN001(S)FLE-YEL(P)
5056656366842
£5.99
34 g
29 x 28cm
Christmas Hat
Regular Size - Red Fleece Fabric
FGSAN001(R)FLE-RED
5060089254096
£5.99
40 g
32 x 31cm
Christmas Hat
Smaller Adult Teen Size - Red Fleece Fabric
FGSAN001(S)FLE-RED
5056656366385
£5.99
34 g
29 x 28cm
Christmas Hat
Regular Size - Black Fleece Fabric
FGSAN001(R)FLE-BLA
5056656366392
£5.99
40 g
32 x 31cm
Christmas Hat
Smaller Adult Teen Size - Black Fleece Fabric
FGSAN001(S)FLE-BLA
5056656366408
£5.99
34 g
29 x 28cm
Christmas Hat
Regular Size - Royal Blue Fleece Fabric
FGSAN001(R)FLE-BRO
5056656366415
£5.99
40 g
32 x 31cm
Christmas Hat
Smaller Adult Teen Size - Royal Blue Fleece Fabric
FGSAN001(S)FLE-BRO
5056656366422
£5.99
34 g
29 x 28cm
Christmas Hat
Regular Size - Navy Blue Fleece Fabric
FGSAN001(R)FLE-BNA
5056656366439
£5.99
40 g
32 x 31cm
Christmas Hat
Smaller Adult Teen Size - Navy Blue Fleece Fabric
FGSAN001(S)FLE-BNA
5056656366446
£5.99
34 g
29 x 28cm
Christmas Hat
Regular Size - Hot Pink (Fuchsia) Fleece Fabric
FGSAN001(R)FLE-PFU
5056656366453
£5.99
40 g
32 x 31cm
Christmas Hat
Smaller Adult Teen Size - Hot Pink (Fuchsia) Fleece Fabric
FGSAN001(S)FLE-PFU
5056656366460
£5.99
34 g
29 x 28cm
Christmas Hat
Regular Size - Dark Green Fleece Fabric
FGSAN001(R)FLE-GDA
5056656366477
£5.99
40 g
32 x 31cm
Christmas Hat
Smaller Adult Teen Size - Dark Green Fleece Fabric
FGSAN001(S)FLE-GDA
5056656366484
£5.99
34 g
29 x 28cm
Christmas Hat
Regular Size - Purple Fleece Fabric
FGSAN001(R)FLE-PUR
5056656366491
£5.99
40 g
32 x 31cm
Christmas Hat
Smaller Adult Teen Size - Purple Fleece Fabric
FGSAN001(S)FLE-PUR
5056656366507
£5.99
34 g
29 x 28cm
Christmas Hat
Regular Size - Grey Fleece Fabric
FGSAN001(R)FLE-GRA
5056656366514
£5.99
40 g
32 x 31cm
Christmas Hat
Smaller Adult Teen Size - Grey Fleece Fabric
FGSAN001(S)FLE-GRA
5056656366521
£5.99
34 g
29 x 28cm
Christmas Hat
Regular Size - Burnt Orange Fleece Fabric
FGSAN001(R)FLE-ORA
5056656366538
£5.99
40 g
32 x 31cm
Christmas Hat
Smaller Adult Teen Size - Burnt Orange Fleece Fabric
FGSAN001(S)FLE-ORA
5056656366545
£5.99
34 g
29 x 28cm
Christmas Hat
Regular Size - White Fleece Fabric
FGSAN001(R)FLE-WHI
5056656366552
£5.99
40 g
32 x 31cm
Christmas Hat
Smaller Adult Teen Size - White Fleece Fabric
FGSAN001(S)FLE-WHI
5056656366569
£5.99
34 g
29 x 28cm
Christmas Hat
Regular Size - Yellow Fleece Fabric
FGSAN001(R)FLE-YEL
5056656366576
£5.99
40 g
32 x 31cm
Christmas Hat
Smaller Adult Teen Size - Yellow Fleece Fabric
FGSAN001(S)FLE-YEL
5056656366583
£5.99
34 g
29 x 28cm