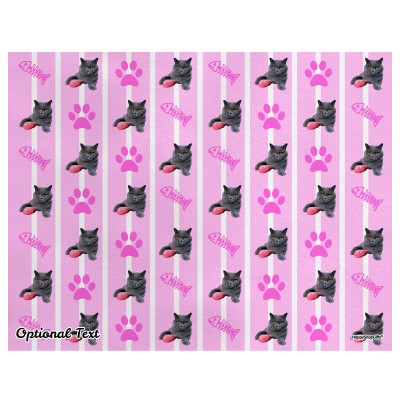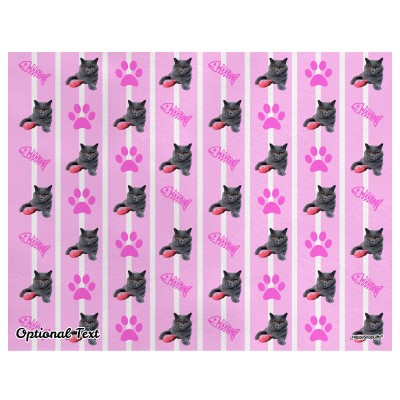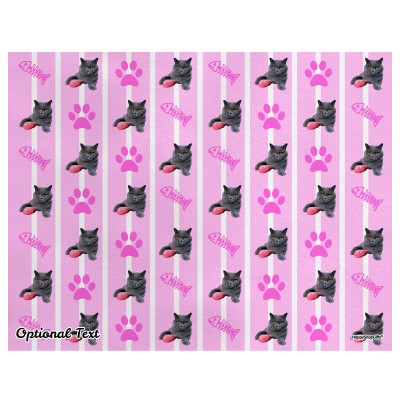 Cat Blanket (Personalised with Photos of Your Pet)
UK Made
Description
Photo Cat Blanket featuring a photo of your cat or kitten with optional personalised text in a range of light colours to complement your cat.
UK Made Cat Blanket.
Photos of your cat printed across the blanket.
Cat theme to go along with your photo in various colours.
Choose from the sizes available to suit your kitten.
Trusted HappySnapGifts® brand.
Kitten blanket in a soft velvet polyester fabric, manufactured to order, creating this unique cat fleece blanket for your beloved cat or kitten. Great gift for any cat lovers too.
Reviews
Instructions
100% Polyester Fabric used for the Printed Fabric.
CARELESSNESS CAUSES FIRE.
Warm hand or machine wash and cold rinse.
Wash with like colours at max. 40 degree temperature.
Do not bleach.
1 spot iron (Cotton / Fleece) or 2 spot iron (Polycotton).
Do not tumble dry.
Delivery
The information below is for guidance. Actual delivery costs and dates depend on the delivery address, weight and time your order is placed. Cut-off time for Overnight Orders is 12 noon.
| Price | Method | Manufacture Time | Delivery Time | Est. Delivery Date |
| --- | --- | --- | --- | --- |
| £4.99 | 2nd Class (Tracked) | 0-3 Days | 2-3 Days | Mon 4 Dec - Fri 8 Dec |
| £7.99 | 1st Class (Tracked) | 0-3 Days | 1-2 Days | Fri 1 Dec - Thu 7 Dec |
| £12.94 | DHL Courier (Economy M-F Pre 6pm) | 0-3 Days | 2-3 Days | Mon 4 Dec - Fri 8 Dec |
| £14.99 | Royal Mail Special Delivery (Overnight Mon-Sat Pre 1pm) | Today | Next Day (Mon-Sat) | Fri 1 Dec |
More Information
| | |
| --- | --- |
| Despatch | 0-3 Days (to Personalise) or Upgrade at Checkout for Overnight Delivery |
| Brand | HappySnapGifts® |
| RRP | £12.99 |
| Country of Origin | United Kingdom |
| SKU | FGBLA004(R55x40)PSV(CAT)PAS-PURP(Ph1)(P) |
| Gtin | 5060089255499 |
| Tariff Code | 6307209090 |
| Tariff Description | Blankets - Other Textile Items (Polyester Fabric) |
| Product Weight | 77 g |
| Product Dimensions | 42 x 57cm |
Product Options
Size
55cm x 40cm, 75cm x 55cm
Photos to Print
Photos to Front
Fabric
Soft Velvet Polyester
Colour
Purple, Pink, Blue, Green, Orange, Red, Yellow
Print Theme
Cat
Product Type
Blankets - Pet Blanket
Personalised Gifts > Personalised Pet Gifts
Cat Blanket
Kitten Blanket
Personalised Pet Blanket

Cat Blanket (Personalised with Photos of Your Pet)
(55cm x 40cm) with Cat Theme Pink Soft Velvet Polyester Fabric (Personalised with Text)
FGBLA004(R55x40)PSV(CAT)PAS-PINKP(Ph1)(P)
5056656308897
£12.99
77 g
42 x 57cm
Cat Blanket (Personalised with Photos of Your Pet)
(75cm x 55cm) with Cat Theme Pink Soft Velvet Polyester Fabric (Personalised with Text)
FGBLA004(R75x55)PSV(CAT)PAS-PINKP(Ph1)(P)
5056656308910
£17.99
137 g
57 x 57cm
Cat Blanket (Personalised with Photos of Your Pet)
(55cm x 40cm) with Cat Theme Blue Soft Velvet Polyester Fabric (Personalised with Text)
FGBLA004(R55x40)PSV(CAT)PAS-BLUP(Ph1)(P)
5056656308934
£12.99
77 g
42 x 57cm
Cat Blanket (Personalised with Photos of Your Pet)
(75cm x 55cm) with Cat Theme Blue Soft Velvet Polyester Fabric (Personalised with Text)
FGBLA004(R75x55)PSV(CAT)PAS-BLUP(Ph1)(P)
5056656308958
£17.99
137 g
57 x 57cm
Cat Blanket (Personalised with Photos of Your Pet)
(55cm x 40cm) with Cat Theme Green Soft Velvet Polyester Fabric (Personalised with Text)
FGBLA004(R55x40)PSV(CAT)PAS-GRNP(Ph1)(P)
5056656308965
£12.99
77 g
42 x 57cm
Cat Blanket (Personalised with Photos of Your Pet)
(75cm x 55cm) with Cat Theme Green Soft Velvet Polyester Fabric (Personalised with Text)
FGBLA004(R75x55)PSV(CAT)PAS-GRNP(Ph1)(P)
5056656308842
£17.99
137 g
57 x 57cm
Cat Blanket (Personalised with Photos of Your Pet)
(55cm x 40cm) with Cat Theme Orange Soft Velvet Polyester Fabric (Personalised with Text)
FGBLA004(R55x40)PSV(CAT)PAS-ORAP(Ph1)(P)
5056656308859
£12.99
77 g
42 x 57cm
Cat Blanket (Personalised with Photos of Your Pet)
(75cm x 55cm) with Cat Theme Orange Soft Velvet Polyester Fabric (Personalised with Text)
FGBLA004(R75x55)PSV(CAT)PAS-ORAP(Ph1)(P)
5056656308866
£17.99
137 g
57 x 57cm
Cat Blanket (Personalised with Photos of Your Pet)
(55cm x 40cm) with Cat Theme Purple Soft Velvet Polyester Fabric (Personalised with Text)
FGBLA004(R55x40)PSV(CAT)PAS-PURP(Ph1)(P)
5060089255499
£12.99
77 g
42 x 57cm
Cat Blanket (Personalised with Photos of Your Pet)
(75cm x 55cm) with Cat Theme Purple Soft Velvet Polyester Fabric (Personalised with Text)
FGBLA004(R75x55)PSV(CAT)PAS-PURP(Ph1)(P)
5056656308873
£17.99
137 g
57 x 57cm
Cat Blanket (Personalised with Photos of Your Pet)
(55cm x 40cm) with Cat Theme Red Soft Velvet Polyester Fabric (Personalised with Text)
FGBLA004(R55x40)PSV(CAT)PAS-REDP(Ph1)(P)
5056656308880
£12.99
77 g
42 x 57cm
Cat Blanket (Personalised with Photos of Your Pet)
(75cm x 55cm) with Cat Theme Red Soft Velvet Polyester Fabric (Personalised with Text)
FGBLA004(R75x55)PSV(CAT)PAS-REDP(Ph1)(P)
5056656308903
£17.99
137 g
57 x 57cm
Cat Blanket (Personalised with Photos of Your Pet)
(55cm x 40cm) with Cat Theme Yellow Soft Velvet Polyester Fabric (Personalised with Text)
FGBLA004(R55x40)PSV(CAT)PAS-YELP(Ph1)(P)
5056656308927
£12.99
77 g
42 x 57cm
Cat Blanket (Personalised with Photos of Your Pet)
(75cm x 55cm) with Cat Theme Yellow Soft Velvet Polyester Fabric (Personalised with Text)
FGBLA004(R75x55)PSV(CAT)PAS-YELP(Ph1)(P)
5056656308941
£17.99
137 g
57 x 57cm
Cat Blanket (Personalised with Photos of Your Pet)