2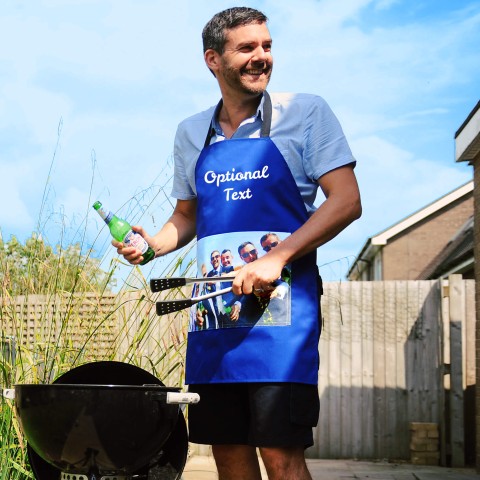 Stunning British-Made Personalised Photo Aprons
Our premium quality British-made aprons are the perfect gift for those of us who just can't stay away from the kitchen. Inspire someone to get creative behind the stove with our stunning range of personalised photo aprons, printed with your favourite photograph and special message. We have an extensive range of stunning aprons available in a variety of beautiful colours that cater to all budgets and tastes.
Aprons are great for budding chefs, no matter what the age. We at Happy Snap Gifts cater to people of all ages and have made a series of magnificent little aprons designed specifically for children. Though perfected for use in the kitchen, our aprons are also terrific at keeping your kids clean during messy arts and crafts sessions. Its 60cm size is also ideal for young children who love to help Mummy and Daddy in the kitchen.
All of our stunning photo aprons are made from premium quality cotton or polycotton fabrics and can be personalised wholly to fit your needs. Our Personalised Photo Apron is our favourite here at Happy Snap Gifts and features your favourite photograph printed onto the pocket. As a company with a strong focus on textiles, our exquisite photo aprons are not only novel, but are British-made to the highest possible standards and are designed and manufactured to last.