2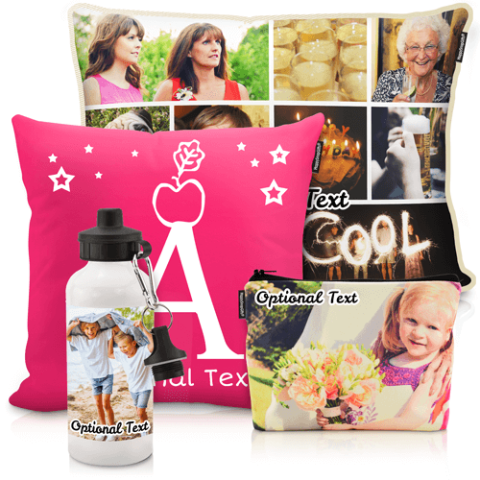 Personalised photo gifts: the best gift idea you ever had
Make it extra special - Personalised gifts are about more than just buying something that someone might 'quite like'. It is about making something which you know someone will really love. Adding a personalised photo to a gift, is a great way of remembering something fun and celebrating that memory. Any photo or montage can be used on your gift item, whether that is a photo of a beloved pet, a great holiday you wish you could relive, your special wedding day, or even a fun night out with friends.
"My husband had just finished building/furnishing his man cave, all very masculine. So my way of getting a little bit of me in there was to have these photos of us doing exciting things on them. It was a bit touch and go whether he'd approve or not, so I took the gamble and ordered 2 with 8 photos on each. When they arrived that same week, I passed the parcel to my Husband and said surprise! He opened it up and went silent, I thought oh no… then he smiled and with a tear in his eye said they were perfect, what great quality."
Caroline: Montage Photo Cushions, Happy Snap Gift Reviews
Choosing the right gift
To make that gift truly personal, firstly you need to think about the gift item you want to personalise with a photo. Some of the most popular personalised gifts for him include: photo aprons, personalised mugs, and even personalised sports bottles. For personalised gifts for her, photo cushions are a really great idea. For an ultra-modern gift, photo panels are also a great option. There are thousands of personalised gift ideas to choose from. For all up-to-date product ideas, subscribe to our mailing list to receive fresh personalised gift ideas.
Sit back, and relax…
Take the stress out of finding that perfect gift. With the click of a mouse, you can order your personalised photo gifts online and upload a photo of your choice. Delivery of personalised photo gifts can vary but will usually take between 2-10 days though if you are in a rush, urgent orders can usually be delivered next day. After that, all you need to do is sit back and wait for your photo gift to arrive.
Over to you. Leave us a comment to share your ideas of any great personalised photo gift ideas you have sent or received.