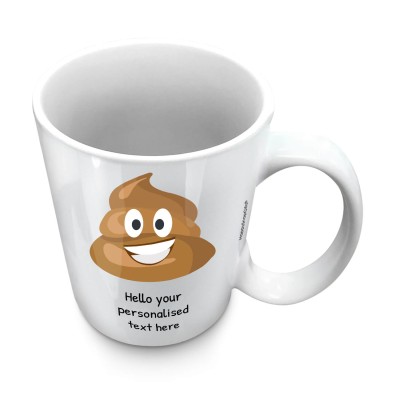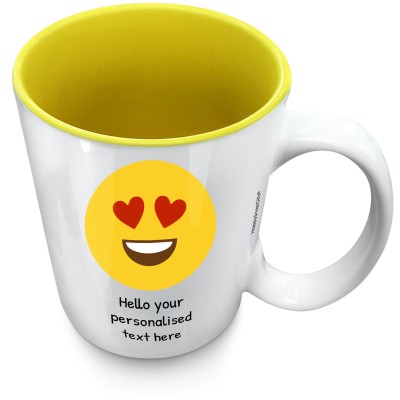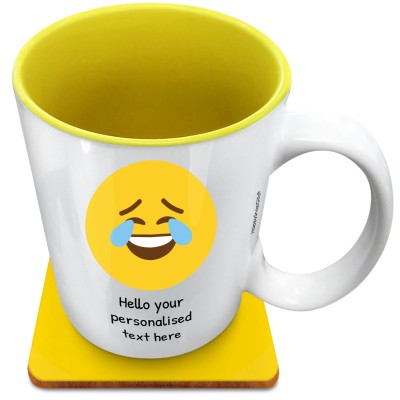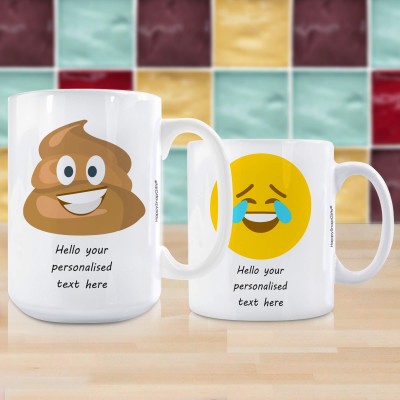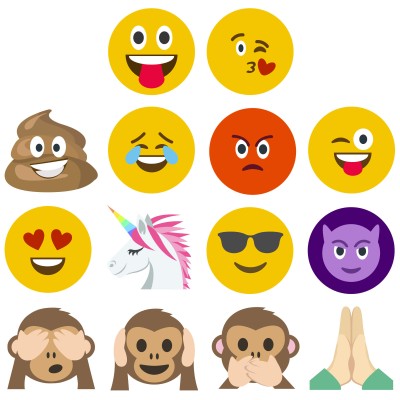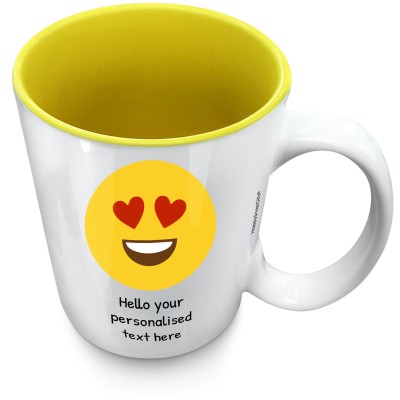 Dishwasher Safe
Description
Smiley Face Mug featuring any of our emoticons and personalised with the text of your choice as a great personalised gift printed on both sides of the mug.
Smiley Face Mug in 2 size options.
Personalised mug emoticon designs.
Personalised with the text of your choice.
Trusted HappySnapGifts® brand.
Personalised Smiley Face Mug features an emoticon of your choice including Happy Poo Mugs, Smiley Mugs and so many more options. Each personalised mug is personalised with text printed to both sides of the Mug. Personalised Mugs are a great way of creating a unique and thoughtful gift for a friend or family member and each mug will display the emoticon twice.
We print your emoticon and optional personalised text using state of the art printing technologies to ensure the images will not wash off or fade over time. Your print cannot be scratched off and can even go in the dishwasher, which is a real testament to the product's robustness and durability.
Each stunning Personalised Smiley Face Mug is super glossy and make for a wonderful personalised gift.
Reviews
Was a gorgeous gift for my friend!!
- This came out wonderful!!! It looked amazing on the pic but waaay better in real!!!! Well done!!! And the service is fantastic!!! Thanks !! (Leah)
Fantastic Poo Emoji Mug
- I bought this poo emoji mug for my dad for Xmas, he thought it was hilarious and absolutely loved it. I personalised this gift with my dad's name which was very clearly printed onto the mug and went for the cute poo emoticon. My dad now uses this mug everyday at work and tells me he is constantly getting compliments about it. I cannot fault the delivery either even over the busy Xmas period. I am a vey happy customer and have been recommending Happy Snap Gifts to all my friends and family, I will definitely be back as the website is packed with amazing gift ideas.  (Natasha Davis)
FAQs
Can these mugs be washed in a dishwasher?
Yes. All our mugs are dishwasher safe.
Standard Mug
Approx. 10cm tall x 8.5cm diameter (6.5cm handle).
XL Mug
Approx. 11.5cm tall x 8.5cm diameter (9cm handle).
Do you have any more Smiley Faces I can use on this product?
Yes. Let us know which smiley face you want on your emoji gift and we will see if we can find a licensed version and add it to our range.
Are these Smiley Face Gifts officially licensed?
Yes. We are licensed to use a vast set of Smiley Faces on our gifts that you will see on our website. There are literally thousands of Smiley Faces we can use but can't show them all on our website.
Delivery
The information below is for guidance. Actual delivery costs and dates depend on the delivery address, weight and time your order is placed. Cut-off time for Overnight Orders is 12 noon.
| Price | Method | Manufacture Time | Delivery Time | Est. Delivery Date |
| --- | --- | --- | --- | --- |
| £4.99 | 2nd Class (Tracked) | 0-3 Days | 2-3 Days | Wed 13 Dec - Tue 19 Dec |
| £7.99 | 1st Class (Tracked) | 0-3 Days | 1-2 Days | Tue 12 Dec - Mon 18 Dec |
| £13.11 | DHL Courier (Economy M-F Pre 6pm) | 0-3 Days | 2-3 Days | Wed 13 Dec - Tue 19 Dec |
| £14.99 | Royal Mail Special Delivery (Overnight Mon-Sat Pre 1pm) | Monday | Next Day (Mon-Sat) | Tue 12 Dec |
More Information
| | |
| --- | --- |
| Despatch | 0-3 Days (to Personalise) or Upgrade at Checkout for Overnight Delivery |
| Brand | HappySnapGifts® |
| RRP | £14.99 |
| Country of Origin | United Kingdom |
| SKU | FGMUG006MLEEMO-(P) |
| Gtin | 5060089255680 |
| Tariff Code | 691110 |
| Tariff Description | Tableware, kitchenware, other household articles and toilet articles, of porcelain or china |
| Product Weight | 415 g |
| Product Dimensions | 11.5 x 8.5 x 8.5cm |
Product Options
Size & Colour
XL 15oz Yellow, XL 15oz White, 10oz White
Mug Type
Ceramic
Print Theme
Emoji Theme
Character Choice
Love Heart Eyes, Happy Poo, Angry Face, Crying, Crying with Laughter, Kiss with a Wink, Monkey Hear no Evil, Monkey See no Evil, Monkey Speak no Evil, Praying Hands, Purple Devil, Sunglasses, Tongue Out, Tongue with a Wink, Unicorn
Optional Coaster
Inc. 1 Circular Coaster +, Inc. 1 Square Coaster +
Product Type
Mugs
Personalised Mugs
Personalised Mugs UK
Personalised Name Mug
Personalised Mug and Coaster

Smiley Face Mug
(10oz White) - Happy Poo (Personalised with Text)
FGMUG001HAPEMO-(P)
5060089255680
£10.99
325 g
10 x 8.5 x 8.5cm
Smiley Face Mug
(XL 15oz White) - Happy Poo (Personalised with Text)
FGMUG004HAPEMO-(P)
5060089255680
£14.99
415 g
11.5 x 8.5 x 8.5cm
Smiley Face Mug
(XL 15oz Yellow) - Happy Poo (Personalised with Text)
FGMUG006HAPEMO-(P)
5060089255680
£14.99
415 g
11.5 x 8.5 x 8.5cm
Smiley Face Mug
(10oz White) - Angry Face (Personalised with Text)
FGMUG001ANGEMO-(P)
5060089255680
£10.99
325 g
10 x 8.5 x 8.5cm
Smiley Face Mug
(XL 15oz White) - Angry Face (Personalised with Text)
FGMUG004ANGEMO-(P)
5060089255680
£14.99
415 g
11.5 x 8.5 x 8.5cm
Smiley Face Mug
(XL 15oz Yellow) - Angry Face (Personalised with Text)
FGMUG006ANGEMO-(P)
5060089255680
£14.99
415 g
11.5 x 8.5 x 8.5cm
Smiley Face Mug
(10oz White) - Crying (Personalised with Text)
FGMUG001CRYEMO-(P)
5060089255680
£10.99
325 g
10 x 8.5 x 8.5cm
Smiley Face Mug
(XL 15oz White) - Crying (Personalised with Text)
FGMUG004CRYEMO-(P)
5060089255680
£14.99
415 g
11.5 x 8.5 x 8.5cm
Smiley Face Mug
(XL 15oz Yellow) - Crying (Personalised with Text)
FGMUG006CRYEMO-(P)
5060089255680
£14.99
415 g
11.5 x 8.5 x 8.5cm
Smiley Face Mug
(10oz White) - Crying with Laughter (Personalised with Text)
FGMUG001CWLEMO-(P)
5060089255680
£10.99
325 g
10 x 8.5 x 8.5cm
Smiley Face Mug
(XL 15oz White) - Crying with Laughter (Personalised with Text)
FGMUG004CWLEMO-(P)
5060089255680
£14.99
415 g
11.5 x 8.5 x 8.5cm
Smiley Face Mug
(XL 15oz Yellow) - Crying with Laughter (Personalised with Text)
FGMUG006CWLEMO-(P)
5060089255680
£14.99
415 g
11.5 x 8.5 x 8.5cm
Smiley Face Mug
(10oz White) - Kiss with a Wink (Personalised with Text)
FGMUG001KIWEMO-(P)
5060089255680
£10.99
325 g
10 x 8.5 x 8.5cm
Smiley Face Mug
(XL 15oz White) - Kiss with a Wink (Personalised with Text)
FGMUG004KIWEMO-(P)
5060089255680
£14.99
415 g
11.5 x 8.5 x 8.5cm
Smiley Face Mug
(XL 15oz Yellow) - Kiss with a Wink (Personalised with Text)
FGMUG006KIWEMO-(P)
5060089255680
£14.99
415 g
11.5 x 8.5 x 8.5cm
Smiley Face Mug
(10oz White) - Love Heart Eyes (Personalised with Text)
FGMUG001MLEEMO-(P)
5060089255680
£10.99
325 g
10 x 8.5 x 8.5cm
Smiley Face Mug
(XL 15oz White) - Love Heart Eyes (Personalised with Text)
FGMUG004MLEEMO-(P)
5060089255680
£14.99
415 g
11.5 x 8.5 x 8.5cm
Smiley Face Mug
(XL 15oz Yellow) - Love Heart Eyes (Personalised with Text)
FGMUG006MLEEMO-(P)
5060089255680
£14.99
415 g
11.5 x 8.5 x 8.5cm
Smiley Face Mug
(10oz White) - Hear no Evil Monkey (Personalised with Text)
FGMUG001MHEEMO-(P)
5060089255680
£10.99
325 g
10 x 8.5 x 8.5cm
Smiley Face Mug
(XL 15oz White) - Hear no Evil Monkey (Personalised with Text)
FGMUG004MHEEMO-(P)
5060089255680
£14.99
415 g
11.5 x 8.5 x 8.5cm
Smiley Face Mug
(XL 15oz Yellow) - Hear no Evil Monkey (Personalised with Text)
FGMUG006MHEEMO-(P)
5060089255680
£14.99
415 g
11.5 x 8.5 x 8.5cm
Smiley Face Mug
(10oz White) - See no Evil Monkey (Personalised with Text)
FGMUG001MSEEMO-(P)
5060089255680
£10.99
325 g
10 x 8.5 x 8.5cm
Smiley Face Mug
(XL 15oz White) - See no Evil Monkey (Personalised with Text)
FGMUG004MSEEMO-(P)
5060089255680
£14.99
415 g
11.5 x 8.5 x 8.5cm
Smiley Face Mug
(XL 15oz Yellow) - See no Evil Monkey (Personalised with Text)
FGMUG006MSEEMO-(P)
5060089255680
£14.99
415 g
11.5 x 8.5 x 8.5cm
Smiley Face Mug
(10oz White) - Speak no Evil Monkey (Personalised with Text)
FGMUG001MSPEMO-(P)
5060089255680
£10.99
325 g
10 x 8.5 x 8.5cm
Smiley Face Mug
(XL 15oz White) - Speak no Evil Monkey (Personalised with Text)
FGMUG004MSPEMO-(P)
5060089255680
£14.99
415 g
11.5 x 8.5 x 8.5cm
Smiley Face Mug
(XL 15oz Yellow) - Speak no Evil Monkey (Personalised with Text)
FGMUG006MSPEMO-(P)
5060089255680
£14.99
415 g
11.5 x 8.5 x 8.5cm
Smiley Face Mug
(10oz White) - Praying Hands (Personalised with Text)
FGMUG001PRHEMO-(P)
5060089255680
£10.99
325 g
10 x 8.5 x 8.5cm
Smiley Face Mug
(XL 15oz White) - Praying Hands (Personalised with Text)
FGMUG004PRHEMO-(P)
5060089255680
£14.99
415 g
11.5 x 8.5 x 8.5cm
Smiley Face Mug
(XL 15oz Yellow) - Praying Hands (Personalised with Text)
FGMUG006PRHEMO-(P)
5060089255680
£14.99
415 g
11.5 x 8.5 x 8.5cm
Smiley Face Mug
(10oz White) - Purple Devil (Personalised with Text)
FGMUG001PDEEMO-(P)
5060089255680
£10.99
325 g
10 x 8.5 x 8.5cm
Smiley Face Mug
(XL 15oz White) - Purple Devil (Personalised with Text)
FGMUG004PDEEMO-(P)
5060089255680
£14.99
415 g
11.5 x 8.5 x 8.5cm
Smiley Face Mug
(XL 15oz Yellow) - Purple Devil (Personalised with Text)
FGMUG006PDEEMO-(P)
5060089255680
£14.99
415 g
11.5 x 8.5 x 8.5cm
Smiley Face Mug
(10oz White) - Sunglasses (Personalised with Text)
FGMUG001SUNEMO-(P)
5060089255680
£10.99
325 g
10 x 8.5 x 8.5cm
Smiley Face Mug
(XL 15oz White) - Sunglasses (Personalised with Text)
FGMUG004SUNEMO-(P)
5060089255680
£14.99
415 g
11.5 x 8.5 x 8.5cm
Smiley Face Mug
(XL 15oz Yellow) - Sunglasses (Personalised with Text)
FGMUG006SUNEMO-(P)
5060089255680
£14.99
415 g
11.5 x 8.5 x 8.5cm
Smiley Face Mug
(10oz White) - Tongue Out (Personalised with Text)
FGMUG001TOOEMO-(P)
5060089255680
£10.99
325 g
10 x 8.5 x 8.5cm
Smiley Face Mug
(XL 15oz White) - Tongue Out (Personalised with Text)
FGMUG004TOOEMO-(P)
5060089255680
£14.99
415 g
11.5 x 8.5 x 8.5cm
Smiley Face Mug
(XL 15oz Yellow) - Tongue Out (Personalised with Text)
FGMUG006TOOEMO-(P)
5060089255680
£14.99
415 g
11.5 x 8.5 x 8.5cm
Smiley Face Mug
(10oz White) - Tongue with a Wink (Personalised with Text)
FGMUG001TOWEMO-(P)
5060089255680
£10.99
325 g
10 x 8.5 x 8.5cm
Smiley Face Mug
(XL 15oz White) - Tongue with a Wink (Personalised with Text)
FGMUG004TOWEMO-(P)
5060089255680
£14.99
415 g
11.5 x 8.5 x 8.5cm
Smiley Face Mug
(XL 15oz Yellow) - Tongue with a Wink (Personalised with Text)
FGMUG006TOWEMO-(P)
5060089255680
£14.99
415 g
11.5 x 8.5 x 8.5cm
Smiley Face Mug
(10oz White) - Unicorn (Personalised with Text)
FGMUG001UNIEMO-(P)
5060089255680
£10.99
325 g
10 x 8.5 x 8.5cm
Smiley Face Mug
(XL 15oz White) - Unicorn (Personalised with Text)
FGMUG004UNIEMO-(P)
5060089255680
£14.99
415 g
11.5 x 8.5 x 8.5cm
Smiley Face Mug
(XL 15oz Yellow) - Unicorn (Personalised with Text)
FGMUG006UNIEMO-(P)
5060089255680
£14.99
415 g
11.5 x 8.5 x 8.5cm
Smiley Face Mug
(10oz White) - Happy Poo (Personalised with Text) with 1 matching Circular Coaster
FGMUG001HAPEMO-(P)+FGCOA003
5060089255680
£14.98
381 g
10 x 8.5 x 8.5cm
Smiley Face Mug
(10oz White) - Happy Poo (Personalised with Text) with 1 matching Square Coaster
FGMUG001HAPEMO-(P)+FGCOA002
5060089255680
£14.98
381 g
10 x 8.5 x 8.5cm
Smiley Face Mug
(XL 15oz White) - Happy Poo (Personalised with Text) with 1 matching Circular Coaster
FGMUG004HAPEMO-(P)+FGCOA003
5060089255680
£18.98
471 g
11.5 x 8.5 x 8.5cm
Smiley Face Mug
(XL 15oz White) - Happy Poo (Personalised with Text) with 1 matching Square Coaster
FGMUG004HAPEMO-(P)+FGCOA002
5060089255680
£18.98
471 g
11.5 x 8.5 x 8.5cm
Smiley Face Mug
(XL 15oz Yellow) - Happy Poo (Personalised with Text) with 1 matching Circular Coaster
FGMUG006HAPEMO-(P)+FGCOA003
5060089255680
£18.98
471 g
9 x 9 x 0.5cm
Smiley Face Mug
(XL 15oz Yellow) - Happy Poo (Personalised with Text) with 1 matching Square Coaster
FGMUG006HAPEMO-(P)+FGCOA002
5060089255680
£18.98
471 g
9 x 9 x 0.5cm
Smiley Face Mug
(10oz White) - Angry Face (Personalised with Text) with 1 matching Circular Coaster
FGMUG001ANGEMO-(P)+FGCOA003
5060089255680
£14.98
381 g
10 x 8.5 x 8.5cm
Smiley Face Mug
(10oz White) - Angry Face (Personalised with Text) with 1 matching Square Coaster
FGMUG001ANGEMO-(P)+FGCOA002
5060089255680
£14.98
381 g
10 x 8.5 x 8.5cm
Smiley Face Mug
(XL 15oz White) - Angry Face (Personalised with Text) with 1 matching Circular Coaster
FGMUG004ANGEMO-(P)+FGCOA003
5060089255680
£18.98
471 g
11.5 x 8.5 x 8.5cm
Smiley Face Mug
(XL 15oz White) - Angry Face (Personalised with Text) with 1 matching Square Coaster
FGMUG004ANGEMO-(P)+FGCOA002
5060089255680
£18.98
471 g
11.5 x 8.5 x 8.5cm
Smiley Face Mug
(XL 15oz Yellow) - Angry Face (Personalised with Text) with 1 matching Circular Coaster
FGMUG006ANGEMO-(P)+FGCOA003
5060089255680
£18.98
471 g
9 x 9 x 0.5cm
Smiley Face Mug
(XL 15oz Yellow) - Angry Face (Personalised with Text) with 1 matching Square Coaster
FGMUG006ANGEMO-(P)+FGCOA002
5060089255680
£18.98
471 g
9 x 9 x 0.5cm
Smiley Face Mug
(10oz White) - Crying (Personalised with Text) with 1 matching Circular Coaster
FGMUG001CRYEMO-(P)+FGCOA003
5060089255680
£14.98
381 g
10 x 8.5 x 8.5cm
Smiley Face Mug
(10oz White) - Crying (Personalised with Text) with 1 matching Square Coaster
FGMUG001CRYEMO-(P)+FGCOA002
5060089255680
£14.98
381 g
10 x 8.5 x 8.5cm
Smiley Face Mug
(XL 15oz White) - Crying (Personalised with Text) with 1 matching Circular Coaster
FGMUG004CRYEMO-(P)+FGCOA003
5060089255680
£18.98
471 g
11.5 x 8.5 x 8.5cm
Smiley Face Mug
(XL 15oz White) - Crying (Personalised with Text) with 1 matching Square Coaster
FGMUG004CRYEMO-(P)+FGCOA002
5060089255680
£18.98
471 g
11.5 x 8.5 x 8.5cm
Smiley Face Mug
(XL 15oz Yellow) - Crying (Personalised with Text) with 1 matching Circular Coaster
FGMUG006CRYEMO-(P)+FGCOA003
5060089255680
£18.98
471 g
9 x 9 x 0.5cm
Smiley Face Mug
(XL 15oz Yellow) - Crying (Personalised with Text) with 1 matching Square Coaster
FGMUG006CRYEMO-(P)+FGCOA002
5060089255680
£18.98
471 g
9 x 9 x 0.5cm
Smiley Face Mug
(10oz White) - Crying with Laughter (Personalised with Text) with 1 matching Circular Coaster
FGMUG001CWLEMO-(P)+FGCOA003
5060089255680
£14.98
381 g
10 x 8.5 x 8.5cm
Smiley Face Mug
(10oz White) - Crying with Laughter (Personalised with Text) with 1 matching Square Coaster
FGMUG001CWLEMO-(P)+FGCOA002
5060089255680
£14.98
381 g
10 x 8.5 x 8.5cm
Smiley Face Mug
(XL 15oz White) - Crying with Laughter (Personalised with Text) with 1 matching Circular Coaster
FGMUG004CWLEMO-(P)+FGCOA003
5060089255680
£18.98
471 g
11.5 x 8.5 x 8.5cm
Smiley Face Mug
(XL 15oz White) - Crying with Laughter (Personalised with Text) with 1 matching Square Coaster
FGMUG004CWLEMO-(P)+FGCOA002
5060089255680
£18.98
471 g
11.5 x 8.5 x 8.5cm
Smiley Face Mug
(XL 15oz Yellow) - Crying with Laughter (Personalised with Text) with 1 matching Circular Coaster
FGMUG006CWLEMO-(P)+FGCOA003
5060089255680
£18.98
471 g
9 x 9 x 0.5cm
Smiley Face Mug
(XL 15oz Yellow) - Crying with Laughter (Personalised with Text) with 1 matching Square Coaster
FGMUG006CWLEMO-(P)+FGCOA002
5060089255680
£18.98
471 g
9 x 9 x 0.5cm
Smiley Face Mug
(10oz White) - Kiss with a Wink (Personalised with Text) with 1 matching Circular Coaster
FGMUG001KIWEMO-(P)+FGCOA003
5060089255680
£14.98
381 g
10 x 8.5 x 8.5cm
Smiley Face Mug
(10oz White) - Kiss with a Wink (Personalised with Text) with 1 matching Square Coaster
FGMUG001KIWEMO-(P)+FGCOA002
5060089255680
£14.98
381 g
10 x 8.5 x 8.5cm
Smiley Face Mug
(XL 15oz White) - Kiss with a Wink (Personalised with Text) with 1 matching Circular Coaster
FGMUG004KIWEMO-(P)+FGCOA003
5060089255680
£18.98
471 g
11.5 x 8.5 x 8.5cm
Smiley Face Mug
(XL 15oz White) - Kiss with a Wink (Personalised with Text) with 1 matching Square Coaster
FGMUG004KIWEMO-(P)+FGCOA002
5060089255680
£18.98
471 g
11.5 x 8.5 x 8.5cm
Smiley Face Mug
(XL 15oz Yellow) - Kiss with a Wink (Personalised with Text) with 1 matching Circular Coaster
FGMUG006KIWEMO-(P)+FGCOA003
5060089255680
£18.98
471 g
9 x 9 x 0.5cm
Smiley Face Mug
(XL 15oz Yellow) - Kiss with a Wink (Personalised with Text) with 1 matching Square Coaster
FGMUG006KIWEMO-(P)+FGCOA002
5060089255680
£18.98
471 g
9 x 9 x 0.5cm
Smiley Face Mug
(10oz White) - Love Heart Eyes (Personalised with Text) with 1 matching Circular Coaster
FGMUG001MLEEMO-(P)+FGCOA003
5060089255680
£14.98
381 g
10 x 8.5 x 8.5cm
Smiley Face Mug
(10oz White) - Love Heart Eyes (Personalised with Text) with 1 matching Square Coaster
FGMUG001MLEEMO-(P)+FGCOA002
5060089255680
£14.98
381 g
10 x 8.5 x 8.5cm
Smiley Face Mug
(XL 15oz White) - Love Heart Eyes (Personalised with Text) with 1 matching Circular Coaster
FGMUG004MLEEMO-(P)+FGCOA003
5060089255680
£18.98
471 g
11.5 x 8.5 x 8.5cm
Smiley Face Mug
(XL 15oz White) - Love Heart Eyes (Personalised with Text) with 1 matching Square Coaster
FGMUG004MLEEMO-(P)+FGCOA002
5060089255680
£18.98
471 g
11.5 x 8.5 x 8.5cm
Smiley Face Mug
(XL 15oz Yellow) - Love Heart Eyes (Personalised with Text) with 1 matching Circular Coaster
FGMUG006MLEEMO-(P)+FGCOA003
5060089255680
£18.98
471 g
9 x 9 x 0.5cm
Smiley Face Mug
(XL 15oz Yellow) - Love Heart Eyes (Personalised with Text) with 1 matching Square Coaster
FGMUG006MLEEMO-(P)+FGCOA002
5060089255680
£18.98
471 g
9 x 9 x 0.5cm
Smiley Face Mug
(10oz White) - Hear no Evil Monkey (Personalised with Text) with 1 matching Circular Coaster
FGMUG001MHEEMO-(P)+FGCOA003
5060089255680
£14.98
381 g
10 x 8.5 x 8.5cm
Smiley Face Mug
(10oz White) - Hear no Evil Monkey (Personalised with Text) with 1 matching Square Coaster
FGMUG001MHEEMO-(P)+FGCOA002
5060089255680
£14.98
381 g
10 x 8.5 x 8.5cm
Smiley Face Mug
(XL 15oz White) - Hear no Evil Monkey (Personalised with Text) with 1 matching Circular Coaster
FGMUG004MHEEMO-(P)+FGCOA003
5060089255680
£18.98
471 g
11.5 x 8.5 x 8.5cm
Smiley Face Mug
(XL 15oz White) - Hear no Evil Monkey (Personalised with Text) with 1 matching Square Coaster
FGMUG004MHEEMO-(P)+FGCOA002
5060089255680
£18.98
471 g
11.5 x 8.5 x 8.5cm
Smiley Face Mug
(XL 15oz Yellow) - Hear no Evil Monkey (Personalised with Text) with 1 matching Circular Coaster
FGMUG006MHEEMO-(P)+FGCOA003
5060089255680
£18.98
471 g
9 x 9 x 0.5cm
Smiley Face Mug
(XL 15oz Yellow) - Hear no Evil Monkey (Personalised with Text) with 1 matching Square Coaster
FGMUG006MHEEMO-(P)+FGCOA002
5060089255680
£18.98
471 g
9 x 9 x 0.5cm
Smiley Face Mug
(10oz White) - See no Evil Monkey (Personalised with Text) with 1 matching Circular Coaster
FGMUG001MSEEMO-(P)+FGCOA003
5060089255680
£14.98
381 g
10 x 8.5 x 8.5cm
Smiley Face Mug
(10oz White) - See no Evil Monkey (Personalised with Text) with 1 matching Square Coaster
FGMUG001MSEEMO-(P)+FGCOA002
5060089255680
£14.98
381 g
10 x 8.5 x 8.5cm
Smiley Face Mug
(XL 15oz White) - See no Evil Monkey (Personalised with Text) with 1 matching Circular Coaster
FGMUG004MSEEMO-(P)+FGCOA003
5060089255680
£18.98
471 g
11.5 x 8.5 x 8.5cm
Smiley Face Mug
(XL 15oz White) - See no Evil Monkey (Personalised with Text) with 1 matching Square Coaster
FGMUG004MSEEMO-(P)+FGCOA002
5060089255680
£18.98
471 g
11.5 x 8.5 x 8.5cm
Smiley Face Mug
(XL 15oz Yellow) - See no Evil Monkey (Personalised with Text) with 1 matching Circular Coaster
FGMUG006MSEEMO-(P)+FGCOA003
5060089255680
£18.98
471 g
9 x 9 x 0.5cm
Smiley Face Mug
(XL 15oz Yellow) - See no Evil Monkey (Personalised with Text) with 1 matching Square Coaster
FGMUG006MSEEMO-(P)+FGCOA002
5060089255680
£18.98
471 g
9 x 9 x 0.5cm
Smiley Face Mug
(10oz White) - Speak no Evil Monkey (Personalised with Text) with 1 matching Circular Coaster
FGMUG001MSPEMO-(P)+FGCOA003
5060089255680
£14.98
381 g
10 x 8.5 x 8.5cm
Smiley Face Mug
(10oz White) - Speak no Evil Monkey (Personalised with Text) with 1 matching Square Coaster
FGMUG001MSPEMO-(P)+FGCOA002
5060089255680
£14.98
381 g
10 x 8.5 x 8.5cm
Smiley Face Mug
(XL 15oz White) - Speak no Evil Monkey (Personalised with Text) with 1 matching Circular Coaster
FGMUG004MSPEMO-(P)+FGCOA003
5060089255680
£18.98
471 g
11.5 x 8.5 x 8.5cm
Smiley Face Mug
(XL 15oz White) - Speak no Evil Monkey (Personalised with Text) with 1 matching Square Coaster
FGMUG004MSPEMO-(P)+FGCOA002
5060089255680
£18.98
471 g
11.5 x 8.5 x 8.5cm
Smiley Face Mug
(XL 15oz Yellow) - Speak no Evil Monkey (Personalised with Text) with 1 matching Circular Coaster
FGMUG006MSPEMO-(P)+FGCOA003
5060089255680
£18.98
471 g
9 x 9 x 0.5cm
Smiley Face Mug
(XL 15oz Yellow) - Speak no Evil Monkey (Personalised with Text) with 1 matching Square Coaster
FGMUG006MSPEMO-(P)+FGCOA002
5060089255680
£18.98
471 g
9 x 9 x 0.5cm
Smiley Face Mug
(10oz White) - Praying Hands (Personalised with Text) with 1 matching Circular Coaster
FGMUG001PRHEMO-(P)+FGCOA003
5060089255680
£14.98
381 g
10 x 8.5 x 8.5cm
Smiley Face Mug
(10oz White) - Praying Hands (Personalised with Text) with 1 matching Square Coaster
FGMUG001PRHEMO-(P)+FGCOA002
5060089255680
£14.98
381 g
10 x 8.5 x 8.5cm
Smiley Face Mug
(XL 15oz White) - Praying Hands (Personalised with Text) with 1 matching Circular Coaster
FGMUG004PRHEMO-(P)+FGCOA003
5060089255680
£18.98
471 g
11.5 x 8.5 x 8.5cm
Smiley Face Mug
(XL 15oz White) - Praying Hands (Personalised with Text) with 1 matching Square Coaster
FGMUG004PRHEMO-(P)+FGCOA002
5060089255680
£18.98
471 g
11.5 x 8.5 x 8.5cm
Smiley Face Mug
(XL 15oz Yellow) - Praying Hands (Personalised with Text) with 1 matching Circular Coaster
FGMUG006PRHEMO-(P)+FGCOA003
5060089255680
£18.98
471 g
9 x 9 x 0.5cm
Smiley Face Mug
(XL 15oz Yellow) - Praying Hands (Personalised with Text) with 1 matching Square Coaster
FGMUG006PRHEMO-(P)+FGCOA002
5060089255680
£18.98
471 g
9 x 9 x 0.5cm
Smiley Face Mug
(10oz White) - Purple Devil (Personalised with Text) with 1 matching Circular Coaster
FGMUG001PDEEMO-(P)+FGCOA003
5060089255680
£14.98
381 g
10 x 8.5 x 8.5cm
Smiley Face Mug
(10oz White) - Purple Devil (Personalised with Text) with 1 matching Square Coaster
FGMUG001PDEEMO-(P)+FGCOA002
5060089255680
£14.98
381 g
10 x 8.5 x 8.5cm
Smiley Face Mug
(XL 15oz White) - Purple Devil (Personalised with Text) with 1 matching Circular Coaster
FGMUG004PDEEMO-(P)+FGCOA003
5060089255680
£18.98
471 g
11.5 x 8.5 x 8.5cm
Smiley Face Mug
(XL 15oz White) - Purple Devil (Personalised with Text) with 1 matching Square Coaster
FGMUG004PDEEMO-(P)+FGCOA002
5060089255680
£18.98
471 g
11.5 x 8.5 x 8.5cm
Smiley Face Mug
(XL 15oz Yellow) - Purple Devil (Personalised with Text) with 1 matching Circular Coaster
FGMUG006PDEEMO-(P)+FGCOA003
5060089255680
£18.98
471 g
9 x 9 x 0.5cm
Smiley Face Mug
(XL 15oz Yellow) - Purple Devil (Personalised with Text) with 1 matching Square Coaster
FGMUG006PDEEMO-(P)+FGCOA002
5060089255680
£18.98
471 g
9 x 9 x 0.5cm
Smiley Face Mug
(10oz White) - Sunglasses (Personalised with Text) with 1 matching Circular Coaster
FGMUG001SUNEMO-(P)+FGCOA003
5060089255680
£14.98
381 g
10 x 8.5 x 8.5cm
Smiley Face Mug
(10oz White) - Sunglasses (Personalised with Text) with 1 matching Square Coaster
FGMUG001SUNEMO-(P)+FGCOA002
5060089255680
£14.98
381 g
10 x 8.5 x 8.5cm
Smiley Face Mug
(XL 15oz White) - Sunglasses (Personalised with Text) with 1 matching Circular Coaster
FGMUG004SUNEMO-(P)+FGCOA003
5060089255680
£18.98
471 g
11.5 x 8.5 x 8.5cm
Smiley Face Mug
(XL 15oz White) - Sunglasses (Personalised with Text) with 1 matching Square Coaster
FGMUG004SUNEMO-(P)+FGCOA002
5060089255680
£18.98
471 g
11.5 x 8.5 x 8.5cm
Smiley Face Mug
(XL 15oz Yellow) - Sunglasses (Personalised with Text) with 1 matching Circular Coaster
FGMUG006SUNEMO-(P)+FGCOA003
5060089255680
£18.98
471 g
9 x 9 x 0.5cm
Smiley Face Mug
(XL 15oz Yellow) - Sunglasses (Personalised with Text) with 1 matching Square Coaster
FGMUG006SUNEMO-(P)+FGCOA002
5060089255680
£18.98
471 g
9 x 9 x 0.5cm
Smiley Face Mug
(10oz White) - Tongue Out (Personalised with Text) with 1 matching Circular Coaster
FGMUG001TOOEMO-(P)+FGCOA003
5060089255680
£14.98
381 g
10 x 8.5 x 8.5cm
Smiley Face Mug
(10oz White) - Tongue Out (Personalised with Text) with 1 matching Square Coaster
FGMUG001TOOEMO-(P)+FGCOA002
5060089255680
£14.98
381 g
10 x 8.5 x 8.5cm
Smiley Face Mug
(XL 15oz White) - Tongue Out (Personalised with Text) with 1 matching Circular Coaster
FGMUG004TOOEMO-(P)+FGCOA003
5060089255680
£18.98
471 g
11.5 x 8.5 x 8.5cm
Smiley Face Mug
(XL 15oz White) - Tongue Out (Personalised with Text) with 1 matching Square Coaster
FGMUG004TOOEMO-(P)+FGCOA002
5060089255680
£18.98
471 g
11.5 x 8.5 x 8.5cm
Smiley Face Mug
(XL 15oz Yellow) - Tongue Out (Personalised with Text) with 1 matching Circular Coaster
FGMUG006TOOEMO-(P)+FGCOA003
5060089255680
£18.98
471 g
9 x 9 x 0.5cm
Smiley Face Mug
(XL 15oz Yellow) - Tongue Out (Personalised with Text) with 1 matching Square Coaster
FGMUG006TOOEMO-(P)+FGCOA002
5060089255680
£18.98
471 g
9 x 9 x 0.5cm
Smiley Face Mug
(10oz White) - Tongue with a Wink (Personalised with Text) with 1 matching Circular Coaster
FGMUG001TOWEMO-(P)+FGCOA003
5060089255680
£14.98
381 g
10 x 8.5 x 8.5cm
Smiley Face Mug
(10oz White) - Tongue with a Wink (Personalised with Text) with 1 matching Square Coaster
FGMUG001TOWEMO-(P)+FGCOA002
5060089255680
£14.98
381 g
10 x 8.5 x 8.5cm
Smiley Face Mug
(XL 15oz White) - Tongue with a Wink (Personalised with Text) with 1 matching Circular Coaster
FGMUG004TOWEMO-(P)+FGCOA003
5060089255680
£18.98
471 g
11.5 x 8.5 x 8.5cm
Smiley Face Mug
(XL 15oz White) - Tongue with a Wink (Personalised with Text) with 1 matching Square Coaster
FGMUG004TOWEMO-(P)+FGCOA002
5060089255680
£18.98
471 g
11.5 x 8.5 x 8.5cm
Smiley Face Mug
(XL 15oz Yellow) - Tongue with a Wink (Personalised with Text) with 1 matching Circular Coaster
FGMUG006TOWEMO-(P)+FGCOA003
5060089255680
£18.98
471 g
9 x 9 x 0.5cm
Smiley Face Mug
(XL 15oz Yellow) - Tongue with a Wink (Personalised with Text) with 1 matching Square Coaster
FGMUG006TOWEMO-(P)+FGCOA002
5060089255680
£18.98
471 g
9 x 9 x 0.5cm
Smiley Face Mug
(10oz White) - Unicorn (Personalised with Text) with 1 matching Circular Coaster
FGMUG001UNIEMO-(P)+FGCOA003
5060089255680
£14.98
381 g
10 x 8.5 x 8.5cm
Smiley Face Mug
(10oz White) - Unicorn (Personalised with Text) with 1 matching Square Coaster
FGMUG001UNIEMO-(P)+FGCOA002
5060089255680
£14.98
381 g
10 x 8.5 x 8.5cm
Smiley Face Mug
(XL 15oz White) - Unicorn (Personalised with Text) with 1 matching Circular Coaster
FGMUG004UNIEMO-(P)+FGCOA003
5060089255680
£18.98
471 g
11.5 x 8.5 x 8.5cm
Smiley Face Mug
(XL 15oz White) - Unicorn (Personalised with Text) with 1 matching Square Coaster
FGMUG004UNIEMO-(P)+FGCOA002
5060089255680
£18.98
471 g
11.5 x 8.5 x 8.5cm
Smiley Face Mug
(XL 15oz Yellow) - Unicorn (Personalised with Text) with 1 matching Circular Coaster
FGMUG006UNIEMO-(P)+FGCOA003
5060089255680
£18.98
471 g
9 x 9 x 0.5cm
Smiley Face Mug
(XL 15oz Yellow) - Unicorn (Personalised with Text) with 1 matching Square Coaster
FGMUG006UNIEMO-(P)+FGCOA002
5060089255680
£18.98
471 g
9 x 9 x 0.5cm
Smiley Face Mug