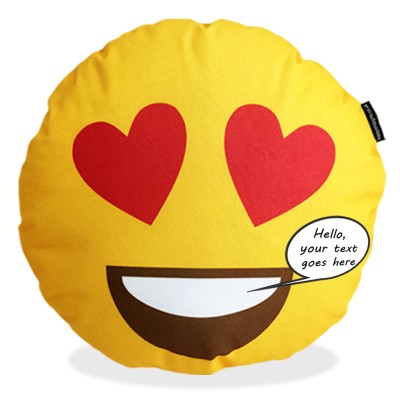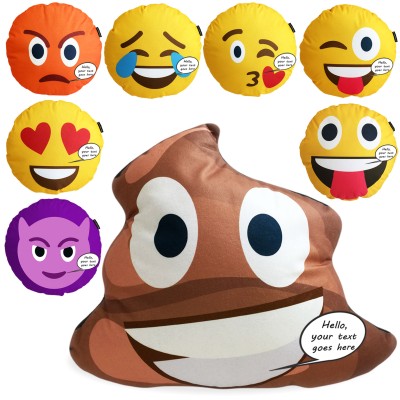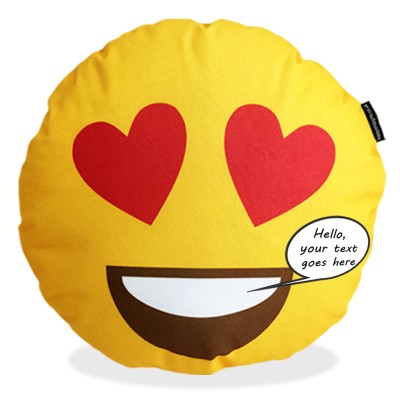 Personalised Smiley Face Cushion
UK Made
BS5852 : 1988
Hypo-Allergenic Filling
Description
The Smiley Face Cushion Pillow from HappySnapGifts® is Made in the UK using high quality photo fabric, features your favourite emoticons and can be Personalised with Text.
Smiley Face Cushion Pillow 40cm size.
Personalised with optional Text within a speech bubble.
Made from high quality photo fabric.
Wide range of your favourite emoticons.
Made in the UK (BS5852).
HappySnapGifts® Personalised Smiley Face Cushions are made in the UK and are a large 40cm in size and come personalised with the text of your choice with no extra charge. These soft pillows look great and are customised with a special message to make your gift truly unique.
If you are looking for a thoughtful gift idea and want to add a personalised touch, then consider our Personalised Emoticon Cushions.
Smiley Face Cushions form HappySnapGifts® come with a luxurious fleece backing that is super soft to touch. We personalise your cushion inside a speech bubble on the front of the cushion and will allow up to 30-characters for your personalisation. The cute and charming emoticon designs make these bed pillows perfect for birthdays, special occasions or home decorations.
We fill each of these stunning quality cushions with a spiral twisted, hypoallergenic polyester fibre that is fire regulation compliant ( BS5852). The premium quality stuffing we use ensures that this cushion can actually be used as a scatter or sofa cushion as it offers phenomenal levels of support for your head, neck and back.
Reviews
My daughter absolutely loved her cushion
- Top quality product and came in good time (Sarah)
Lovely item
- Very reasonably priced, delivered quickly, and personalisation done exactly as ordered. 5 Stars! (Wayne)
Customer Service Review of Emoji Pillows
- Emoji Pillows from Happy Snap Gifts offer a cushion for every emotion and occasion. Emoticons are truly ubiqituous in today's pop culture and these pillows make for an awesome gift.  Personalise your Emoji Cushion with a name or message of your choice and surprise that special someone with a gift they would never ever expect. We manufacture these cushions using our state of the art print processes and compliment the back of each pillow with a matching luxury fleece fabric. Express yourself with these fabulous plushies from Happy Snap Gifts. (Lance Plachciak)
FAQs
Do you have any more Smiley Faces I can use on this product?
Yes. Let us know which smiley face you want on your emoji gift and we will see if we can find a licensed version and add it to our range.
Are these Smiley Face Gifts officially licensed?
Yes. We are licensed to use a vast set of Smiley Faces on our gifts that you will see on our website. There are literally thousands of Smiley Faces we can use but can't show them all on our website.
What type of Fibre is used to fill our cushion & pillow Products?
Generally speaking, we use a luxury, spiral twisted and smooth-coated polyester fibre (Lux.) to fill our cushion products. Normal fibre can become lumpy over time but ours will bounce back time and again and has the benefit of being Hypoallergenic.
Does the Lux. Fibre have a Fire Rating?
Yes. We buy our fibre only from a trusted UK source that has their fibre meet the Furniture (Fire) (Safety) Regulations (BS5852). We regularly obtain updated certificates to check the latest batches meet the current requirements.
What happens if the Lux. Fibre gets wet or is washed in the machine?
No harm will come to the polyester fibre in theory, getting it wet is inadvisable though don't panic, just dry it out normally at room temperature though don't put it in the dryer. We found on testing that if you do put the cushion in the washing machine, it will dry out ok though the tumbling in the washing machine tends to make the fibres all clump together and become less evenly spaced in the cushion.
Delivery
The information below is for guidance. Actual delivery costs and dates depend on the delivery address, weight and time your order is placed. Cut-off time for Overnight Orders is 12 noon.
| Price | Method | Manufacture Time | Delivery Time | Est. Delivery Date |
| --- | --- | --- | --- | --- |
| £4.99 | 2nd Class (Tracked) | 0-3 Days | 2-3 Days | Wed 13 Dec - Tue 19 Dec |
| £7.99 | 1st Class (Tracked) | 0-3 Days | 1-2 Days | Tue 12 Dec - Mon 18 Dec |
| £13.08 | DHL Courier (Economy M-F Pre 6pm) | 0-3 Days | 2-3 Days | Wed 13 Dec - Tue 19 Dec |
| £14.99 | Royal Mail Special Delivery (Overnight Mon-Sat Pre 1pm) | Today | Next Day (Mon-Sat) | Mon 11 Dec |
More Information
| | |
| --- | --- |
| Despatch | 0-3 Days (to Personalise) or Upgrade at Checkout for Overnight Delivery |
| Brand | HappySnapGifts® |
| RRP | £19.99 |
| Filling | Fibre |
| Country of Origin | United Kingdom |
| SKU | FGCUS025(C40)PSVMLEEMO-(P) |
| Gtin | 5060089255697 |
| Tariff Code | 9404909000 |
| Tariff Description | Cushion - Polyester Fibre Filled (Polyester Cover) |
| Product Weight | 351 g |
| Product Dimensions | 40 x 40 x 10cm |
Product Options
Cushion Size
40cm Circle
Fabric
Soft Velvet Polyester
Print Theme
Emoji Theme
Character Choice
Love Heart Eyes, Happy Poo, Angry Face, Crying, Crying with Laughter, Kiss with a Wink, Monkey Hear no Evil, Monkey See no Evil, Monkey Speak no Evil, Praying Hands, Purple Devil, Sunglasses, Tongue Out, Tongue with a Wink, Unicorn
Removable Cover (Click to Select)
Without Removable Cover, Removable Cover +
Filling
100% Polyester Fibre
Product Type
Cushion > Personalised Cushion
Personalised Cushions > Smiley Face Cushions
Personalised Name Cushions

Personalised Smiley Face Cushion
(40cm Circle) - Happy Poo Soft Velvet Polyester Fabric (Personalised with Text)
FGCUS025(C40)PSVHAPEMO-(P)
5060089255697
£19.99
351 g
40 x 40 x 10cm
Personalised Smiley Face Cushion
(40cm Circle) - Happy Poo Soft Velvet Polyester Fabric with Removable Cover (Zip) (Personalised with Text)
FGCUS025(C40)PSVHAPEMO-(RCZ)(P)
5056656314560
£29.99
466 g
40 x 40 x 10cm
Personalised Smiley Face Cushion
(40cm Circle) - Angry Face Soft Velvet Polyester Fabric (Personalised with Text)
FGCUS025(C40)PSVANGEMO-(P)
5056656314591
£19.99
351 g
40 x 40 x 10cm
Personalised Smiley Face Cushion
(40cm Circle) - Angry Face Soft Velvet Polyester Fabric with Removable Cover (Zip) (Personalised with Text)
FGCUS025(C40)PSVANGEMO-(RCZ)(P)
5056656314348
£29.99
466 g
40 x 40 x 10cm
Personalised Smiley Face Cushion
(40cm Circle) - Crying Soft Velvet Polyester Fabric (Personalised with Text)
FGCUS025(C40)PSVCRYEMO-(P)
5056656314379
£19.99
351 g
40 x 40 x 10cm
Personalised Smiley Face Cushion
(40cm Circle) - Crying Soft Velvet Polyester Fabric with Removable Cover (Zip) (Personalised with Text)
FGCUS025(C40)PSVCRYEMO-(RCZ)(P)
5056656314409
£29.99
466 g
40 x 40 x 10cm
Personalised Smiley Face Cushion
(40cm Circle) - Crying with Laughter Soft Velvet Polyester Fabric (Personalised with Text)
FGCUS025(C40)PSVCWLEMO-(P)
5056656314430
£19.99
351 g
40 x 40 x 10cm
Personalised Smiley Face Cushion
(40cm Circle) - Crying with Laughter Soft Velvet Polyester Fabric with Removable Cover (Zip) (Personalised with Text)
FGCUS025(C40)PSVCWLEMO-(RCZ)(P)
5056656314461
£29.99
466 g
40 x 40 x 10cm
Personalised Smiley Face Cushion
(40cm Circle) - Kiss with a Wink Soft Velvet Polyester Fabric (Personalised with Text)
FGCUS025(C40)PSVKIWEMO-(P)
5056656314492
£19.99
351 g
40 x 40 x 10cm
Personalised Smiley Face Cushion
(40cm Circle) - Kiss with a Wink Soft Velvet Polyester Fabric with Removable Cover (Zip) (Personalised with Text)
FGCUS025(C40)PSVKIWEMO-(RCZ)(P)
5056656314515
£29.99
466 g
40 x 40 x 10cm
Personalised Smiley Face Cushion
(40cm Circle) - Love Heart Eyes Soft Velvet Polyester Fabric (Personalised with Text)
FGCUS025(C40)PSVMLEEMO-(P)
5060089255697
£19.99
351 g
40 x 40 x 10cm
Personalised Smiley Face Cushion
(40cm Circle) - Love Heart Eyes Soft Velvet Polyester Fabric with Removable Cover (Zip) (Personalised with Text)
FGCUS025(C40)PSVMLEEMO-(RCZ)(P)
5056656314546
£29.99
466 g
40 x 40 x 10cm
Personalised Smiley Face Cushion
(40cm Circle) - Hear no Evil Monkey Soft Velvet Polyester Fabric (Personalised with Text)
FGCUS025(C40)PSVMHEEMO-(P)
5056656314577
£19.99
351 g
40 x 40 x 10cm
Personalised Smiley Face Cushion
(40cm Circle) - Hear no Evil Monkey Soft Velvet Polyester Fabric with Removable Cover (Zip) (Personalised with Text)
FGCUS025(C40)PSVMHEEMO-(RCZ)(P)
5056656314324
£29.99
466 g
40 x 40 x 10cm
Personalised Smiley Face Cushion
(40cm Circle) - See no Evil Monkey Soft Velvet Polyester Fabric (Personalised with Text)
FGCUS025(C40)PSVMSEEMO-(P)
5056656314355
£19.99
351 g
40 x 40 x 10cm
Personalised Smiley Face Cushion
(40cm Circle) - See no Evil Monkey Soft Velvet Polyester Fabric with Removable Cover (Zip) (Personalised with Text)
FGCUS025(C40)PSVMSEEMO-(RCZ)(P)
5056656314386
£29.99
466 g
40 x 40 x 10cm
Personalised Smiley Face Cushion
(40cm Circle) - Speak no Evil Monkey Soft Velvet Polyester Fabric (Personalised with Text)
FGCUS025(C40)PSVMSPEMO-(P)
5056656314416
£19.99
351 g
40 x 40 x 10cm
Personalised Smiley Face Cushion
(40cm Circle) - Speak no Evil Monkey Soft Velvet Polyester Fabric with Removable Cover (Zip) (Personalised with Text)
FGCUS025(C40)PSVMSPEMO-(RCZ)(P)
5056656314447
£29.99
466 g
40 x 40 x 10cm
Personalised Smiley Face Cushion
(40cm Circle) - Praying Hands Soft Velvet Polyester Fabric (Personalised with Text)
FGCUS025(C40)PSVPRHEMO-(P)
5056656314478
£19.99
351 g
40 x 40 x 10cm
Personalised Smiley Face Cushion
(40cm Circle) - Praying Hands Soft Velvet Polyester Fabric with Removable Cover (Zip) (Personalised with Text)
FGCUS025(C40)PSVPRHEMO-(RCZ)(P)
5056656314508
£29.99
466 g
40 x 40 x 10cm
Personalised Smiley Face Cushion
(40cm Circle) - Purple Devil Soft Velvet Polyester Fabric (Personalised with Text)
FGCUS025(C40)PSVPDEEMO-(P)
5056656314522
£19.99
351 g
40 x 40 x 10cm
Personalised Smiley Face Cushion
(40cm Circle) - Purple Devil Soft Velvet Polyester Fabric with Removable Cover (Zip) (Personalised with Text)
FGCUS025(C40)PSVPDEEMO-(RCZ)(P)
5056656314539
£29.99
466 g
40 x 40 x 10cm
Personalised Smiley Face Cushion
(40cm Circle) - Sunglasses Soft Velvet Polyester Fabric (Personalised with Text)
FGCUS025(C40)PSVSUNEMO-(P)
5056656314553
£19.99
351 g
40 x 40 x 10cm
Personalised Smiley Face Cushion
(40cm Circle) - Sunglasses Soft Velvet Polyester Fabric with Removable Cover (Zip) (Personalised with Text)
FGCUS025(C40)PSVSUNEMO-(RCZ)(P)
5056656314584
£29.99
466 g
40 x 40 x 10cm
Personalised Smiley Face Cushion
(40cm Circle) - Tongue Out Soft Velvet Polyester Fabric (Personalised with Text)
FGCUS025(C40)PSVTOOEMO-(P)
5056656314331
£19.99
351 g
40 x 40 x 10cm
Personalised Smiley Face Cushion
(40cm Circle) - Tongue Out Soft Velvet Polyester Fabric with Removable Cover (Zip) (Personalised with Text)
FGCUS025(C40)PSVTOOEMO-(RCZ)(P)
5056656314362
£29.99
466 g
40 x 40 x 10cm
Personalised Smiley Face Cushion
(40cm Circle) - Tongue with a Wink Soft Velvet Polyester Fabric (Personalised with Text)
FGCUS025(C40)PSVTOWEMO-(P)
5056656314393
£19.99
351 g
40 x 40 x 10cm
Personalised Smiley Face Cushion
(40cm Circle) - Tongue with a Wink Soft Velvet Polyester Fabric with Removable Cover (Zip) (Personalised with Text)
FGCUS025(C40)PSVTOWEMO-(RCZ)(P)
5056656314423
£29.99
466 g
40 x 40 x 10cm
Personalised Smiley Face Cushion
(40cm Circle) - Unicorn Soft Velvet Polyester Fabric (Personalised with Text)
FGCUS025(C40)PSVUNIEMO-(P)
5056656314454
£19.99
351 g
40 x 40 x 10cm
Personalised Smiley Face Cushion
(40cm Circle) - Unicorn Soft Velvet Polyester Fabric with Removable Cover (Zip) (Personalised with Text)
FGCUS025(C40)PSVUNIEMO-(RCZ)(P)
5056656314485
£29.99
466 g
40 x 40 x 10cm
Personalised Smiley Face Cushion